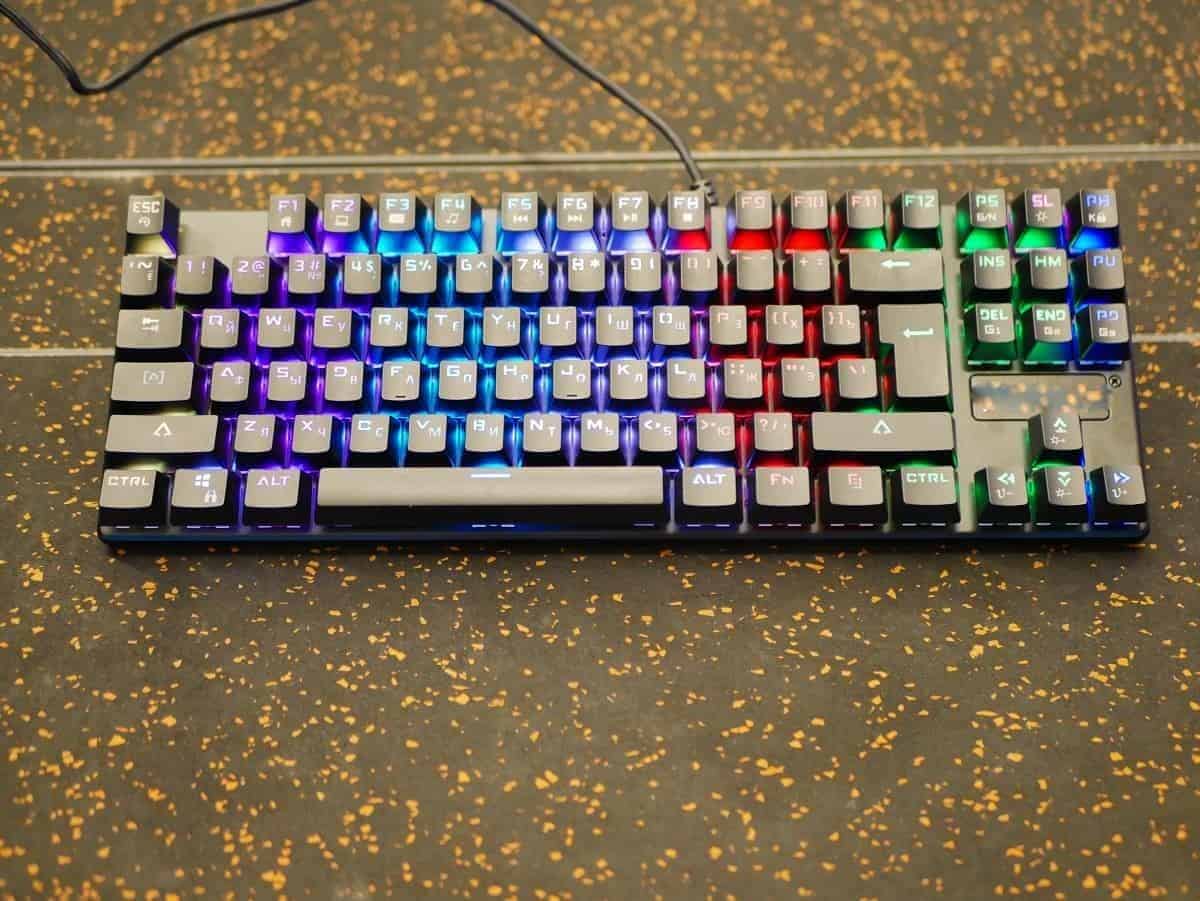 If you are a proud owner of a Mac, you know that the MAC keyboard is not mechanical. When you push a key down, it pushes the two membranes together. As a result, the system performs the desired action.
On the contrary, gaming keyboards consist of physical switches. This is evident, as they are much louder. However, hardcore gamers are aware of the importance of a mechanical keyboard. The sound produced by the pressed key tells you that a key has been pressed.
This is the reason a wide range of gamers opt for mechanical keyboards. If you are one of them, just take a look at these best gaming keyboards for MAC to get you started with the process.
Comparison Chart
Rii RK100+ Gaming Keyboard
PICTEK RGB Gaming Keyboard
Razer Huntsman Gaming Keyboard
Ducky One 2 Mini Mechanical Keyboard
RK ROYAL KLUDGE RK61 Gaming Keyboard
Best Gaming Keyboard for MAC Reviews
Rii RK100+ Gaming Keyboard
The Rii RK100 is a decent keyboard that comes with all the basic features. It is not a mechanical keyboard, but its keystrokes feel like a mechanical keyboard. The rainbow lighting effect is also very cool. It does not allow you to customize the lighting. However, you have the option to turn off the rainbow lighting. It comes with the standard 105 keys.
Review
The RK100 is one of the cheapest keyboards you can buy for your Mac. Despite the low price, it offers all the basic features, including a rainbow backlight. There is not a separate multimedia key panel. You can use the "Fn" key, along with others, to control the music and volume.
When it comes to lighting, it features rainbow-effect lighting that is spread across the keyboard. To adjust the brightness, you need to use the "Fn" key. It does not support uniform color lighting. There is a breathing mode, as well. If you are not using the keyboard for ten minutes, it will automatically go into sleep mode to save power. To turn it back on, simply press any key.
The dimensions of the product are 17.1 x 5.3 x 0.9 inches, and it weighs about 1.4 pounds. It comes with a one-year warranty, and you do not need any installation to use this keyboard. The keyboard is compatible with Mac OS and also supports all the other major operating systems, including Chrome, Linux, Windows, etc.
PICKTEK RGB Gaming Keyboard
PICKTEK is a popular name for quality, low-budget gaming keyboards. The RGB gaming keyboard allows you to choose from seven different lighting options. It features independent multimedia keys to cut the hassle during gaming. Since PICKTEK decided to use waterproof materials, this is a splash-proof keyboard. Let's take a look at its features in detail.
Review
If you are looking for a low-budget RGB keyboard that is loaded with a lot of lighting options, this might be a good one for you. This PICKTEK keyboard offers all the basic features, as well as a few advanced ones, at an unbelievable price. Most keyboards claim to be a "mechanical feeling" keyboard but offer routine stuff, unlike this one. When you use this keyboard, the mechanical clicky part actually makes you wonder whether the seller has sent you a true mechanical keyboard.
This RGB gaming keyboard is made of hard plastic, so it can last up to 10 million keystrokes without any problem. There is no wrist rest included with this keyboard, but you can not complain about that, considering the price. Apart from the rainbow lighting effect, there are several different colors to choose from.
There are multimedia keys to ensure you do not have to switch out of the game to adjust the background music. Similar to advanced keyboards, there is a limited functionality gaming mode that disables the "Win" key.
There are nine drain holes at the back to drain any liquid. The dimensions of the product are 17.7 x 8.6 x 1.3 inches, and it weighs nearly two pounds. It is compatible with most operating systems, including Mac OS, Windows, Linux, etc. If you want to use the advanced keys, you have to read the user manual.
Razer Huntsman Gaming Keyboard
Razer is one of the best mechanical keyboard manufacturers. Razer is well-known for its advanced features and quality construction. When you buy a Razer keyboard, it is going to stay with you for a lifetime. The Huntsman Gaming Keyboard is equipped with Razer Opto-Mechanical switches, and it runs on the Razer Synapse 3 software. The software is available for download on their official website.
Review
The Razer Huntsman is a sleekly designed keyboard for typists and gamers. The Opto-Mechanical switches give you a smooth and precise gaming experience. There is also a gaming mode that allows you to disable certain keys while you are gaming. The keystrokes make a loud noise, but it is not unpleasant. However, you may not prefer it if you are a social gamer.
As expected, the Razer Huntsman offers a lot of lighting options. You can choose any color and assign it to any key at your convenience. However, you need Synapse software to do this. The software also allows you to assign macro keys. All of your settings are stored in Razer's cloud server, so you never lose them.
The onboard storage allows you to save up to five profiles. The polling rate of this keyboard is 1000Hz. It is constructed with ABS and aluminum. There are no separate multimedia keys, but you can give certain commands using the "Fn" key.
The keyboard can stand up to 100 million keystrokes. This means that it will last for decades if you take good care of it. The dimensions of the product are 5.5 x 17.51 x 1.4 inches, and it weighs nearly 2 pounds. It is available in a classic black color, and it comes with a two-year warranty.
Ducky One 2 Mini Mechanical Gaming Keyboard
Ducky keyboards are one of the best and the Ducky One 2 Mini Mechanical Gaming Keyboard is a product from a renowned brand that creates some of the best gaming keyboards. Most gaming keyboards are mechanical. This is the reason Ducky pays great attention to developing these types of keyboards.
Review
This particular gaming keyboard is an ideal option when you need a mechanical, as well as portable, keyboard. It is comprised of 61 keys, which gives it a compact and unique appearance. Moreover, the 60% smaller size of this keyboard offers you some additional desktop space.
When it comes to color, this mechanical gaming keyboard is available in two tones. The basic color is black, while the other is white. This Panda-styled contrast adds more flare to your gaming zone.
It not only looks exquisite but also offers top-notch performance. Due to these and other features, this keyboard stands out among the rest. The use of PBT, seamless, double-shot keycaps renders it a highly responsive keyboard.
Moreover, it is manufactured in a way to ensure an extraordinary typing experience. Due to the use of high-quality materials, you will feel the highest level of durability and comfort. The brand new bezel, dual-layer PCB, and Cherry MX switches make it the best gaming keyboard for MAC.
Although it is small in size, you do not have to sacrifice functionality. It is compatible with Ducky Macro V2.0. The sleek frame of this latest model is identical to the previous model, which gained much popularity due to this feature.
You can adjust the Ducky One 2 Mini by using three placement angles. This helps optimize your typing comfort and allows you to play your game without hurting your fingers. Furthermore, it has a detachable USB Type-C cable, which offers the best possible performance for your keyboard.
This gaming keyboard comes with a USB HID (1000Hz frequency). This suggests that your keyboard is sending signals 1000 times faster to your PC. As a result, this turns out to be the best possible gaming keyboard.
The RGB illumination gives it a vibrant and cool appearance. It is compatible with 10 different types of RGB LED lighting modes. Moreover, you can also set the brightness and color shades. This ensures a more enjoyable and relaxing gaming experience.
Using this gaming keyboard is convenient, as it is fitted with double-layered feet. It also offers the highest level of stability. Although it is a versatile keyboard, you can also customize it for better performance. You can customize the mouse control function and personalize the functions according to your preferences.
RK Royal Kludge RK61 Wireless Gaming Keyboard
When looking for a performance-oriented mechanical keyboard, the RK Royal Kludge RK61 Wireless is a viable option to choose from. It is a unique and innovative addition to the already amazing list of RK Royal's inventory. You will not regret buying this particular gaming keyboard for MAC.
Review
The RK Royal Kludge RK61 mechanical keyboard is capable of enhancing your gaming experience. With its dual modes and reliable connectivity, you will always get instant registration of the keystroke. The provision of an advanced, built-in chip ensures minimal latency and signal interference.
You can switch it to three separate devices by just pressing a couple of keys. Moreover, the wireless mode adds more functionality and convenience to this gaming keyboard. It is 60% more compact than any ordinary keyboard.
Its tiny and minimalist design is another feature that is overwhelmingly preferred by most gamers. Due to its small size, you will enjoy more space for your mouse placement. In addition, this particular keyboard comes in white with blue backlit switches.
The presence of blue switches gives this keyboard an authentic look. This particular color will remind you that you are using a typical mechanical keyboard. The click feedback is simply amazing and unsurpassed.
Due to its tactile and refreshing feel, you will not get tired while playing your game. Moreover, it is a battery-operated keyboard that can last up to 10 hours. This makes it one of the best wireless gaming keyboards available.
When you need to recharge the keyboard, it takes no more than 3 hours for a complete charge. Moreover, it offers over 360 hours of standby time, which reduces your need to frequently charge your keyboard.
The presence of a 1.5m Micro USB cable makes it compatible with PC devices. Apart from its minimalist size, the keyboard is lightweight, too. It only weighs 0.5kg. Therefore, it would be very easy for you to carry this keyboard wherever you go.
Also, due to its wireless operation, you can enjoy playing your game in a more comfortable way. The responsive keys and lightweight construction add more value to this already impressive keyboard.
FINAL VERDICT
After reading the reviews of the best gaming keyboards for MAC, you can easily choose one that meets your preferences. Almost every product reviewed above is designed and engineered in a way to perform in the best possible manner.
The selection of a gaming keyboard depends largely on your specific needs. If you come across a perfect keyboard that comes within your budget, you will not regret buying it. On the contrary, an expensive brand does not always guarantee satisfaction.
When buying the best gaming keyboard for MAC, make sure to look for quality, as well as performance. By merely taking a look at the overall appearance, you may not buy the right keyboard for you. So consider the above information and make the choice that suits you best.