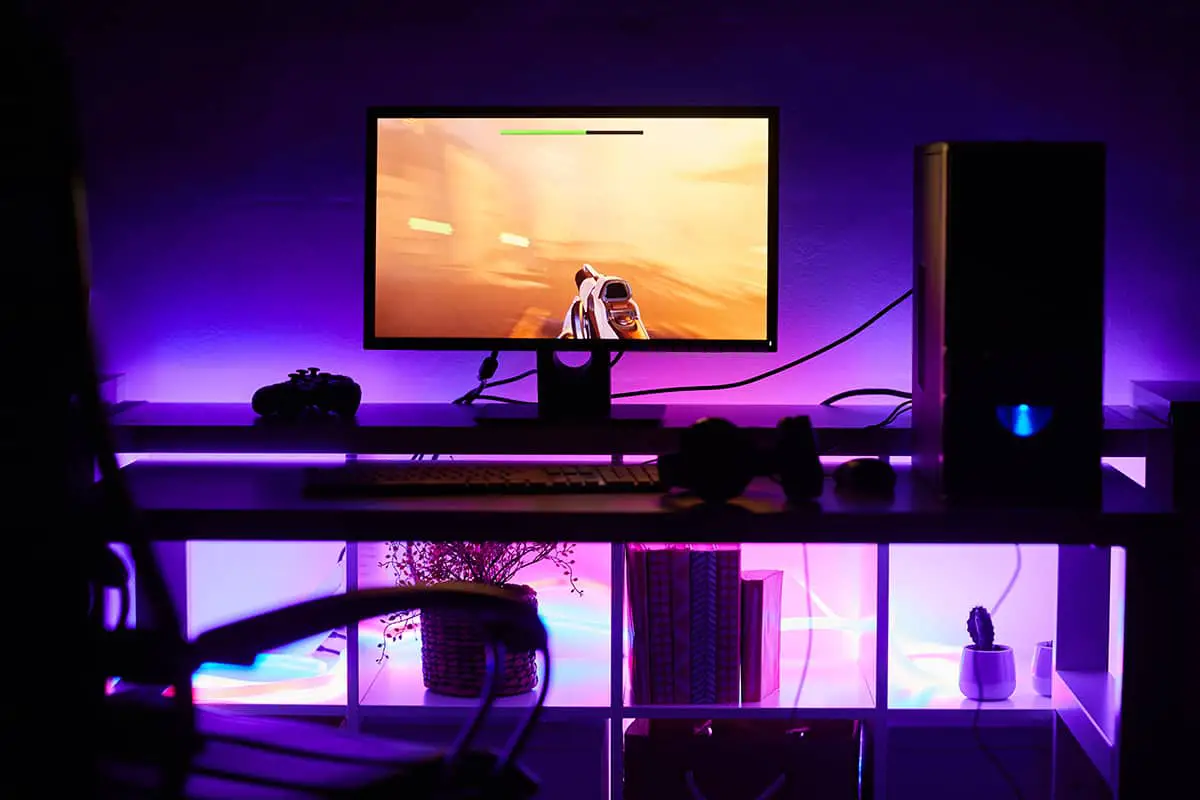 Quick Overview
When it comes to the Motpk 31-inch gaming desk, the name says it all. The table is designed to be compact and therefore is a perfect choice for those gamers dealing with limited space but wanting all the comforts of a gaming desk.
The inclusion of gaming peripherals like the headphone and monitor holder only served to heighten the usability and performance of this desk. For those gamers that have multiple monitor setups, this gaming desk works well. It is easy to set up and comes with adjustable legs so that you can ensure optimal comfort at all times.
Motpk Gaming Desk 31 inch PC Computer Desk Review
So with that quick overview out of the way, let's get into the actual review of this Motpk gaming desk. When looking at this desk, one thing jumps out at you first, and that is the value you get for such a limited investment.
Because of the design of the desk, the materials used, and the careful thought when it came to the layout, any gamer will get a lot of use out of this desk. Plus, the overall design is crafted for comfort, and this could lead to even better gaming experiences.
The desk is crafted with high-quality carbon fiber materials and outfitted with several key peripheral accessories that make your gaming experience so much better. Some of these peripheral accessories include an extra monitor holder and headphone hook.
With that being said, let's dive into the features and benefits of this gaming desk so that you can decide if this is a good investment for you.
What's In The Box
When you open up the box, you will find the main desk unit, all the peripheral accessory attachments, as well as the tools needed for putting the desk together, and the easy-to-read and understand manual to assemble the desk.
Also, with these is an optional fashionable sticker that you can attach to your desk legs to give them a red accent. If this color is part of your gaming system setup, then that may be a great asset to you.
Summary of box contents:
Desk unit
Instruction manual
Screws and tools
Headphone hook
Cup holder
Adjustable feet
Monitor holder
Fashionable stickers
Features
This gaming desk is topped with a carbon fiber ergonomic desktop that is textured. Along with the texture and comfort, the desktop is also coated to be waterproof and scratch-resistant. This gives it a durability which, coupled with being eco-friendly, makes this gaming desk an excellent option for almost any gamer.
Though a compact design, it offers a wide depth so that you will be able to house all of your gaming tools, including your keyboard, your tower, and any other peripherals you have. Plus, there are several peripheral accessories included that will optimize your organization so that you can be free to keep your mind on the game.
Of these, perhaps the best is the inclusion of a cable management system. Every gaming system is going to have multiple cords involved and so having a good setup when it comes to organizing these cords can help increase efficiency as well as keep your gaming setup from being too cluttered.
Technical Specs
SHAPE: rectangle
MATERIAL: metal
FRAME LAYOUT: Y-shaped
DIMENSIONS: 23.7" x 31" x 29.53"
WATERPROOF: yes
ADJUSTABLE HEIGHT: yes
WEIGHT: 26.3 pounds
What We Liked
The Motpk gaming desk is designed with high-quality materials. The frame itself is crafted in a Y-shape for better stability and then coated with powder-coated steel for resistance against corrosion. Along with that, the feet are adjustable so that you can make sure the height of the desk is perfect for you.
The compact design of it is a plus as it makes it great for small spaces. It may only measure 31 inches, but the depth of the actual desktop still allows for a lot of devices to be housed. On top of that, it comes with several accessories to help keep you organized, including a cable management system.
What Could Be Better
Although the addition of a cup holder is nice, unfortunately, it is a little flimsy, so when using, you have to be careful of the heft of the drink you are placing in it. Also, the finish on the top of the desk makes it look great but also is very easily damaged.
Other than this, the shape of the desk itself could be a problem for some as it does limit placement within a room. Which, of course, for those dealing with limited space, could end up being very frustrating when trying to set up their gaming area. In which case you might want to try an L-Shaped gaming desk.
Build Quality
The gaming desk measures 31 inches long and is crafted in a rectangular shape. The legs are crafted from durable steel and topped with a carbon fiber-coated desktop. Made with a wide design, this desk offers decent stability and plenty of legroom.
The almost 24-inch deep desktop is designed to have multiple monitor setups and any other gaming needs at hand. In addition, this desktop is constructed to not only be scratch-resistant but water-resistant as well. However, the scratch resistance is not as high quality and therefore is one of the issues many gamers have with this desk.
Design
Going back to the frame, it is a thicker frame that utilizes two metal braces to improve the stability of the unit. Each of the legs is capped off with an adjustable foot so that you can make sure the desk is even on any type of surface.
The desk is designed with wire reinforcement along with everything we just talked about, so you can be assured that all your equipment is safe no matter how heavy the load is. That is as long as it is below 140 pounds.
Features
There are a couple of features that really stand out when looking at this desk. Of course, there is the fact that it comes with a headphone and cup holder as well as an extra monitor holder, but those aren't the only features.
The build of the desk also is designed for ergonomic comfort. Created with adjustable feet and ample legroom, you will be able to customize the desk height to your needs. This will help improve your posture and therefore reduce fatigue in the back as well as pains so that you can game for as long as necessary.
Installation
One of the major features that every person looks at when purchasing a product they have to put together is the actual installation process. This desk comes with an easy-to-use instruction manual.
Along with this, all the tools and screws necessary to put the piece together are also in the box. These tools and screws are individually packaged and numbered so that you can follow the step-by-step instructions with confidence.
Because of this careful consideration, the desk is relatively easy to put together and should take little to no time at all, even if you have no experience and have never assembled or installed a desk before.