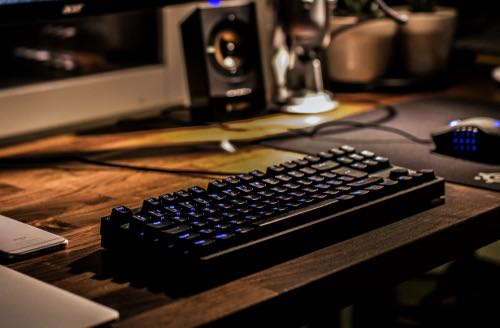 Becoming a professional greatly depends on the performance that your computer can put out. But lot's of gamers underestimate the difference a good gaming keyboard can make. The main reason for this is that it gives you better control and precision over the game that you are playing.
And a compact gaming keyboard means it takes a less space and you'll have more dedicated surface area for your mouse movements while gaming. It will also make your gaming desk setup look even cooler. Not to mention having a keyboard that's much more portable when throwing it into a suitcase or backpack when travelling.
Bearing this in mind, we have done some market research and prepared a list of the best compact gaming keyboard offers. We are eager to present them, so let's get right to it!
Comparison Chart
Ducky One 2 mini RGB – white 60% gaming keyboard
Redragon K552 60% Compact Mechanical Gaming Keyboard
HyperX Alloy FPS Pro Compact Mechanical Gaming Keyboard
RK61 60% RGB Compact Mechanical Gaming Keyboard
Corsair K63 Compact Mechanical Gaming Keyboard
SteelSeries Apex 7 TKL Compact Mechanical Gaming Keyboard
Best Compact Gaming Keyboard Reviews
Duck One 2 Mini RGB
Ducky are known for their solid build quality and well designed keyboards. And the Ducky One 2 Mini is a top ranked 60 percent keyboard used by gamers. 60 percent keyboards have fewer keys than a standard keyboard which gives you more space for your gaming desk setup and mouse movement.

This keyboard is equipped with quality double-shot PBT keycaps, that include their typical Ducky shine-through lighting.

You can choose from 6 different Cherry MX switches when purchasing. The Ducky One 2 Mini's various customizable lighting effects adds to the appeal.

One 2 mini keyboard also offers a large number of customization options with its programmable keys. You can save these custom settings against 6 different profiles, and switch between them on the fly. If you like your compact gaming keyboards but still like dedicated arrows keys, then be sure to take a look at our full in-depth review of the 65% size Ducky one 2 SF keyboard. It it's still a great portable package but in my opinion that little bit of extra space compared to the One 2 mini makes it a better middle-ground gaming keyboard.
Redragon K552
Are you looking to get a mechanical keyboard that is compatible with most Windows and Mac OS versions? If so, then investing in the Redragon K552 is a superb decision. Not only that but if you are a true gamer, the fact that it can be connected to an Xbox One makes it even better. Featuring an outstanding appearance and 87 keys in total, this product makes for a great addition to your gaming setup!
Review
We know that Redragon may not be among the most popular brands when it comes to mechanical keyboards. However, it certainly puts out some great quality products. This is a young company, but their development team does an excellent job combining an attractive and compact design with good performance. While the customer service could be on a higher level, the overall quality of this keyboard justifies the price.
Looking at the specific features, the K552 is 60% mechanical, with 87 ultra-sensitive keys included with it. One of the best things about it is the crisp click sound that gamers will love! Not only that, but the overall design quality is outstanding. It is among the best mid-range keyboards in terms of longevity and durability. Additionally, it is suitable for freelance writers, with it being tested to withstand 50 million keystrokes.
The company did a very good job with making the red backlight brightness levels adjustable according to your needs (day/night time). Talking about the overall value, it has a splash-proof and ergonomic design that makes it a worthy investment. Additionally, we can't undermine the fact that the 12 multimedia keys featured in this product are not that common for mid-range models.
Also, these are all plate-mounted on the high-resistance ABS keyboard, and the lettering doesn't scratch off that easily. Looking at the overall performance and design of the Redragon K552, it is safe to say that any writer and gamer would love it! Read full review here. 
HyperX Alloy FPS Pro
Getting a proper mechanical keyboard is a must for any FPS gamer. If you are not satisfied with the aforementioned product, this one is a great alternative. Featuring a popular Tenkeyless design, this model comes with superb, cherry backlighting and 87 ultra-responsive keys. Minimalistic and affordable, it is something you will enjoy for years to come!
Review
Among the many different keyboard brands, HyperX is probably the best when it comes to manufacturing compact and affordable products. This one includes everything that a true gamer might need. By excluding the separate number pad, it leaves more space for mechanical key switches. Additionally, it comes with a stainless steel frame, which is a major feature in terms of overall durability and reliability.
As we have mentioned above, the cherry backlighting makes it an attractive piece of equipment. The dynamic effects contribute to the appearance of your computer setup. With included game-mode, as well as N-key rollover, there is nothing else you will need to play a successful Call of Duty session.
Still, much like with the Redragon product, this keyboard doesn't come with superb customer service and warranty policy. Now, given the fact that it is quite durable, you probably won't need to use the warranty. However, if it has built-in defects or wears out after prolonged heavy use, by all means, use the warranty.
What makes this mechanical keyboard even more portable, apart from its minimalistic design, is the detachable cable. Compatible with both older Mac OS and most Windows versions, it is a good long-term investment.
RK61 Mechanical Keyboard
Getting on with our list of the best compact gaming keyboard offers on the market, it is time that we present a wireless keyboard any gamer will fall for. Most mechanical keyboards come with a detachable USB cable that allows for good portability. It is the wireless/Bluetooth feature that changes the traditional keyboard ways. For a somewhat higher price, this product is an outstanding piece of computer equipment that you will not regret!
Review
Unlike the aforementioned few products, this keyboard does come with great customer service. Rest assured, any issues will be quickly solved. One of the most innovative features that it includes is a stair-up keycap. Why is this important? It is important to ensure that you can play a game or write for hours at a time without feeling fatigued.
It ensures a healthy and natural hand position that will contribute to your overall performance. Featuring multi-device connectivity and being compatible with both Windows and Mac OS makes this keyboard an outstanding product. Not only that, but you can also connect it to an Android or iPhone and switch between devices easily.
Unlike the HyperX and Redragon models, this one comes with 61 keys that are set in a compact layout. This is accompanied by an innovative red liner switch that counts for a smooth and fast performance. It is safe to say that this keyboard is among the most responsive ones out there.
We can't go on without mentioning the backlighting system that this product features. It is highlighted by 18 RGB, as well as 8 monochrome options and one full-color backlighting system. This means that with this keyboard, writing or gaming throughout the night will become more fun. A product that is responsive, ergonomic, wireless, and attractive at the same time, is what this RK61 Mechanical Compact keyboard truly is!
Corsair K63 Mechanical Keyboard
Looking for an incredibly fast and responsive keyboard? This Corsair is among the best ones you can invest in. Being at a somewhat higher price, this particular model is covered by a reliable warranty policy and an effective customer service team. Additionally, the overall design makes each of the 63 keys speak for itself.
Review
Just as we have mentioned above, the main reason why this product is a great investment is the 100% Cherry MX key switches. This allows for your performance to be at the highest level with no risk of ghosting. How so? Well, no matter whether you are a fast typer or an LoL gamer, every stroke will be immediately registered.
Each key has a separate red backlight that is adjustable according to your needs. You will love the dynamic effect provided by this product. Much like the previous three keyboards, this product doesn't feature a number pad. This frees up space and eliminates unnecessary keys. Coming with a reliable full game mode rollover, the overall reliability of this keyboard is outstanding.
There is nothing to say against it in terms of portability and durability. With a stainless steel frame and featuring a Tenkeyless design, it is perfect for those of you on the go. While not wireless, it is compatible with both Windows and Mac OS, and the USB cable is easy to detach.
Bearing this in mind, this keyboard is not going to take up a lot of space at your computer setup. We will still leave more places for a good gaming mouse and other essentials. Whether you are a professional gamer or a freelance writer, getting the Corsair K63 is something you will not regret.
SteelSeries Apex 7 TKL Mechanical Keyboard
It would be a shame to end this product-review list without mentioning at least one high-tech keyboard that is highlighted by an OLED display. Yes, you heard us right, this keyboard allows more than just traditional keystroking. Manufactured by the trusted SteelSeries brand, the Apex 7 TKL is incredibly reliable, responsive, and ergonomic. Not only that, but this product will make any average computer setup look like a high-end one.
Review
The first thing we love about this keyboard is that it's more compact at 80% the size of a regular sized keyboard, or a ten-keys-less (TKL) keyboard.  The next thing is the superb warranty you are getting on it. It is tested numerous times before the manufacturing process is finalized. And with quality Cherry MX mechanical switches, you're guaranteed to get at least 50 million smooth and fast keystrokes out of it. 
Not only that, but you are looking at a two-year limited warranty for this product. This will cover any manufacturer defects, as well as other issues that are not caused by physical damage. There are a variety of linear switch options that you can choose from. Our personal favorite is the Cherry MX Red, ensuring the optimal and quiet performance you'd want out of a gaming keyboard.
Additionally, the backlight LED will make any day and night gaming even more fun. We are talking about an RGB backlighting system that is thought to be one of the most reliable on the market. Believe it or not, you are allowed above 16 million different colors per single key, and there are 104 keys in total.
Looking at the overall durability of the Steelseries Apex 7, it is the Aircraft Grade Aluminium Alloy that justifies the high-end price. Another thing that we simply love about this particular model is that you can choose between 5 different game profiles that are pre-included. You can also customize and create your own.
There is also a set of effective multimedia controls that will help you get the most out of your keyboard input. Another bonus is the ergonomic wrist pad that will contribute to your overall comfort. This will allow you to use it for hours at a time without your hands being in an unnatural position.
And the built-in OLED keyboard display, although a big gimmicky, let's you view in-game info, as well as adjust settings on apps such as Discord and Spotify. Frankly, if you are looking to invest in a product that changes the traditional keyboard, this is an offer that you shouldn't miss out on!
FINAL VERDICT
The final decision comes down to your personal needs, as well as how big your budget is. Looking at the aforementioned products, we would say that the well-priced Royal Kludge RK61 keyboard is the ideal choice for anyone who enjoys an effective, minimalistic design. It is wireless, responsive, and thus also perfect for any gamer or writer on the go.
On the other hand, if you have more to spend, the SteelSeries Apex 7 is a keyboard that can't be beaten. Innovative, ergonomic, durable, and with a convenient OLED display, this product will make any gaming session a unique experience.