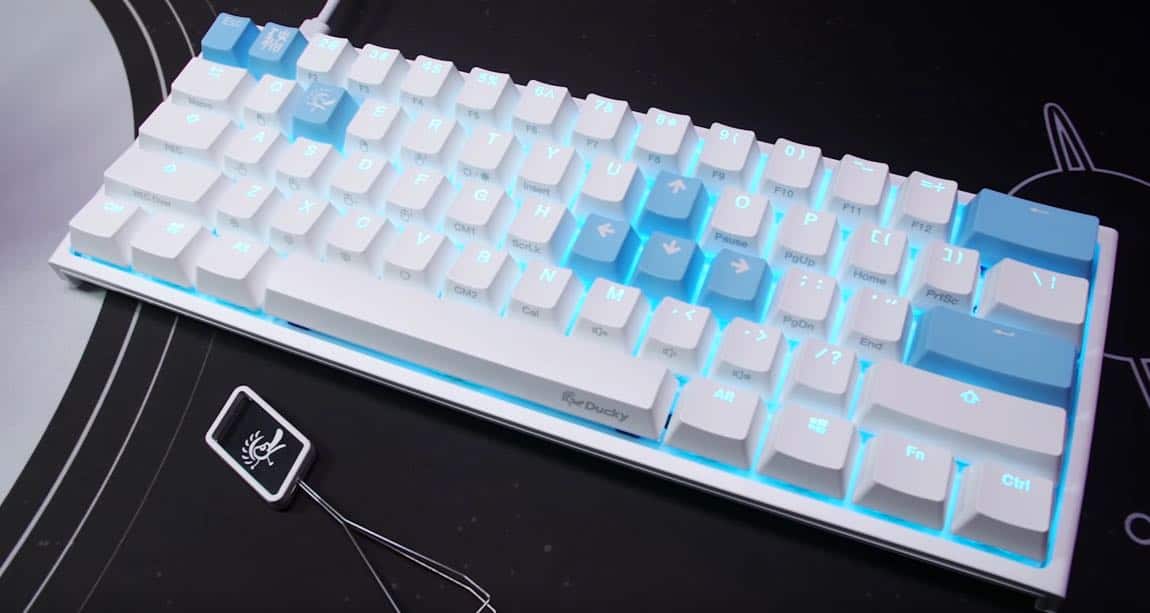 Great for gamers who a prefer a quality and more compact gaming keyboard with Cherry MX mechanical switches. You'll get quicker actuation and solid quality switches built to last. There's also no keyboard flex we could detect and it comes with quality textured double-shot PBT keycaps. The per-key RGB lighting is bright and can be customized. 
Ducky One 2 Mini
Since the Ducky One 2 mini was released around 2018 there's been lots of new entrants and innovations. Is the Ducky One 2 mini as good a mechanical keyboard today as it was then?
The 60% keyboard layout is a natural progression from the original Ducky Mini, featuring a tighter bezel, full RGB backlighting, PBT keycaps, a USB Type-C connector, and Macro 2.0 support.
There is a lot of hype around this keyboard, and now I know why. I bought the Ducky One 2 mini with Cherry MX speed silver switches and it was a beautiful and smooth experience. However you can buy it in a variety of Cherry MX switch types like Cherry MX Blue, Brown, Red, Silver and Silent Red. 
If you're expecting a host of extra buttons and media switches you're going to be out of luck with this one, but you can record macros straight from the keyboard with no software required.
Compact (60% size of regular keyboard) 
Cherry MX mechanical switches
Detachable USB-C Cable (with 1000Hz polling rate)
PBT Keycaps (Double-Shot and Laser Engraved)
N-Key Rollover and Anti-ghosting
Height adjustable feet (3 different angles)
Dimensions
    Length: 30.2 cm.
    Width: 10.8 cm.
    Height: 4.0 cm.
    Case: Thick plastic.
    Weight: 590 grams.
    Keys: 61.
    Cable Length: 1.4m, rubber, detachable.

First Impressions
I believe Razer might have the best RGB backlighting overall but the RGB on the Ducky One 2 mini is right up there with them.
Inside the box you'll also find a Ducky branded wire keycap puller, the usual instruction manual stuff, and a bunch of extra keycaps in that same ocean blue color that's on the enter key. There's also a standard black keycap for the enter key and a special, limited edition year of the dog spacebar. They're nifty little extras for personalizing your keyboard a bit, so that's a nice touch. 
You also get extra keycaps in a random color, and according to Ducky's site, they can be either red, yellow, or green. I think this a cool and quirky touch and adds to the fun. So feel free to switch any of the normal keycaps out for these, which can be done very easily yourself.
The Mini One 2 includes a thin plastic cover. Not every keyboard comes with one, which isn't a big deal, but I love them. When I know I won't be using my keyboard for a day or more, I like to pop the lid on so it doesn't collect any dust. So thumbs up to Ducky for including it.
The keyboard has four good grippy rubber type feet-pads underneath, and also height-adjustable feet that lets you select between three different height levels.  The USB included is rubber and connect using USB-C to the keyboard. The USB cable is maybe a little stiff and shorter than I might like but it is detachable so even though the keyboard is already so small, this makes it even more portable.
The typing feel from the MX silver switches is smooth and responsive, being linear there's no tactile feedback which makes them feel a bit faster.
I've used linear Cherry MX reds before and this feels similar but a little lighter.

The Ducky One 2 Mini's compatibility is satisfactory. It's fully windows, macOS, and Linux compatible. Also, the calculator doesn't work on Mac or Linux. And it isn't compatible with smart mobile devices, but that isn't surprising for this kind of keyboard and wasn't an issue for me.
Video - Ducky One 2 Mini Pure White Review
Gaming Experience
As expected, the 60% keyboard offered my gaming mouse more room to roam, and having more desk space helped me focus on the battle at hand.
When it comes to quick input there's a reason the linear switches (like Reds and Silvers) are considered better. They also normally have a shorter actuation travel distance (less than 2mm) and faster response time which I could feel made a difference. 
First per shooter (FPS) and Multiplay online battle arena (MOBA) players may enjoy this form factor the most, but newcomers might need to get used to the feeling of using a smaller keyboard. And if you use the arrow keys in any game, you'll likely want to remap them onto other keys.
When using the One 2 mini to move around in Battlefield, the Silver MX switches were excellent for repeated tapping, with them being smooth and actuating responsively. When I need to hold a key down for some time though, like walking or running, I found my fingers getting a little tired. This is probably because there's no bump on linear switches so you tend to hold the keys down right to the bottom to make sure they stay activated.
Otherwise overall for gaming, the One 2 mini is a great compact keyboard, and it felt smooth and responsive. I eventually also switched A,W,S and D letter keycaps with the extra blank coloured keycaps that came with the one 2 mini. I felt it helped me keep my fingers more focused and quicker on the those keys during gaming sessions. You could also set the RGB backlighting for each of the dedicated gaming keys to be different to the rest.
Overall I liked gaming with the smaller 60% size, it gave me a lot more extra space for my mouse to move and felt less restrictive. I also tend to tilt my keyboard sideways so the narrower keyboard made that easier too.

60% Form Factor
The form factor asks for a more diminutive design than full-size standard or even tenkeyless keyboards, which drop the number pad, top function key row, and arrow keys. So if you use the arrow keys in any game, you'll most likely want to do remap them to other keys.
By being a 60% keyboard (sixty percent the size of a full keyboard), the One 2 Mini is automatically more convenient. The 60-percent layout is perfect for minimalists that want a clean gaming setup or for those that want a solid on-the-go travel keyboard.
As expected, the 60% keyboard offered my gaming mouse more room to roam, and having more gaming desk space. Mostly that helped me focus on the gaming action at play. If you're not used to a smaller gaming keyboard it might take a little getting used. The size and layout are very similar to laptop keyboards, so if you used to those then you should get used the One 2 mini quite fast. 
Ducky also has a slightly bigger, but still compact 65% keyboard with dedicated arrow keys. That keyboard is called the Ducky One 2 SF (Sixty Five percent). And then they also have a tenkeyless version and a full-size board. 
The One 2 mini comes with full per-key RGB backlighting, which means you can set each individual key to a different colour and lighting intensity using the custom Ducky software. 
The plastic casing limits the visibility of the clear switches slightly on the edges but the white backplate under them reflects the klight so well that you get a very vibrant and rich RGB experience.
It also comes pre-installed with these 10 RGB backlit modes below, which you can cycle through on the keyboard itself using the keyboard shortcuts.
Cycle through these RGB modes using Fn-Alt-T:

Wave mode (default)
Color Cycle mode
Rain drop mode
Ripple mode
Random Reactive mode
Reactive mode
Breathe mode
100% Full Backlit mode
Radar mode
Backlit OFF
Change brightness levels (on modes 6,7,8 and 9) :

Fn + Alt + Z     = Adjust color red (R) brightness. 10 levels
Fn + Alt + X     = Adjust color green (G) brightness. 10 level
Fn + Alt + C     = Adjust color blue (B) brightness. 10 levels
Fn + Alt + V     = Erase red, green and blue color setting


Fn + Alt + Space     = Change all keys to any color. (Press on the color you want and all keys will change to match that color, all the keys will change to match that color)
Video - How to customize RGB lights on a Ducky One 2 Mini
Keycaps
With the textured double shot PBT keycaps, they are top quality and unlike ABS keycaps won't wear out over time. The main legends have good shine through so the RGB backlighting comes through very well.
The company should also be applauded for the addition of front-side legends on the double-shot keycaps to identify additional pre-configured functions. 
Unlike the main key legends on top, these side legends are lasered on and there's no RGB shine through on them. That means a cleaner look but you won't really be able to see the side legends in the dark.
Something else I really like is the stylized Year of the Dog space bar the One 2 mini has, it's very unique and adds a nice funky element to the overall look. And you also get a few extra keycaps in a randomly selected color which adds to the fun. I used mine to replace the standard WASD keycaps.
NKRO and Anti-ghosting
The keyboard also has an n-key rollover (NKRO), which means that you can press as many keys as you want at the same time without having any issues with ghosting or other performance killing nuisances. 
You're rarely going to be simultaneously pressing more than 10 keys at once but the 10 key NKRO and anti-ghosting show how expertly the One 2 Mini is produced.
Dip Switches
Underneath the keyboard, there are four dip switches. These dip switches let you change the positions of the function keys or change the layouts of the keyboard.
The first DIP switch turns the Windows key on or off, which is off by default (in other words, windows key works by default).
Function Keys
To be fair, you might wonder why someone would want a keyboard that removes the function row, number pad, and arrow keys.
But practically every key has a secondary function that can be accessed using the special Function (Fn) key, like how you would use Shift for a capital letter. So all those keys that are removed can actually be accessed using the Fn with other keys, so you're not really losing them and the keyboard can still be made smaller.
So using the power of the function key this keyboard is still fully functioning just like a regular full-sized board. 
All but a few important keys (like Fn) can be programmed to send macros or even shortcuts like opening your email, Windows Search, or changing your playlist. 
Opening it up
It doesn't take much to open up the Ducky One 2 mini keyboard. Only six Phillips screws hold the backplate/PCB onto the bottom chassis. 
What's a little weird about how the backplate and PCB are assembled is that the screws don't actually touch the backplate but screw onto the PCB itself onto the chassis underneath. So the backplate is then only attached to the PCB by soldering points. It all still feels robust though, but still a curious decision in the longer term.
The black, four-layer PCB itself is nice, with clean solder points with a little bit of flux and copper-colored accents that add a Ducky logo. The backplate is made of iron, not steel or aluminum, and painted white which scratches easily (but only if you're taking the keyboard apart, so no big deal). Ducky has mentioned that they tune the MX stabilizers.
Different Ducky One 2 Mini Variations
Standard version of the One 2 Mini 

HyperX collaboration

All-white version 

Frozen Llama

SkylineGood in Blue
Ducky One 2 Mini Alternative
Razer Huntsman Mini
Razer is known for their great gaming keyboards like the full-sized Razer Elite and Tournament edition keyboards. They also have a Razer Huntsman Mini which is also a more compact 60-percent size keyboard like the Ducky One 2 Mini. The Huntsman Mini is a little higher-priced than the One 2 mini but it has great linear optical switches and good supporting software for customisations. So definitely worth considering, espcially if you're a fan of the Razer brand of keyboards and peripherals.
Final Verdict
Ducky is a top trusted brand in the gaming industry, and the Ducky One 2 Mini is an exceptional compact 60% mechanical keyboard that offers the highest of quality and decent features. 
The One 2 Mini might be showing it's age a little with some newer features missing that are being found in newer keyboards like hot-swappable switches, wireless, optical switches, and is more compatible with a variety of operating systems including mobile devices.
Especially these days when more gamers want to swap out their switches without worrying about soldering and switch seamlessly between their Windows laptop and Apple iPad, the Ducky One 2 mini could seem lacking. 
But if these things don't trouble you then I'd say the Ducky One 2 mini is a great buy and a solid compact gaming keyboard that will keep delivering year after year. And if you're particularly keen on getting a small sized gaming keyboard then be sure to take a look at our full review of all the Best 60% Gaming Keyboards.