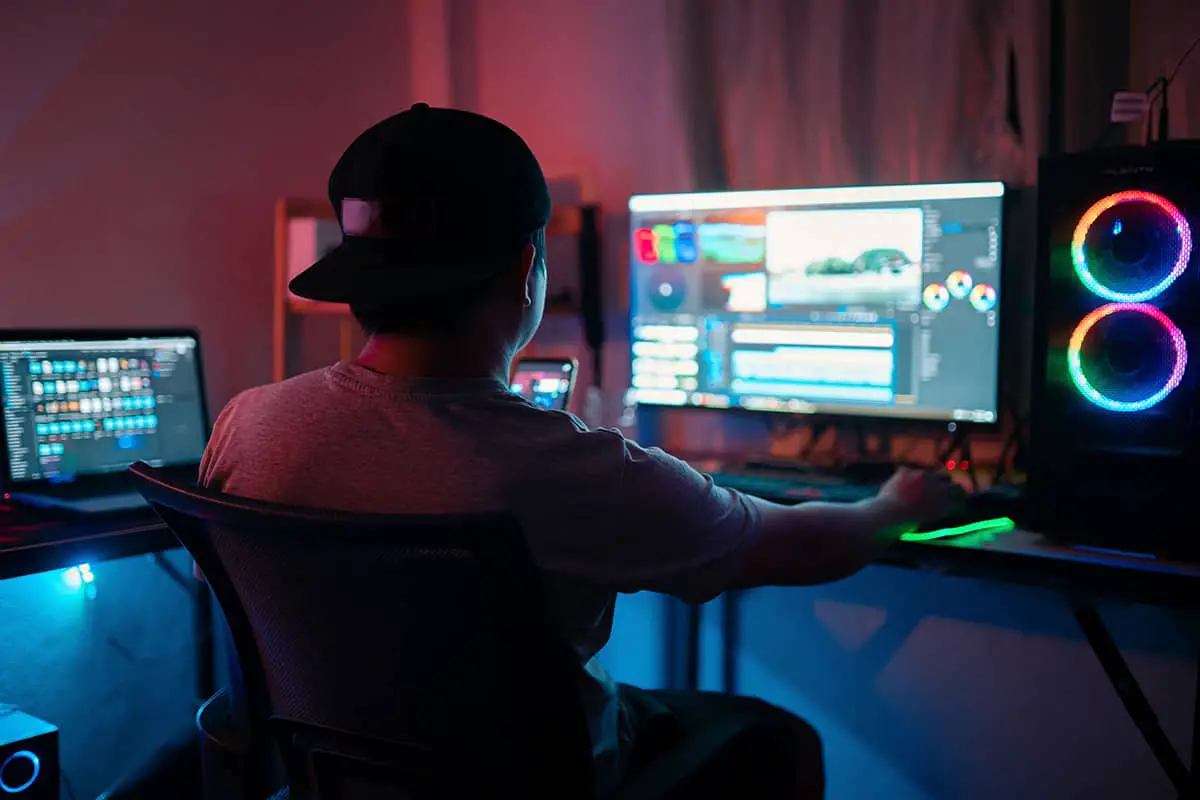 The Switch is the latest in Nintendo's series of gaming consoles and devices and has already become one of the company's most beloved products. It comes with exclusive games like The Legend of Zelda: Breath of the Wild and Just Dance 2017 on release.
While the Nintendo Switch does feature quite a sizable display, some might find that it just isn't large enough to do their games justice. Luckily, you're able to hook up your Switch to a monitor for a larger viewing experience.
Let's take a look at some of the best gaming monitor for Nintendo Switch options available out there to get you started in your search.
Comparison Chart
ASUS VE248H 24″ Full HD 1920×1080 2Ms HDMI DVI VGA Back-Lit LED Monitor,Black
ASUS PB287Q 28″ 4K/ UHD 3840×2160 1ms DisplayPort HDMI Ergonomic Back-lit LED Monitor,Black
Dell SE2419Hx 24″ IPS Full HD (1920×1080) Monitor, Black
Acer R240HY bidx 23.8-Inch IPS HDMI DVI VGA (1920 x 1080) Widescreen Monitor, Black
Sceptre 27″ Curved 75Hz LED Monitor Full HD 1080P HDMI DisplayPort VGA Speakers
Gaming Monitor for Nintendo Switch Reviews
ASUS VE248H 24" Full HD Monitor
ASUS is known for its high-quality computer and gaming equipment, and this 24" full HD monitor does not disappoint. It features an extremely slim design, which means it won't take up much space in any area you set it up in and provides 24" of viewing real estate.
Review
The ASUS VE248H comes with an LED backlit display, 1920 x 1080 resolution, and a lightning-fast response time of 2 milliseconds, which eliminates tracers and ghosting for more fluid video and gaming playback. In addition, it comes with D Sub, SVI, and HDMI inputs, as well as an integrated 1w x 2 speaker to provide you with full, high-quality sound.
The aspect control feature on this monitor allows you to choose a preferred display mode from amongst full and 4:3 for true-to-life gaming on your Nintendo Switch or for watching movies without experiencing any data loss or image distortion. The exclusive video intelligence technology that ASUS has integrated into this monitor will automatically optimize the image's quality using intelligent brightness, color, sharpness, and contrast.
The 10 000 000:1 ASUS smart contrast ratio will dynamically enhance the contrast of the display to provide you with lifelike images, which works great for some of the Switch's more colorful games, like the aforementioned Breath of the Wild as well as the Bayonetta games. Behind its sleek design, the VEH248H LED monitor carries a workhorse ethic, featuring stability and reliability.
Its various connectivity options of VGA, HDMI, and DVI-D offer full support of your input needs, including that of your Switch, while the quick response time eliminates any unsightly visual artifacts. The great thing about the VE248H monitor is that it is available in a number of different sizes, ranging from 21.5" to 27". This allows you to find the perfect size that will fit your setup.
A number of buyers reported that their ASUS monitor's display had a dull yellowish tint, especially when used next to another display. If you're using more than one monitor, this can be quite irritating.
ASUS PB287Q 28" 4K Monitor
If you thought the previous ASUS monitor was impressive, wait until you get a look at their PB287Q, which is a full 28" monitor that boasts a 4k resolution, providing you with fantastically clear image qualities and vibrant colors.
Review
This ASUS monitor allows you to see every detail thanks to its 28" true 4k display, with a 3840 x 2160 UHD resolution, 157 pixels per inch, and real 10-bit color. In addition, it features ASUS Eye Care technology, which boasts flicker-free images for reduced fatigue on your eyes, allowing you to game for longer periods without feeling like your eyes are going square.
The monitor itself features an ergonomically designed stand that comes with swivel, tilt, pivot, and height adjustment options, as well as wall mounting capability to allow you to achieve a more comfortable viewing position. The 1ms response time enables you to receive the fastest 4k response time possible so that you never miss a single frame of action no matter what game you're playing.
The ASUS PB287Q features an aspect ratio of 16:9 on its WLED display, delivering next-generation 4k UHD visuals. It has a pixel density of 157 pixels for every inch of screen space and provides more than 8 million pixels, which is four times the density of standard full HD displays. All of this equates to stunningly detailed and vibrant visuals that will immerse and captivate you for hours.
With 300% more screen real estate than standard full HD displays, this ASUS gaming monitor provides you with more space for you to enjoy your games. It works fantastically with some of the Switch's more detailed, immersive games, like Skyrim or Pokemon. Additionally, the monitor is capable of displaying over 1 billion colors, delivering outstanding saturation and color reproduction thanks to its great brightness and Smart Contrast Ratio.
One of the only real gripes we have with this monitor has to do with its brightness. While in dimmer rooms, the image is very bright; if you are in a very illuminated room, especially if the sun is shining onto the screen, you probably will not be able to see the image very well.
Dell SE2419HX 24" IPS Monitor
Like ASUS, Dell is also known for its professional-grade computer equipment, and their monitors are some of the best on the market. If you are looking for a truly immersive gaming experience with barely any bezels to block your view, then you're going to love this monitor.
Review
One of the main focal points of the Dell SE2419HX 24" monitor is its extremely thin bezels. The bezels on the top and sides of the display are so thin to the point that they are almost invisible, which provides you with a seamless, immersive display that will keep you captivated in your games for hours. Of course, the bottom bezel is slightly larger because it houses some of the menu buttons.
This monitor has a compact base to maximize screen real estate, as well as the space you have available to you on your desk, which can then be used to place your Switch on when you have it hooked up to your monitor. No matter where you sit, the colors that the monitor displays are accurate and consistent across the ultra-wide viewing angle, thanks to Dell's In-Plane switching technology.
Dell recently improved the design of the Se2419HX, reducing the stand to be 30% smaller than what it was, which frees up even more desk space while avoiding compromising the monitor's sturdiness. It also comes with an integrated power supply unit to further decrease the clutter on your desk and keep your setup streamlined, whether you're gaming on your Switch or your PC.
The monitor can also easily be tilted to allow you to find your ideal viewing angle. You can increase your viewing comfort as well by reducing harmful blue light emission using Dell's ComfortView feature while also minimizing distractions thanks to the low-haze, flicker-free screen. Finally, when using the monitor with a PC, you can stay organized between your windows using Easy Arrange.
While the stand on this Dell monitor does feature a very ergonomic design, it can be quite challenging to take apart once you have installed it. This is more of a minor inconvenience, but it's worth mentioning nonetheless.
Acer R240HY 23.8" Widescreen Monitor
Like the Dell monitor before it, the Acer R240HY features very thin top and side bezels, maximizing your screen real estate. It also comes with a unique stand design that improves its stability while also reducing the clutter on your desk for a more streamlined gaming experience.
Review
The Acer R240HY 23.8" IPS display shows you each and every detail vividly and clearly, without color difference, from any viewing angle. The zero frame design places no boundary on your visual enjoyment, while the brushed hairline finish stand is able to fit into any environment while reducing the monitor's obtrusion. The great thing about this monitor is that it supports DVI, VGA, and HDMI inputs.
The liquid crystal display provides you with excellent detail with a fantastic 1920 x 1080 resolution, which makes it an ideal option for those who want to be able to enjoy colorful, vivid gaming on their Switch while also using it for multimedia and productivity applications. In addition, the monitor provides stunning color at any angle, thanks to its advanced in-plane switching technology.
The zero-frame design creates a unique visual experience without boundaries, which also works well for regular PC setups that feature more than one monitor side-by-side. With its easy adjustment, the display can tilt anywhere between -5° to 15°, which allows you to customize the best sightline for media enjoyment to have the best view possible.
Thanks to Acer's flickerless technology, you can wave goodbye to annoying screen flickering, which can completely ruin your gaming immersion and just make gaming downright frustrating. What's more, thanks to the blue light filter, you can protect your eyes from harmful blue light, which can interrupt your sleeping pattern and fatigue your eyes.
Unfortunately, the menu options for this monitor are quite complex, unnecessarily so, and are not very easy to navigate with the under-screen controls. If you are a technophobe, you might want to consider another monitor on this list.
Sceptre 27" Curved Full HD LED Monitor
Finally, to end this list off with a bang, we have this Full HD Curved gaming monitor from Sceptre, which boasts an impressive 27 inches of screen real estate. It is a great option for anyone that is looking to be completely immersed in their gaming experience.
Review
As a wide-screen entertainment monitor, this monitor boasts a brilliant 27" curved screen that is truly something to behold, even when the actual display has been turned off. The IPS display panel is housed in a thin, elegantly curving frame. Naturally, you'd expect to pay an arm and a leg for a monitor of this quality, but this Sceptre product actually happens to be quite affordable.
The monitor's resolution is a little on the low side for a screen of its size, but it stands out from the crowd nonetheless. It is housed in a gray-black, matte-finish cabinet, and the bezels on the display are practically invisible. You receive a silver stand that has a rounded base, similar to that of the previous monitor, which provides tilt adjustment, but no height or swivel adjustment.
It comes with a VGA and HDMI port and an audio-out port to allow you to connect to a set of external speakers. However, the monitor does come with its own set of speakers that provide good sound quality. When it comes to performance, the Sceptre curved monitor performs well as a general-use monitor, making it ideal for both gaming and office purposes.
Its 1800R makes for a thrilling experience, and the IPS technology that the screen employs allows for wide viewing angles and vibrant colors. The one downside to the monitor, though, is that it does not come with adaptive sync technology, meaning you might encounter some visual artifacts during gameplay.
Final Thoughts
While the Nintendo Switch does come with a large built-in display that is quite impressive, there's nothing like experiencing The Legend of Zelda: Breath of the Wild on a large screen. We hope that we were able to help you find your next ideal Switch monitor.
Our favorite gaming monitor option has to be the Acer R240HY 23.8" Widescreen Monitor thanks to its zero frame design and crystal clear visuals. The flickerless technology is great and no matter which angle you view it from, the image is colorful and immersive. Happy gaming!