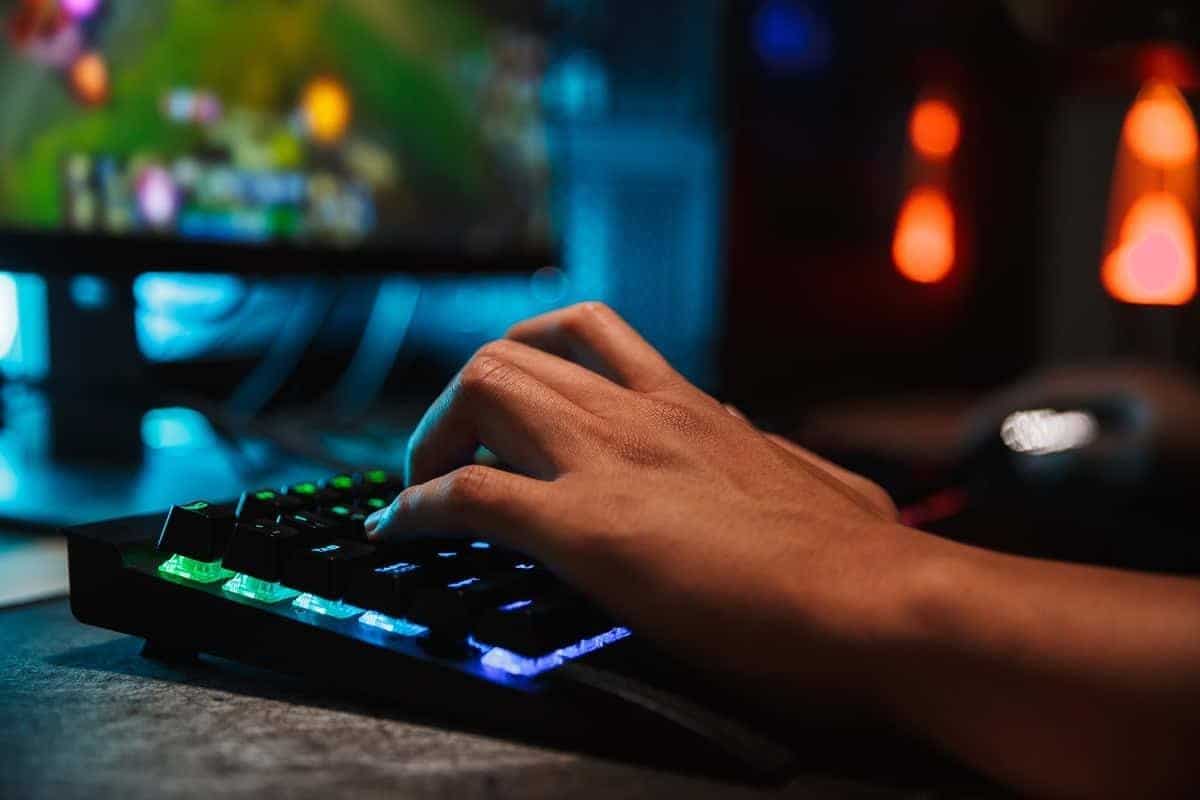 Do you sometimes feel pain in your hands, wrists and shoulders while gaming? Over 8 million people suffer from carpal tunnel per year, and long gaming sessions on a mouse or keyboard can contribute to this.
Getting a gaming keyboard that is geared towards lowering strain is one way to reduce the pressure you place on your joints. But what makes a keyboard perfect for gaming, and more ergonomic?  Can you get a good gaming keyboard that's also comfortable and won't hurt or strain your joints over time? Things like force feedback on mechanical switches, sloped design, height adjustable feet and comfortable wrist wrests all make a difference.
There are various aspects that make a keyboard good for gaming, including comfort level, lighting adjustments, keys customization, portability, etc. So let's take a look at the best ergonomic keyboard for gaming and their pros and cons to get you started.
Comparison Chart
PICTEK Backlit Keyboard and Mouse Combo
KLIM Lightning Gaming Keyboard
Eagletec KG011 Mechanical Keyboard
RECCAZR Gaming Keyboard
Razer BlackWidow Chroma V2
Best Ergonomic Gaming Keyboard Reviews
PICTEK Keyboard and Mouse Combo
PICTEK offers a convenient keyboard and mouse that is completely adjustable in every manner. From its lights to mouse buttons, you can change everything as per your convenience. It is designed perfectly to increase its life and give you the perfect gaming experience.
Review
The keyboard and mouse combo offered by PICTEK is equipped with every feature a gamer wish for. Its bright LED rainbow lights take you into a whole new world. To give you more control over your gaming, PICTEK offers you the ability to adjust the lights as per your desires. Keyboard keys are durable and can reach up to 50 million keystrokes, twice the number of a regular keyboard. Its perfectly designed crater structure ensures silent clicks.
To avoid falling off, the manufacturer has used a microparticle treatment and an oil-jet later engraving design. The 10 multimedia buttons give you quick access to perform gaming tasks. It also allows you to re-map the arrow keys as per your requirement.
When it comes to the mouse, PICTEK offers you the option to design it yourself. The mouse is programmable, and you can change the functions of its 7 buttons as per your requirements. To meet your needs, it offers you 4 adjustable DPI from 800 to 2400. It comes with an advanced optical sensor. In short, the mouse has everything to give you the best gaming experience.
This PICTEK mouse and keyboard are compatible with most operating systems, including Mac OS, Windows 10, Windows 7, Windows 8, Windows Vista, Windows 2003, and Windows 2000. The keyboard is slip-resistant which increases the lifespan of it. It reduces the chances of accidental water, tea, or any other liquid splashing over it.
The product dimensions are 18.3 x 7.2 x 1.2 inches, and it weighs about 2.5 pounds. The package includes a mouse, keyboard, and user manual. The user manual is detailed enough to guide you through the setup process and how to use it effectively.
KLIM Lightning Gaming Keyboard
The metal structure lightening keyboard by KLIM features semi-mechanical keys. It gives you a feel of both membrane and mechanical keyboards. At the same time, its hybrid feature reduces the noise of the keys to reduce distraction. The keyboard is compatible with Mac, Xbox One, PC, Switch, and PS4.
Review
KILM Lightening is a semi-mechanical keyboard that is also known as a hybrid keyboard. A semi-mechanical keyboard is quieter as compared to a mechanical keyboard. However, it is not completely silent. The semi-mechanical keyboard is very comfortable and allows you to type precisely. With time, you will notice an increase in your typing speed and gaming progress.
The lighting keyboard is equipped with seven uniform colors of lights. You can switch the color with just a single key click. There is also a breathing mode to make it more exciting for the user. Is it a durable keyboard? Yes, KLIM Technologies has used a metal frame with anti-scratch protection to ensure it lasts longer than other keyboards.
One of the downsides of this keyboard is that you have to keep the lights turned on all the time. You can't turn off the keyboard lights during the daylight as you can't see the keys properly. Also, the light is not evenly spread. A few of the keys are brighter, while some are not bright enough. The keyboard layout is ISO (European), so if you are looking for an ANS layout, this keyboard is not for you.
The dimensions of the product are 19.7 x 7.9 x 1.8 inches, and it weighs about 2.2 pounds. It comes with a five-year warranty that gives you peace of mind. Unlike other keyboards, you don't need to install software or drivers to set up this keyboard. It features plug and play technology that cuts all the hassles of configuration. If you face any issues, you can always look at the user manual to configure it.
EagleTec KG011 Mechanical Keyboard
This is a mechanical keyboard with all the features you expect in a gaming keyboard. EagleTec has used high-quality materials to construct this masterpiece. It is durable and not going anywhere for years. The keyboard works perfectly with all the major computer brands. It is compatible with Windows 10, Windows 8, Windows 7, Windows Vista, Windows XP, and limited Mac keyboard support.
Review
The EagleTec KG011 mechanical keyboard is constructed with an aircraft-grade aluminum plate. Its non-slip design and splash-proof keys make it a durable keyboard for both office work and gaming. It features 9 multimedia keys to gives you quick access to your computer. The gold plated USB connector is corrosion free and provides you with a reliable connection.
Its blue LED-backlit keyboard comes with backlighting for all the 104 keys, but it features only blue color lights. However, the light is evenly distributed with 10 brightness level settings. The anti-scratch protection ensures that lettering doesn't scratch up to 50 million keystrokes. There are multiple lighting effects, including a breathing mode.
A few of the downsides of this keyboard are light settings and loud key noise. It makes more noise as compared to other mechanical keyboards. The keyboard lights are not bright enough at maximum brightness. If you are someone who doesn't like brighter lights, this is perfect for you.
The dimensions of the product are 17.6 x 7.01 x 1.06 inches, and it weighs about 2.3 pounds. It is a plug and play keyboard that doesn't require any driver or software installation. All you have to do is to plug the USB into your machine and it will be ready.
RECCAZR Gaming Keyboard
RECCAZR, the manufacturer of the keyboard, is certified by Sira Certification. A group of professional engineers tests each keyboard in detail before sending it to market. This cost-effective gaming keyboard feels like a true mechanical keyboard when you push the keys. To make it more appealing, they have included a rainbow LED-backlight.
Review
The ergonomic gaming keyboard designed by RECCAZR is a budget-friendly keyboard for gaming. Although it is not a mechanical keyboard, it gives a feel of a mechanical keyboard because of the audible clicking sound and responsive tactile feedback. It features anti-ghosting technology to provide you with a smooth and precise experience.
A rainbow LED-backlit is installed in this keyboard that allows you to easily type in a dim environment. There are various brightness levels, and you can adjust as per your convenience. There is no option to change the light to one uniform color. However, if you want to turn off the lights, there is a setting for it.
When it comes to gaming, it is easy to get excited and spill liquid over the keyboard in excitement. Thanks to RECCAZR as they have used waterproof materials in the construction of this keyboard to make it spill-resistant. The next time you drop some water on your keyboard, don't worry as we have got you covered. The double injection on the keycaps ensures that lettering is not going anywhere.
The dimensions of the product are 17.8 x 6 x 1.6 inches, and it weighs about 2 pounds. Similar to most of the latest keyboards, you won't require any software for this keyboard. The keyboard is compatible with most operating systems. It comes with plug and play technology. The user manual explains in detail how to adjust the light settings.
Razer BlackWidow Chroma V2 Keyboard
When it comes to a mechanical keyboard for gaming, Razer's BlackWidow series is the most popular among gamers. The BlackWidow series is equipped with all the premium features. The BlackWidow Chroma V2 keyboard offers three proprietary switches to adjust the flavor as per your taste. It is powered by Razer Chroma which gives you unlimited lighting options. You can choose any color from 16.8 million customizable options.
Review
This is a true gaming keyboard that you would like to show off to your friends. The Chroma V2 is packed with a lot of features, but its wrist rest is unbelievable. Its leather finish wrist rest is so comfy that you could almost sleep on it. It is an elegant, soft, and perfect addition for a gamer in every manner.
The BlackWidow Chroma V2 is powered with the popular Razer Synapse software. The software records your keystroke data, allows you to customize presets, and sends it to the cloud. You can use the same settings across all your Razer devices. The Chroma V2 is packed with Razer's famous yellow switches best known for gaming. It ensures smooth and faster typing. The yellow switches are not silent, and you can hear the sound of clicking.
The lighting effects beat every other keyboard in the market. It allows you to choose any color of your choice and adjust the brightness as per your convenience. While playing a Chroma-compatible game, the keyboard lighting starts responding accordingly. For example, if you are healing, the keyboard lights up with waves of yellow light.
Is there anything lacking in this keyboard? Yes, there are no multimedia keys. To adjust the volume and other things, you have to use the function button, which is annoying.
The dimensions of the product are 18.6 x 1.6 x 9.9 inches, and it weighs nearly 4 pounds. To power the keyboard, you require a lithium-ion battery. When you plug the keyboard into your PC, it will start working immediately. However, you need to install the software to enjoy its advanced features. There is a user manual that explains how to do it. The keyboard is compatible with all Windows versions.
FINAL VERDICT
After reading the reviews, you probably already know which is the best gaming keyboard on this list. The BlackWidow Chroma V2 by Razer is the most advanced ergonomic gaming keyboard. However, it comes with a huge price tag. If you want to invest just one time and get the best gaming keyboard, go with it. It is not recommended for an Xbox or PlayStation, though.
If you are looking for an alternative to this keyboard that comes with a low price tag, the EagleTec KG011 mechanical keyboard is a good option. It doesn't have advanced lighting and sync features, but it has all the basic features to enjoy games.
Do you need a mouse and keyboard combo? PICTEK has got you covered. It is a semi-mechanical keyboard that offers most gaming keyboard features at a very low rate. If you want a non-mechanical keyboard, you can buy the RECCAZR gaming keyboard.
Are you worried about compatibility issues? The KLIM Lightning Keyboard works perfectly with consoles, Mac OS, and Windows.