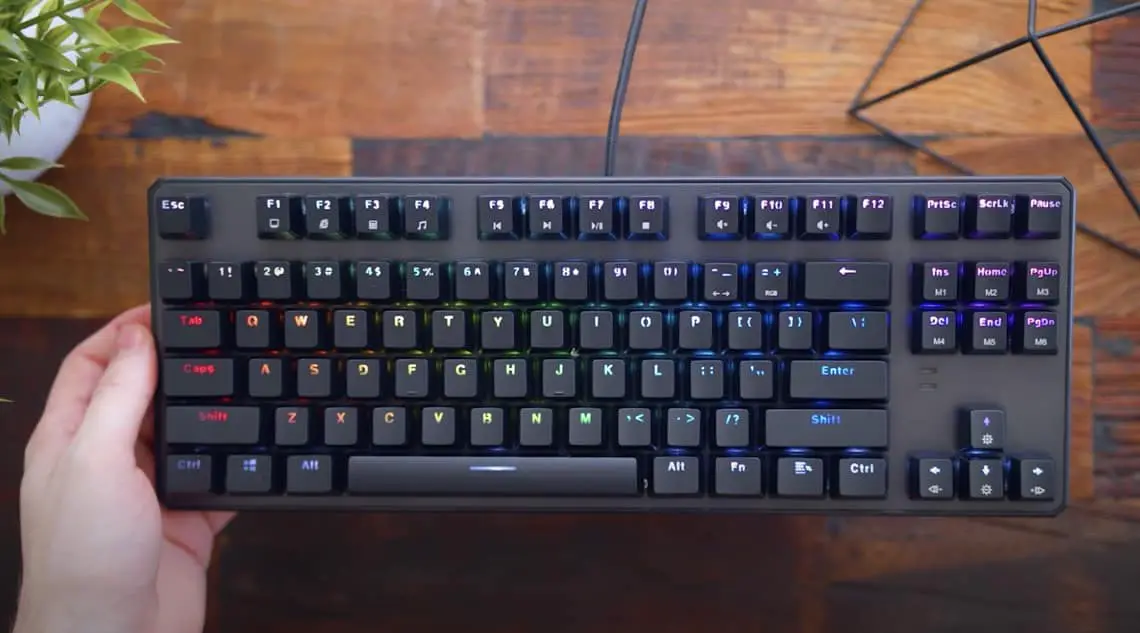 Look, I get it, sometimes you want something but don't want to sell a kidney to get it. That's why I've created this guide to getting a cheap but decent budget gaming keyboard from as little as $20 up to $100. That's right.....even under $20! And if you'd be thinking it's utter garbage... you'd be wrong. 
When looking for a budget gaming keyboard there's obviously lots to consider like mechanical vs membrane, RGB backlighting, response times and programmatic macros etc. The top end gaming keyboards come with most of these features but can be quite pricey so we've decided to bring you a list of the keyboards to fit your budget with good features and quality that won't break the bank. 
To do that we looked at many of the budget gaming keyboards on the market under $20, under $30, under $50, under $75, and under $100. Most importantly we considered the quality and features of each keyboard to pick the overall winners in each price range.  Remember cheaper doesn't mean bad, in fact, we were pleasantly surprised at how much you can get for your money.
Comparison Chart
Best Budget Gaming Keyboard Reviews
[Best Gaming Keyboard Under $100
]
From a build quality perspective, there is very little keyboard flex if any at all on the Logitech G512 Carbon. And besides the quality mechanical switches, you also get a sturdy brushed aluminium body that looks great and doesn't show fingerprints easily. USB passthrough is also standard, so you can plug in other USB peripherals with the necessary power and data rates supported. The cable routing underneath is also a welcome addition to keep any mouse and other cables in your gaming setup neat and tidy.  
28 key roller over is supported for anti-ghosting when you're hitting multiple keys simultaneously to ensure they all triggered correctly. The Logitech G512 Carbon comes in a choice of switches between the Romer-G tactile, Romer-G linear and the GX Blue clicky switches. The Romer G tactile and linear switches are similar to your Cherry MX Brown and Red switches. 
On this mechanical keyboard I'd personally go with the Romer-G tactile switch since I like a fit of feedback on my keypresses, and it's got a 25% faster response time than a standard switch due to its lower 1.5mm actuation distance. If you're not a fan of tactile bump feedback on your keyboard switches, then the Romer-G linear is the one to get, and it's just as responsive as the tactile Romer-G.
And if you're willing to pay a bit extra for an even better Logitech gaming keyboard, then check out our review of the Logitech G910 Orion spark keyboard.
Best Alternative 1: under $100 (Corsair K68 RGB)
The Corsair K68 RBG is a good alternative if you're looking for a sturdy build  along with quality Cherry MX Red mechanical switches. You don't get full color RBG backlighting but rather RED backlit keys.
A BIG bonus feature is that the K68 is also fully spill and waterproof, which is a a big deal for those of you (errmm like me) that tend to be clumsy and mess on their keyboards.
Media keys are also provided for play, stop and pause functionality
Best Alternative 2: under $100 (SteelSeries Apex 5)
The Steelseries Apex 5 is another excellent contender for the under $100 crown with aircraft grade aluminium build quality. The Apex 5 also comes with clicky blue switches and also includes a wrist rest, programmable macros, Rainbow per-key backlit keys and an onboard OLED keyboard screen built in.
However, if you can spare around an extra $25, rather go for the SteelSeries Apex 7 Tenkeyless (TKL), which has all the same features as the Apex 5 but is more compact for extra desk space and features better linear Red optical-mechanical combo switches that are faster and smoother with no tactile bump. 
HAVIT RGB keyboard & Mouse
[Best gaming keyboard under $75]
The Havit mechanical keyboard is hard to beat in this price range. It has full per-key RGB mechanical, plenty of features, and comes with extras like a detachable wrist rest and a fairly decent RGB gaming mouse thrown in for 'free'.
The build quality is good with very little board flex if any, and PBT keycaps so you know they won't fade.
It features mechanical blue switches made by Outemu which are decent enough Cherry MX clones. The keys could benefit from a bit more stabilisation and being clicky blue switches they are on the 'louder' side of the spectrum compared to Browns or Reds. They also include a keycap remover in the box.
There's a full range of media keys that includes a volume roller. And just like the Corsair K55 (our recommended keyboard under 50$), the Havit also comes with programmable macros that can be programmed on-the-fly on the keyboard itself without needing special software.
A braided USB cable is also included and the bonus of a 2 port mini-usb hub built into the keyboard, which works enough except for perhaps very high powered usb devices. 
Best Alternative under $75
A close contender you can look at in the under $75 range is the Redragon K556 mechanical keyboard, but particularly if you're looking for a faster more responsive gaming-focused mechanical switch like Brown or Red switches. The Redragon K556 doesn't come with a free gaming mouse and has fewer features though. So you need to weigh those extras on the Havit up against the better Redragon switches. 
And if you like Havit but want something slightly more gaming geared, then Havit's low profile gaming keyboard with blue Kailh switches is also worth checking out. It has ultra-thin suspended keycaps and a lowered 3mm key travel that produces a faster unique mechanical feel. It has more stabilized keys and faster key response times particularly for FPS and action type games but is more expensive than our Havit keyboard pick above - you also don't get the wrist rest or gaming mouse included.
[Best Gaming Keyboard Under $50]
The Corsair K55 RBG is a real looker, and certainly looks a lot more premium than its price tag. 
The K55 is a quiet membrane keyboard and the key presses feel good under your fingertip and have a quieter sound that plenty users often like. Not having mechanical switches might be a problem for some people but the keys are actually pretty good and not too mushy or soft. It also does have other gaming capabilities baked in like raised keys, a 1ms response time, and anti-ghosting with eight key roll-over support. This puts it's gaming cred and performance right up there with other more expensive keyboards. 
It's constructed from a matte black plastic body with a glossy top strip. There is a little bit of flex on the board when you really apply some pressure, which I'd expect for the price. A nice addition is the removable wrist rest that's included for free. It also has two flip-out feet to increase the back height of the keyboard.
The RBG backlighting doesn't have per-key illumination but rather three lighting zones and 10 or more preconfigured RGB lighting modes that you can choose from. 
You'll also find dedicated media keys at the top of the keyboard that you can use to control the volume or access other media without needing to toggle out of your game. Macro support is also standard with a total of 6 macro keys that can be recorded on-the-fly by using the dedicated MR (macro record) button. This means you can create macros without needing to use separate software - amazing at this cheaper price and a major plus in my book.
There are plenty of RGB keyboards available at the moment, but few of them offer such a decent host of features and quality as the Corsair K55. Overall it's hard to compare the Corsair K55 to a more expensive mechanical switch gaming keyboard with Cherry MX or similar switches, but if you're looking for a good budget keyboard at around the $50 mark with plenty of features and not fussy about it having to be mechanical switches, then this quiet rubber dome membrane-based keyboard is an excellent choice. And the features like full RGB, anti-ghosting, dedicated media key and on-the-fly macros support definitely make up for it. 
An alternative in the under $50 range is the SteelSeries Apex 3. It's also not strictly speaking a mechanical keyboard, more of an optical-mechanical switch combination, but a truly great keyboard at this price point with similar features to the Corsair K55. 
[Best Gaming Keyboard Under $30]
So, full disclosure, our winner in the under $30 category, is well, actually a little over $30 at the time of writing this. But it's so close and just so good for this price that we had to include it, so hopefully you'll forgive us. 
The K552 uses Outemu switches which are similar to Cherry MX Blue switches, so if you like clicky mechanical switches with tactile feedback, then you'll love the Redragon K552 mechanical keyboard. And from a build quality perspective it feels really solid. 
The K552 is equipped with proper full per-key rainbow RGB lighting. It's got 8 different RGB modes, 2 user customized RGB modes, and 6 different colors. You can change the brightness levels and turn on and adjust the RGB breathing speed which has a sort of pulsating RGB effect. I have had brighter RGB backlit keyboards. I think it's mainly because the LED is fitted a little to the side of the inside switch versus more on top with other premium mechanical keyboard, but its definitely bright enough.
I also like the sort of bolder futuristic looking font on the keys, which I think looks pretty cool. You also get a manual and a key-puller included in the box. It's a solid RGB keyboard with good build quality and mechanical switches. Coming in a little above the $30 mark, I don't think you can get much better than the Redragon K552.


Video - Redragon K552 RGB review
An alternative at the $30 price point that you could consider is the NPET K10 Rainbow LED backlit keyboard. With full size 104 keys and 13 multimedia keys. The K10 has a good quality weight to it so is fairly sturdy. The NPET K10 is water resistant which is very useful for someone like me that's a bit of a clutz at time. The keycaps are fairly standard ABS plastic. It doesn't have per-key full RGB backlighting but has 4 LED lighting backlit modes: breathing (7-colors alternating), 3 mixed backlit modes, changeable breathing or permanent lighting mode. The brightness and breathing speed of the back lighting can also be changed to your liking. But best of all is the price - for a cheap mechanical keyboard like this, you really get a lot for your money at less than $30.
[Best Gaming Keyboard Under $20]
From all the cheap gaming keyboards under $20 we've tried out, the NPET G20 is our top pick out of the lot. It's a tenkeyless (TKL) design, dropping the dedicated number keys on the right side to give you more space for your mouse and gaming desk setup. 
In terms of build quality, don't let this budget keyboard under $20 fool you. It might be all plastic, but it's fairly sturdy and has a lot less board flex than other sub $20 budget keyboards we've reviewed. 
The NPET 20 isn't mechanical but a membrane keyboard. As can be expected, the keys on the NPET G20 aren't top end, BUT they are decent and far less mushy than we thought they might be. The keypress feel isn't straight smooth but has a little bit of a tactile clicky feel, almost like a mix between the Corsair K55 and Razer membrane. 
But it feels very nice overall. The space bar is also slightly downward curved so it sits quite naturally for your thumb and on your hand in general even if just resting directly onto your gaming desk without a wrist rest. 
Understandably the keys are ABS so will eventually wear down with a lot of use. It comes with a keycap puller so in theory, you could replace them but for this price, you could get a whole brand new one a couple years or so down the line. Underneath you have a rubber grip and adjustable feet that pop up to increase the back keyboard height.
The keyboard isn't true per-key RGB backlit, but rather has multiple single LED lights placed throughout giving you an RGB-like experience. There are five different color zones that you can light up and 3 different 'RGB' brightness levels.
Overall this is a fairly nice entry-level keyboard under $20. And although you might not get things like Full RGB we can't fault the Mpet G20 which offers surprisingly alright build quality and good value at such a low price point. And if you are particularly fond of membrane keyboards you don't often find many tenkeyless membrane keyboard models available - so there is that too. 
If I were to consider another good alternative at around the $20 price point, I'd take a look at the Rii RK 100.
Verdict - Which budget gaming keyboard is the best?
Well it really depends on how much money you want to spend and the features you're after. The Logitech G512 carbon is strictly speaking the best budget keyboard based on our review, but if you want to spend less and get a bit more bang for your buck then I'd go for the Havit mechanical gaming keyboard and mouse combo.
On the cheaper keyboard's for gaming side, you have the NPET G20 TKL, which might not have true per-key RBG backlighting, but heck, it's sturdy and offers incredible value for money. So yeah, pick the best budget keyboard from the different price ranges we've selected for you above that you're comfortable gives you the features and quality you're wanting for the money you willing to spend.
Happy gaming!   🙂