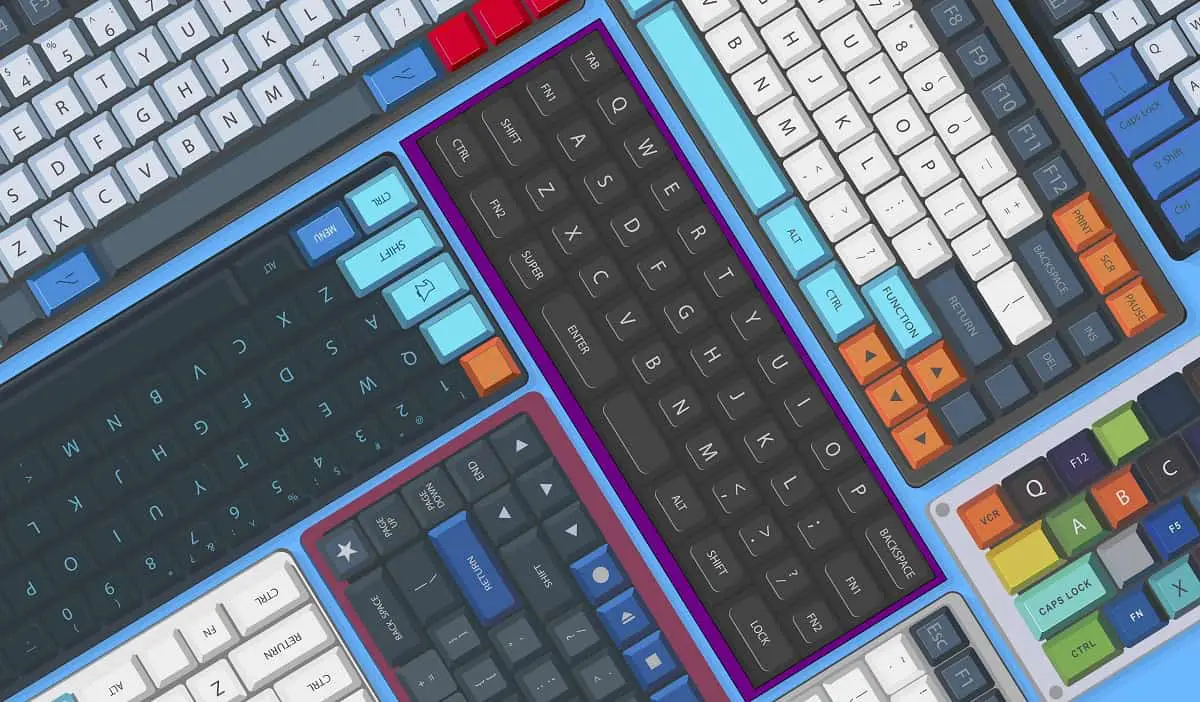 When it comes to gaming and gaming paraphernalia, you will want to make sure that your hardware is as efficiently and ergonomically designed as possible. The keyboards on our list all work that angle by cutting off some of the excess hardware that you don't necessarily need when gaming.
In this article, we'll be looking at some highly recommended 75 percent keyboards for gaming. We will discuss each option's features, highlight the pros and cons, and present the information you'll want to know to make an informed decision on which one would be best for you.
If you're interested in the best 75 percent gaming keyboard, keep reading to find out about a few different options.
Comparison Chart
| | | | | |
| --- | --- | --- | --- | --- |
| EPOMAKER NIZ Plum Electro-Capacitive Keyboard | | Best TOPRE-Clone 75% keyboard | | |
| Keychron K2 Mechanical Gaming Keyboard | | Best wireless 75% keyboard | | |
| Vortexgear Race 3 Mechanical Gaming Keyboard | | Best high-end 75% keyboard | | |
| Smart Duck XS-84 TKL Gaming Keyboard | | Best mid-range 75% keyboard | | |
| Keycool Hero Mechanical Keyboard | | Best overall 75% keyboard | | |
| DREVO Gramr Mechanical Gaming Keyboard | | Cheapest (under $50) 75% keyboard | | |
| RK ROYAL KLUDGE RK84 Gaming Keyboard | | Best Hot swappable 75% keyboard | | |
75% Gaming Keyboards Reviews
EPOMAKER NIZ Plum Electro-Capacitive Keyboard
We consider this 84-key keyboard by EPOMAKER to be the best Topre-Clone 75% keyboard. Topre refers to a line of electro-capacitive keyboards manufactured initially by the Japanese company of the same name.
Product Highlights
This keyboard features the standard 84 keys of a 75% keyboard. Incorporating the Topre design for their keyboard, the use of electro-capacitive key switches makes the Epomaker NiZ keyboard a silent, rubber dome keyboard that provides a level of tactile feedback similar to a mechanical keyboard.
It uses a rubber dome to house the slider, over which you will find the coiled springs and circuit boards. You effectively get a taste of both mechanical and membrane keyboards in one, for better or for worse, with satisfying tactile feedback, especially with the individually weighted keys.
They also make use of anti-ghosting technology to prevent any mis-clicks on the keyboard's part, as well as a six-key rollover for those moments in games where you need to use different combinations of keys. The color scheme is muted and classic, with the combination of white and light grey to match those of older office keyboards.
The construction is reinforced with stronger PBT keycaps to provide a more durable make that is also resistant to oils and dirt built up beneath your fingertips. The deal is completed with a one-year warranty and access to their 24-hour customer service.
What We Liked
The Topre electro-capacitive design is a nice compromise for those who enjoy a mechanical keyboard's responsive feel but need a keyboard to be more low-profile. It's got a classic color scheme and design that will work well for any gamer who enjoys a more retro feel.
However, it still comes with many different features that we enjoy seeing in a modern gaming keyboard, such as a six-key rollover, anti-ghosting configuration, and fully programmable keys. It works quite well for gaming, despite the keyboard not necessarily being targeted towards that audience.
What We Didn't Like
This keyboard is a bit of an enigma, as it isn't built like a conventional gaming keyboard. It lacks the additional programmable keys you usually see and would use for custom macros in games. The "retro" design, while nice for a more niche crowd, is also one that is better suited towards an office keyboard and isn't attractive to gamers.
Keychron K2 Mechanical Gaming Keyboard
This keyboard from Keychron is a more contemporary gaming keyboard design that we would rank as the best wireless option on this list. It has many of the features we have come to expect from gaming keyboards, as you will see highlighted below.
Product Highlights
Far more in line with what you would expect from a gaming keyboard, the Keychron K2 is a compact mechanical keyboard with the standard 84-key setup. It is made with durable aluminum for a robust and long-lasting design.
Connected either through a USB Type-C cable or via Bluetooth, this keyboard makes use of a reliable and broadly compatible Broadcom Bluetooth chipset. This keyboard can pair with up to three different devices at once and can freely switch between them as needed.
It uses the Mac keyboard layout but remains compatible with Windows computers by incorporating each design's unique function keys. The K2 keyboard has a battery life of 72 hours of constant typing, or seven days of regular use, which counts as eight hours of typing per day. It makes use of anti-ghosting technology and n-key rollover while wired or six-key rollover while wireless.
The Gateron Red Switch beneath each key in this mechanical keyboard ensures there is a satisfying click behind each keystroke, as well as an excellent response time. Finally, the keyboard features the gaming keyboard classic - RGB backlighting that can be changed via the function keys.
What We Liked
This keyboard is more in line with what you'd expect from a modern gaming keyboard, at least compared to the Epomaker NiZ that we featured previously. It's not quite there yet, but it has many of the features we enjoy seeing, from the mechanical make and durable aluminum casing to the anti-ghosting, key rollover, and RGB backlighting that is better used in dimly lit or dark rooms.
The exciting use of the Mac keyboard combined with the Windows keyboard's functionality allows for broader compatibility, which is then further enhanced by the Broadcom Bluetooth chipset that allows for more devices of different makes to be paired at once. The switches are durable, fast, and satisfying.
What We Didn't Like
The fact that the default is for Mac keyboards can be off-putting for many, as gaming is generally Windows for PC. This can be especially confusing for those who aren't used to the Mac layout. Gateron switches, while they do the job, are also certainly not seen as the best, at least for gaming.
This is because of their slower response times, which is further accentuated by the wireless nature. Lastly, the battery life isn't anything special, especially since you'll be using it quite often when gaming, so you will quickly run the battery down.
Vortexgear Race 3 Mechanical Gaming Keyboard
This keyboard features a similar design to the Epomaker NiZ but opts to add some flair to the classic white and light grey color schemes. This keyboard earns the title of the best higher-end option of those on this list.
Product Highlights
This compact keyboard features an 83-key setup that incorporates various multimedia keys. With the standard Windows layout, this keyboard can work well for any computer user, from typists to office workers to gamers. The keyboard features a metal casing of anodized CNC aluminum, making this a durable and robust keyboard that should last quite some time.
The keys have an admittedly cheesy color scheme, as the classic white and light greys are accompanied by bright yellows, greens, blues, and deep reds. This makes for an even more retro feel for the keyboard, even if that isn't quite what they were going for.
They also offer Mac keycap alternatives and a solid white and light grey option for those who don't want the colors. It connects via a detachable micro-USB cable but is not necessarily wireless. It's mechanical with Cherry MX switches, so it's quieter but still offers higher speeds and silent keystrokes.
What We Liked
This mechanical keyboard uses excellent Cherry MX switches, some of the best on the market for silent yet tactile feedback. The keyboard's color scheme isn't as basic and muted as the Epomaker, but it still feels quite dated and would suit those who want a more retro or old-school feel for their setup without sacrificing quality.
The option to swap out keycaps with Mac or different color alternatives is an excellent feature, as you can now customize it to suit your own needs and wants. It's efficient, quiet, blocky, and cheesy in design, so it's got some charm and character that you might not have expected.
What We Didn't Like
The blocky and old-school feel is certainly not for everyone, and we can see why many might not enjoy this design. It feels old-school and doesn't compete with the more sleek, modern designs of today's gaming keyboards. Additionally, the choice of design has caused other issues, namely with replacement keycaps.
Because of some of the keys' unique shape and design, you can't just get standard replacement parts, which is a bit of a downer. The number keys are also a different font style for some reason, which is a more nitpicky qualm, but it also makes the keyboard feel less professionally designed and manufactured.
Smart Duck XS-84 TKL Gaming Keyboard
This compact 75% keyboard by Smart Duck is a great gaming option that manages to feel like a gaming keyboard, more so than other options we have seen so far.
Product Highlights
This keyboard features 84 keys with n-key rollover for all needs, whether it be work or gaming. The keyboard uses the now-familiar Outemu mechanical switches to provide high-speed response times and increased sensitivity while providing satisfying tactile feedback.
12 of the more commonly used keys are designed to be easily hot-swappable to increase the lifespan somewhat. The keyboard also includes high-quality ABS keycaps that are dirt resistant, wear-resistant, and durable.
Furthermore, the keyboard features the classic RGB backlighting with seven different global lighting modes and five interactive modes. Finally, the keyboard uses a standard C-Type cable that can be detached and uses a double-outlet design for easy cable management.
What We Liked
This keyboard is a pretty good option if you're looking for a keyboard that appears more like a gaming variant. It has a darker frame and design with bright RGB backlighting and Outemu mechanical switches. The keyboard is quite durable with strong PCB keycaps, some of which are hot-swappable.
What We Didn't Like
We would have liked to see more of the keys be hot-swappable, as having a limited amount can be annoying when specific keys are damaged and not readily replaced. Outemu switches are generally seen as cheaper quality and not necessarily as good as the Cherry MX options we've seen in some of the other keyboards.
Keycool Hero Mechanical Keyboard
Possibly the best option overall, the Keycool Hero 84 2020 Edition is an attractive looking keyboard that can serve you well regardless of whether you are gaming, working, or doing some freelance typing work.
Product Highlights
This keyboard is an excellent option for gamers as, in terms of what you'd be looking for in a gaming keyboard, it has some of the best features out of the options on this list. This 84-key keyboard uses the standard tenkeyless layout but with an intelligent design that is easy to manage while remaining more compact.
Compared to other TKL designs, this keyboard has been made smaller by up to three keys. The keys themselves are durable PBT keycaps engraved by laser, making them quite durable and making the keys' lettering resistant to fading away. Underneath the keys, you'll be happy to find Cherry MX mechanical switches that are well-known for their quality and tactile feedback.
They also include a dual IC processing chip, which grants more stable functionality from 21-key rollover over the USB-C connection or n-key rollover over the PS2 connection. This helps immensely when it comes to gaming. The Keycool is also fully compatible with Windows with dedicated multimedia buttons and a Game Mode that disables the Windows key.
It has a great visual design that is far more contemporary than the previous items, with a solid black plastic casing, white and orange keys with black lettering, and black keys with orange lettering. The keys are also backlit with 19 RGB lighting modes.
What We Liked
This is a more visually appealing option than the other keyboards we've looked at so far. The previous keyboards have all been quite similar in design and looked blocky, tacky, and more in line with standard office keyboards. While this isn't quite as extravagant as gaming keyboards, it's undoubtedly strikingly bold in its design, making it at least more fetching for gamers than the other options.
The Cherry MX switches and the designated Game Mode's mechanical nature also make this a very satisfying and efficient gaming option, especially with the high level of key rollover and anti-ghosting. The RGB lighting is the icing on top that completes the keyboard and brings it more up to speed with other gaming keyboards.
What We Didn't Like
With all the well-thought-out features and design choices, it's a bit of a letdown to find that a keyboard of this caliber has only a simple plastic casing. It may be durable, but it is in no way as durable as some of the aluminum options we've seen so far. Another feature we wish was included are LEDs that indicate when Caps Lock is active, just for convenience' sake.
DREVO Gramr Mechanical Gaming Keyboard
For those looking for a good budget option, this keyboard is our cheapest option, coming at below $50. However, don't let that price tag dissuade you, as this keyboard has some great features going for it.
Product Highlights
Following the standard 84-key design, this keyboard features an all-black design with clear keycap letterings that let the rainbow backlighting shine through. Rainbow backlighting isn't quite the same as RGB backlighting, but it is a great budget alternative. Instead, it has six rows of lighting below the six rows of keys, each with its distinct colors.
There are multiple lighting effects available to play around with when you get bored of one, but it all remains bright enough for nighttime or dimly lit rooms. Game Mode grants you n-key rollover and anti-ghosting technology for better control during more intense gaming moments, so you can always be at the top of your game.
Additionally, 12 different function keys allow you to control the backlighting and act as multimedia buttons. Finally, the choice of four different Outemu switches allows the keyboard to be tailored to your specific needs, with black switches performing best for gaming.
What We Liked
This is an excellent budget option that can help simulate a more expensive gaming keyboard. The rainbow backlighting is an excellent addition that isn't quite as customizable as RGB lighting would be, but it does the job and can help give you a taste for it.
The Outemu switches are great budget alternatives to the Cherry switches, too. The different features granted by Game Mode sweeten the deal further with n-key rollover, and all of this comes for a price below $50. This is a bargain that offers excellent value for the money.
What We Didn't Like
As it is an excellent budget option, this keyboard is best as an entry-level keyboard for those on a budget. While it may offer you some fantastic features, this keyboard doesn't "have it all" as it were. The lack of anti-ghosting technology is worrying, as this can become a massive problem for gamers later on down the line.
As a cheaper keyboard, the materials used can also feel tacky to some, especially those who are used to more expensive options. There also aren't any programmable keys.
RK ROYAL KLUDGE RK84 Gaming Keyboard
Advertised as the first generation of RGB keyboards to feature three wireless connection modes, this keyboard earns the Best Hot-Swappable Keyboard title on this list.
Product Highlights
As we mentioned, this keyboard is the first generation of three-mode wireless RGB keyboards. You can connect via a stable Bluetooth 5.0 connection, a painless 2.4 GHz dongle, or a USB-C wired mode with no limits on the keyboard connection. Again, they feature the familiar 84-key layout, and they have set out to - as they claim - redefine tenkeyless keyboards.
This is done by getting rid of the gaps and making it a 75% keyboard, which isn't anything revolutionary or redefining in the slightest, but points for enthusiasm! The keycaps are all durable and hot-swappable PCB caps that allow you to replace the pins without soldering so that you can customize and tailor your keyboard to your tastes. It features blue switches, which offer some tactile feedback but are primarily quiet and only slightly clicky.
Interestingly enough, the keyboard has a hub-like design, with two USB pass-through ports and one USB-C port so that you can attach and back up different facilities. The battery will last you a week without the backlighting turned on and will fully charge overnight in six to seven hours.
The backlighting, in particular, is RGB and can be dynamically controlled with the function keys. The keys are also fully programmable and able to record macros should you wish. The outside frame is also removable to give the keys a unique "floating" appearance.
What We Liked
This keyboard is a strong contender for first place. It provides you excellent options for gamers who enjoy customizing their keyboard. The different connections are nice options to have, as they will cover most bases that are required for connections.
The keycaps are durable and hot-swappable for great customization options, and the backlighting further enhances this customizability. The blue and red switches are excellent gaming choices, but they aren't Cherry makes, so don't expect the same standard.
What We Didn't Like
A few things hold this keyboard back, namely the plastic casing, which isn't as durable as we would have liked. Also, while the connection options are nice to have, there is minimal incentive to use anything but the wired connection.
You need to use the cable to install the software and firmware of the keyboard and use the software to customize the keyboard should you wish. The Bluetooth has a decent range, but the dongle's range is tiny, so you might as well just be using the cable anyway.
FAQs
How many keys are on a 75% keyboard?
Tenkeyless, or 80% keyboards, offer 87 keys in their layout while maintaining the same general size as the standard keyboard. 75% keyboards take this layout and make it more compact, removing any gaps between keys.
These keyboards tend to have fewer than 87 keys, as the downsizing drops several keys. There are generally between 80 and 84 keys on a 75% keyboard. They are effectively a downsized and more compact version of the tenkeyless keyboard.
How many stabilizers are needed for a 75% keyboard?
Depending on the make and specific layout of your keyboard, this can vary slightly. You'll generally want different stabilizers for the two Shift keys, the Enter/Return key, the Backspace key, and the Spacebar. This makes for a general total of six stabilizers.
Conclusion
To conclude, let's quickly mention some of our recommended picks. For an entry-level and budget option, the Drevo Gramr is cheap but gives you excellent value for the money. The Vortexgear Race 3 and Keycool Hero 84 are excellent choices for people looking for better options when money isn't a factor. The RK Royal Kludge choice is ideal for those who enjoy customizing their setups to be more personal.