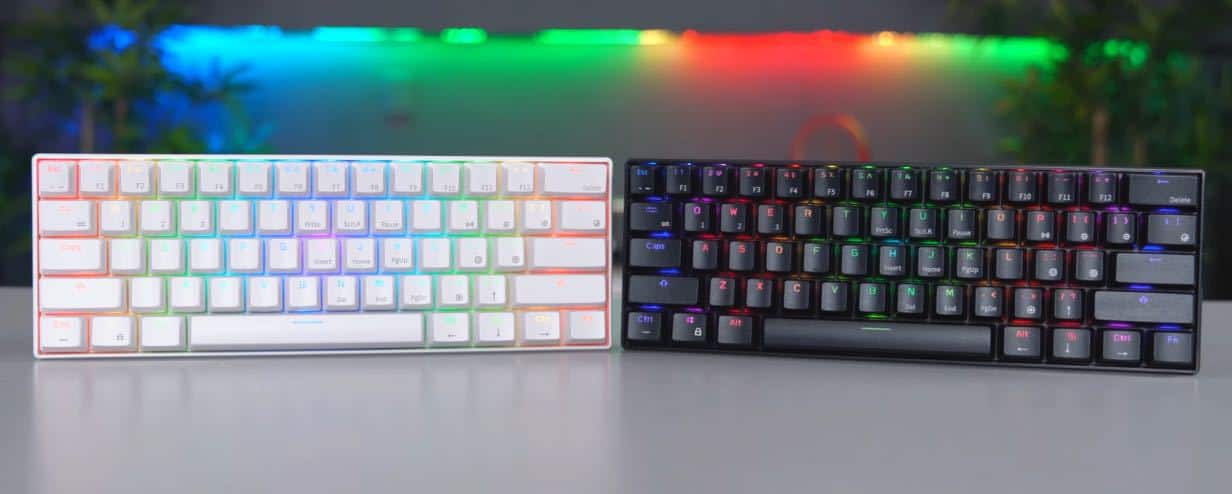 Quick Overview
The Royal Kludge RK61 is an extremely well priced budget wireless mechanical keyboard that has good performance and competes with more expensive brands.

It's a compact 60% gaming keyboard with full RGB backlighting and great wireless connectivity using Bluetooth - allowing you to connect it easily to many different devices. It also supports a wired mode through a USB cable.

In our opinion, if you're looking for an entry-level or cheaper gaming keyboard that's wireless and compact, the RK61 would be a good choice.
RK61 Review
The Royal Kludge RK61 is one of the cheaper compact 60% gaming keyboards out there, but still offers decent quality. It's sixty percent the size of a full layout keyboard giving you more gaming space and portability, but surprisingly still quite heavy.
Something else that surprised me a little is the dedicated arrow keys. This is not something you usually see on 60% keyboards, but I liked it. You also get keys for multimedia support. Another nifty feature is that you can deactivate the windows key by pressing Function (Fn) and windows key. This stops you pressing and activating the windows key by mistake while gaming.
It has mechanical switches and comes in 2 colors to choose from, black and white, with some great features. The RK61 is often the keyboard people get if you don't want to pay the price of something like the Ducky one 2 mini. 
The Rainbow RGB colors are vivid and there are different lighting modes you can set as well to give it some variation. I would've liked to see adjustable feet but it's at least a slanted design with the keyboard being higher at the back, which means you don't really need a kickstand.
PRO version of the RK61 Keyboard
The RK61 usually comes with Royal Kludge branded mechanical switches, all plastic body casing and plastic ABS keycaps. However there is a more premium version of the RK61 keyboard available with the following extras:


Cherry MX mechanical switches
Aluminium case
PBT double-shot keycaps
Features and Specifications
Color: Black, White

Material: ABS plastic

Switches: Blue, Brown and Red mechanical switch options

Connection: Bluetooth + USB Wired Dual Mode

Layout: 60% Keyboard Layout (61 keys)

Backlighting: RGB rainbow color backlit

Dimensions: 290*100*35mm

Weight: 700 grams



Video - RK61 RGB Keyboard Review
What's in the Box?
Inside the RK61 cardboard box you'll find:
A 60 inch micro USB cable (for charging and wired connectivity)

User manual

A wire keycap puller

A quality guarantee card
Build quality
The body of this keyboard uses a hard plastic casing with a metal plate. As we said earlier, at 700 grams it's a little heavier than I expected for a 60% size keyboard. But this weight gives it a sturdy build with very little board flex detected. 
The keycaps are ABS plastic though, which is not as premium as the PBT on some higher-end keyboards. Stabilizers on the RK61 sometimes have a little rattle in them too, and the space bar can be a little noisy, but nothing too serious.
The Royal Kludge branded mechanical switches are decent but not quite a good as Cherry MX switches. For me, the keys were a tiny bit 'wobbly', probably because of the stabilizers having a little play. Most people probably wouldn't notice though. But you could decide to lube the switches which may help. You get a choice of Blue (clicky), Brown (tactile bump), and Red (Linear - no bump) switches to choose from.
However given the value-for-money with the lower price of the RK61 RGB keyboard, most of the above niggles can be forgiven.
Wireless support
One of the big selling points of the Royal Kludge RK61 is its wireless Bluetooth 3.0 connectivity, and it didn't disappoint.
You can easily connect it to up to 3 different devices at the same time. Having great Bluetooth compatibility, it not only pairs with Windows and Mac PC but also seamlessly with Android and iOS phones or tablets (very useful for wireless typing on smaller screen devices).
We found the overall connection to be very stable and the wireless response time of the keyboard good. 
Pro Tip: Even though the wireless connectivity is decent, most people tend to turn the wireless off and keep the USB cable plugged in for optimal response times while gaming.
Function Keys
Due to the smaller size of the RK61, it uses multiple functions on the same key. This layering of functions is common on keyboards and generally works well, but felt a little bit clunky on the RK61.
Final Verdict
There are better and more expensive 60% keyboards like the Anne 2 Pro, Ducky One 2 mini and Razer Huntsman mini that are in our best 60% keyboard list. But if you want a decent 60% compact gaming keyboad without spending that kind of money, then the RK61 is a very good option. A compact 60% gaming keyboard with 61 keys, Royal Kluge RK61 RGB keyboard offers decent mechanical switches with RGB backlighting and Bluetooth wireless support which works well with devices including Windows, Mac, Android, and iOS. 
While there are a few small things that could be tweaked, it strikes a good balance between price and features. This is a decent value for money mechanical gaming keyboard and popular because of its relatively lower price. 
Overall the RK61 should be great for someone looking to get a more compact gaming keyboard with mechanical switches and decent features.
Frequently Asked Questions (FAQ)
How to Bluetooth pair the Royal kludge rk61?
After turning the keyboard on, you can switch to Bluetooth mode by pressing function and tab together. To start pairing with a device, hold down the Function (Fn) key and press P. You can pair up to 3 different devices simultaneously and then swap between them using the function key and pressing Q, W or E.
Does the Royal kludge rk61 work on ps4/ps5?
Using Bluetooth pairing the RK61 can easily be paired with consoles like Playstation and Xbox. On your PS4 menu, go to 'Settings', then 'Devices' and then select 'Bluetooth Devices. If you don't see the RK61 keyboard listed as one of the device to pair with then on the keyboard hold down Function (FN) and P keys together till the P key starts flashing and then release.

The RK61 keyboard should then show up on the list of devices on the PS4 as "RK-Bluetooth-Keyboard",  you might have to scroll down towards the bottom of the list to find it. Then select it and the PS/4 will ask you 'Do you want to register this Bluetooth Device', and then you just select yes and your PS/4 and RK61 keyboard should be paired.
Is the rk61 wired?
The Royal Kludge RK61 is a mechanical gaming keyboard that can be used as both a wireless and a wired keyboard. It is compatible with Windows, MacOS, and Android.
How to make backlight stay on for Royal Kludge RK61?
Only the RGB version of the RK61 offers different backlight colors, otherwise, you'll get only a single color which you can turn on or off. On the RGB version you can press Function (FN) and Page Up together to change between the different backlit colors available. 
How do you factory reset a royal kludge rk61?
To factory reset the Royal Kludge RK61 keyboard, press the and hold down the Function (FN) and Space bar together. After a few seconds, the keyboard will start to flash. Once the flashing lights stop the keyboard will be reset.
How to use question mark on the RK61?
For a question mark (?) you need to press left-shift, plus +left shift press, then Fn+right shift hold while pressing the question mark key). 
How long does the royal kludge rk61 battery last?
The Battery usually lasts 10 hrs for moderate usage, and up to 360 hrs when idle. The keyboard can also be used while plugged in and the battery is charging.

How to disable arrow keys Royal Kludge rk61
Some users have reported that the arrow keys stay on by default, especially after a recent firmware update. There doesn't seem to be a simple way to change this behavior but some have suggested using the Karabiner tool to remap the keys. 
You can read more detail about the above option here: http://blog.csdn.net/fungleo/article/details/78271396.
What keycaps fit the royal kludge rk61 keyboard?
The Royal Kludge will fit any MX compatible keycaps and a standard layout. It's important to also check the unit size of your keycaps before ordering. You will usually see reference to 1U", 2U, 1.75U, etc... on the keycaps which refer to the unit size. Both OEM and Cherry keycaps profiles will work on the RK61 keyboard.
How do I change the color of my royal kludge?
To change the backlight color of your RGB RK61 Royal Kludge keyboard, press the Function (FN) and Arrow keys together to adjust the light brightness or glowing speed. Press Function (FN) and numbers 1-9 to change between the different custom lighting modes. Pressing Function (FN) and scroll lock keys together to scroll between the various solid backlit modes. Press Function (FN) and Page up key together to select the color you want.