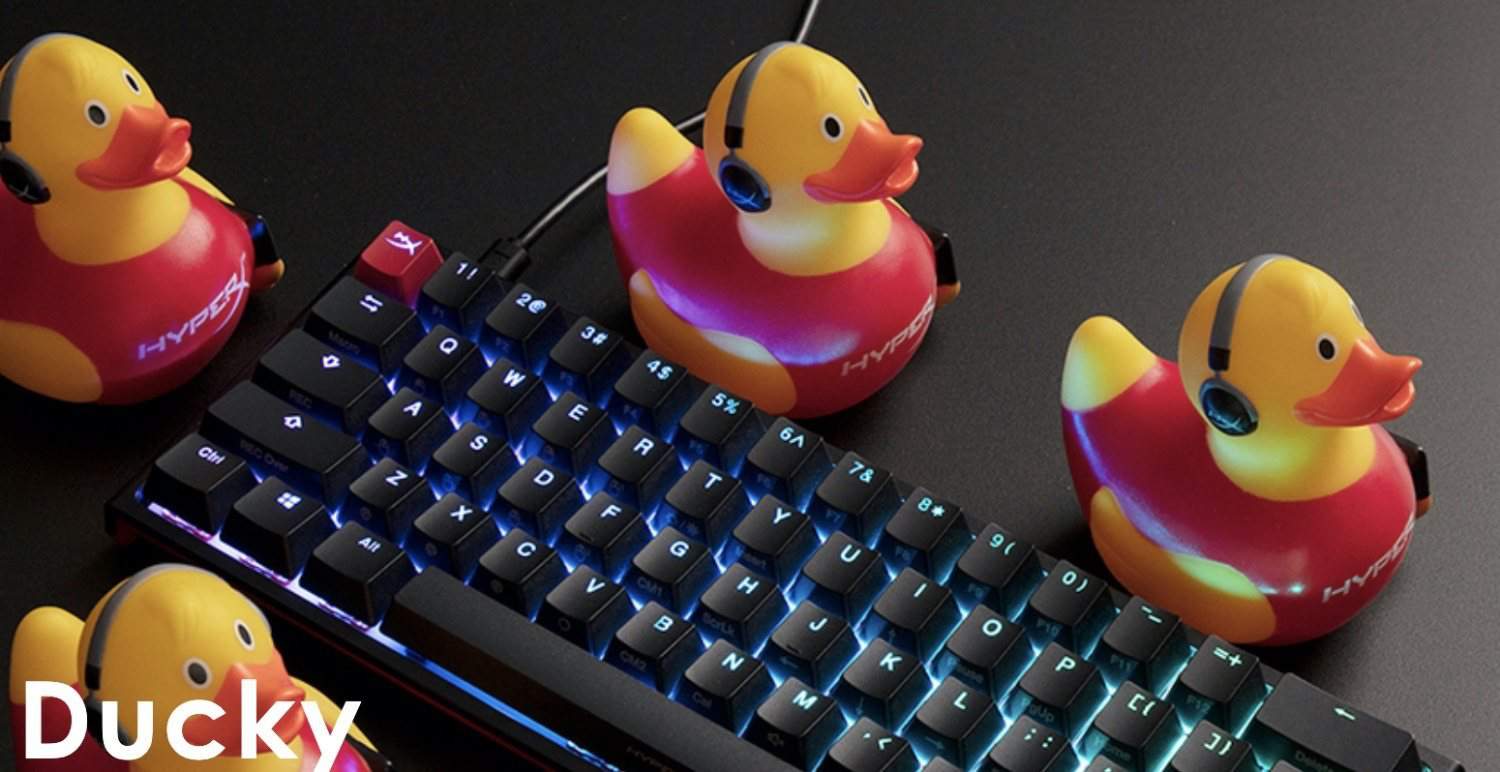 Ducky is a well-known keyboard brand. They make some of the top mechanical gaming keyboards that have really solid build quality and great performance. This makes the best Ducky Keyboards loved by many gamers around the world!
Ducky keyboards are equally known for their whacky colors and design style which adds that extra bit of flair that people like. And they also do collaborations from time to time, such as the one with Tfue to make a Ducky Tfue inspired keyboard.
Other pro gamers and streamers like Ninja use Ducky, he plays with the Ducky One 2 mini keyboard. You can also read our full review of the Ducky One Mini.
Comparison Chart
Best Full Size Ducky Keyboard

Best 60% Ducky Keyboard

(most compact)

Best 65% Ducky keyboard (with arrow keys)
Best Ducky Keyboard Reviews
The Ducky Shine 7 is a superb keyboard. It's full size layout makes it great for most applications, whether gaming or for typing.
The linear type Cherry MX silver switch keyboards offer fast key reaction times that are very suited to gaming. Because the MX silver switch is also linear and has no click this makes it quieter for when you don't want to disturb others around you.

The keyboard is very customizable and all keys can be programmed using macros. It's full RGB back light is ideal for gaming at night or in dim light.
Duck One 2 Mini RBG
The Ducky One 2 Mini is a top ranked 60 percent keyboard used by gamers.
60 percent keyboards have fewer keys than a standard keyboard which gives you more space for your gaming desk setup and mouse movement.

This keyboard is equipped with quality double-shot PBT keycaps, that include their typical Ducky shine-through lighting. You can choose from 6 different Cherry MX switches when purchasing. The Ducky One 2 Mini's various customizable lighting effects adds to the appeal.

One 2 mini keyboard also offers a large number of customization options with its programmable keys. You can save these custom settings against 6 different profiles, and switch between them on the fly.
Duck One 2 SF White
SF stands for "Sixty Five" which just means its a 65% the size of a full normal size keyboard. The smaller form makes for a more portable keyboard with an incredible gaming and typing experience, and it's easy to tell Ducky really puts extra care into their keyboards. And that includes the double-shot PBT keycaps, so those aren't going to fade.
The Ducky One 2 SF, compact size gives you more space for your mouse to roam when gaming. But still gives you enough dedicated keys to make that compromise feel worthwhile. I actually quite like the fact that the One 2 SF includes dedicated arrow keys, which the Ducky One 2 Mini doesn't.
Everything about the One 2 SF shouts quality, and while it might not have a bunch of extra controls and dials to tinker with, it does deliver a premium gaming experience, and that's what matters most to me.
It's not without flaws though, the cable could be more premium, and maybe they could've added a metal housing to the top shell.
Overall a great keyboard, both for gaming and productivity, and I feel the slightly bigger 65% size vs their 60% and TKL keyboards is a good balance.