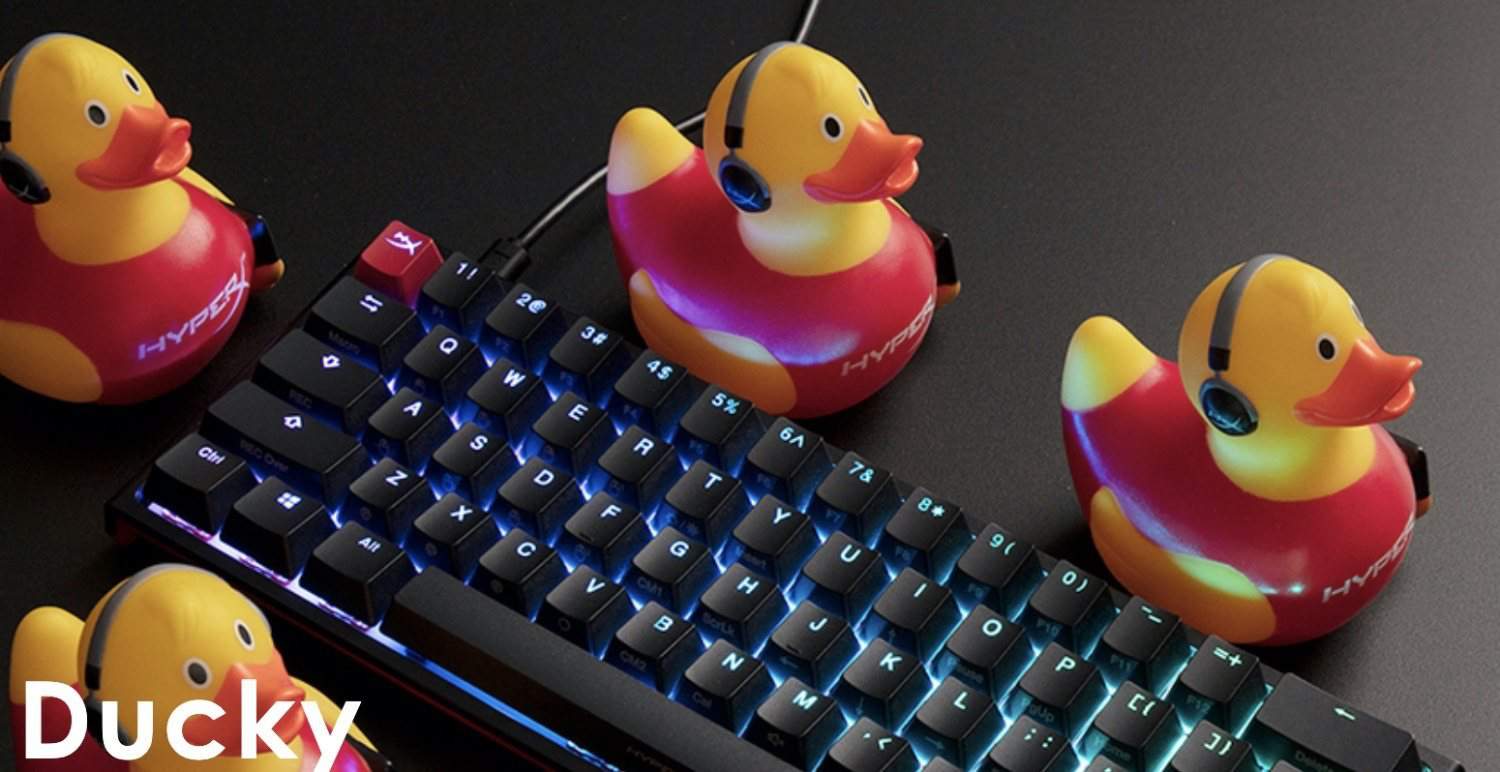 Ducky is a well-known keyboard brand. They make  some of the top mechanical gaming keyboards that have really solid build quality and great performance. This makes the best Ducky Keyboards loved by many gamers around the world!
Ducky keyboards are equally known for their whacky colors and design style which adds that extra bit of flair that people like. And they also do collaborations from time to time, such as the one with Tfue to make a Ducky Tfue inspired keyboard.
Other pro gamers and streamers like Ninja use Ducky, he plays with the Ducky One 2 mini keyboard. You can also read our full review of the Ducky One Mini.
Comparison Chart
NAME
IMAGE
BEST FOR
RATING
PRICE

Ducky Shine 7

Best Full Size Ducky Keyboard

Ducky One 2 Mini (RBG)

Best 60% Ducky Keyboard

(most compact)

*Editor's Choice*

Ducky One 2 SF (White)

Best 65% Ducky keyboard (with arrow keys)
Best Ducky Keyboard Reviews
Ducky Shine 7
The Ducky Shine 7 is a superb keyboard. It's full size layout makes it great for most applications, whether gaming or for typing.
The linear type Cherry MX silver switch keyboards offer fast key reaction times that are very suited to gaming. Because the MX silver switch is also linear and has no click this makes it quieter for when you don't want to disturb others around you. The keyboard is very customizable and all keys can be programmed using macros. It's full RGB back light is ideal for gaming at night or in dim light.
PROS
Good for gaming and typing

Fast Cherry MX Silver switches

Full RGB Back lighting

Macro programmable keys.

Excellent build quality
CONS
Customization software limited to Windows.

Budget USB-C cable
CHECK LATEST PRICE ON AMAZON.COM
Duck One 2 Mini RBG
The Ducky One 2 Mini is a top ranked 60 percent keyboard used by gamers.
60 percent keyboards have fewer keys than a standard keyboard which gives you more space for your gaming desk setup and mouse movement.This keyboard is equipped with quality double-shot PBT keycaps, that include their typical Ducky shine-through lighting. You can choose from 6 different Cherry MX switches when purchasing. The Ducky One 2 Mini's various customizable lighting effects adds to the appeal.One 2 mini keyboard also offers a large number of customization options with its programmable keys. You can save these custom settings against 6 different profiles, and switch between them on the fly.
PROS
Colourful and customizable

RGB back lighting

3-level height adjustable feet
CONS
CHECK LATEST PRICE ON AMAZON.COM
Duck One 2 SF White
Ducky One 2 SF White keyboard
SF stands for "Sixty Five" which just means its a 65% the size of a full normal size keyboard. The smaller form makes for a more portable keyboard with an incredible gaming and typing experience, and it's easy to tell Ducky really puts extra care into their keyboards. And that includes the double-shot PBT keycaps, so those aren't going to fade.
The Ducky One 2 SF, compact size gives you more space for your mouse to roam when gaming. But still gives you enough dedicated keys to make that compromise feel worthwhile. I actually quite like the fact that the One 2 SF includes dedicated arrow keys, which the Ducky One 2 Mini doesn't.
Everything about the One 2 SF shouts quality, and while it might not have a bunch of extra controls and dials to tinker with, it does deliver a premium gaming experience, and that's what matters most to me.
It's not without flaws though, the cable could be more premium, and maybe they could've added a metal housing to the top shell.  
Overall a great keyboard, both for gaming and productivity, and I feel the slightly bigger 65% size vs their 60% and TKL keyboards is a good balance. 
PROS
65% size is a nice balance

High build quality

Great design 

Customized space bar styling
CONS
USB cable could be better
CHECK LATEST PRICE ON AMAZON.COM
What are ducky keyboards?
You might be wondering if ducky keyboards are good? The short answers is, YES! Ducky is well-respected and a master in designing clean, simple, and cutting-edge mechanical switch keyboards. 
Top reasons Ducky Keyboards are one of the best
But a big reason I like Ducky is the overall build quality which is just remarkable. And their keyboards stand out in both style and function. I used a Ducky Shine 5 for a while which was a standard full-size keyboard with Cherry MX Brown switches. I loved it.
Build quality
The board was solid and had no give or wobbling. The keys felt great and the switches were superb. It was easy to switch out keycaps for the layout I wanted.
Ducky predominantly uses Cherry MX switches which are generally good for 50 million keypresses and more, so under heavy use last upwards of 10 years. The average rubber dome keyboard is only handles about 5 million keypresses, lasting only around 2 years with heavy use.
Customisations
The RGB LED lighting is sensational. On the Ducky keyboards that support FULL RGB backlighting, you can design and produce your own color themes directly on your Ducky keyboard. Being able to style your keyboard for the 4th of July or Halloween is super fun. I also tend to have different RBG profiles for the different games I play, and I change the backlight of the game keys to be different to the rest which makes it much easier while gaming.
The ducky boards also have decent support from programmability to do things like custom macros, remapping keys, etc… The DIP switches also let you change keyboard config and move the functions keys around.
Standard USB por
t
They generally have standard USB ports which means I can use any of my USB cables I happen to have lying around. It might seem like a small thing, but you'll be surprised how often I'm in my bedroom and run out of power, and being able to quickly plug in my cellphone charger to keep going has saved me a bunch of effort and frustration.
Other Considerations 
My ducky keyboards are fun and enjoyable to use. They feel excellent on the fingers, and not just for gaming but make surprisingly good typing keyboards too, depending on the mechanical switch used.
Alternative Brands to Ducky
There are a fair number of other Keyboard brands that have good keyboard.
Akko is a brand that often comes up in the same conversations as Ducky. And just like Ducky the Akko keyboads are known for crazy body-shell and keycap colours, cool backlighting patterns and  and engravings and patterns on their keys.
Akko's, just like Ducky, does cool keyboards collaborations with others. Ironically, a close collaborator is with Ducky, like the Akko X Ducky 3084, which has three shell and keycap colors (black, cyan, and pink) and engravings on the front of each key.
Then there is the Akko X Ducky 3108S RGB, Akko X Ducky One 2 Skyline, and one of the most striking and wildest mechanical keyboards I've seen, the Akko X Ducky Shine 6 Year of the Monkey Limited Edition.
Akko also has their own solo models like the Akko 3108 and 3087 models that are well-known, featuring things like Dragon Ball Z Vegeta, World Tour Beijing, Cupid and 9009 Retro.
Another great contender to consider is the Durgod K320 TKL gaming keyboard which we reviewed and I personally enjoyed using. Corsair is another well-known keyboard brand and also makes great gaming keyboards. You might want to take a look at  our Ducky vs Corsair article.
Razer also comes up often as a good keyboard brand alternative, I've had one our two Razer mechanical keyboards over the years that I enjoyed.
They introduced the Razer Huntsman mini keyboard which is pitched squarely as a competitor to the Ducky One 2 mini. GearGamingHub has also discussed Razer vs Corsair here in the past, so read that article for more insights on their brand.
Another brand an 'newer' kid on the block is SteelSeries which have some impressive gaming peripherals. Personally, I've got a smaller layout Steelseries Apex Pro TKL keyboard for my gaming that's also excellent. It has opto-mechanical omnipoint switches that you can set the actuation distance right down to 0.4mm which gives it a super-fast key response time. And the Apex Pro has pretty much all the features of the Ducky like RGB lighting, Custom Macros etc… and a few more like an onboard OLED keyboard screen.
Which Ducky keyboard is the best?
If you're looking for a full-size Ducky keyboard, the Ducky Shine 7 is Ducky's flagship keyboard that really does shine (scuze the pun). This is a solidly built keyboard with a innovative zinc alloy design. You can also choose between six different Cherry MX switches. I'd go for Cherry MX Browns if you're after a balanced gaming switch or MX Red if you want a switch that actuates a little faster on key press.
On the other hand, if you're a gamer that likes his keyboard smaller. Then the Ducky One 2 Mini is the best 60% keyboard for you, it packs a punch with customisations, great quality and stylish finishes and design. The price might be on the higher side, but the Ducky One 2 Mini is a premium keyboard, and totally worth the price.
Are Ducky keyboards worth it?
Ducky makes excellent keyboards for gaming. They are well-known for making great quality and funky boards. I've had my Ducky Shine 5 for a couple years which has stood the test of time. It's a full-size keyboard since I use it for both gaming and typing in my day job. You can also read what people say on Reddit about Ducky keyboards being good.
But if you wanted a smaller compact keyboard focused on gaming, then I highly recommend going with the tenkeyless Ducky One 2 mini or look at our full review of the Ducky One 2 SF which is a 65% size keyboard that still has dedicated arrow keys, making it a bit more compact than a TKL keyboard size, but still practical.
Overall, you can't go wrong with Ducky!     🙂