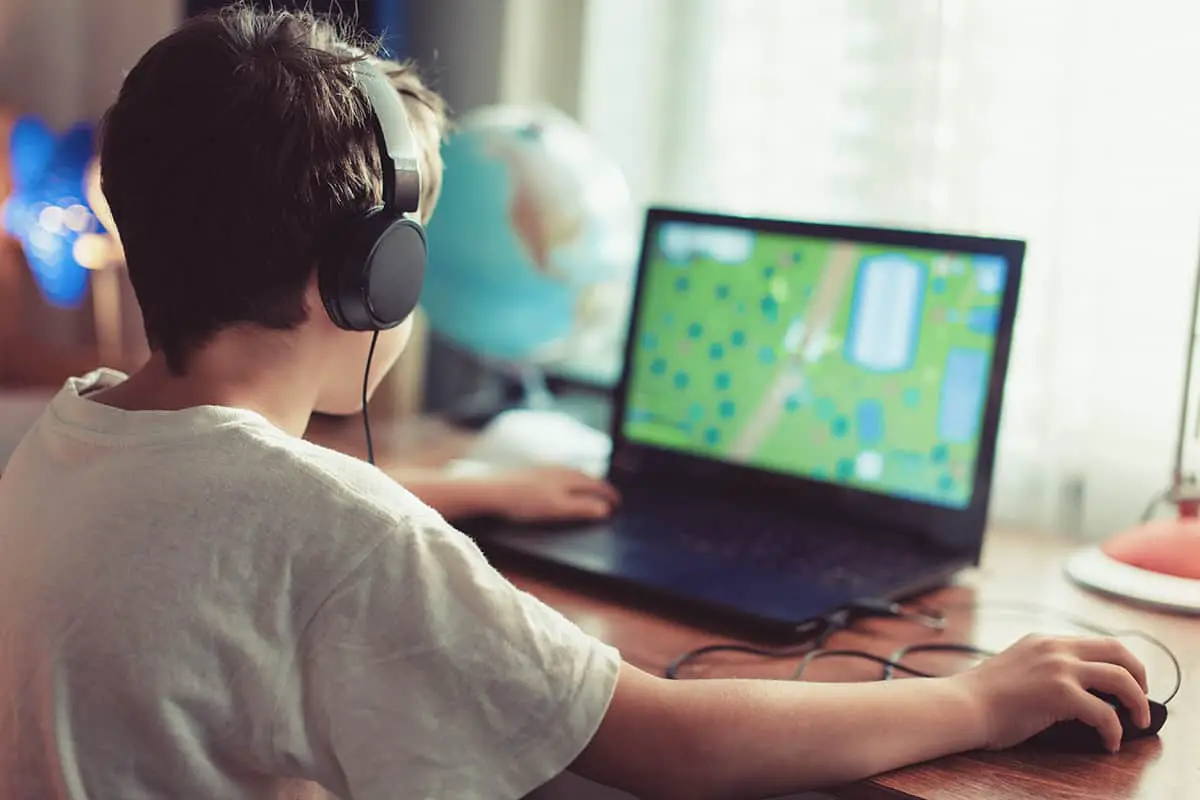 The 3i uses a simplistic yet durable design and comes with a plethora of features that help elevate the value of this laptop, especially when it comes to graphics performance. Though not designed like many other gaming laptops with tons of features such as RGB customization and such, the laptop is still a fine choice for gaming.
The use of the NVMe SSD and the high-speed CPU performance will allow the laptop to handle just about any style of game.
Lenovo IdeaPad Gaming 3i Review
In this review, you will get a comprehensive look at all the features, benefits, and disadvantages, and much more so that you can determine whether this is the right gaming laptop for you and your gaming needs. So, let's dive into the actual review of the Lenovo IdeaPad Gaming laptop.
This laptop is fitted with several features that elevate the value, like durable material used in the matte black plastic frame. Furthermore, the Lenovo 3i, on top of its simple yet stylish look, also comes with a full HD resolution screen which is vital when it comes to gaming.
It also offers a fantastic graphics processor and a good battery life. Though it does offer limited RGB backlighting capability with it being one solid color, the only customization option you have is that you can change the brightness.
What's In The Box
Inside of the box, you will get the laptop itself as well as the owner's manual. The manual is well written and easy to understand, making the laptop's set up quicker and more user-friendly.
The laptop is packed tightly and, once charged up, will be ready to go in no time.
Summary of box contents
Lenovo IdeaPad gaming laptop
Manual
Features
When you talk about the design of the 3i, you definitely have to talk about the keyboard itself. Not only does it have cool blue backlighting with multiple brightness levels, but it is also well designed and comfortable to use.
The resolution of the IPS display is perfect for gaming in darkrooms but doesn't have an efficient antiglare finish, which could interrupt your gaming experience.
The unit is fitted with 1.5W down-firing speakers located at the laptop's front edge when it comes to sound. This may not be ideal for PC gaming, but you can always add a high-quality gaming headset to solve that issue.
Technical Specs
PROCESSOR: Intel Core i5- 11300H
PROCESSOR SPEED: 3.1 GHz  (up to 4.4 gHz)
RAM: 16 GB DDR
BOOT DRIVE TYPE: SSD
BOOT DRIVE CAPACITY: 512 GB
SCREEN SIZE: 15.6 "
NATIVE DISPLAY RESOLUTION: 1920 X1080
TOUCH SCREEN: N/A
PANEL TECHNOLOGY: IPS
VARIABLE REFRESH SUPPORT: N/A
SCREEN REFRESH RATE: 120 Hz
GRAPHICS PROCESSOR: NVIDIA GeForce GTX 1650
GRAPHICS MEMORY: 4 GB
CONNECTIVITY: 802.11 aux, Bluetooth
OPERATING SYSTEM: Windows 10 home
TESTED BATTERY LIFE: 7 hours 33 minutes
WEIGHT: 4.8 pounds
DIMENSIONS: .98" x 14.13" x 9.83"
PORTS: X2 USB 3.1, X1 USB- C 3.1, X1 HDMI 2.0, X1 Ethernet, and X1 audio out
What We Liked
One of the best things about this laptop is that the keyboard itself is ergonomically designed, which means in long gaming sessions, you won't have to worry about wrist fatigue. Along with that, the 3i also is outfitted with a wide range of ports.
This will allow you to hook it up to multiple different devices as well as give you heightened usability when gaming in new locations. Overall though, where this laptop actually gives you a lot of value is in the performance. Fitted with an Intel processor, you are sure to have a fast response with only a slight lag.
What Could Be Better
Though it is nice that this laptop uses an NVIDIA graphics card, many gamers feel that the graphics capabilities should be better for the price that you are paying. Also, the laptop only offers 8GB of RAM, which could detract from the processing power and create some latency issues. But, of course, if you like everything else about this, you could always upgrade the RAM at a later date.
Build and Design
The chassis of the IdeaPad 3i is crafted in ABC plastic which makes it a lightweight option and great for gaming on the go. Overall, this laptop weighs in at less than 5 pounds and is relatively thin when it comes to the overall dimension. There is almost no flex in the hard shell. Along with this hard-shell, the edges of the laptop are beveled and the corners angled to give a little bit better feel when using it.
Along the side of the laptop, there are multiple ports that allow for versatility. However, the unit does lack an SD or micro SD card reader, and there isn't a Thunderbolt 3, which is a little disappointing.
The front-facing camera is a 720P resolution model and is outfitted with a privacy shutter. Unfortunately, the camera is on par with the speakers as it is, at best, an average addition to the model. For us, this means if you are doing a lot of streaming, you probably should invest in an alternative webcam.
Keyboard
When it comes to the build quality of the keyboard, it is a pretty solid option, just like the chassis. Lenovo is well known for comfortable keyboards, and so they opted to stay with that when they built this model.
In regards to the keycaps and keys, they're nicely built and do not feel at all wobbly or mushy (key travel is minimal at 1.5mm). However, there are no dedicated volume or media controls. The touchpad is also very nice as it is sensitive and accurate, so there is little to no delay in response.
Performance and Gaming
The Intel Core I7 comes with six cores and 12 processing threads, and a Max frequency of 5.0 GHz. Along with this high-powered Intel Core processor, the unit is fitted with an NVIDIA GeForce GTX 1650, which is an average-performing GPU.
So, while this may not be the best laptop for intense gaming, it will do just fine as your backup or on-the-go option when you do not want to set up and transport a full gaming PC.
Battery Life
When it comes to battery life, the laptop has been tested, and it is said to run for seven hours on a single charge. This may not be a big issue as most gamers will have their laptops set up in their gaming area and, therefore, will most likely always be plugged in.
But it is good to know that, if the power goes out for any reason, you will not lose your progress in the game you are playing. Additionally, it means you can play your games while you are on the go.
Software
Sometimes when you get a laptop, it comes fitted with a ton of unnecessary software. However, with this Lenovo model, it is a relatively clean install.
You will find Windows games and apps pre-installed as well as a trial run of McAfee security. That is all the software that comes pre-installed, which will make your system cleaner and quicker to get started.