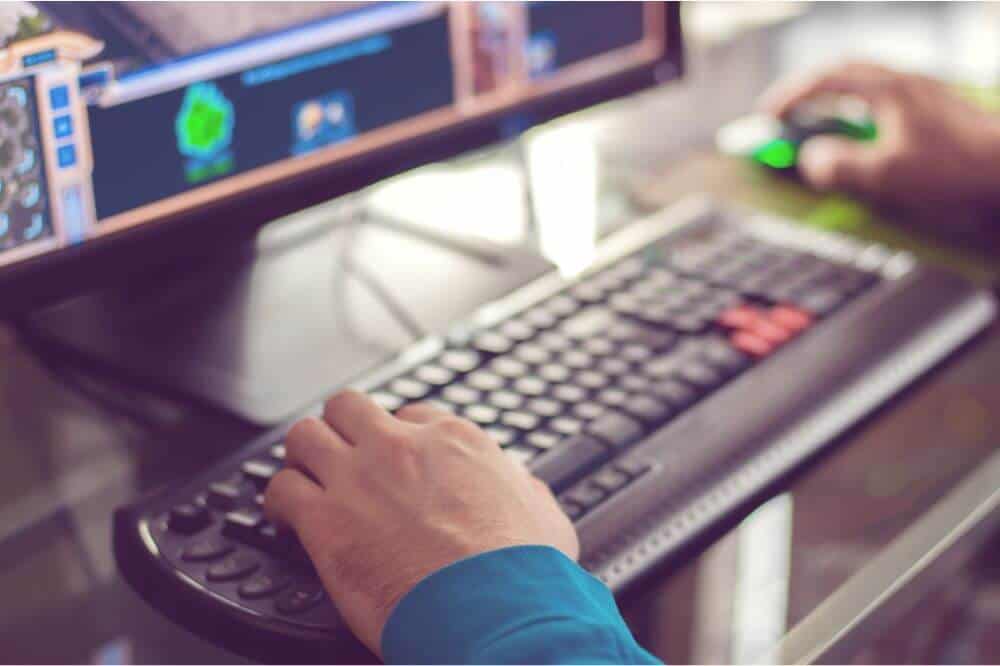 The choice between wireless and wired keyboards is a hard one. It all depends on your style of play and what you look for in a gaming keyboard. Some gamers prefer a wireless keyboard, and in fact, it is becoming the rule rather than the exception. So which wireless keyboard would be the best for you? 
In this guide, we will look at some of the best wireless keyboards for gaming in the hopes that we can help you narrow down your selection just a bit. Who knows maybe the keyboard for you is somewhere on our list. Game on!
Comparison Chart
Logitech G613 Lightspeed Wireless Mechanical Gaming Keyboard
Mechanical Keyboard UtechSmart LED Backlit Mechanical Gaming Keyboard Full Size 2.4 GHz 
Wireless Keyboard Mouse, Jelly Comb 2.4GHz Ultra Slim Full Size Rechargeable Wireless Keyboard 
G-Cord Full Size Wireless Mechanical Rechargable Keyboard with LED Backlit for Gaming or Office (104 Key)
Logitech K800 Wireless Illuminated Keyboard – Backlit Keyboard, Fast-Charging, Dropout-Free 2.4GHz Connection
Best Wireless Keyboards for Gaming Reviews
Logitech G613
Logitech brings us our first wireless mechanical keyboard. The G613 is a well-made and versatile keyboard.
Review
Logitech is one of the big names in computer peripherals, and many of them are designed for the gaming community. The G613 is one of those built with features that enhance your game. Features like:
Improved wireless tech for increased response rate (1 ms)
High-quality mechanical key switches (Romer-G)
Designed with multiple keys that are capable of macro customization
Capable of Bluetooth synchronization
Compatible with multiple OS
Extended battery life
This keyboard from Logitech is as responsive as any wired keyboard which gives it a super-rapid response rate. This is perfect for any gamer looking to up their game. With the addition of easy-to-use software and the ability to use it for more than gaming, you end up with a great investment. 
Though this is a great addition to the Logitech family, it does suffer from a few design flaws that could stand to be addressed. The first is its ergonomic design or lack of. The wrist rest is permanent, and that means that it is not designed for everyone. There is also no built-in battery which doesn't allow for play as long as other options on our list. The last thing that is bothersome to some gamers is the lack of backlighting; this doesn't allow easy low light play. 
This keyboard is a responsive easy to use wireless option with a few flaws. If you are looking for a keyboard that works well and offers a true mechanical wireless functionality, then you should consider the G613.
Video - Logitec G613 review
UtechSmart Mercury
This entry on our list does double duty as both a wired and wireless mechanical gaming keyboard. The UtechSmart Mercury is a great choice for that serious gamer on a budget.
Review
This keyboard has all the features of some of the ore high-end gaming keyboards for half the price. Some of these features include the following:
Ability to be wireless or wired
Compatible with multiple OS
Extended battery life from x2 rechargeable batteries
Designed to be charged via USB cable
Designed with optimal gaming keycaps
Built-in dedicated keys for multimedia (12)
Anti-ghosting
Crafted with high-quality blue key switches
Multiple backlighting customization capabilities
Crafted with high grade, durable materials
This keyboard is built like a high-end keyboard with a budget price tag. That means the value for the price you get is well worth the investment. With its plug and playability, you can be on the game screen in no time. It offers high levels of customizability and is built to last. It is a fast, precise keyboard that will maximize your response time and lead to elevated levels of gameplay.
Now there are a few things that we need to address before you rush out to buy this model. The Mercury is not as comfortable to use as some of our other entities. This means extended game sessions may end up being hard, but you can always look for extra peripherals to help yours with that. The user manual is less than user-friendly, and they have been some complaints about loose USB charging ports.
None of these issues are universal, and the amount of bang you get for your buck should make it easy to overlook them.
Jelly Comb Ultra Slim Wireless Keyboard
This wireless keyboard comes in an ultra-slim design and with an accompanying mouse. The team at Jelly Comb has crafted a great keyboard for any gamer and have done so using some amazing features.
Review
This keyboard is designed with a minimalistic approach leaving it looking sleek and modern. It is a compact keyboard that has some great features. These features include:
Designed to be compatible with multiple Windows OS versions
No need for additional software
USB receivers for both your keyboard and computer for better and more reliable wireless connection
Constructed to be lightweight and easy to transport
DPI switch that is adjustable built-in (3-levels: 800, 1200, & 1600)
Mouse w/optical laser that improves response and precision for smooth tracking included
Easy to recharge via USB cable
Though some may scoff at its minimalistic design, it does have its advantages. The keyboard layout is easy to use, and that means that you will be able to move rapidly and precisely from the key to joy. This makes the key response rate a great benefit. Plus it comes with a keyboard cover to protect from things like dust and water. This combo is also fitted with a great working optical mouse. This mouse moves with accuracy and smoothness, which will help improve your gameplay as well.
On the other hand, even though its design is sleek and modern, it does lack a few of the features available on other keyboards. It is a smaller keyboard, and that means something had to be sacrificed. The team at Jelly Comb decided that should be the numerical pad. It is also not Mac friendly and is perhaps less durable too.
In the end, if you are looking for a nice performing, easy to use, starter keyboard for gaming or you are just not an avid gamer this keyboard may be perfect for you.
>>Read our full review: Jelly Comb wireless keyboard+mouse
G-Cord Full Size Mechanical Keyboard 
This plug-and-play wireless mechanical keyboard from G-Cord is a great option with many awesome features that any gamer would be happy to add to their peripherals.
Review
This keyboard is chock full of features that are specifically designed to elevate you in gameplay. The features of this keyboard are below.
Designed to be used either as wireless or wired
East to install and use with the included USB receiver
Extended battery life (rechargeable battery)
Designed with a full keyboard layout
Keyboard is anti-ghosting and highly speed responsively capable
Compatible with multiple OS
This company is not well-known yet, but with efforts like this, it will not take them long to be mentioned in the same breath as names Logitech and Corsair. The full keyboard layout and highly responsive mechanical key switches will increase your abilities while in-game.
The one area that this model could use some upgrades and design revamping is the lack of customization. This is all that the G-Cord keyboard really needs to compete with those bigger names. The only other major issue is the length of time needed to get fully charged. 
Once this fledgling company corrects these few issues, they will have a monster of a keyboard. Until then, this keyboard is still a high-quality option for any gamer.
Logitech K800
Our last entry is yet another form Logitech. The K800 is illuminated wireless keyboard that brings so much to the game it would have been a miscarriage of justice to leave it off our list.
Review
The Logitech K800 is a feature-rich option for any gamer. The features of the keyboard are:
Improved backlighting for low light situations
Compatible with Windows OS
Easy to charge via USB cable
Designed with a comfortable keystroke system
Plug and play wireless connection
Ability to be paired with other Logitech peripherals
This keyboard is a great plug-and-play option for any gamer looking for a great wireless option. It is designed with a key layout and stroke ability that is responsive and comfortable to use. It comes with fantastic built-in backlighting that is also controllable in luminance levels. It is a quiet keyboard, and that along with the previous feature, makes this great for the gamer who plays into late evenings.
The ergonomics stop at a point, and that point is the wrist rest. It is built short, and that is why it's not comfortable for everyone. It is hard to keep clean, and the battery life is not as good as other models.
In the end, even the cons cannot outweigh the pros, and that is why the Logitech K800 is one of the best keyboards available for gamers today.
FINAL VERDICT
Selecting the best wireless keyboard for your gaming needs is vital to your enhanced game experience. With the five above models, you have the best wireless keyboard for gaming options broken down so that you can compare them to each other, and other model's you may be looking at. We hope that this has helped you make that decision easier.