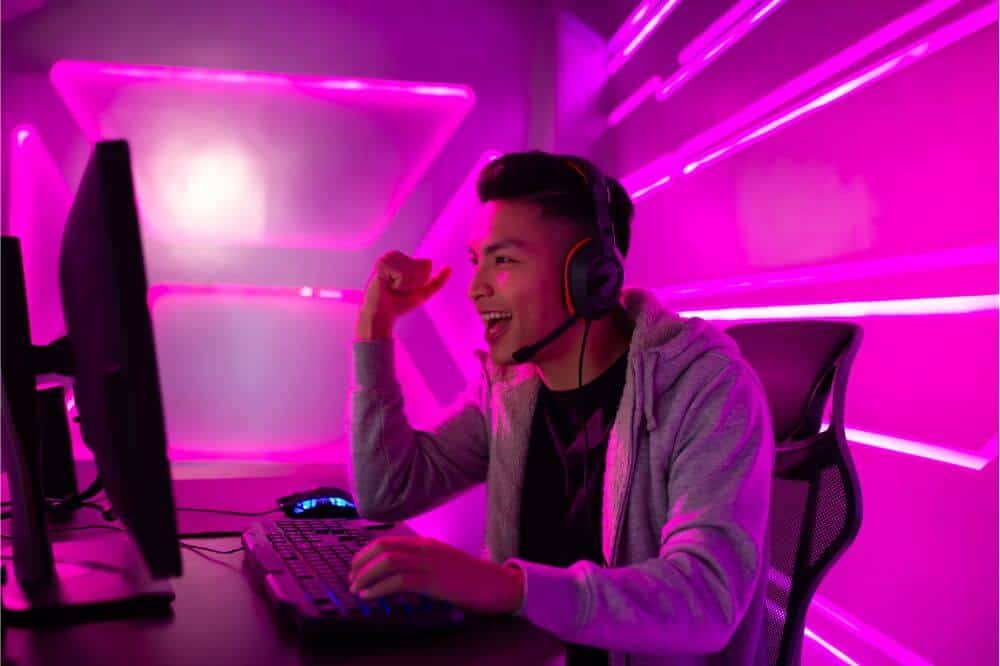 If you are a serious gamer and you have already built out your perfect gaming setup or purchased your dream gaming PC, perhaps you are ready to add on the peripherals. This will include the best gaming keyboard you can afford.
Generally mechanical switches are most popular for gaming keyboards. A wired keyboard is also often considered better than wireless, but this is very quickly changing with responsive wireless keyboards like these that can match them on connectivity and response rates. 
Our Top Pick
Razer Black Widow Tournament Edition 
A compact tournament-level tenkeyless (TKL) keyboard

Responsive mechanical switches double-shot PBT keycaps

per-key RGB lighting

 Programmable key macros

A comfortable magnetic wrist rest

A good balance between price, features, and quality
In the rest of this guide, we're going to help you to level up your confidence and knowledge so that you will be able to make the right choice when choosing the best gaming keyboard. See all our recommended gaming keyboards below.
And we've also tested out the best pink gaming keyboards for gamers looking for other inspirational options than those listed below.
Comparison Chart
Logitech G513 RGB Backlit Mechanical Gaming Keyboard with Romer-G Tactile Keyswitches (Carbon)
Cooler Master MasterSet MS120 Gaming Keyboard & Mouse Combo, Floating, Clicky Full RGB LED Backlit, On the Fly
Corsair K95 RGB PLATINUM Mechanical Gaming Keyboard – 6x Programmable Macro Keys
Razer BlackWidow TE Chroma v2 Mechanical Gaming Keyboard
Best Gaming Keyboard Reviews
Cooler Master MS120
This combination pack, which includes a mouse and the keyboard from Cooler Master is a great option. The MS120 offers the gamer a whole slew of unique and innovative design features crafted to elevate your gameplay.
Product Highlights
This package comes with Cooler Master's amazing hybrid keyboard and an Omron mouse. The keyboard itself is laden with innovative designs and features. Some of these amazing features are:
Enhanced mem-mechanical tactile feel and clicky switch
Per key complete RGB backlighting (3 zones)
Multiple keyboard effects (9 RGB LED)
X2 mouse effects
Built-in adjustable DPI switch (500, 750, 1500, & 3500)
Designed with a high-grade optical sensor (Pixart 3050)
Crafted with a long-lasting and nice coating
Programmed with multiple shortcuts for multimedia
Modifiable (1x, 8x) repeat rate
What's to like about the Cooler Master MS120
Tech and especially gaming tech can sometimes be less than budget-friendly, but the Cooler Master MS120 does not suffer from that problem. In fact, the responsiveness and quality are on par with many of its more expensive competitors. This mem-mechanical keyboard is built with an elevated tactile feel, which is why it is responsive and quiet. You will not be bothering your roommate with weird key pounding noises on your all-night game session, that is for sure.
With a 3 zone, RGB illumination that backlights the keyboard, which also has multiple configurations to choose from, your keyboard will be able to be customized to match your vibe. The keyboard itself is designed to be ergonomic and durable so that those hours spent on your game addiction of the moment will be more comfortable. 
What's not to like about the Cooler Master MS120
There is much to love about this awesome gaming keyboard, but even with all that, there are a few drawbacks we should discuss. There have been some issues with the key caps being loose. This can be fixed if you are so inclined and is in no way a universal issue. The other problem some users have had is a lack of support software. 
Neither of the drawbacks takes away from the overall amazing functionality of the keyboard, and we would dare say that the value of the Cooler Master MS120 far exceeds the price tag. That makes this easily one of your best options on the market today.
Logitech G513
Our next gaming keyboard comes from one of the big names in computer peripherals — Logitech. This company designs keyboards, mouse, mics, and so much more and does so with a devotion to bringing quality at a competitive price. With the G513, they do that with ease.
Product Highlights
There is a reason that this keyboard is the go-to for many of the eSports pros. It is built with features that enhance your gameplay. The team at Logitech did this by including these features:
Designed with modifiable per-key lighting and LIGHTSYNCH technology
Key switches that are tactile mechanical (Romer-G)
Crafted with a built-in memory foam rest
Built with a high-grade aluminum case that enhances durability
Easy to plug in with its pass-through port for your USB connection
Report rate of 1 ms
Ability to choose from multiple mechanical switches (Romer -G tactile, Romer-G Linear, & GX Blue)
Extra keycaps included (12) as well as a keycap puller
Enhanced anti-ghosting and key-rollover for better control
Easy to use Logitech gaming software available for download.
What's to like about the Logitech G513 
This keyboard is a professional gamer's dream. With a 25% faster response and feedback, the G513 elevates your gameplay to a whole new level. With the inclusion of the precision linear Romer G-switch, you get a keyboard ready to conquer. LIGHTSYNC technology takes the RGB lighting and keyboard illumination to another level. And with customization capability and the fact that it has a set of game-driven sound and lighting effects makes this unit a beautiful and efficient piece of computer equipment. The design itself is comfortable to use, which will make your game sessions easier to endure for longer.
What's not to like about the Logitech G513
The G53 may not be as soundless as other keyboards out there and some gamers that game into the early hours of the morning may find that a bit of an issue. It also has no keys that are dedicated to media.
Both cons are small compared to the performance and customizability of this keyboard. The Logitech G513 is a great choice for any level of gamer, but especially good for those gamers looking to get into the pro world of eSports.
Corsair K63
Corsair gives us the K63, a wireless gaming keyboard that is easily one of the top gaming keyboards out there.
Product Highlights
The team at Corsair has spent their time crafting a keyboard that has all the features you would want for an elevated gaming experience. These features include:
Key switches that improve performance and increase gaming responsiveness (Cherry MX Red)
Designed with backlighting for every key
Ten keyless compact design
Completely customizable with CUE program 
Fully anti-ghosting with enhanced key rollover
Keys specifically dedicated multimedia
Ability lock windows button
What's to like about the Corsair K63
The Corsair K63 is a great compact wireless gaming keyboard that offers the ultimate high-quality performance. From its Cherry MX Red mechanical switches to the ability to customize macros keys and lighting effects with Cue, every gamer will be in good hands. It is compact and lightweight. The bright red LED backlighting improves the overall gaming experience with almost limitless lighting customization and offers the versatility of per key RGB lighting effects and key actions that make every gamer board unique. 
What's not to like about the Corsair K63
Many gamers find that the lack of color options in the overall design and the less-than-durable palm rest clips are a little bit of a design flaw. The only other issue that some have brought up is the lack of USB passthrough and a built-in removable USB cord. 
This wireless keyboard offers so much high-grade performance capability that the few issues that have been addressed seem to fall by the wayside. Choosing the Corsair K63 for your gaming keyboard of choice will ensure that you have a better game performance and look cool doing it.
Corsair K95
The next entry on our list also comes to us from Corsair and is a well-built mechanical gaming keyboard that brings a lot to the game.
Product Highlights
The Corsair Platinum K95 is a keyboard designed with intention. That intention is to make every piece and feature geared solely for the purpose of enhanced performance. Features like the ones below combine to make this happen:
Designed to be lightweight and durable with high-grade materials
Programmed with the capability to store 3 separate profiles 
Heightened report rate (1000Hz)
Ergonomic and removable wrist rest
Multi-color backlighting for every key plus a light bar on the top edge
High quality and performing key switches (Cherry MX Speed RGB)
Built-in 6 customizable macros keys
CUE interface available to customize color and macros features
What's to like about the Corsair K95
Mechanical keyboards are many gamers go-to choose, and with the Corsair K95 as a gamer, you will be set up for success. With amazing backlighting that will allow you to play in low light situations, and a sleek design fitted with multiple media keys, you will be set for those long gaming sessions. It is wireless, so that means less cable management required and better portability and its wrist rest is removable and reversible, which is great for ergonomic optimization. 
What's not to like about the Corsair K95
There are, of course, a few issues that some have brought up in the multiple reviews across the internet. The palm rest tends to pick up oil and dirt and become a little grungy, and the downloadable interface, CUE, maybe a little difficult to maneuver for newbies. 
The high performance and functionality of this keyboard greatly outweigh the few issues that have been brought to the forefront. So, if you are looking for a great wireless mechanical gaming keyboard, the Corsair K95 could be a perfect fit for you.
Razer BlackWidow TE Chroma V2
Our last entry is another great example of a high-quality mechanical gaming keyboard. This one is from Razer a gaming tech icon, and the 'Razer BlackWidow TE Chroma V2' keyboard doesn't disappoint.
Product Highlights
This tournament edition upgrade comes with many features designed to benefit your gameplay and your personal comfort while playing your latest game of choice. These features include:
Built with green switch tech for tactile and clicky sound (50G actuation force)
Crafted with tournaments in mind with a ten keyless compact layout
Ability to remove USB cable for better portability
Multiple preset key backlighting profiles 
Capable of syncing with multiple peripherals (Razer Chroma & Phillips Hue)
Customizable macro keys with Razer Hypershift
Designed with elevated ergonomic comfort in mind
Constructed of high-grade durable materials
What's to like about the Razer BlackWidow TE Chroma V2
The Razer BlackWidow is an upgraded version of an already amazing tournament-level gaming keyboard. It offers super responsive clicky green mechanical switches that allow for rapid play or typing. It is highly customizable both with the backlighting options and with the macro keys. It is easy to carry and designed to last, with it being covered by a two-year/80 million click warranty.
What's not to like about the Razer BlackWidow TE Chroma V2
Some people like having a USB passthrough as an option which the Razer BlackWidow TE doesn't have. The biggest hurdle many gamers have an issue with is the price. Though you are paying for a tournament-level keyboard, the price tag still seems a little high for some. The versatility of lighting is awesome, but it is not as good as some of the other options you have available. Then there is the little thing of no media bar.
Now, these may seem like big hurdles to overlook, but if you have the budget and are looking for performance, this keyboard has everything you want. Plus, it is backed by such a great warranty that the hefty price tag may seem like a steal.
BUYER'S GUIDE
So how do you choose between all the great options above the thousands of other choices available to you? There are some features and factors that you should consider when buying your gaming keyboard. Below we have compiled a list of five of the key features you should pay attention to when making this very important gaming decision.
Membrane vs. Mechanical
This is a crucial consideration. For gaming, most experts agree that the better choice is mechanical, but many new models are a hybrid of the two options which makes for the ability to get all the positives of both the membrane and mechanical keyboards. But what is the difference?
Membrane keyboards are designed using rubber domes or dual membranes in the keys to help send the commands to the computer, whereas mechanical keyboards use a switch beneath the keycap that does the same thing.
The mechanical switch is more responsive a lot of the time because you do not have to push the key completely down to send that command to the computer. With a mechanical keyboard, there is a better tactile feel, but this can cause an issue when you are keystroking fast. Membrane keyboards need to have their keys fully pressed down to get the message across.
Layout and macro keys
You want the layout of your keyboard to be comfortable and beneficial for your game use. One of the big factors in the layout is the inclusion of macro keys. These keys allow you to take a bunch of moves and program them to be done in one simple keystroke. This will improve game time response and allow you to enhance your in-game capabilities.
The best boards will be fitted with multiples of these, though the inclusion of these does make for a slightly more expensive price tag.
Wired vs. Wireless
This is important for if you are working with limited space and don't want to have to deal with cable management or need extra portability. Wired keyboards are your typical standard option. These keyboards are tethered to the computer.
Wireless keyboards can have a very slight lag on the Bluetooth signal, so for gaming the better option is typically to go with a wired keyboard for the better response times. This is why most pro gamers out there opt for a wired gaming keyboards.
Wireless keyboards are convenient though offering more movement freedom, fewer wires and a neater gaming desk setup overall. So if you're not worried about shaving off a couple milliseconds then it should be fine to pick a wireless gaming keyboard.
Ergonomic Design
You are going to be playing for hours — that means that one of the biggest concerns is how comfortable your keyboard is to use. Many gaming keyboards come with a wrist rest attached, which helps with the ergonomic design. You will also want to think about how heavy or how much space it takes. These are all factors that will help you decide if your gaming keyboard is ergonomic enough for your needs.
Backlight
If you are a late-night gamer, then you will want to look for a keyboard with great illumination or backlighting. This will allow you to see the keys even when you are gaming in the dark as you try not to disturb your housemates. Most keyboards come with multiple customizable options. Plus, they just look cool!
F.A.Q.
So, you have gotten through our best gaming keyboards guide, and you have some questions. We knew you would, so we curated some of the most commonly asked questions and have answered them below.
We hope that this helps with at least a few of those questions you have written down on your notepad.
Should I Buy a Mechanical Gaming Keyboard?
Most gamers suggest a mechanical keyboard. It offers a faster response time, more tactile keys, and is usually more durable. Though if you are looking for a more compact-designed keyboard, you may want to go with a membrane keyboard.
Not only is it smaller, but it is also less expensive and easier to transport from place to place. There is however, a third option, and that is to grab yourself a hybrid keyboard; these combine the best of both worlds. Whether you should buy a mechanical keyboard depends on the space you have available, the budget you are working with and what you expect of your keyboard.
Why Do Some Gaming Keyboards Have an LCD Screen?
Some keyboards have LCD screens to allow for easier access to things like in-game stats, system data, and communications. This will help as you will not have to pull up a screen in-game to see these important metrics, and you can keep an eye on the functionality of your computer.
An example of a keyboard that has a built in OLED keyboard screen is the Steelseries Apex pro we reviewed.
Which Keyboard Switch is Best for Gaming?
There are three main divisions of mechanical key switches, and within each, there is a whole slew of models. The 3 main types are: 
Tactile
These are designed with a bump in the idle right around the action point. This style of the switch is good for real-time strategy type games where your APM (actions per minute) count.
Clicky
These have a bump in the middle and when fully actuated make a clicking noise. These are also great for RTS games as you do not have to fully press the key to complete an action which raises your APM.
Linear
These key switches allow for consistent and smooth keystrokes. With this, you can click quicker, which is excellent for games like first-person shooters.
Now there are many models,  each with their own version of these three. One of the best and most touted are the Cherry MX switches, but starting with the type of switch first is key. Then you can go into the other classifications.
What is the Actuation Point?
The actuation point is the point where the key has been pressed down enough to send a command to the computer. This is important to have so that you do not have to struggle when typing on your gaming keyboard. When playing an intense game that requires quick action on your part, having a quick actuation point will be very important in fast execution. 
What is Anti-Ghost?
Ghosting is when you lose a keystroke or multiples due to your keyboard's ability to recognise the simultaneous command. Anti-ghosting is the ability to allow you to keyboard a set number of keys that can be pressed at the same time and still be accepted by the computer as a full command.
We have another more in-depth article on keyboard ghosting and anti-ghosting that you can read for more info.
FINAL VERDICT
In the end, the choice of the best gaming keyboard is up to you. We have built our guide with information that is handy to have when beginning your search and have even given you a few ideas. Hopefully, with this information, you feel levelled up enough to get to the final stage … the decision. Unfortunately I can't just point you at one specific gaming keyboard and say, get that one! As you can see, it comes down to a bunch of different factors like keyboard size, types of mechanical switches, mechanical vs membrane, customisation ability,  macro support and more. 
Personally I would probably opt for the Razer BlackWidow TE Chroma V2 as the best gaming keyboard option overall. But the most important thing to consider is what you're looking and a keyboard that works best for you and your gaming style.  
Think through that carefully and you should be able to narrow your search down to a top pick for you! Happy Gaming....   🙂