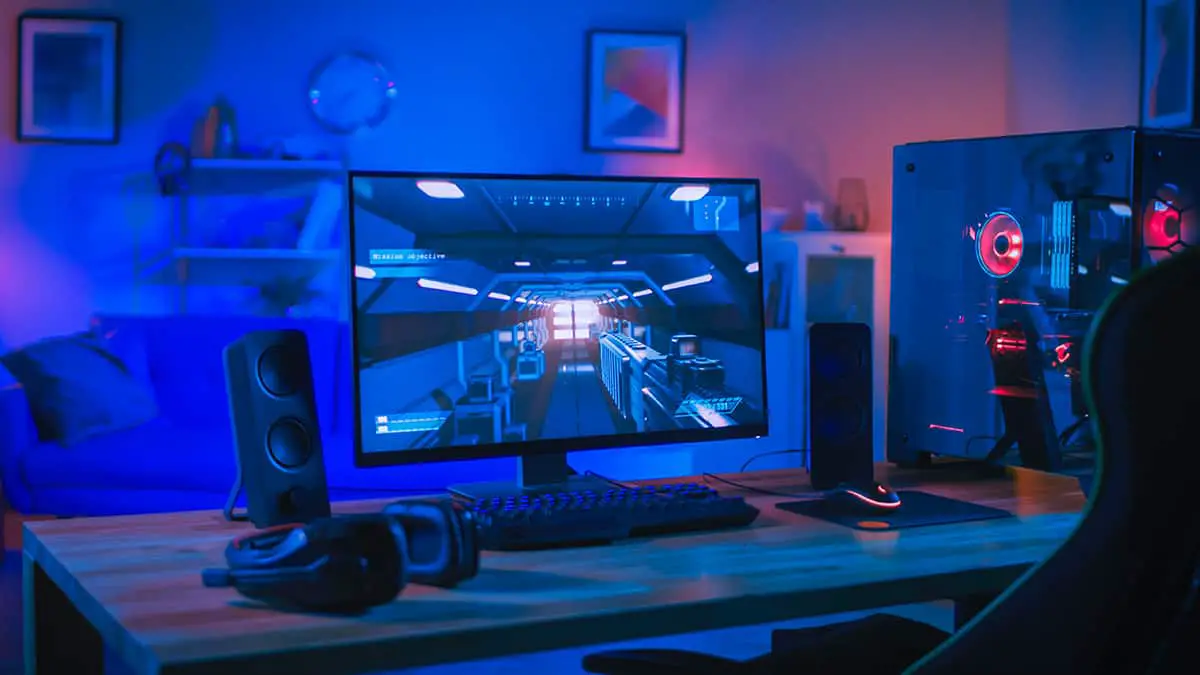 If you are a PC gamer, then you know how important it is to have a good gaming monitor. After all, your monitor is what you'll be looking at for hours during your long gaming sessions, and you want to ensure that the image you're looking at is clear, vibrant, responsive, and immersive.
The LG Ultragear and the Benq EW gaming monitors are some of the best out there, and in this article, we're going to compare them side-by-side to figure out which one is the best. If you're interested in either of these monitors, then you've come to the right place. Read on for more information.
LG UltraGear 27GN750 Gaming Monitor
The LG UltraGear gaming monitor is a fantastic choice if you're looking for a lightning-fast panel. Not only is its IPS able to produce rich color and great viewing angles, but with its response time of just 1ms, it is a fantastic choice for competitive titles. Of course, as with anything, it comes with its drawbacks, especially its limited contrast performance, which makes it difficult for it to render dark blacks.
Design
The LG UltraGear 27GN750 follows much of the same design elements that all other UltraGear monitors do. It is minimalist and sleek, with a red streak on the outer edges of the chassis, and stands to break up the monotony of a body that would otherwise be all-black. It is not the most eye-catching design in the world, but it is also not too outlandish or boring as some other gaming monitors tend to be.
The bezels on the display are thin enough to become invisible after looking at the display for a while, so the focus is mainly on the 27" screen. You should also be able to construct a multi-monitor setup without the bezels distracting you.
The stand that the monitor features offers a number of ergonomic choices. It is able to pivot, tilt, and adjust the height of the display, but it surprisingly cannot swivel the screen, which could make it quite challenging for you to find your perfect viewing angle. If you have a cluttered desk, this could be a dealbreaker.
The base, which is shaped like a boomerang, is angular and wide, but each of its legs is quite thin so that they won't take up too much desk space. The quality of the 27GN750's frame is quite sturdy, and the stand offers plenty of support so that you don't experience any creaking or wobbling of any kind. The body is all plastic but still feels well-made and sturdy.
Performance
On paper, the LG UltraGear 27GN750 boasts some rather average specs that it neither underdelivers on nor exceeds. It comes with a 27" IPS panel, a 240Hz refresh rate, 1920 x 1080 resolution, 400 cd/m2 brightness, 1ms response time, and a 1000:z contrast ratio—all pretty standard features for a gaming monitor of its caliber.
One of this monitor's most immediately noticeable features, and something that you might laugh at first, is that it is a 1080p panel on a 27" screen. This generally translates to extreme pixelation around images and text as a result of the screen's low pixel density. However, the 27GN750 does not suffer this problem, and the resolution looks perfectly native.
Benq EW3270U Gaming Monitor
The Benq EW3270U may not be the first choice that you turn to when on the hunt for a new gaming monitor, but it offers just enough to be considered. Its 4K display features great color contrast, comes with a number of blue light options that make it easier to look at, and offers several port options.
Design
The Benq EW3270U's look is quite simple and straightforward. Like the majority of other gaming monitors on the market, it resembles a flat panel TV. The bezels are visible but thin at the top and sides, while the base bezel is slightly larger but still unobtrusive.
Unlike a TV, you are able to easily adjust the angle of the monitor to face up or down, and it also boasts a viewing angle of 178°. So, if you are looking for a monitor that will satisfy your gaming needs, as well as the gaming needs of any audience you might have, then the Benq EW3270U is more than suited for the job.
A button on the lower right side of the monitor allows you to select between four different modes: HDR and BI+ (which is Benq's brightness intelligence technology) off, HDR on, both on, and BI+on. Since this button provides you with a shortcut to some of the monitor's most important features, we think it's a great addition.
You'll also find downward-facing speakers under both sides of the monitor. This is an interesting addition since most gaming monitors only offer audio ports. Unfortunately, there is no bottom to the speakers, so the sound they produce is quite thin.
Performance
The Benq EW3270U's performance is exceptionally solid. The screen is vibrant, detailed, and very attractive, thanks to its HDR emulation and 4K resolution. Games and videos come out looking detailed and sharp, and its 95% DCI-P3 color gamut results in beautiful, rich color reproduction.
It also comes with a refresh rate of 60Hz, so you are probably going to want to take full advantage of your preferred V-Sync technology when gaming to get the smoothest frame rates possible. The included eye care technologies are also a huge bonus since they allow you to look at the monitor for extended periods without feeling fatigued in your eyes.
Which Should You Buy?
If you are looking for a super-fast panel for responsive gaming, then we highly recommend you purchase the LG UltraGear 27GN750. It's easily one of the fastest gaming monitors out there, and thanks to its G-Sync/Freesync support and 240Hz refresh rate, it can produce silky smooth images without trailing or ghosting.
For those who value eye care as much as you do clean, crisp images, then the Benq EW3270U is the monitor for you. The only issue we have with it is its audio, but if you have a decent pair of headphones, you'll never have to worry about it.