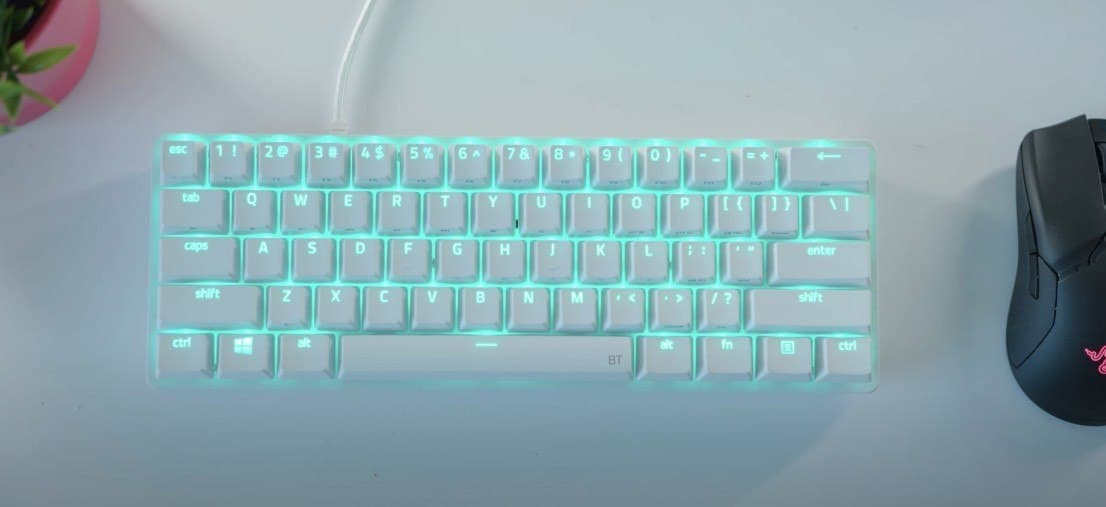 Razer finally gives us a compact sized version of it's big brother 'Huntsman Tournament Edition' which should be popular for gamers looking to save gaming desk space but still get the quality and features they expect. The Huntsman Mini takes it's popular keyboard and makes 60% the size by removing dedicated keys for numbers media and functions. And you still get Razer's great optical switches, doubleshot PBT keycaps and features like per-key RGB backlit keys, n-key rollover, anti-ghosting, programmable macros. There's also two different color options of black or mecury white.
Razer Huntsman Mini - 60% Gaming Keyboard 

Razer have listened to their customers that asked for a more compact version of their popular gaming keyboards. The outcome is a smaller 60% form factor of the Huntsman mini. No doubt it will appeal particularly to gamers and esports enthusiasts that want a more travel-friendly keyboard or those that are looking to free up gaming desk space for more mouse movement freedom.   
Underneath the keyboard you'll find two adjustable feet that can prop up the back of the keyboard  to a 6 or 9 degree angle depending on your preference - I like it at the 6 degree angle personally. The huntsman mini comes with Full Chorma RGB backlit keys, programmable macros that can be saved to the keyboard itself (5 profiles), n-key rollover and anti-ghosting and 1000Hz ultrapolling (how often the keyboard checks for an up/down press, 1000Hz is every 1 millisecond).
You also get per-key RGB rainbow colours that can be customised. However despite being able to save 5 different profiles for programmable macro keys onto the keyboard memory itself, you can't do the same with RGB profiles. You have to use the Synapse software to run and save your custom RGB profiles so those don't go with if you take the keyboard along somewhere with you - a little annoying perhaps but not a deal breaker.
The Razer Synapse software let's you remap keys, configure the keyboard's Razer Chroma RGB lighting effects and colors, and save specific configuration profiles. There's also preset onboard RGB backlighting effects you can cycle through using the keys below:
FN + CTRL + 1 OFF
FN + CTRL + 2 STATIC
FN + CTRL + 3 BREATHING
FN + CTRL + 4 SPECTRUM CYCLING
FN + CTRL + 5 WAVE
FN + CTRL + 6 STARLIGHT
FN + CTRL + 7 REACTIVE
It might be more compact but Razer hasn't cut any of the features you'd want from a top gaming keyboard. You can see a full list of the Razer huntsman mini keyboard features below.
Huntsman Mini Features
Razer Optical Switches (linear or clicky)
Onboard lighting presets
Black or white colour options available
N-key roll-over with anti-ghosting
Per-key backlit keys  (Razer Chroma RGB backlighting with 16.8 million colors)
Standard bottom row layout
Detachable USB-C cable (braided)
Programmable keys with on-the-fly macro recording (Save up to 5 profiles onboard)
Built-in RGB lighting presets
60% Keyboard Size and Layout
Either way its a tight compact package that drops certain keys to make that happen including function keys, dedicated arrow keys and num lock numbers. Being smaller than Tenkeyless (TKL) gaming keyboards it might take a little getting used to but if you're used to using a laptop's built-in keyboard you'll probably adapt quicker to the size and key layout of the Razer Huntman mini. Function keys are now accessed using a Function (Fn) key and pressing the numbers 1,2,3,4 etc. And arrow keys are now available by pressing the Fn key and I, K, J and L respectively. Another feature is the 'game mode' which stops the windows key from being activated, this is useful so it doesn't trigger by accident while gaming and switch you out to the operating system mid game.
Keycaps
The razer huntsman mini keycaps are double-shot PBT keycaps with a textured finish which means they are quality and won't fade or degrade over time. You can switch out the mini's keycaps with any standard OEM keycaps including both Razer branded ones and other like Cherry MX mechanical compatible switch keycaps.
Some keys double up as secondary keys are accessed in conjunction with the Function (Fn) key -  the keys they removed to make the mini more compact. Something I really like is that they printed the labels of these secondary keys on the front side of the keycaps. So bear in mind that if you change your keycaps to other ones, you might lose the side printed legends for these secondary shortcut keys.
Optical Switches
In terms of switches, Razer breaks away from the more traditional mechanical switches. The Huntsman mini like all Razer's keyboards, comes with Optical switches that are slightly faster and more responsive making them great for gaming.
When the Razer Huntsman Elite came out in 2018, I was amazed at how good and responsive their new optical-mechanical switches were. And clearly others think so too because they have continued to refine and use them in their keyboards ever since. And the Huntman mini is no exception, giving you a choice of  clicky (purple) or linear (red) versions of their Razer opto-mechanical switches.
They don't actuate like normal mechanical switches but instead actuation is achieved by the opto-mechanical switch stem going through a light beam. This makes them feel a bit lighter and more responsive overall. 
Razer's Clicky Optical switches have 3.5mm total travel and actuate at 1.5mm with 45g of force. That's 0.7mm less than for example Cherry MX Blue switches with a 2.2mm actuation distance.  Razer Linear Optical switches actuate even faster at 1.0mm and 40g of force.
And with key stabilizers on either side of each key, there's less moving parts so you get a more balanced smoother keypress. This also means the switches are longer lasting at a reported 100 million keypresses (versus most other switches at 50 million keypresses).  I also like that their linear switches are a little quieter than some other mechanical switches, this is most likely due to their Linear Optical Switches featuring silicon sound dampeners to minimise the clack when bottoming-out.  The 2nd generation switches from Razer are certainly quieter, you can compare the sound below between 1st and 2nd gen.
Sound of 1st gen (linear switch)
Sound of 2nd gen (linear switch)
Build Quality
The Huntsman Mini may look cute and compact but it's a solid piece of tech. With an aluminium top plate it should last even longer. We also couldn't detect any real flex on the board either unless you really push down very hard which you're unlikely to be doing in general. Overall the mini has a nice weighted feel to it that feels good in hand.
Then there's the oil resistant doubleshot PBT keycaps so you shouldn't need to worry about the key print fading like some of the ABS keycaps sometimes do on other keyboards. We also like the detachable USB-C braided cable  with a sort of "lock" that goes over the top of the cable with notches to on either side when plugging into the keyboard port for extra stability. The Razer opto-mechanical switches are also built to last, able to withstand 100 million keypresses (versus 50 million on many other switch manufacturers).
What you get in the box:
Ducky One 2 Mini keyboard
USB-C cable
Extra set of red enter, backspace and escape keycaps
4x red arrow keycaps
 A year of the Pig spacebar
2x plain red keycaps
Keycap puller
Manuals
Conclusion
The Razer Huntsman mini is a great follow up from their bigger layout Huntsman Elite gaming keyboard. It continues their quality and features that gamers have come to expect from Razer. 
Buy the Huntsman mini if:
You're keen on a more compact keyboard
You like Razer optical switches or want faster key response times in general
Want quality (no keyboard flex, PBT doubleshot keycaps)
Still want all the extra features (programmable macros, per key RBG backlighting, n-key rollover and anti-ghosting)
Don't buy the Huntsman mini if:
Want a bigger keyboard or really need arrow keys
You're on a tight budget
I'd be even happier if it was about $20 less, but if you're looking for a more compact 60% gaming keyboard that still delivers on features and will last, then get it!