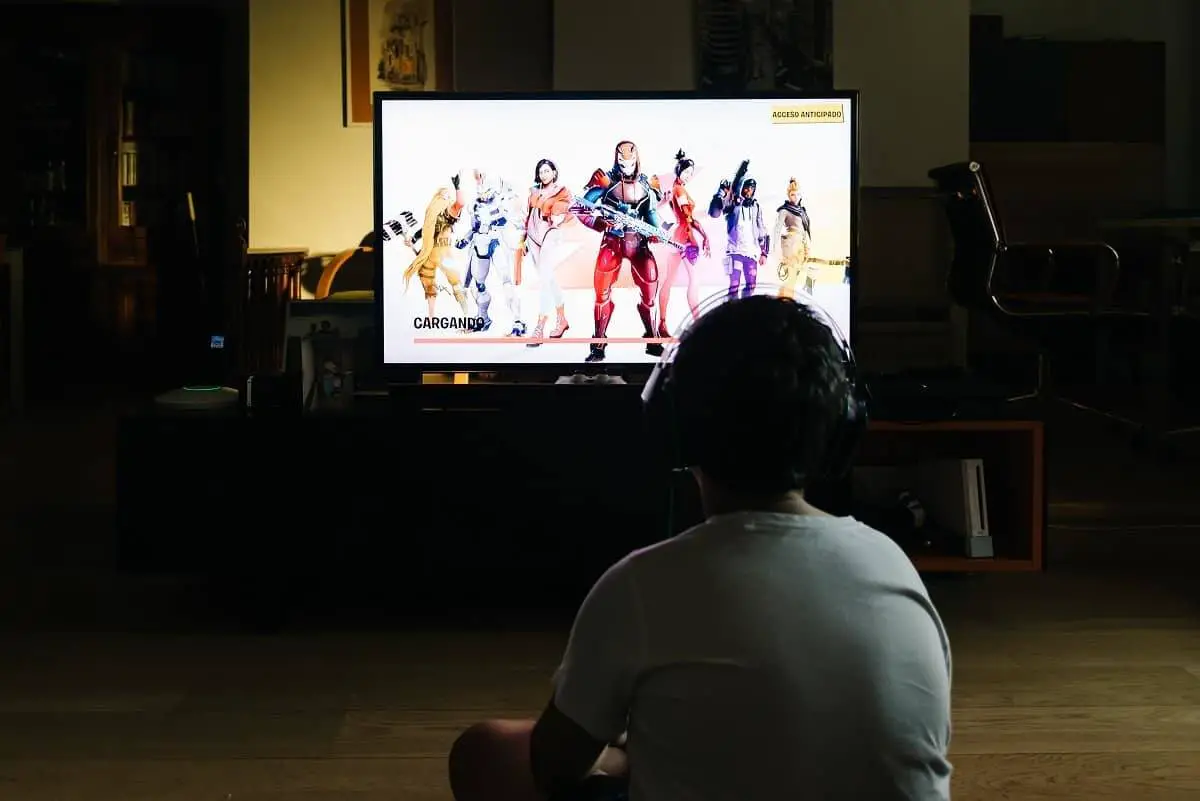 With the relatively new release of the next generation of gaming consoles, we have seen console and game developers pushing the limits of everything we've previously known was possible. We have consoles that have broken many records, but our current generation of paraphernalia was not quite cutting it. How so?
Well, you might prefer your home television as your choice of display for its comfort and familiarity. However, if you want the best gaming experience possible with maximum immersion, you should consider the best gaming monitor for PS5 options that we will be looking at in today's review.
Comparison Chart
Gaming Monitors for PS5 Reviews
| | | | | |
| --- | --- | --- | --- | --- |
| BenQ EW3270U Gaming Monitor | | | | |
| ASUS TUF VG27AQ Gaming Monitor | | | | |
| LG 34GL750-B Gaming Monitor | | Best Curved Gaming Monitor | | |
| SAMSUNG UR590C Gaming Monitor | | | | |
| AOC G2460PF Gaming Monitor | | Best 144Hz Gaming Monitor | | |
BenQ EW3270U Gaming Monitor
The first group of monitors that we'll take a look at comes from BenQ, a famous brand for various computer electronics. There are seven monitors here that are similar in many ways, but they have some distinct differences that we'll discuss below.
Review
We'll start at the bottom and look at their base 24-inch IPS monitor. This monitor is on the smaller end of the spectrum, especially for gaming monitors. You'd typically want to start looking at 27-inch versions and larger for the average gamer.
You will have a full HD experience with this monitor thanks to its 1920 by 1080P resolution IPS panel display. This widescreen monitor also sports a 250-nit brightness with built-in speakers to round out the essential features that you would notice at a glance.
Taking a more in-depth look, you'll notice that you get the standard 178-degree viewing angle, which is optimal for a multi-display setup. The ultra-slim bezel frame further supports this, so you can fully immerse yourself in the viewing experience.
Interestingly, this monitor - and all of these monitors in the BenQ line - use their patented Eye-Care Technology, which is said to offer adaptive brightness for a better viewing experience that won't put as much strain on your eyes thanks to a low blue-light filter and zero-flicker technology.
This monitor connects through VGA or DisplayPort and offers you a disappointingly slow 8ms response time - or 5ms through a GtG connection - and a refresh speed of 60Hz.
Finally, there are two more versions of this monitor to choose from. There is a version with adjustable height, which you may prefer if you will be changing viewing and sitting angles a lot. There is also a bezel-less version with HDRi for better optimized HDR images. Note that this version comes with FreeSync technology and a 75Hz refresh rate for better image quality and the option for HDMI connectivity, which is preferred over VGA.
A step above that option is the 27-inch line. It is a better size, and what many consider the standard and baseline of where you should look. Very little is different in terms of features between this and the 24-inch monitor, and it also comes with adjustable height versions and 75Hz HDR versions. It is virtually identical to the previous option except for its size.
Finally, the larger 32-inch version offers a vastly improved 4K Ultra High Definition display with 3840 by 2160 resolution. With HDR support, you can enjoy a dynamic range of black and white and rich colors that help create a clean and clear image. This monitor also has access to the Eye-Care Technology for better eye comfort and multiple connection options, such as HDMI 2.0, DP1.4, or USB-C for video only. You can also use the headphone jack for a direct headset connection.
The monitors are, for the most part, not all that impressive. The 24-inch options are smaller than you'd like and are also very limited in their capabilities. The limitation of connection options is also not very desirable, but it is alleviated with the larger options. Out of all of these, we'd mostly recommend the 32-inch variety, as the other options aren't exactly up to par with other modern options. The slower response time will also be very off-putting for some gamers.
ASUS TUF VG27AQ Gaming Monitor
This line of Asus monitors includes three gaming monitors that are relatively similar, with one option being improved upon the previous models.
Review
The baseline model for these monitors is a 27-inch QHD, LCD LED monitor that offers you a 2K, 2560 by 1440P resolution. With a 0.4 millisecond response time through GTG and a 155Hz refresh rate, you can already see that these monitors considerably improve upon the previous BenQ options.
With ELMB Sync technology, you can also enjoy a significant reduction in screen tearing and ghosting, as well as extremely low motion blur. Shadow Boost technology helps boost image details in darker areas, brightening your display when particularly dark scenes come on without causing any over-exposure during exceptionally bright scenes.
Across all three monitors, you will also have access to Asus's very own Asus Eye Care technology, which is specially designed to reduce eye fatigue and strain. This is combined with an ergonomic stand that allows you to adjust the height, tilt, swivel, and pivot of the display, so you can accommodate any setup you might have. Finally, with flexible connection options, you can use your choice of DisplayPort 1.2 or two HDMI 2.0 ports.
The second monitor is not too different from the previous one. Still only 27 inches in size, this monitor offers the same resolution but is an IPS monitor with a slower response time of one millisecond. However, it has a faster refresh rate of 165Hz but also supports 144Hz when necessary. It also has NVIDIA G-SYNC compatibility, so you can tune your display to remove any form of screen tearing, ghosting, or frame flickering and stuttering.
You still get the same Asus ELMB technology that enables this one-millisecond response time while working with Adaptive-Sync technology to sharpen your display's visual capabilities further. The only other significant difference is the compatibility with HDR10 high dynamic color and brightness rangers so that you can get an even more vivid picture quality.
Finally, we have their 32-inch option, in which we see the most difference. Starting with the obvious, this monitor is a larger option that offers the same resolution but with a curved display. This curvature matches the curvature of the human eye at 1800R, eliminating eye strain and fatigue as much as possible. You also have access to an HDR display with 144Hz refresh speed and a one-millisecond response time. You also benefit from all the other features of the previous editions.
These monitors are well-made and designed, but there are some things to point out. Some people complain of noticeable artifacting when they activate ELMB. There are also isolated instances of dead pixels thanks to bad panels.
LG 34GL750-B Gaming Monitor
This singular monitor comes to us from LG and is a strong competitor against the different series we've seen so far if you want good graphics for a good price
Review
This large monitor is a 34-inch widescreen display that boasts a full HD, 2560 by 1080p resolution. With this monitor, you can also enjoy an aspect ratio of 21:9 and a refresh speed and response time of 144Hz and one millisecond, respectively. This monitor is also curved for a more immersive experience.
It also happens to be HDR10-compatible. When combined with LG's Adaptive-Sync technology and NVIDIA G-SYNC, it creates this vivid, clearly detailed, and crisp image that has barely any screen tearing or ghosting. The monitor is topped off with an adjustable height and tilt, as well as a virtually borderless design.
As a singular monitor, there isn't much more to talk about. It's relatively straightforward and doesn't have too much to describe. However, some features do hold it back.
For a monitor as large as 34 inches, the resolution isn't quite high enough to create a densely detailed image. Additionally, the customer service isn't the best, as many users have complained about poor service.
SAMSUNG UR590C Gaming Monitor
That massive string of letters and numbers denotes the series that this Samsung monitor is a part of. As a Samsung monitor, you can be assured that whatever this monitor is designed to do, it will do it effectively.
Review
There are not any comparisons to be made here - only descriptions about the features. This monitor is a large 32 inches with a 1500R curvature that provides a comfortable and cinematic experience. The resolution is an outstanding ultra-high-definition 4K 2160p.
The display is an LCD, and the monitor was the CES 2019 Innovation Award Winner. This is primarily because of its ability to produce over one billion colors across the spectrum with a massive contrast ratio of 1500:1. This creates an incredibly vibrant and vivid image that is made better with the Game Mode, which highlights the contrast even more for a crisp, detailed image.
The large size can also be used for a split-screen function to use two different devices on one screen while maintaining the original resolution. You can also enjoy a refresh speed of 60Hz, matching that of the PS5.
There is a noticeable issue with the curvature of the monitor, and this issue is with the edges. The monitor's curve doesn't actually reach the entire way and stops about six inches from the edge, leading to this bent image effect. There are also very few modern ports, such as USB-C.
AOC G2460PF Gaming Monitor
This monitor comes in two versions: one option that is standard and another budget option that has slightly tweaked properties and features.
Review
This monitor's base version is a 24-inch LED monitor that offers you full HD with 1920 by 1080p resolution. With a refresh speed of 144Hz and a one-millisecond response time, you can experience some excellent speeds and image quality topped off with a massive dynamic contrast ratio of 80,000,000:1. The image quality is further enhanced by the use of AMD FreeSync technology.
The monitor's height is also easily adjustable, alongside the swivel and tilt, so you can get the perfect viewing angle that suits your setup and needs. You have a massive choice of connection types available, including VGA, DVI, HDMI, MHL, DisplayPort, four USB ports, a USB Hub, and a headphone port.
For a cheaper price, you can get a different version of the monitor that only has a refresh speed of 75Hz but also comes with a built-in blue light filter. Another trade-off is that the dynamic contrast ratio is reduced to a still very respectable 50,000,000:1.
This monitor falls short in its color display, with the brightness of the monitor often washing out the colors and causing the display to appear washed out. The color calibration is also complicated to work around, especially if you try tuning the colors to be more palatable.
FINAL VERDICT
In conclusion, we shall leave you with some recommendations. Even though all of the above options will serve you better than using your home television, we have to say that our definitive winner would be the Asus TUF gaming monitors, especially the higher-end options.
Our runner-up choices that would make great monitors, barring the cons, would be the LG and Samsung monitors - they offer great features at a reasonable price for most people.