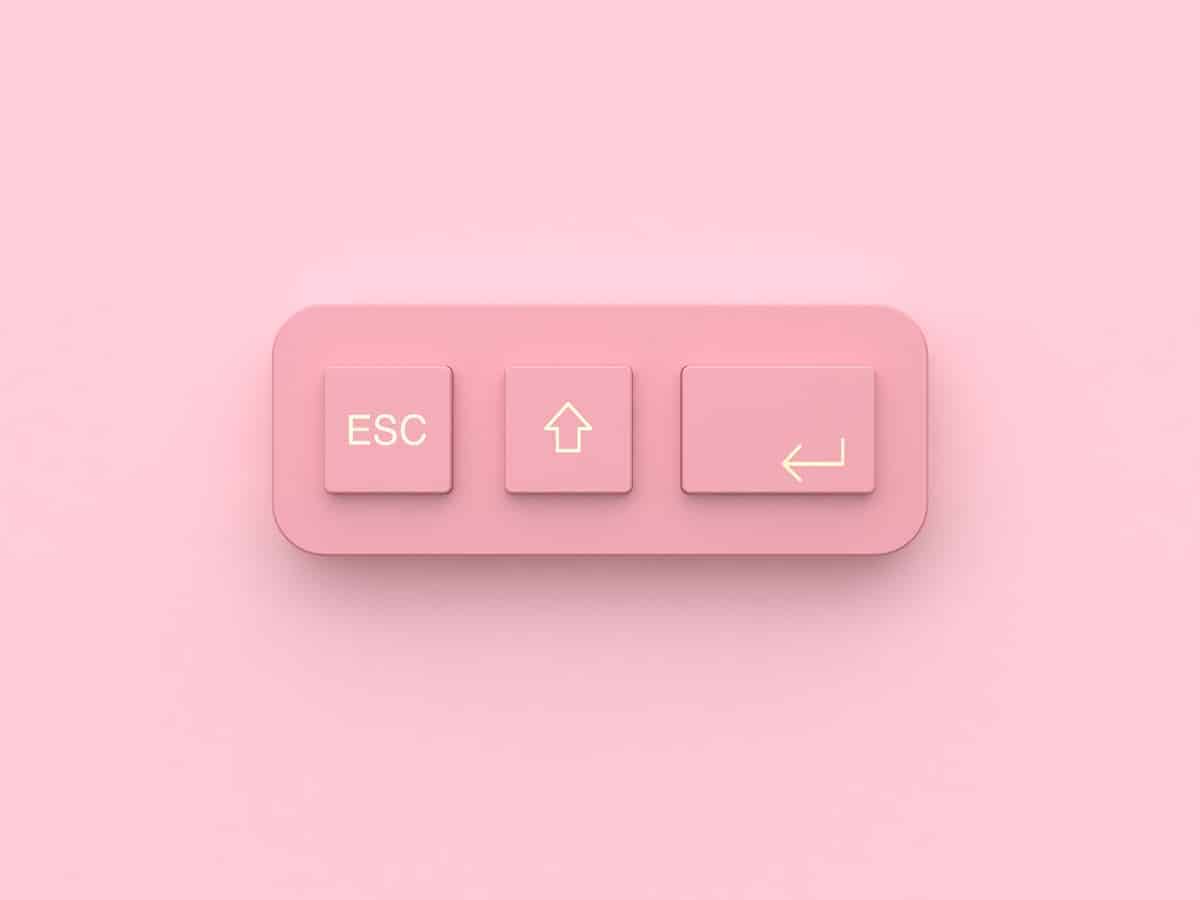 A proper gaming keyboard can go a long way if you are looking to become a professional. While there are numerous types, a mechanical one is the best solution.
With a plethora of different products out there, we decided to get a little funky and review the best pink-colored gaming keyboard models. Thus, if you are interested in upgrading your setup, and you love the color pink, read on!
Comparison Chart
Epomaker AKKO 3068 Keyboard
ASUS ROG Strix Flare Pnk Gaming Keyboard
Magegee MK-Armor Gaming Keyboard
YUNZII SK61 Pink Wired Gaming Keyboard 
MOTOSPEED MSCK82 Gaming Mechanical Keyboard
Best Pink Gaming Keyboards Reviews
Epomaker AKKO 3068 Keyboard
If what you are looking for is a blend of fancy and professional, then you are in the right place. Trust us when we say that this AKKO'S World Series keyboard is one of the most inspirational models on the market.
Review
First off, let's talk about the design details that make this product such a good choice. The pink-colored keyboard features a few motifs from Tokyo, the capital city of Japan. Thus, you will have the opportunity to get your fingers on koi fish, Mount Fuji keycaps, as well as a plethora of Japanese temples. This, plus the fact that you are getting a cherry-blossom colored case and decorative PBT keys, is just the beginning.
As we have mentioned above, this is a mechanical keyboard with a 65% professional layout. What we were pretty happy to notice is that this keyboard is connectable through Bluetooth 3.0. This means that you won't have to deal with messy cables (though there is a USB port if you want to use it) because you can enjoy wireless connectivity.
Additionally, the fact that you can work with Bluetooth allows you to have three different devices connected at the same time. Also, it contributes to the overall portability of this keyboard. When it comes to how reliable it is, the main feature you want to hear about is the rechargeable battery.
We are looking at a 1800mAh battery that can be recharged within a couple of hours. Once it is full, it offers more than 120 hours of continuous typing (or 250 days in standby mode).
The 65% professional layout offers a couple of MX cherry switches, including a blue, brown, and red one. The blue switch is just perfect for those of you who enjoy a tactile key sensation. While similar to the blue one, the brown is a bit quieter and is preferred by those working in an office. Last but not least is the red switch, which differs the most and completely excludes the common tactile bump.
The layout itself offers great specs. Apart from the Cherry MX switches, it features 68 keys, dye-subbed PBT keycaps, a multimedia key, as well as an N-key rollover. Most importantly, it is compatible with USB-C, and it is just right if you want to create macros (important for gaming).
As for the dimensions, it is set at 312mm x 102mm x 40mm, and it weighs just above 1.5 pounds. This makes it ideal for transporting. What you get in the package apart from the keyboard itself is a dust cover, keycap puller, and the aforementioned PBT keycaps. Also, the keyboard comes with a 1-year warranty on all built-in defects.
Frankly, there is not much we can say against the AKKO keyboard. However, we think it would be much better if the wireless light was positioned differently, as the orange glow that it emits to the keys may not be everyone's favorite. 
ASUS ROG Strix Flare Pnk Gaming Keyboard
When it comes to mechanical keyboards, it can't get much better than what ASUS has to offer. This product is a limited edition and is among the best examples of why a mechanical keyboard is perfect for gaming.
Review
This ASUS keyboard comes with a number of innovative features. It is not wireless, but it is highlighted by a USB pass-through, and this keyboard offers great compatibility with all Asus Aura Sync products. Much like with the aforementioned model, it offers a Cherry MX RGB mechanical switch (brown). These are manufactured in Germany and offer optimal precision and responsiveness.
What we were quite happy to see is that this keyboard offers upper-left media control as well as built-in memory. What this means is that you won't have to worry about whether the macros and control-combos that you created will be there for the next gaming session.
Apart from the fancy pink design, you are also given an opportunity to customize this keyboard with a unique acrylic badge. If you don't feel like creating your own logo that can be inserted into the keyboard and lit with Aura RGB, you can also use the featured ROG badge.
The Aura Sync RGB offers a spectrum of more than 100 colors that you can choose between, thus improving the aesthetics of your gaming setup.
Most importantly, this mechanical keyboard is 100% anti-ghosting and features a full-key rollover. The dimensions are set at 17.8 x 6.1 x 1.2 inches, which is basically the size of an average mechanical keyboard.
When it comes to the cons, the main one is that this keyboard doesn't feature wireless connectivity. Also, it is quite heavy (4.5 pounds), which is why the aforementioned AKKO should be considered better in terms of portability.
Still, apart from these two points, ASUS did an amazing job designing a fancy and sturdy mechanical keyboard that will satisfy all of your professional needs!
Magegee MK-Armor Keyboard
Moving on with the best pink gaming keyboard models, we have one that is just ideal for anyone who is on a limited budget. While MageGee is nowhere near as recognized as ASUS or AKKO, this brand did a great job designing an LED mechanical keyboard with more than 104 functional keys!
Review
The appearance of this keyboard is quite unique. You are looking at a pink and white design (cover and keycaps) that you can customize according to your preference. Among the key features of this product is the backlighting, which is highlighted by 4 different brightness levels and 24 modes. If you are a fan of rainbow scenery, then this lighting is just the right choice for you.
As we have mentioned above, you get a white top cover and keycaps, both of which can be removed when you need to clean the switches. What is great is that MageGee did a superb job making this keyboard watertight and waterproof, which means you won't have to worry even if some type of liquid spill occurs.
When it comes to the layout, this keyboard has 104 mechanical keys, as well as an N-key rollover and 100% anti-ghosting mechanism. Not to forget, it rocks blue Cherry MX switches, so if you enjoy the tactile sensation of mechanical keyboards, this will work great for you.
We were quite happy to notice that the MageGee is compatible with almost all Windows versions and works well with Mac OS, as well. Also, in case you encounter any build-related issues, there is a 1-year limited warranty to get it settled.
However, much like the aforementioned ASUS, this keyboard does not feature Bluetooth connectivity, which is a disadvantage if you are always on the go. Additionally, while blue switches are a good solution, this particular keyboard is a bit louder than you will want it to be.
Overall, while there are a couple of upgrades that could be done, the MageGee mechanical keyboard is a great choice for anyone starting out on a tight budget!
YUNZII SK61 Pink Wired Gaming Keyboard
For most gamers, 108 keys may be too much, which is why this YUNZii keyboard can work as a great alternative. Featuring only 61 keys, it comes in white and pink and offers the perfect combination of pleasing aesthetics and functionality.
Review
First and foremost, we want to address the design. You are looking at a pink and white keycap product that can be further customized with the available RGB lighting. As for the dimensions, it is set at 295mm x 105mm x 45mm, and it weighs just above 1.5 pounds, which means it is quite similar to the AKKO keyboard.
While it is not Bluetooth compatible, this product uses a USB Type-C, and you can connect it to Windows, Android, and even the Mac OS platform. Made out of PBT and ABS, it is quite sturdy compared to a number of average mechanical keyboards that are on the market.
When it comes to the RGB backlighting, it is incredibly versatile, as you will get to enjoy a show of more than 16.8 million colors. A great thing is that you can customize the lighting effects and thus adapt it according to your overall gaming setup.
There are three FN keys, as well as on-board memory, which means that you can save the previously created macros for the next gaming session. Also, it features NKRO, which means this keyboard is completely free of ghosting and does great in terms of overall actuation.
Additionally, you will be quite happy with its ergonomic design, which will allow you to play for hours at a time without any fatigue. Not only that, but this keyboard is waterproof, which lowers the risk of water damage. Lastly, it is compact and portable, making it perfect if you are on the go.
The main issue that we have is that the software is in Chinese, which means you need to use a translator for the initial setup.
Despite this, we consider it to be a well-made mechanical keyboard that will insert a unique dimension to your gaming setup!
MOTOSPEED MSCK82 Gaming Keyboard
Finally, we have a mechanical keyboard that is an optimal choice for Mac users. Affordable and attractive, this product will guide you to productivity and success.
Review
First and foremost, when it comes to this CK82 keyboard, take note of the Outemu blue and red mechanical switches. This seems like a great combination given the fact that those who enjoy a tactile bump, as well as those who don't want a loud keyboard, will be satisfied. When it comes to durability, this one meets all the industry standards, as it is highlighted by double-injection technology and suspended keycaps.
You can trust the manufacturer that each key can endure a minimum of 50 million keystrokes. What we like is that, while this keyboard offers 87 keys, it is quite compact and doesn't sacrifice a lot of space. On the contrary, it measures 13.78 x 5.24 x 1.18 inches and weighs just below 2 pounds, making it quite portable.
The RGB backlighting offers more than 5 game modes, 6 colors, and 14 dynamic effects. When it comes to sturdiness, you don't have a lot to worry about given the aluminum-ABS, ergonomic, waterproof design.
Most importantly, it works with Windows as well as the macOS platform. The main issue that we have with this keyboard is the rattle sound that the space bar makes.
Still, that shouldn't be a deal-breaker, as the functionality and design of this model are hard to beat.
FINAL VERDICT
Of course, the final decision is all yours. If you are interested in a wireless pink mechanical keyboard, then we suggest the AKKO product. It is not only incredibly attractive, given the Tokyo motifs, but it is also ergonomic and features all the key controls that you need.
For those who are more into USB-C keyboards, it can't get much better than the ASUS ROG Strix Flare. While it is set on the pricier side, the overall functionality and durability make it a long-term investment!
Ducky also make great gaming keyboards that are stylish with alternative designs, so be sure to take a look at those too.