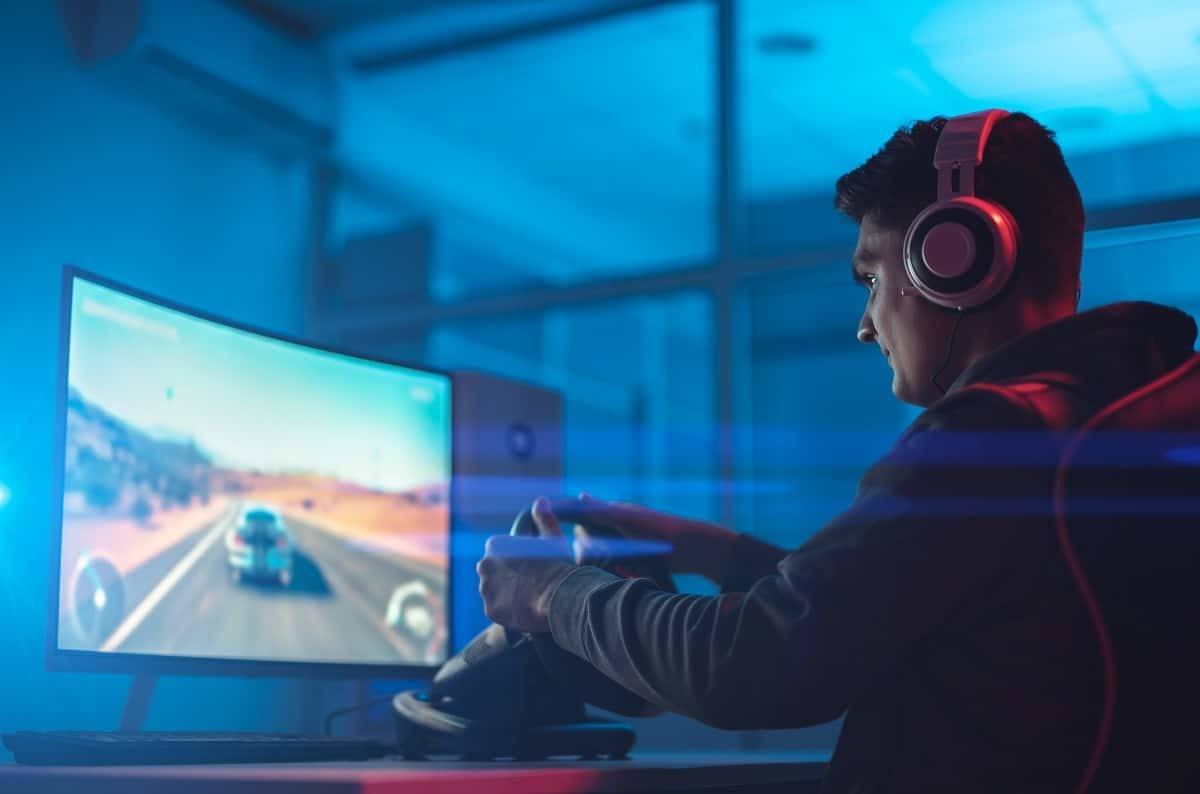 If you have already invested in a 4K-compatible console, or just looking to upgrade your pc gaming setup, then considering getting a reliable 4K gaming  monitor to complete your gaming setup. Whether you are a professional, an amateur, or someone who enjoys gaming in their free time, such an investment can go a long way towards your overall gaming experience as well as your success in the games you are playing.
With each passing year, these units are becoming more popular mostly due to new content being released specifically for 4K curved gaming monitors. Not only that, but along with better image quality, you are also looking at a higher resolution, which is especially important if you are a professional gamer or a content creator. A curved gaming screen allows you to fully immerse yourself in the game and gives you a real-feel experience like no other.
Looking at the market, you will be surprised to find that there are many models that you can choose from, even though this is a relatively new concept. We've searched through more 4k curved monitors than we can count, compared these models, and created a list of the best 4K curved gaming monitors that you'll love. Let's take a look at our five top monitor picks.
Comparison Chart
ASUS ROG Strix XG43VQ Gaming Monitor
Acer XR382CQK Gaming Monitor
Samsung LC49HG90DMNXZA Gaming Monitor
SAMSUNG LU32R590CWNXZA Gaming Monitor
Acer Nitro XZ342CK Pbmiiphx Gaming Monitor
Best 4K Curved Gaming Monitors Reviews
ASUS ROG Strix XG43VQ Gaming Monitor
What you are looking at is a 43-inch ultra-wide monitor that has been designed by the well-recognized ASUS company with the idea of supplementing professional gamers with the best possible resolution. Highlighted by LCD/LED display technology and 2HDR resolution, this product holds immense value. Although a bit pricier, it stands as a fantastic long-term investment.
Review
The first element that we want to talk about is the image quality that this monitor is able to put out. As we have mentioned above, it is 43 inches wide and highlighted by a 32:10 ratio that offers a 3840x1200 resolution. What allows the spectacular gaming visuals is the refresh rate of 120Hz, as well as the overall design of this product. Although it is not easy to fit on a desk, it will still offer an immersive gaming experience.
The second feature that we want to talk about is the fact that this monitor meets the Vesa DisplayHDR 400 certification. It is also highlighted by High Dynamic Range resolution that offers astonishing color performance and contrast. This model stands among the few gaming monitors that feature a DCI-P3 90% gamut.
Most importantly, you won't be having any issues related to brightness or latency, given the fact that it is highlighted by a spectacular response time, along with the aforementioned 2HDR. You are looking at 1ms of RT, which eliminates any risk of delays and lagging gameplay.
Keep in mind that it is not only for professional gamers. There are more than a couple of user settings that will allow you to adjust the performance of this monitor depending on whether you are a content creator, gamer, or using it to play your favorite movie. This, as well as the fact that it features a Shadow Booster (which is responsible for providing better image quality in dark areas), is the main reason why we consider it to be among the best 4K models on the market.
The only thing that we have against it is that it is not for everyone's budget due to the higher price. Still, you should keep in mind that it is highlighted by an array of innovative features, which makes it a reliable and worthy long-term investment.
Acer XR382CQK Gaming Monitor
Coming from another successful tech company, this Acer 4K gaming monitor has earned its place among the top models for a couple of reasons. Similar to the aforementioned product, it is highlighted by a 3840x1600 resolution, as well as FreeSync technology from AMD that improves the overall connectivity.
Review
The first feature that we want to talk about is the display and the technology that is highlighted. Set at 37.5 inches in size, it is an ultra-wide model that offers a splendid gaming experience and a 90% color contrast. The IPS display that offers a resolution of 3840x1600p is the main reason why we consider it to be one of the best choices for both professional and hobbyist gamers.
One of the coolest features is the FreeSync technology and the Display, HDMI, and MHL ports that will allow you to connect different devices. You can also pair this monitor with an array of consoles that you may enjoy. The response time is the same as with the ASUS 43-inch monitor and is set to 1ms response time, which lays the risk of lags to rest.
However, we have to say that the refresh rate of 75Hz could be better for the price that this monitor comes at. Still, this is the only major concern that we have related to this Acer product. We were quite impressed by the audio quality that it is able to put out as a result of the two 7-watt built-in speakers.
Of course, you aren't limited to these audio sources, as you can connect it to more powerful speakers using the aforementioned ports. When it comes to the design itself, this monitor is incredibly attractive, which we attribute to the futuristic aluminum base, a cool headset, and a number of lighting effects that you can adjust on this monitor.
That, as well as the fact that it offers a 6-axis color adjustment and a 100% sRGB gamut, means that you have nothing to worry about when it comes to the quality of the image and resolution, no matter what angle you are looking at it from. Additionally, it can be tilted anywhere from 5 to 35 degrees to help you prevent exhaustion, which is common if you are spending hours in front of your computer.
Overall, this is a well-priced, ultra-wide, curved monitor that is sure to be enjoyed by both gamers and content creators!
Samsung LC49HG90 Gaming Monitor
Moving on with our list of the best 4K curved gaming monitor models, this ultra-widescreen QLED is one of the best that Samsung has to offer. If what you are looking to get is a monitor that offers tremendous image quality supported by a 3840x1080p resolution, you are in the right place. Highlighted by a fast response time, FreeSync technology, and enhanced ergonomics, it is worth a closer look!
Review
As you probably know, Samsung is one of the few tech companies that have been on the top since the beginning. With this in mind, we weren't surprised to find that this particular model is of great value. Firstly, the 32:9 curved design is probably the best solution if what you are looking to get is images of high quality without sacrificing ergonomics.
This 49-inch, ultra-wide monitor is comprised of two 27-inch dual screens that sit side by side. They are made with the latest Quantum Dot Technology in mind. That, as well as the HDR resolution that it is supported by, is the main reason why this product is so realistic and accurate.
While the aforementioned two products are able to put out industry-standard color and contrast, what this Samsung model does is hard to compete with. You won't have to worry about ghosting, burring, or lagging during your gaming experience due to the fantastic 144Hz refresh rate and a response time of 1ms, which is the best you can get.
As we have mentioned above, the adjustable design of this monitor is one of the reasons why it is such a great choice. Not only that, but the VESA compatibility should go a long way when it comes to reducing exhaustion and preventing eye strain. Keep in mind that, with a brightness that starts at 250cd/m2 and can go up to 350cd/m2, these features go a long way.
The only issue that we have with it is that it lacks the Shadow Booster that the Acer 37.5-inch monitor was highlighted by. Yes, it offers fantastic image quality in bright areas, but this could certainly be better when it comes to darker areas. Still, this is an issue only if there is no ambient lighting whatsoever.
Other than that, you should be able to enjoy a precise and accurate presentation of the game that you are playing, no matter what angle you are at.
Read our Full Review of the Samsung LC49HG90DMNXZA for more detail>>>
SAMSUNG LU32R590CWNXZA Gaming Monitor
For those of you who are on a limited budget but don't want to miss out on a 4K monitor, we have just the right product. This model is highlighted by 1500R curvature and comes as a winner of the CES 2019 Innovation Award. With a sleek yet functional design and game mode, it is a product that could further enhance your gaming experience!
Review
Coming from Samsung Electronics, much like the aforementioned 49-inch model, this one is able to offer a realistic and immersive viewing experience no matter what angle you may be standing at. Among the most important points of this spectacular curved monitor is the 1 billion colors that it supports, as well as a 2500:1 contrast ratio that supports vibrant, darker colors and all other variations of black.
What we were most impressed by is the well-thought-out game mode that is there to adjust the contrast and brightness according to the specific game requirements. Thus, the experience won't be the same when you are playing GTA V as when it comes to Red Dead Redemption 2. The fantastic adjustability is one of the main reasons why we consider this product to be a good choice no matter what game genre you are into.
As we have mentioned above, it features a wide viewing angle that is set to 178 degrees. Along with the 1500R curvature, this goes a long way when it comes to enhancing image quality and supporting the 4K UHD 2160p resolution that this monitor offers. Keep in mind that it supports the split-screen function (PBP), which means that you can connect up to two different devices at the same time without sacrificing the picture quality.
We would've like to see a higher refresh rate than 60Hz but for a 4K gaming monitor at a relatively good price, it's to be expected. Something to note is that if you struggle to get it to run in 4K at 60Hz, you need to make sure you have the latest drivers installed - you can get the drivers from the Samsung website.
While some other models are highlighted by FreeSync technology, this one offers just an HDMI port, which should still be compatible with most gaming consoles and tech gadgets that you may want to pair this monitor with. Still, the fact that it lacks modern ports such as USB-C is a flaw.
Finally, while there are a couple of design-related improvements that would go down well, we can't deny that this 32-inch monitor is an offer you shouldn't miss out on for the given price!
You can also download the SAMSUNG LU32R590CWNXZA manual here.
Acer Nitro XZ342CK Pbmiiphx Gaming Monitor
At the end of our list, we want to present another Acer product. This 34-inch monitor is highlighted by 1500R curvature and a resolution of 3440x1440p. With 95% sRGB, fantastic response and refresh times, a display port, and two HDMI ports, it is a product that can revolutionize your gaming experience!
Review
There is more than a single point that makes this affordable curved gaming monitor such a great choice. Firstly, what you are looking at is a 34" WQHD VA display that is made according to the latest industry standards. It is one of the best solutions when it comes to offering great image quality and high resolution. Not only that, but the fact that it is supported by AMD Radeon FreeSync technology is why this monitor goes a long way when it comes to multi-functionality and compatibility.
Much like the aforementioned product, you are looking at a VESA display that is accompanied by HDR400 resolution. In terms of design, the 1500R curvature is responsible for covering a wide field of view. This means that, whether you are sitting or standing to the right or left, you should still be able to have the same image quality as if you were right in front of the monitor.
If you know a thing or two about these products, then you are certainly aware of the difference a lag-free monitor makes to your gaming experience. Luckily, this one is highlighted by a refresh rate of 144Hz and a response time of 1ms. It can't get much better than this, especially when it comes to the fact that you are looking for a product that is set at a reasonable price.
Unfortunately, while it includes two built-in speakers, these are simply not good enough given the fact that they are only 3-watt speakers. On the other hand, the zero frame design and the ergonomic stand play an essential role when it comes to reducing eye strain and preventing exhaustion.
With all of this in mind, the Acer Nitro XZ342CK is suitable both for the hobbyist and professional gamer. Yes, the audio quality and the fact that it doesn't feature a USB-C port are details that should be corrected, but other than that, it offers fantastic image quality. Most importantly, it comes at a budget-friendly price!
FINAL VERDICT
At the end of the day, choosing a 4K curved gaming monitor should depend on a couple of different factors, including your budget and current setup. The last thing you would want is to choose a model that is not ideal for what you want to do.
With all things considered, our personal favorite is the ASUS ROG Strix 43-Inch because, apart from the fact that it is set at a somewhat higher price - which is its only real downside, the high resolution and image adjustability make it a splendid choice for a customizable experience.
On the other hand, for those of you on a tighter budget, we would recommend the SAMSUNG LU32R590CWNXZA 32-Inch. It is highlighted by a reliable game mode and split-screen compatibility as well as supporting 1 billion colors, giving you a vibrant and immersive experience. Add to that the fact that it comes with game mode and you have a well-priced unit that is packed with great features.