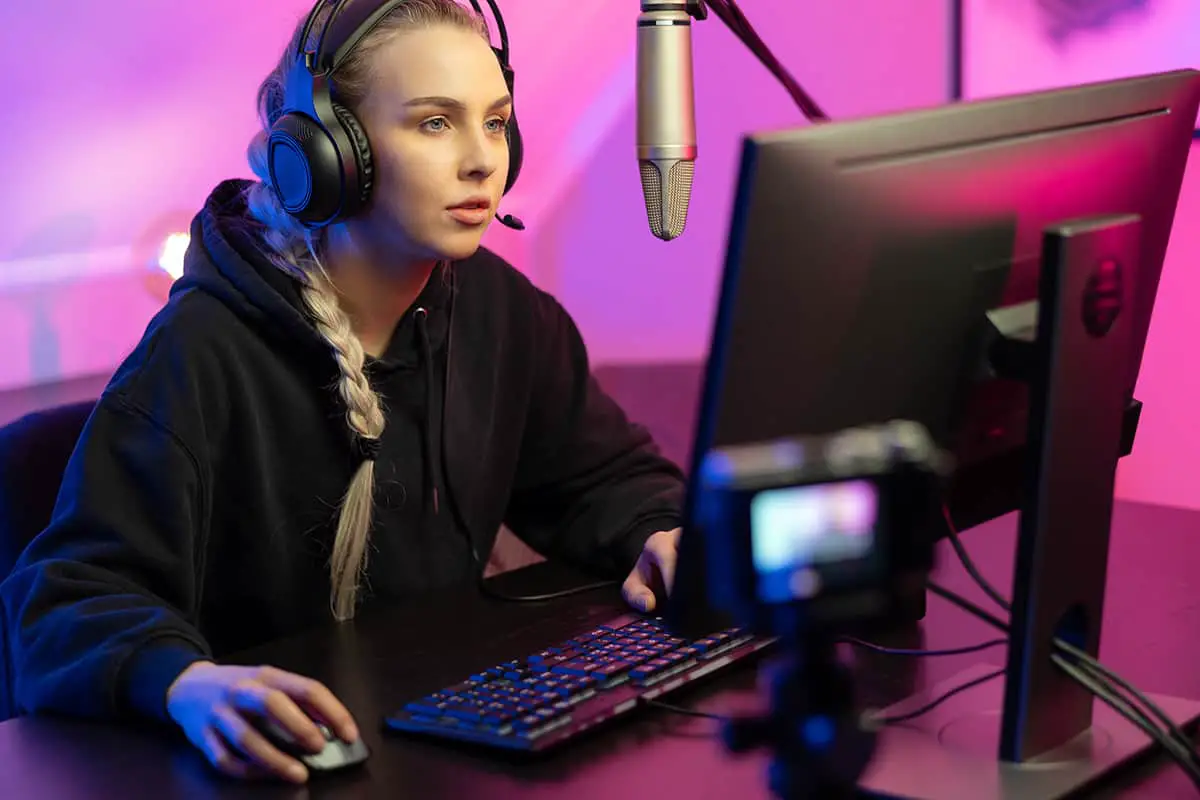 Quick Overview
The Acer XF270H gaming monitor offers fantastic picture qualities, smooth G-Sync performance, and aims to provide as streamlined a gaming experience as possible. The 27" display delivers 1080p images that are rich in color, with some help from the Nvidia G-Sync technology, allowing for minimal screen tearing and latency.
This Acer monitor delivers when it comes to pure image quality and performance, though you might find that there are a number of other displays in its price range that offer more functionality. In this article, we're going to take a look at the Acer XF270H in detail. Read on for the full Acer XF270H review to find out everything it has on offer.
Review
The Acer XF270H has a rather slim design for a 27-inch G-Sync monitor. The display, which is all-black, is very flexible, and you'll be able to lower or raise it about 7" down or up, as well as tilt it 5° forward and 35° backward. You're even able to swivel the screen a full 90° to use it in a vertical orientation, either as part of a multi-monitor setup or alone.
The only major problem with the Acer XF270H's otherwise flexible design is the fact that it cannot pivot right or left on its base. This is a feature that many other monitors have and that many other users find invaluable, so its absence on the Acer XF270H is a little frustrating, to say the least.
The monitor rests on a circular base that is quite stable, and the stand boasts a rectangular opening through which you can pass your various cables to make your setup a little more organized. In addition, the size of the Acer XF270H is relatively unobtrusive, and it shouldn't take up too much space on your desk. Though at 17.2 pounds, you're not going to want to move it from room to room very often.
What's in the Box?
You really don't get much else than the monitor itself when you order your Acer XF270H, which is typical for pretty much all gaming monitors these days. You'll get the monitor and its stand, but what more do you need?
Once you've received your monitor, it will be up to you to set it up on your own, and while it doesn't come with an instruction manual, the setup process really won't take you long at all, whether you are an expert at gaming or if this is your first new gaming monitor.
Features
There are quite a few features on the Acer XF270H that we'd like to talk about that can help you make your purchasing decision, so let's take a look at them.
Ports and Interface
It's a good thing that Acer included a DisplayPort cable with their XF270H because that is the only way that you are going to be able to connect your PC to the display. The one DisplayPort that the Acer XF270H has is necessary for its G-Sync compatibility since it needs to have direct communication with your graphics card.
While this does guarantee that G-Sync will always be an option that you can use, it also means that you are going to need a special inverter cable, which can set you back another few dollars, to use it with HDMI-based devices, like streaming sticks and gaming consoles. This isn't a major setback, but if you are trying to save every penny, it can be a little frustrating.
Though the Acer XF270H does have limited input options, it does not suffer from a shortage of peripheral ports. The monitor comes with two USB 3.0 connectors at the left so that you can easily connect your accessories, while another two USB 3.0 ports and USB 3.0 Type-B ports can be found at the back.
You'll find six physical navigation buttons on the front of the Acer XF270H - one for power and five for navigating the various menus. Acer has a pretty straightforward and easy-to-use on-screen interface, with the main menu for adjusting settings like gamma and contrast and designated brightness, Ultra-Low Motion Blur, and refresh speed toggling tabs.
You'll also find a menu for managing colors, which allows you to alternate between various display modes.
Performance
Like we've already mentioned a few times, the Acer XF270H supports G-Sync, which is a technology that allows the refresh rate of your monitor to sync up with that of your Nvidia graphics card, providing extra smooth gaming. You might be happy to know that the feature works well across many different games, and it's even more impressive that the monitor performs just as well when G-Sync is enabled.
If you're playing vibrant, colorful games like Bioshock Infinite, Risk of Rain 2, Cyberpunk 2077, or any of the Dishonored games, then you'll appreciate the impressive visuals that the Acer XF270H provides. Combine that with the G-Sync technology, and you'll have one ultra-smooth gaming experience.
This monitor is also a great choice for those that enjoy watching movies or series. The display can preserve every fine detail of your favorite films so that you can be immersed in every second of the action, romance, or mystery. The variety in this monitor's performance is definitely a big plus.
Color and Brightness
The Acer XF270H is perhaps one of the brightest monitors on the market right now, capable of registering 270 nits in the brightest environments. The monitor is also quite accurate when it comes to color reproduction. It can display 95.7% of the Rec. 709 color gamut, which is an HD standard that is perfect for gaming, and as we mentioned, this color will help you enjoy movies and series even more.
Features and Modes
The Acer XF270H is quite detailed when it comes to the bells and whistles. The menu on the display allows you to set your own contrast, brightness, gamma, and color temperature levels. If you would prefer not to mess with any of that, you could also choose between any of the four preset display modes:
Eco mode, which dims the display for lower power consumption
Standard mode, which uses the default settings
Movie mode, which provides crisp images in dim environment
Graphics mode, which enhances colors for the viewing of photos
Pros
Impressive brightness and color
Highly adjustable to suit your needs and preferences
Smooth G-sync performance
Very vibrant image reproduction
Several adjustment options
Cons
Only connects via DisplayPort
Technical Specs
Aspect ratio: 16:9
Maximum display resolution: 1920p x 1080p
Screen size: 27 inches
Display type: LCD
Dimensions: 24.17" x 9.64" x 15.63"
Weight: 17.68 pounds
Refresh rate: 144Hz
Mounting type: table
Size: 27"
What We Liked
One of the most impressive features of the Acer XF270H is the fact that it supports G-Sync. If your graphics card allows it, this technology provides you with an ultra-smooth gaming experience that is free of screen tearing and artifacts, which is something that all gamers crave these days.
The monitor's vibrance, brightness, and rich color reproduction is also a great bonus, as it brings the most colorful games to brilliant life while still being able to immerse you in darker, more grim games, like Dark Souls or Dishonored. All in all, the Acer XF270H provides a fantastic viewing experience at a very competitive price.
What Could Be Better
The fact that the Acer XF270H can only connect via a DisplayPort is a little frustrating because it means that you'll need to purchase a special adapter, if you don't already have one, to connect the monitor to HDMI-based devices, like your gaming consoles. This is really only a minor inconvenience but is worth mentioning anyway.