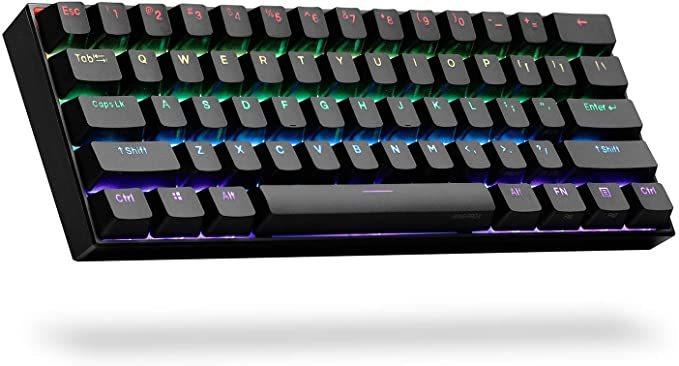 ANNE PRO 2 is a 60% size wireless Bluetooth RGB mechanical keyboard. It's smart and saves the space of the desk. Although there are only 61 keys, it can be used like a standard 104 -key keyboard by the key combination.  The keyboard is quite customizable with software to change key bindings and RBG backlighting per key. The quality double shot PBT key Caps can also be swopped out for any Cherry stem compatible keycaps.
Anne Pro 2 Review
The Anne 2 pro keyboard is a well-built keyboard that has 60% the number of keys of a standard keyboard. Taking up less space, and with different switches available it is geared towards gamers. It comes in a color choice of Black or White along with a selection of either Cherry MX, Kailh or Gateron switches. It's also a fairly configurable keyboard that allows you to use provided software to customize the key bindings and RBG backlighting per key.
Specifications
Height = Sloped height from 4cm at top of keyboard to 2.6cm at bottom

Width = 9.7cm

Length = 28.4 cm

Weight = 1.4 pounds

Shipping Weight = 2.05 pounds

Manufacturer =Taicang Zhigengniao

Battery = Lithium Polymer battery (included)
Build quality
The Anne Pro 2 feels solid and is fairly heavy which is likely due to the built-in lithium ion battery used for wireless operation. The keyboard is sturdy, doesn't have flex, and the keys are stable and don't wobble.
The keyboard has feet, but they aren't adjustable.  One of the little rubber feet peeled off no long after unboxing the Anne  Pro 2 keyboard, but pushing it firmly back into place did the trick. If it happens more you might need to put some different adhesive on it to mack it stick better
Otherwise this a downward sloping keyboard with a fixed height that's higher at the back and tapers downward toward the front. Of course if you prefer a completely flat keyboard just be aware. I personally prefer this than using those sort of keyboard kick stands you get. I'm used to those pull out keyboard stands folding in at the most awkward times. So this just feels more stable especially when you're really going for it and mashing keys during an intense gaming session, but you still have the back raised. 
Customizable Software
There is a program you install with the keyboard which allows you to customize the keyboard. You can change key positions around and change the RGB backlighting. Each key can be set to a different color and can have effects like flashing or bursts also. All of these can be saved under different profiles on the keyboard. The software allowed us to set a mac layout quite easily.
Another cool addition is the concept of tap arrow keys. Arrow keys generally aren't suppported on 60% keyboard layouts, but the Anne Pro 2 lets you use existing keys for arrows that change their response depending on whether they are pressed or tapped.
Bluetooth 4.0 enabled
The keyboard is Bluetooth 4.0 enabled so it can be used wirelessly. We would've preferred more recent Bluetooth 5.0 support but it connected well enough to our Macbook but we did experience an odd couple of connectivity problems initially. It's charged via a 5ft (1.5m) USB-C cable that's included in the box - one cable end is standard USB-A for plugging into a wall socket/charger and the other USB-C for plugging into the keyboard. 
The battery is 1900 milliamps which lasted us around 8 hours with the RBG backlit off. When the battery runs out you can still use it while plugged in and charging at the same time. There's a small switch at the back of the keyboard to switch it between Bluetooth and cable mode, so if it's not working when the cable is plugged in you might still have it in Bluetooth mode (I can neither confirm or deny that I may have made this mistake, and been confused for a few minutes). Some customers have complained of needing to replace their USB cable after a while, but we didn't have this issue.
Anne Pro 2 keycaps
The Anne Pro 2 uses PBT (Polybutylene Terephthalate) keycaps. PBT is generally a longer wearing material and doesn't yellow as much as normal software ABS keycaps used more commonly on keyboards (Lego is made from ABS).
Because the standard PBT can be more brittle and break easier under strain, the Anne Pro 2 uses "double shot" PBT keycaps which are thicker. You still need to be careful if you're removing them for cleaning or swapping them out though.
Anne Pro 2 uses standard 60% layout (including bottom row) so you can swap out the keycaps that come with it for any 60% keyboard compatible keycaps, both ABS or PBT. Any keycaps compatible with Cherry MX stem-set switches generally works well. You can view some 60% keycaps on Amazon for sale here, just check the one you want is compatible with common 60% layout keyboards.
Anything compatible with Cherry MX switches, so any Cherry keycap with work too which are most. Some people have also successfully switched out the keycaps for pudding caps which lets you see the RBG backlighting better.
The RGB LEDs illuminate behind the keycaps beautifully and the fact that I can now program the colors for each key is going to be fun. I'm already looking forward to Christmas so I can go all red and green for the holidays.
What switches does the Anne Pro 2 have?
The Anne Pro 2 keyboard can be purchased with a choice of different switch types below which are Cherry MX or compatible: 
Cherry Mx Blue

Cherry Mx Brown

Cherry Mx Red

Gateron Blue

Gateron Brown

Gateron Red

Kailh Box Brown

Kailh Box Red

Kailh Box White
Gateron and Kailh are generally seen as good clones of the original Cherry MX switches and they usually also perform well. The stabilizers are also factory lubricated, including the spacebar and enter keys.
For our Anne 2 Pro test, we preferred the Cherry MX red switches since they're quieter and faster, needing less force of 45g to activate. But the brown switches are also a good choice if you're looking for something a bit more clicky or a balance between gaming and typing. 
Note, you can't swap the switches since the board isn't hot swappable. If you really wanted to switch them out you'll need to take it apart and de solder the old switches in order to put in new switches. You can also read more about the best recommended hot swappable keyboards here.
Who makes the Anne Pro 2?
Taicang Zhigengniao (ZGN) via their Obins company is concentrating on producing a novel mechanical keyboard maximising the performance of lighting, customizability, durability, Multiple Layouts, and programmability, etc which they have branded as the Anne Pro.
They were established in early 2014 and consist mostly of are professional IT from the tech industry with many years of experience. ZGN are quite sophisticated in their product design and software which is fairly evident from the unique design and capabilities of the Anne Pro 2 mechanical keyboard.
The manufacturer recently renamed the brand from Obinslab to Anne Pro because of trademark issues from another company registering the name. The older product comes with Obinslab on the back of the keyboard, and the newer ones have Anne Pro on them
Anne Pro Alternatives
Otherwise you can take a look at a popular compact and customizable gaming keyboard like the Apex Pro Tenkeyless (TKL) gaming keyboard at a higher price point but with easier setup and overall support and arguably better quality from Steelseries. One stand out feature is that you can adjust the activation point of each individual, making certain keys trigger faster or slower depending on your preference.
Read our full review of the SteelSeries Apex here.
Verdict
I like the build quality and features of this keyboard such as programmable keys, having on-board custom profiles and the dual FN-key functions to make up for it being a 60% keyboard. It's versatile and ability to move key functions around is very useful.
The software can be a little frustrating at times leaving you to refer to the manual a lot to figure things out. I'd recommended the Anne Pro 2 for more serious gamers adept at configuring and setting up more advanced peripherals - certainly don't buy it for your young kid or favorite young nephew unless you're happy to put time aside to set it up for them correctly. 
Overall, if you looking for a 60% gaming keyboard where you can swap out the key caps, change RBG lighting and program the individual keys, then the Anne 2 Pro get a great choice.