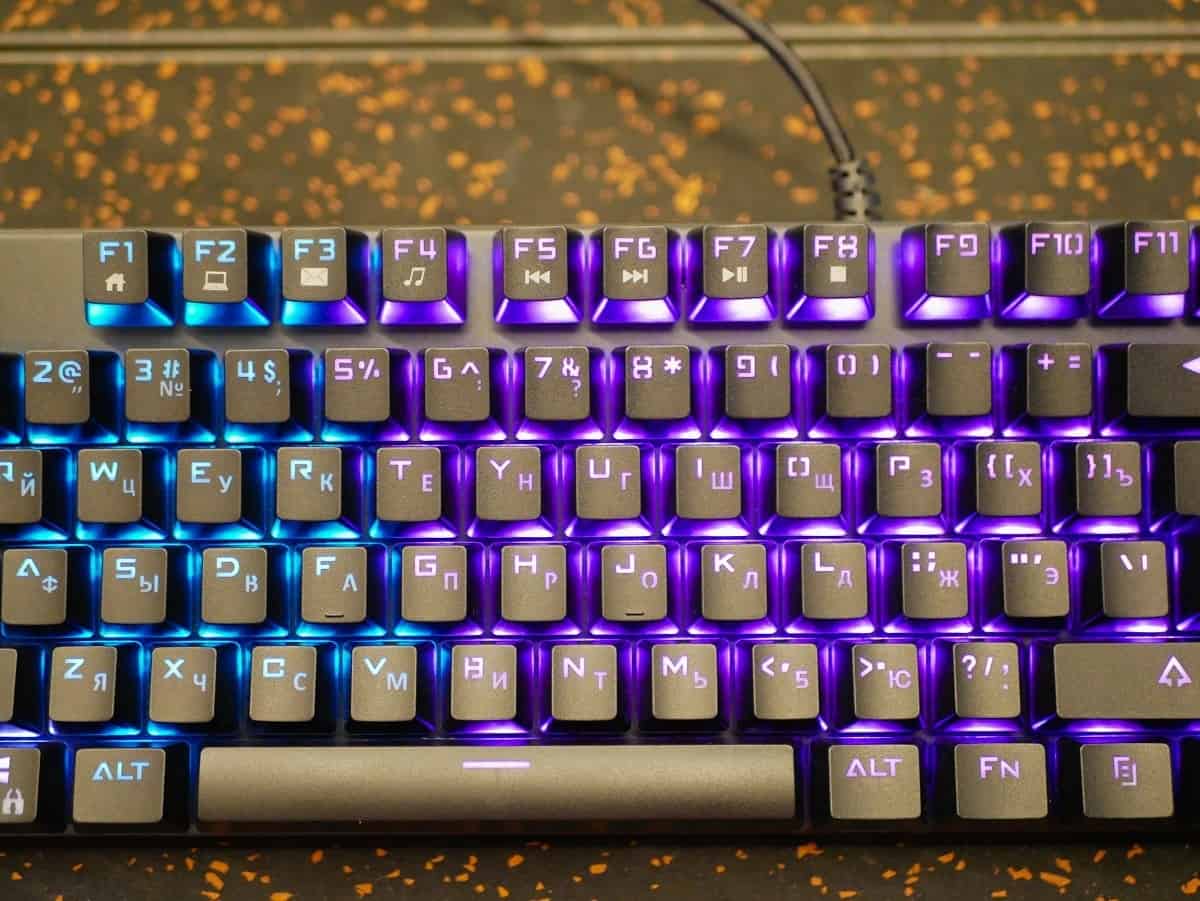 If you're a gamer then you know that a reliable mechanical gaming keyboard is essential to get the edge and improve your gaming performance. This is especially true when it comes to playing both FPS and MOBA games. 
A proper gaming keyboard should be comfortable and highlighted by fast response and mechanically actuated key switches. A 60% keyboard is better for gaming because it's 40% smaller than a full-size keyboard. It doesn't have a number pad or the F row which you don't really need for gaming. This means it takes up a lot less space than a traditional keyboard giving your more space on your gaming desk for mouse movement. The more compact size also makes it great for taking with you on the go or when you travel.
Our Top Pick!
Razer Huntsman Mini - Best Overall TKL Keyboard
Besides the overall winner in the Razer Huntsman mini, we've tested many 60% keyboards and done significant market research to find the different models that have the right balance of quality, performance and value for money. It should also be able to withstand hours of continuous use. So without further ado, let's take a look at our list of the best 60% keyboards for gaming!
Comparison Chart
Razer Huntsman Mini 60% Gaming Keyboard
DIERYA Mechanical Gaming Keyboard 60%
RK61 60% RGB Mechanical Gaming Keyboard
Redragon K552-N Mechanical Gaming Keyboard
E-Element Z-88 60% RGB Mechanical Gaming Keyboard
Akko X Ducky One 2 – Mini 60% Gaming Keyboard
Best 60% Keyboard for Gaming Reviews
Razer Huntsman Mini 60% gaming keyboard
If you've used a Razer keyboard before, like the Huntsman Tournament Edition, you'll be familiar with the overall Razer look and feel, and the software advantages. With a more compact design at 60% the size, the Razer Huntsman mini let's you see Huntsman in a new way.
Review
On the quality front the Razer Huntsman mini delivers with an aluminium top plate, has very little keyboard flex. It also includes doubleshot pbt kecaps so the key lettering won't fade or get worn and smooth after lots of use.

The Razer mini is 11.6 inches long, 4 inches wide and 1.3 inches high. There's a detachable USB-C cable which makes it even more portable. The Razer pbt keycaps are also replaceable, should you really want to. And N-key roll-over with anti-ghosting is standard to prevent keypresses from getting 'lost', along with 1000Hz Ultrapolling.

The 60% mini has Razer's second gen linear optical switches which are a little quieter for those that like quieter mechanical switch keyboards. These optical switches are also faster than the usual Cherry MX brown and red switches. You can also pick between clicky or liner optical switches depending on your preference. This will likely also make the Razer mini a popular esports and tournament choice where you're generally looking for something portable with fast responsive switches.
There is also onboard storage for programmable macros and ability to save up to 5 keybind profiles. Full per-key RGB lighting is available and you can cycle via the keyboard through the pre-programmed options, but will need to use Razer's synapse software to really be able to program and store custom lighting RGB effects.

As with most 60% keyboards there aren't dedicated arrow keys on the 60% Razer mini, which could make it a little bit of a pain if you use arrow keys a lot particularly outside of gaming. If that is the case for you then a better option is to go for a 65% gaming keyboard like the Ducky One 2 SF which is still as compact but includes arrow keys. Otherwise the Razer mini 60% keyboard is a solid keyboard with fast swiches and ample features while still giving you the extra desk space.

DIERYA Mechanical Gaming Keyboard 60%
There are a couple of mechanical keyboard types, including the full-size, TKL, and 60%. The latter option is becoming more popular, especially for people who don't have as much desk space. Bearing this in mind, the DIERYA mechanical keyboard seems like a great choice.
Coming in a couple of variations, including brown, red, blue, black, and the popular Cherry MX design, it is a small-form product that you will enjoy!
Review
We always like reviewing products from newcomer brands. DIERYA has been around for just a couple of years and has already managed to grow quite a fair fan base. They have done this by focusing on customer satisfaction, functionality, and pleasing aesthetics.
Additionally, investing in this keyboard will not break your bank, which is a huge plus. Also, it doesn't lack any of the innovative design details that the high-end keyboards have. It has a reliable RGB backlight system and a dual-mode connection.
First, we want to talk about the fact that you can connect this keyboard to a number of devices. These devices include Windows, macOS, Android, iOS, PlayStation, Xbox One, and the Nintendo console. This compatibility contributes to the overall value of the DIERYA gaming keyboard.
Also, you have the ability to connect it using a USB cable, or you can activate the Bluetooth mode for wireless connection. It is highlighted by a 10m range. This means that you can have the keyboard with you on your sofa while enjoying your favorite game.
In order to change to the wired connection mode, you will need to press the Fn and R buttons. To get back to Bluetooth 4.0, you will need to press Fn, as well as R/Q/E. Keep in mind that this gaming keyboard can't be connected to the PlayStation 4 with Bluetooth mode.
As for the RGB backlight system, it is highlighted by 7 different colors, as well as a variety of breathing modes. You can customize these according to your preference. The included colors are purple, blue, yellow, red, green, light blue, and white.
Once again, the Function key and up and down arrows play a huge role in determining the brightness, as well as breathing mode. Keep in mind that this is a 60% keyboard, which means that it lacks a numerical pad, as well as the F row.
It is highlighted by a quality ABS construction that is accompanied by ergonomic keycaps. This design should reduce the overall fatigue that gamers often feel in their wrists, shoulders, and fingers. Let's not forget that it runs on a rechargeable battery that you will need to plug in every 100 hours of continuous use.
It is a 1900mAh battery and, while not the most powerful, it does the trick. In the end, you are getting a 1-year limited warranty that should cover any of the manufacturer-related defects. This is all to say that, by investing in the DIERYA 60%, you will not go wrong! Read or full Dierya keyboard review for more detail.
RK ROYAL KLUDGE RK61 60% Mechanical Gaming Keyboard
Moving on with our list of the best keyboard for gaming offers, we have another affordable 60% model. If you are into the compact and small-form design, then this might be ideal. Keep in mind that there are two color variations, black and white, as well as a specific PRO model that comes with a few innovative design details!
According to the latest gaming industry standards, it is going to be perfect for those of you who spend 6+ hours at your computer daily!
Review
The first feature that we were blown away by is a couple of different switches that play a significant role. The brown switch is more balanced tactile switch for gaming with a bump so you feel the feedback when pressing a key. The red switch, which we consider the smoothest out of all three. The Blue switch is clicky and louder and generally not recommended for gaming, but some people do prefer it. Thus, if you are performing a lot of office and typing work, then you should focus on this one.

What you should keep in mind is that there are 61 keys set into the mini form of this 60% keyboard. Like any of its relevant competitors, this one doesn't include a numerical pad or the F row.
Still, there is the Fn key, as well as the designated letter keys that will allow you to replace the function of the missing features. One of the best things about this product is that you can choose between wired and Bluetooth connections.
Keep in mind that the latter works with Windows, iOS, and Android, while the wired mode works with all operating systems. Looking at the different RGB modes, you can choose between 18 presets, as well as 8 monochrome backlights and one that offers full color.
Our only concern is that it is not as portable as the aforementioned keyboard. In fact, it is heavier than it looks. Still, it is more portable than a full-sized keyboard, which makes it a reliable and functional choice if you are on the go! You also read our full review of the Royal Kludge RK61 which is more in depth.

Akko X Ducky 60% RGB Mechanical Keyboard
Last but not least on our list of the best keyboards for gaming is the Mini RGB Akko X Ducky keyboard. While it is the most expensive out of all five, it is a product that should cover all of your gaming needs without any issues.
Review
Much like with the aforementioned offer, you are getting the keyboard itself. Also, it comes with a USB C-CABLE and a keycap puller that should offer you easier maintenance. Additionally, there are a few extra keycaps included in case some of the included 61 become defective.
What we love the most about this product is its compact mini-form. Thus, if you don't have a lot of space on your desk or you are always on the go, it is the ideal choice. The RGB backlight system is highlighted by 10 different breathing modes. These will provide an attractive and colorful gaming setup.
We love the Cherry MX keycaps and switches. These contribute to the fast and smooth feel that you get while pressing down the keys. Additionally, the fast response time and high actuation make this keyboard quite efficient for MOBA gaming.
Maybe the most innovative feature is the Ducky Macro V2.0. This will allow you to personalize and customize mouse function and other hardware by connecting it with the keyboard. While on the pricier side, it is ideal for any professional gamer!
Redragon K552-N Mechanical Gaming Keyboard
For a 60% mechanical gaming keyboard that is suitable for someone on a tight budget, this Redragon model seems like the ideal choice. It is highlighted by the Cherry MX elegant black design and features 87 ergonomic keys.
Review
First, let's note that Redragon is one of the most trusted brands on the market when it comes to gaming keyboards. Apart from the elegant black design, it also offers a white variation and comes with a 1-year limited warranty.
Now, it doesn't have an RGB backlight system, but considering the overall value, this shouldn't be a deal-breaker. Keep in mind that, for the price point it is coming at, the full-ABS construction is something that you can definitely rely on.
Additionally, the gold-plated, corrosion-resistant USB port will give you a reliable connection to Windows and some versions of Mac OS. It is also important to mention that it is waterproof and features proper liquid-spill protection.
As for the innovative features, there are 87 mechanical keys that are virtually highlighted by the N-key rollover. What this means is that you shouldn't have issues with ghosting.
Additionally, there are also 11 multimedia keys to allow full control over the in-game settings without having to exit the game. While not supreme, the 2mm actuation point with 50gf actuation force should ensure optimal gaming and typing ability.
Compared to the aforementioned two models, this one is quite loud. Also, you can't expect maximum responsiveness when it comes to combos of 10+ keys. Other than that, it is a good choice for anyone who is on a tight budget but wants the benefits of a proper gaming keyboard!
HUO JI E-Element Z-88 60% RGB Gaming Keyboard
One of the most innovative and attractive gaming keyboards on the market is this HUO JI product. It is featured in a few design variations, with the main differences being the switch, as well as the metal plate color. Highlighted by a superb RGB backlit system and water-resistant, sturdy construction, it is a great choice for any true gamer!
Review
First and foremost, we want to discuss what you are getting with this offer. There is a single mechanical keyboard, as well as a keycap puller, a few spare switches, a switch puller, and a user manual. Thus, you will not need to invest in any accessories that are required for regular maintenance of this product.
As for the construction, it is made out of ABS material that should withstand liquid spills, as well as combat food residue. Like other high-quality mechanical keyboards, it is highlighted by Cherry MX switches that have an actuation point of 4.0mm.
Keep in mind that it is compatible with Windows Vista and above, as well as Mac OS X. We love the fact that it offers 81 anti-ghosting keys. Thus, you will have nothing to worry about in terms of fast response time.
Also, the versatile RGB backlighting system is highlighted by 10 different breathing modes. This will allow you to fully enjoy an attractive gaming setup. Maybe the most important factor is that the design is ergonomic, with the mounted keycaps made to reduce fatigue.
Yes, it is quite loud, and the process of changing switches may not be the simplest. Apart from that, it is a great value nonetheless!
FINAL VERDICT
If you are on a more flexible budget, getting the more premium  Razer Huntsman mini  or Akko X Ducky 60% is a long-term investment that you will enjoy for years to come! The more mid-range Royal Kludge RK61 is also a good buy with decent quality, full RGB back lighting, wireless support and all the features you need. 
For more casual gamers and those that want something cheap, we would suggest the budget friendly HUO JI E-Element Z-88. It is quite affordable, features a reliable RGB backlight system, and has 81 anti-ghosting keys.
And if you're looking for a keyboard that is still compact but a bit bigger than that the 60% form factor, then be sure to take a look at our reviews of the best Tenkeyless (TKL) gaming keyboards.