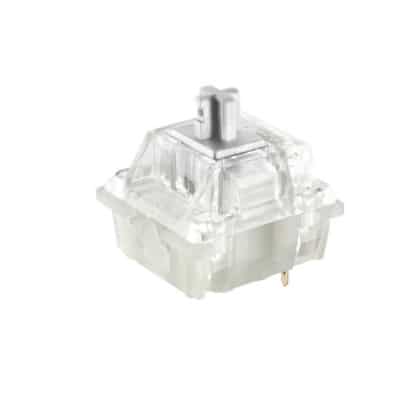 Cherry MX is already well known for its various switches, differentiated in different colors. People are quite familiar with the clicky Blue switch, fast red switch, and the balanced brown switch that's somewhere in the middle. Cherry MX switches are used on many of the best gaming keyboards available.
But what is the Cherry MX Speed Silver switch from Cherry? What's the deal with this switch and what makes it different? Essentially, Cherry created the MX Speed (Silver) switch to be their fastest, made to attract PC gamers looking for that extra responsiveness.
But of course the devils in the detail so let's unpack it more below.
What is Cherry MX silver speed?
MX Speed, MX Silver, or MX Speed Silver are all names used to refer to the same thing, the "Cherry MX Speed Silver" switch.
The speed silver switch has very short reaction times and high switching frequencies. As tested by Cherry, the MX Speed Silver switches are 40% faster than their standard Cherry MX switches.  
Silver speed switch characteristics
Linear (no feedback or bump)

1.2mm

(*Cherry Red is 2mm)

Non-clicky (no audible click)
Is Cherry MX silver good for gaming?
Cherry MX Reds and Browns are some of the most popular switches in gaming keyboards. Cherry MX Speed or Silver switches are built with gamers in mind, to be fast. 
You can think of the MX speed silver being the same as linear Red switches but just 40% quicker response time since they activate at 1.2mm instead of 2mm.
And this lets gamers hit keys faster making them better for gaming where every millisecond counts. Important when you're in the heat of battle or busy going toe-to-toe with the enemy in your favorite FPS — or in game types like MOBA (League of Legends, Dota 2) and MMO (World of Warcraft), where skills are constantly renewing. 
Corsair actually partnered with Cherry in 2016 to introduce these Cherry MX speed switches into their keyboards under the RapidFire branding, and if you look at how many pro gamers use Corsair gaming keyboards it's obviously been quite successful.
Although I doubt it will help me in Fornite, I'm no Ninja at the keyboard, since I suck at the whole build-and-shoot combo thing, so I'll stick to Apex Legends and CS-GO instead. And on those games, I've seen my reaction times and kill rates increase when using the Corsair K70 gaming keyboard that uses MX Speed silver switches.
Nowadays you get even faster mechanical key switches than MX silver speed, like the adjustable omnipoint switches used on the Steelseries Apex Pro keyboard that lets you change the activation point for any key yourself. And you can lower it right down to 0.4mm. That's a mind-boggling 67% faster still than the Cherry MX speed and 80% faster than normal Reds - you can read our full review here of SteelSeries Apex Pro keyboard here.
Otherwise if you do like a more clicky feel for your keypresses when gaming and still want speed, then you could consider the Razer Huntsman gaming keyboard. It doesn't use MX Silvers but has more clicky optical switches that uses light to activate and has a fairly quick 1.5mm actuation distance (25% faster than MX Red gaming switches).
Cherry MX speed silver vs red switches
In a nutshell, you can think of Mx Speed as basically an Mx Red with lower actuation distance.
Like Reds, Cherry MX Speeds are linear switches and non-clicky. Both Speed and Reds require 45 grams of actuation force, but where a Red switch needs 2mm before it activates the key, Speed Silver switches only need to go 1.2 mm.  MX Silvers are even more sensitive than Reds. It has a total travel of 3.4mm and an actuation point of 1.2mm. Again, you only need to press down midway to trigger the switch, but since the total travel is less than the MX Red, you activate the key 0.8 mm earlier.
This makes Speed silver switches 40% faster than reds. So if you're looking for something to give you that gaming edge, the MX speed silver might just do it. 
If you really like your MX Reds then you could consider a sort of trade off and go with a Cherry MX Red low profile switch which also activates at a faster 1.2mm like the Speed silvers. A good gaming keyboard we can recommend with these Cherry MX low profile Red switches is the  Cooler Master SK30  keyboard (TKL). 
Cherry MX speed silver vs brown switches
If you like linear switches, but remain worried about the sensitivity of the MX-Speed-Silver switches found then don't fret, that was also my fear. The problem I had with Cherry Black (and Blue to an extent) was that sometimes I'd push a key quickly only to realize after that I didn't press it hard enough. I'd miss keypresses like way and that often cost me at key moments while gaming. 
I then got the Black widow gaming keyboard with brown switches thinking that the tactile bump feedback would help me know when the key actuated. And while it helped I couldn't help feel the tactile bump slowed me down a little rather than a smooth keypress type of feel.
 If you like tactile feedback then the brown switch might still be ok for you. But that's why I like the MX speed silver better, it's much faster and so it doesn't actually need the tactile bump feedback.
Kailh Speed Silver vs Cherry MX Silver
A good alternative that many like, is the Kailh Speed Silver. This is Kailh's linear equivalent to Cherry MX Speed. 
The actuation distance is reduced to 1.3mm versus Cherry's 1.2mm, with an ever so slightly heavier actuation force of 0.50 cN vs 0.45 cN. This equates to less unintended keypresses and bottoming out, which I'm also a big fan of.
Like other switches, the Kailh speeds take a little while break-in properly, but unlike Cherry they tend to get pretty smooth after that. I prefer them over Cherry Silvers, they feel much better to type on. The only issue I have is that out of a 100 switch pack I had 2-3 switches that were slightly scratchier than the rest out of the box. I have no idea if that will go away over time, but It's not a big issue since I'm using a hot-swap keyboard and replacing switches takes 3 seconds.
Similarly, both are rated at the same number of actuations of 100 million keypresses. If you're looking for a good gaming keyboard that has Kailh Speed Silver switches then I can recommend the GMMK keyboard.
And if you prefer your switches with a little feedback, then you should consider Kailh coppers. They've got a small tactile bump near the top that I like the feel of.
Are Cherry MX speed loud?
Silver Speed switches are known as linear and 'silent' switches, like the MX Reds with no audible click, and so they aren't loud at all. For example, they are certainly nothing like MX Blue switches which are clicky and in my opinion what you would consider "loud".
Cherry MX Speed Sound - Press Play below
Listen to the sound of MX Silver keys being pressed. Note, audio is amplified so may sound louder in isolation than it really does in real life situation.
Is Cherry MX speed good for typing?
It's a very delicate and soft typing experience. So you do need to be careful not to actuate the keys by mistake. One thing I did like is that the decreased keypress depth makes bottoming out a lot more gratifying than 4mm equivalents like MX Red, so if you like to bottom out your keypresses the MX Silver is a good switch option for you.
However, if you're not as light and accurate when typing you might trigger the keys by mistake because of them being very sensitive having a lower actuation point. I ended up with lots of typos and sometimes just resting my fingers on my keyboard would cause the switches to trigger. 
So, in that case, I think Cherry Reds might actually be a better option for typing since they are also quite fast but less sensitive. If you're a really good touch typist though it should be fine either way. 
And if you're looking for a keyboard to use for both fast typing and gaming, again maybe consider the Steelseries Apex pro which lets you change each keys actuation distance between 0.4mm up to 3.6mm. You can also save different profiles to the keyboard and switch between them on the fly depending on whether you're gaming or typing at that moment.