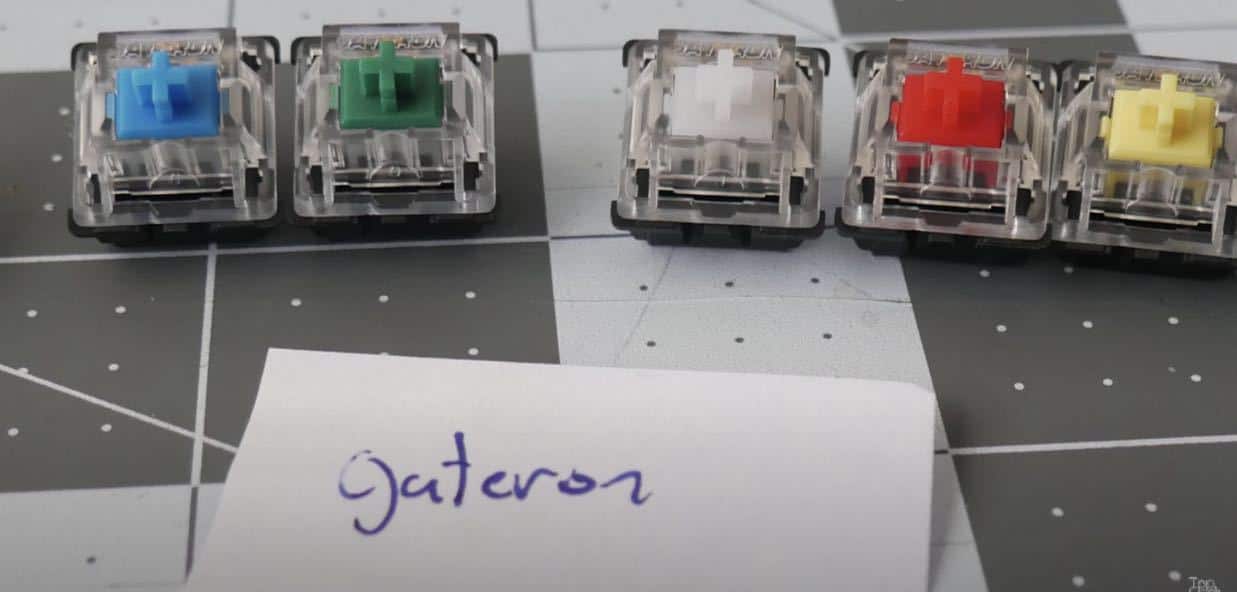 Gateron switches are becoming popular and more people are specifically choosing Gateron Switches for their gaming keyboard. The reason is that people who are looking for a smooth typing or gaming experience are going for keyboards that feature Gateron switches. 
We've put together this Gateron Switches Guide together for you to help getter a better understanding. We'll chat through a bit of the history behind the brand, cover the different Gateron mechanical switches out there and then tell you about the more unique switches like Gateron Optical and Zelios switches. Enjoy.
Gateron Mechanical Switches
So why are Gateron switches so popular? Well one reason is that they are cheaper alternatives to more expensive mechanical switches like Cherry MX. But the main reason is that the Gateron switches also feature exceptional smoothness. But that doesn't mean Gateron switches are only for typing. Gamers are just as in love with these Gateron mechanical switches which are responsive, smooth and budget friendly.
Gateron Switches are made with clear casings and use copper contact leafs and soft plastic stems, which makes for a smooth typing and gaming experience. The Gateron switches offering includes waterproof, magnetic, and low-profile switches often used on low profile gaming keyboards.
Gateron switches come in a variety of six colors, each with different attributes. Gateron browns are also widely known to be smoother than their Cherry equivalents. Gateron is also noted to have a slightly more pronounced bump feeling on actuation. 
If we were looking at which Gateron switches would be better for use with gaming keyboards, then I'd have to say you should go for Gateron Red or Black switches. You could also consider the Gateron Brown switch that strikes a balance between both typing and gaming. Read our article on the best gateron switches for gaming to find out more.
Our overall impression of Gateron switches are that they lube friendly, decently smooth with great stock springs.
Other posts you might like
Gateron History and Brand
Gateron switches are made by Huizhou Gateron Electronic Technology situated in Southern China . The company has been operating since around 2000 and produces other items as well like keycaps and batteries.
With very little marketing of the Gateron brand they have continued to gain main stream adoption and a market share in the mechanical keyboard industry.
While Gateron began its life simply producing Cherry MX Clones, they also make optical switches and have started to become more innovative recently. Gateron's Zealio switches in collaboration with Zeal PC are very popular with hardcore mechanical gaming keyboard enthusiasts. 
Gateron switches comparison
Gateron Blue Switch
For those who love the click and clack of a keyboard. Generates a loud click and tactile bump when a key is pressed. Popular for typing and programmers, but it might annoy co-workers a little if you're in an open-plan office
Features:
Gateron Clear Switch
The lightest switch available, ideal for people who prefer a softer touch. Minimizes finger fatigue.
Features:
Gateron Red Switch
Red switch too light? Then, this is your best bet. Still smooth, but requires more force to press down.
Features:
Gateron Yellow Switch
The heaviest switch available. For those who love the click and clack of a keyboard. Generates a loud click and tactile bump when a key is pressed. Popular for typing and programmers.
Features:
Gateron Brown Switch
A hybrid between a Linear and Clicky switches. Does not generate a click when pressed, but the tactile bump is still present. Ideal for those who want a tactile bump and work around peers.
Features:
Tactile

45g

Medium (not clicky but has a bump)
Gateron Mechanical switches vs Gaeteron Optical switches
Gateron switches are generally mechanical in nature. Gateron Optical switches feel a little like linear mechanical switches (no tactile bump) but a bit smoother. This is because there isn't a leaf so there isn't any friction. Instead, optical switches use a light beam to sense when the switch passes through it (actuates) which means quicker response rates than mechanical switches.
Optical switches also usually last twice as much as mechanical switches with a lifespan of up to 100 million keystrokes. Another good example of optical (or optomechanical) switches used in gaming keyboards is the Steelseries Apex Pro and Razer Huntsman Tournament edition gaming keyboard.
Gateron Zelios switches
Zealios are tactile switches, which means they don't produce a click when you press them. There's a bump you can feel just above the actuation point. Designed in collaboration with ZealPC and manufactured by Gateron, which makes a clone of Cherry switches.
Zealios are like the caviar of keyboard switches, and you'll pay a premium for them. ZealPC produces a batch of switches every few months, and then sells the batch before taking pre-orders for another batch to be made. This might change to do it differently in the future if their popularity continues to rise and demand increases. 
Is Zealios a tactile switch?

At 62g of force required, Zealios is responsive but a bit heavier than MX Browns in weight. However they offer a much smoother experience with a crisper and large tactile bump feedback when compared to Holy Pandas.
Why are Zealios so expensive?
because zeal prices them high to make money. low volume requires a high price. They're custom designed and manufactured switches. They use higher quality parts than the rest of Gateron's lineup.
Are Zealios good for gaming?
Zealios is a super smooth and responsive mechanical switch with a tactile feel (bump on actuation), so is ideal for gaming.  If you're not concerned about them being too heavy for regular typing then they should be a great switch option for gamers. 
Are Zelios switches worth it?
Zealios are super tactile and luxuriously smooth, and if you enjoy that extra tactility then it's worth it. Some gamers find brown switches to be to have too "linear" a feeling and want something with a bigger bump. With Zelios switches being very tactile and very smooth, they are an outstanding switch with that extra bit more tactile feedback than browns.