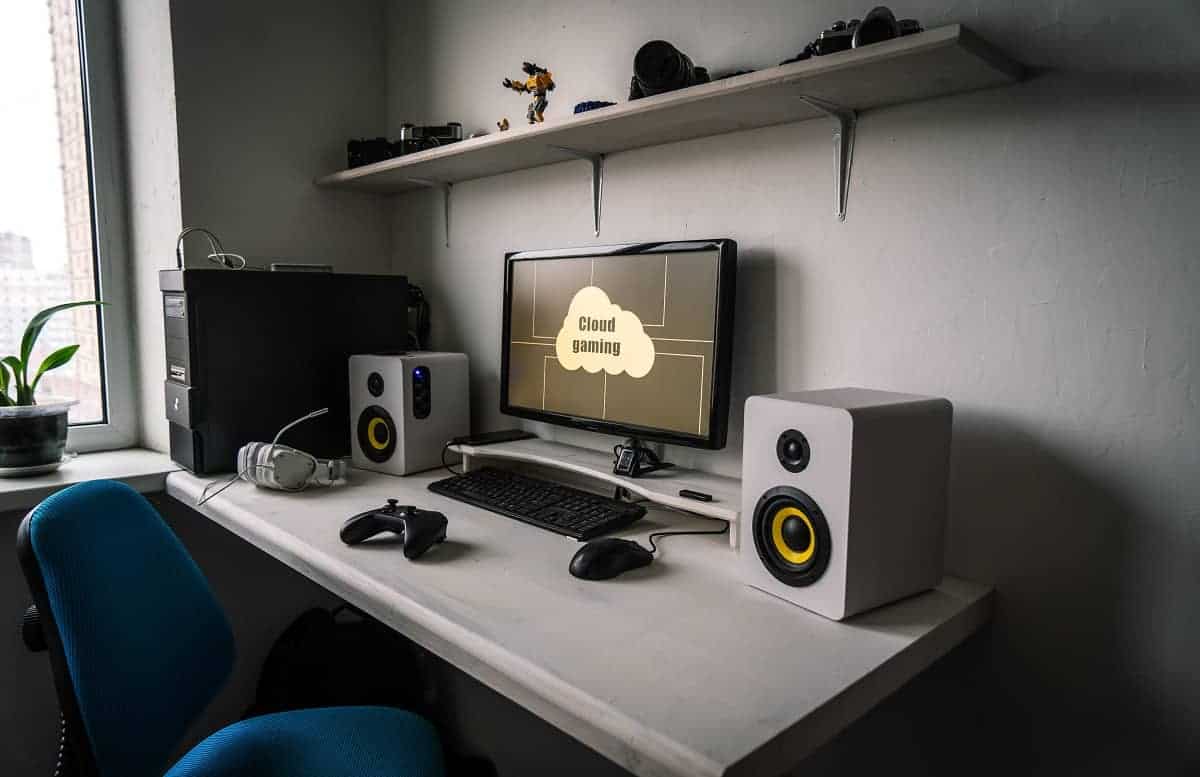 Technology is the key component of gaming, but if you are a die-hard gamer, you also know how important the right peripherals and furniture are. One of the most important and often overlooked pieces of gaming is the desk.
You can not just pick any old desk to help make your hours of gameplay comfortable or convenient. In fact, having the right gaming desk for your setup could mean the difference between a sore back and a pain-free day of epic adventures.
Choosing the right gaming desk offers a lot of benefits, including the following:
Improved posture
No mass of jumbled up wires
More space and organization
There are many different types of desks that all come with different additions and accessories. This could make completing the important task of choosing a good desk extremely hard. To help you out a bit, we scoured through many different choices and chose five of the best gaming desks available.
Along with this, we compiled a buyer's guide that we used to choose the models we will review below. Now, let's take a look at the gaming desks we have chosen, shall we?
Comparison Chart
RESPAWN 3000 Gaming Desk
Mr IRONSTONE Gaming Desk
Arozzi Arena Gaming Desk
Vitesse 55 inch Gaming Desk
Atlantic Gaming Original Gaming Desk
Best Gaming Desk Reviews
RESPAWN 3000 Gaming Desk
Our first gaming desk is designed to bring you comfort and functionality for the late-night extended grind sessions. From a well-known company that has delivered excellence in the past, the RESPAWN 3000 takes all that and elevates this gaming desk to new heights.
Product Highlights
RESPAWN focused on delivering a sleek gaming desk that optimizes gameplay. In order to do that, they made sure the design for the 3000 included the following features:
Crafted with a pneumatic height adjustment system
Built-in cup and headphone holder
Designed with a raised monitor shelf
Built to be ergonomic
Weight capacity of up to 200 lbs.
The Good
This desk is easily one of the best-designed desks on the market today. It comes with built-in accessories, like a cup holder, to allow for more room for the gamer's peripherals and actual gameplay.
It also has one of the largest weight capacities on our list, which means the gamer can build the perfect setup without fear of it breaking. All of that combined with an ergonomic design will make any gamer very pleased with adding this desk to their set-up.
The Bad
There are a few issues that we would be remiss without mentioning, though. The height of the desk will not allow for all gaming PC towers to fit comfortably underneath it. It is also not a great choice for those working within a tight budget.
Mr IRONSTONE Gaming Desk
Our next gaming desk is one that offers space and comfort in its design. Optimized to allow the gamer to have everything they need close at hand, the Mr IRONSTONE Gaming Desk is a great addition to any gaming station.
Product Highlights
The designers of this desk focused on comfort and creating a desk that gives the gamer enough room to have an optimal setup. In order to do that, the design had to include the following features:
Manufactured with premium grade MDF
Coated with PVC laminate for water resistance
Built-in cup holder and headphone rack
Designed with an R-frame construction for stability
Weight capacity of up to 110 lbs.
All tools and instructions for assembly included
Designed with a good cable management system
The Good
Value is the word that comes to mind when we look at this desk. It is crafted to be lightweight and easy to transport, as well as give you enough desktop space to have multiple monitors and several consoles.
Plus, it is waterproof, which is awesome. Being able to get all of that for a reasonable price tag will have this desk moving to the top of many gamers' lists.
The Bad
There is a lot to rave about, but that doesn't mean that there aren't a few things that could be improved. The height of the desk is not suited for everyone, and it has left a few cursing about the amount of legroom available.
The headphone rack is also a point of contention. Its placement is not easily reached, and it often gets in the way of many gaming tasks.
Arozzi Arena Gaming Desk
This gaming desk is a unique option. Designed with a patent-pending blueprint, it is a simple but large desk that is perfect for gamers who want to have their buddies close at hand. It is also a great option for professional gaming teams.
Product Highlights
This unique design desk may look simple, but it has so many amazing features that elevate its efficiency. Some of these features include:
Tabletop surface large enough for 3 monitors
Wide design for an extended field of play
Built-in, water-resistant, microfiber cloth surface mousepad
Weight capacity of up to 176 lbs.
Available in multiple colors
Easy height adjustment system included in the design
Desktop breaks down into multiple pieces
Designed with a cable management system
The Good
The Arozzi Arena gaming desk is unique because it is constructed in three separate pieces. This makes it a great choice for tournament games or friends who like to get together for weekend-long gaming sessions.
The size and clean design make it easy to set up multiple gaming setups all on one surface. It also is crafted with outstanding cable management.
The Bad
Its simple design with contrasting colors may appeal to some, but it is not as exciting to look at as other desks on our list. This could be a problem if you are worried about the aesthetics of your setup.
It also does not adjust in height, so it will be important to pay attention to the height and how much legroom you need to be comfortable.
Vitesse 55 inch Gaming Desk
This gamer desk has a whole wealth of extras that make it easily one of the best options available today. Vitesse has designed a large tabletop desk that answers all your needs, from more charging stations to access to hydration.
Product Highlights
This is one of the coolest-looking desks on our list, but the value doesn't stop there. It is a desk that offers both style and function. This is evident by the inclusion of the following features:
Constructed with premium-grade fiberboard and coated steel frame
Built-in a T-shaped design with four leveling feet for better stability
Built-in headphone rack, cup holder, and controller rack
Designed with 4 USB ports for charging
Weight capacity of up to 260 lbs.
The Good
Starting with easy assembly, this desk is designed perfectly to give the gamer everything they need. It is a stable desk that has a decent weight capacity, and it is constructed using materials that make it durable. On top of that, it is designed with a full table mouse pad, which alleviates the need for one peripheral.
The Bad
There are so many innovative inclusions in the design of this desk. It is fitted with a USB port for charging, but why not a wireless charging station? This would elevate the value of this desk.
Atlantic Gaming Original Gaming-Desk
Our last entry is one of the most popular desks on the market today. Brought to us from Atlantic Gaming, this desk is designed to keep your station organized. It will give you plenty of room to lay the smackdown on whatever villain you are fighting that day.
Product Highlights
Making a great gamer desk means understanding the needs and wants of gamers. The design team at Atlantic understood that meant including select features. These include but are not limited to:
Crafted with high-quality carbon fiber
Designed with gamer features, like game storage, controller stand, etc.
Built-in cable management system
Under-desk drawers constructed into the design
The Good
There is a lot of love for this gaming desk. It comes with built-in features that will help keep your gaming sessions organized and successful. Everything from the built-in cup holder to the headphone rack will have you ready for weekends of serious gameplay.
The included cable management system will help protect your system from any damage, as well as keep your gaming area nice and clean. Plus, it won't break the bank, which will leave you more cash to get all the newest upgrades and mods.
The Bad
Though the designers thought of almost everything, they did not account for the fact that many gamers use a dual monitor setup. This desk does not easily support that setup.
Now, the feature-rich design is perfect for most gamers, but it is all crammed into a very small area. This may make the gamer feel confined and does not allow for as much comfort as other desks.
BUYER'S GUIDE
When you are looking for the right desk, there are many features and attributes you can look at to make that decision. For us, we chose five factors to look at, as we sifted through the choices available.
By using these features, you will easily be able to deduce if the model of gaming desk you are looking at is the right one for you. Here are the five factors we looked at.
Size and Height
There are two reasons to pay attention to both these attributes. For the size, it is not only about how much space you have to set up your gaming station. It is also about how much space you have available for that setup.
When looking at the size, make sure to measure the space you are looking to set up in so you choose a desk that will fit. You also need to take into consideration how many monitors and gaming peripherals you have.
For gaming desk height, you should choose one that gives you ample leg space and enough room to push your gaming chair around. Height is also key in accordance with the space allotted. For instance, if you are setting up near a window, you will want to make sure that it doesn't cover up the entire space.
Many desks come with a height adjustment, so if you are not sure, finding one that has this attribute is a good idea.
Load Capacity
This may seem like a factor that just doesn't matter, but it is. After all, you may have hundreds or thousands of dollars worth of expensive equipment to set on it. If your desk doesn't have the capacity to hold the weight of your setup, horrible things may occur.
Make sure to have a ballpark figure of how much your setup weighs and if you plan on expanding it anytime soon. A good rule of thumb is to look for one that has a 10-pound difference over your system's weight.
Material
There are a few materials commonly used in the manufacturing of gaming desks. You can choose from glass, steel, or MDF (there are other materials, but these are the most common). The better quality of material, the higher the price tag will go.
If you don't want to pay an arm and a leg, then MDF or particleboard are your best options. There are some very high-quality MDF gaming desks that are not as durable as steel or wood, but they will still stand up to a high level of aggression and use.
Accessories Included
You want to get the most bang for your buck, so looking at all the extras and built-in systems is another thing you should be looking at. Some desks will come with mousepads, headphone racks, cup holders, controller stations, and even charging stations.
All of this will add to the value of the gaming desk. These accessories will also enhance your gameplay to all-new levels. Think about how much you play and your style of play and find a gaming desk that gives you the accessories that are going to level up your experience.
Price vs Value
Of course, you have to pay attention to the price and your budget. There are gaming desks that have a hefty price tag but don't give very many extras. There are also cheap desks that give you more and are designed better.
You definitely need to pay attention to what you get for the money you spend. Trying to find the desk that fits your budget but gives you the most accessories and best design is key in your decision-making process.
F.A.Q.
As you begin your campaign to find the right gaming desk, we are sure that more questions will come up. Thus, we have gathered a few of the most commonly asked questions and answered them below. We hope this helps you out a bit more.
How to sit at your desk when gaming
Sitting at a gaming desk is no different than sitting at any desk. However, most of us don't do that right, either. To prevent back pain while gaming you need to know how to sit with good posture. Here are a few tips to do that.
Your feet should sit flat on the ground with your knees at a 90-degree angle.
Both of your elbows should be at the same height as your tabletop and kept close to your body.
Always make sure your shoulders are relaxed.
Make sure your lumbar region is supported. Some chairs will give this to you, but if you don't have it, consider adding a pillow.
Make sure your monitor or monitors are set up so you don't have to tilt your head up.
What does every gaming desk need?
If you're planning on making your gaming desk like your second home, there are a few things that you need to make sure you have on the ready. Here are a few items that every gaming desk needs.
Canned air
Good sized mousepad
Controllers for your consoles
Mouse wire holder (if you don't have a wireless mouse)
Desk fan
Headset holder
Cupholder
Good cable management system
How deep should a gaming desk be?
The depth of the gaming desk will be dictated by the space available and how large of a setup you have. However, at the minimum, the desk width should be about two feet deep. This will be enough room for everything, especially if the desk has a monitor platform. If you have two monitors, make sure that the desk is a bit deeper so you have the room that you need.
How to organize a gaming desk
The best way to keep your gaming desk organized is to make sure you find one that comes with some things already preinstalled. Things like a cupholder, controller holders, and headphone rack are all things you can use to keep your desktop looking nice and tidy. You may also want to find one with a drawer if you plan on using your desk for more than gaming.
Organization is important when it comes to cable management and plug situations. You are going to have multiple plugs and wires that need to be kept in order.
There are a few ways to do this. You can use color-coded plastic twist ties or even zip ties to keep cords together. These can also be used to attach to the plug, so you know what goes where.
How to stop your arm from sticking to the desk while gaming
There is no cure-all for this issue that most gamers suffer from to some extent. You could try applying lotion, as that will work sometimes.
There are also a few gamers that buy a smaller mousepad and use it as an armrest to prevent your arm from sticking.
FINAL VERDICT
There are a lot of different types of gamers and seemingly just as many options for good gaming desks. You will want to find one that meets your needs both for space and gaming.
Hopefully, with the guide above and a few of the best gaming desk options laid out, we have helped make your decision process a little easier and less stressful.
Carefully read through the buyer's guide and FAQs to allow you to make the best purchasing decision for you and your gaming needs. Things like weight limit, size, height, material, and price can make a big difference to your overall experience.