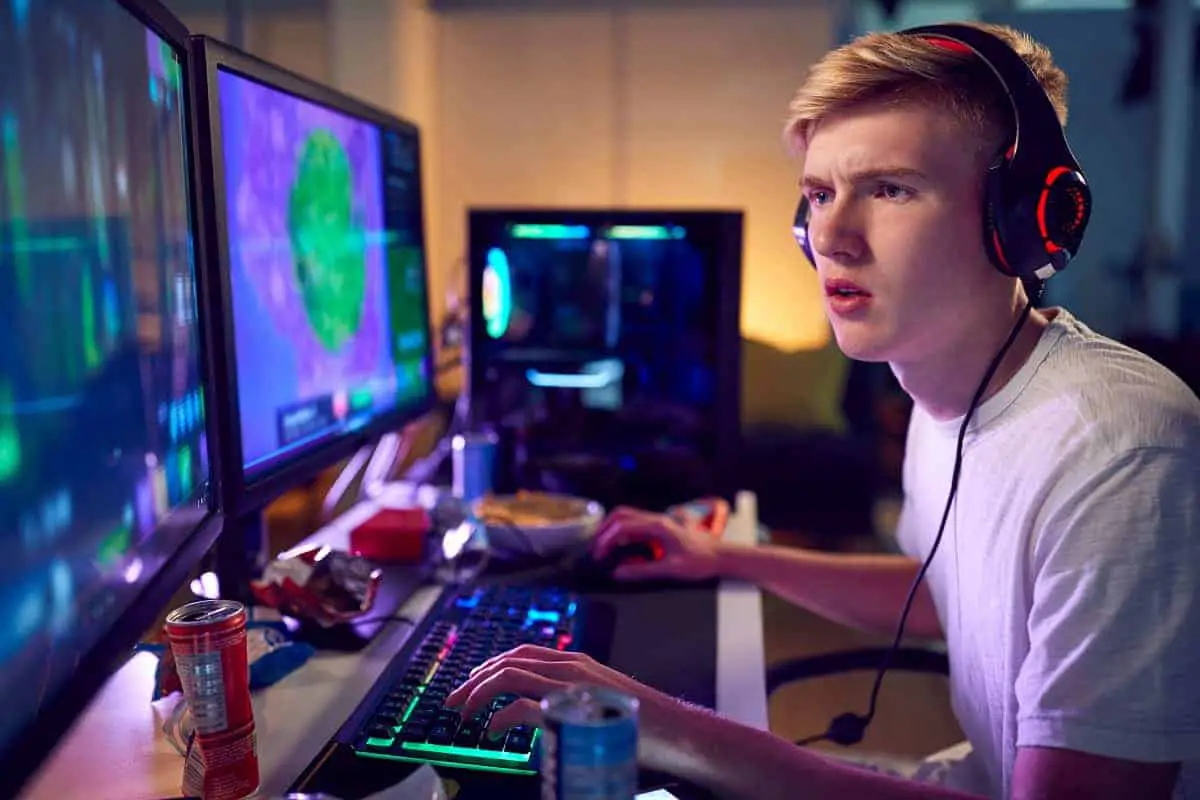 A good gaming setup makes a big difference to your gaming happiness. Obviously, getting the usual gaming gear like a computer, keyboard and mouse is essential. I especially remember a few years ago getting my first gaming keyboard. It was pretty cool, with mechanical Gateron switches and Rainbow RGB backlighting that really lit up my room, especially at night. I could even program the lights into different patterns.
But how much thought have you put into your gaming desk? I mean surely any flat surface will do. Well maybe that's partly true, but where's the fun in that?
These days you get pretty awesome gaming desks with storage for headsets, cup holders and other peripherals. But similar to RGB gaming keyboards, some gaming desks also include colourful RGB LED lights that really ups the cool factor of your gaming setup. We've picked our favourites out for you below to take a look at.
Comparison Chart
EUREKA ERGONOMIC Z1-S Gaming Desk
VANSPACE 47 Inch Ergonomic Gaming Desk
OCD By Design Gaming Desk
EUREKA ERGONOMIC Z60 Gaming Desk
Atlantic Gaming Desk Viper 3000
Best Gaming Desk with Led Lights Reviews
EUREKA ERGONOMIC Z1-S Gaming Desk
If you are looking for a desk that is suitable for an office, as well as a gaming setup, you are in the right place. This Eureka product is sturdy, attractive, and features everything that you need including a large top surface.
Review
When it comes to gaming desks, Eureka is among the leading names out there. All products are carefully designed and manufactured in the US. This company puts a focus on customer satisfaction that makes it a worthy choice.
The most important feature of this product is the large gaming surface. Made out of carbon fiber, you are looking at a 44.5-inch wide desktop that is also 22.5 inches deep. It can fit any flat or curved monitor that is up to 40 inches in diameter. Frankly, not many gaming desks are able to take up as little space and still offer a large working surface.
One of the coolest things about the Z1-S is the fact that it features LED lighting. It is as simple as plugging it into your desktop computer or laptop (with a USB cable) and enjoying the vivid atmosphere. Keep in mind that the light is blue and can't be changed, which may be a little bit of an issue for some gamers.
However, the LED lighting is a very cool detail that adds to the overall gaming experience. Along with these, there are a couple of additional features that will make this desk perfect for any gaming setup. You are looking at a large mouse pad that is suitable both for your keyboard and mouse. Along with that, it comes with a convenient cup holder and a headphone hook, as well as game storage.
The design of this desk allows you to save a lot of space without losing overall functionality. What most people are concerned about when it comes to L-shaped desks is whether you will have issues with stability. As for the Eureka Z1-S, there is nothing to worry about. All four feet are levelled to prevent wobbling.
However, while we like the large surface that you can work on, the plastic covers take up a lot of space that could be used for additional equipment. Still, that shouldn't affect your chances for a good setup, especially when it comes to single monitors.
Overall, this product exceeds the existing industry standards and is the perfect example of a gaming desk that offers both functionality and convenience!
VANSPACE 47 Inch Ergonomic Gaming Desk
Talking about products that can both be set up as a workstation or a gaming desk, this VANSPACE 47 is a perfect example. Perfect for gamers that enjoy racing, it is incredibly sturdy, attractive, and features a number of cool accessories to enhance your experience.
Review
We always like to emphasize the importance of space-conscious design when it comes to gaming desks. This model just goes to show that attractive and functional can work together. You are looking at an L-shaped desk that is 30.3 inches in height with a gaming surface that is 44 inches in width and 25.2 inches in depth.
Much like the previous product, the material is carbon fiber. This works perfectly both when it comes to enduring heavy use, as well as allowing great mouse movability. What we are most happy to see is that this product comes with a cable management tray, as well as a storage box. This means you won't have to deal with a cluttered workspace any longer.
While the Eureka desk came with its own lighting system, it was nowhere near as good as what VANSPACE has to offer. It will improve your overall experience, especially due to the fact that you can change between Red, Ice Blue, Blue, Green, Yellow, and Purple. Also, there is a dynamic mode that is incredibly fun and pleasant to look at.
When it comes to the cool features that the manufacturer included, you are looking at a mechanical gaming surface that measures 30.6 x 11.7 inches. It is washable and can support both a mouse and a keyboard. Along with that, you are getting a cup holder, as well as a headphone hook that will be of great use for when you are taking breaks between sessions.
The desk itself is incredibly sturdy and stable, given the armored edges, as well as adjustable, leveled feet. To be honest, there is not much to say against it. The only flaw is that you can't pick between different mousepad styles, but apart from that, it is a superb product.
Thus, whether you are a gamer or simply want a functional workstation, this VANSPACE desk is a great choice.
OCD By Design Gaming Computer Desk
Moving on with our list of the best gaming desks with LED lights, we want to present one that offers more than 55 inches of work surface. Coming with a number of details and a great overall structure, this OCD gaming desk is a product that you shouldn't miss out on.
Review
If you are looking for a professional gaming desk, then this product is just the right choice for you. First and foremost, you have nothing to worry about in terms of design quality or whether the dimensions are as advertised. OCD tests every product a few times before it reaches you.
What is probably its main highlight is the fact that this workstation offers more than 55 inches of space. Thus, you will be able to set up three different monitors, which makes it ideal for anyone who is serious about their gaming. Much like its aforementioned competitors, it uses carbon fiber as the main material for the top surface.
Another feature that we love is the LED lighting, which offers 6 different colors and is quite easy to control. You can change the modes by tapping the housing that is set at the side of the desk. When it comes to the accessories that it features, there is a cup holder, as well as a headphone hook on both the left and the right side of the desk.
Maybe most importantly, this desk is quite easy to assemble with nothing but an Allen wrench and a Phillips screwdriver. Also, once you have it up, it is quite sturdy and able to hold up to 220 pounds, mostly due to its steel construction.
However, while the desk offers enough of a working surface (especially in terms of length), it would be quite cool if it was a couple of inches deeper. Also, handling the LED cables can be somewhat challenging.
Overall, OCD by Design offers a great desk that can not only be used for gaming but also for office purposes, as well.
EUREKA ERGONOMIC Z60 Gaming Desk
We did say that Eureka Ergonomic is one of the market leaders when it comes to gaming desks. This Z60 model indeed features everything that you would want. It offers a large working surface, RGB lighting, and reliable construction that will improve any existing gaming setup!
Review
First and foremost, we want to say that the design of this desk reminds us of the VANSPACE desk, given the racing motifs that are present at all corners. However, there are a couple of differences.
First and foremost, this Eureka desk features a much larger working surface, with more than 60 inches in width and 24 inches in depth. Keep in mind that it can hold up to 220 pounds in weight and that you can place up to three monitors on it.
There are a couple of features that ensure stability and sturdiness for this desk, including armored edges, an F1 balance lever, and adjustable feet. While the desk comes in two different parts, the assembly process is quite simple.
However, unlike other products that we have mentioned, this one does not have a headphone hook and a cup holder. On the other hand, there is a unique pad on which you can put both your mouse and keyboard. Additionally, a couple of cable grommets should help you declutter the working surface.
Also, there is dynamic RGB lighting featured, and you can choose between red, purple, blue, light blue, green, yellow, or the multi-color mode.
Apart from the aforementioned concern related to the lack of accessories, it would also be quite cool if it had a 5-10 degree tilt for better comfort. Still, given the overall design, as well as the functionality of this product, it is safe to consider it one of the best on the market!
Atlantic Gaming Desk Viper 3000
Last but certainly not least is a gaming desk designed by Atlantic that is highlighted by a number of features. You are getting a satin surface that is 45.65 inches wide and 29.12 inches deep. There are also a number of accessories, including a cup holder and a storage tray for improved functionality.
Review
Firstly, we have to address that the satin texture on the working surface seems to work even better than carbon fiber for gliding your mouse. Not only is it spacious and functional, but it is also quite attractive and highlighted by rich graphics.
The RGB system features 48 LED lights that should make for a colorful atmosphere during your gaming sessions. Keep in mind that you can't change between different modes/colors, as it only features electric blue.
Probably the most innovative feature of this desk is the fact that it comes with a USB 3.0 port, which comes in handy. Also, you will be getting accessories, such as a power tray to keep your cables decluttered, a VR and headphone hook, a smartphone slot, and a cup holder.
The legs are 0.75 inches thick and reinforced with steel braces. The height of this desk is just below 30 inches, offering perfect ergonomics for almost any gamer out there.
However, we have to say that it is quite pricey when compared to other models. Still, it offers great value both in working surfaces and accessories, which is why we consider it a reliable choice.
FINAL VERDICT
All of the previously mentioned gaming desks are good in their own way. However, our personal favorite is the Eureka Ergonomic Z60 because of its phenomenal structure, as well as the fact that it offers a lot of working surface without taking too much space!