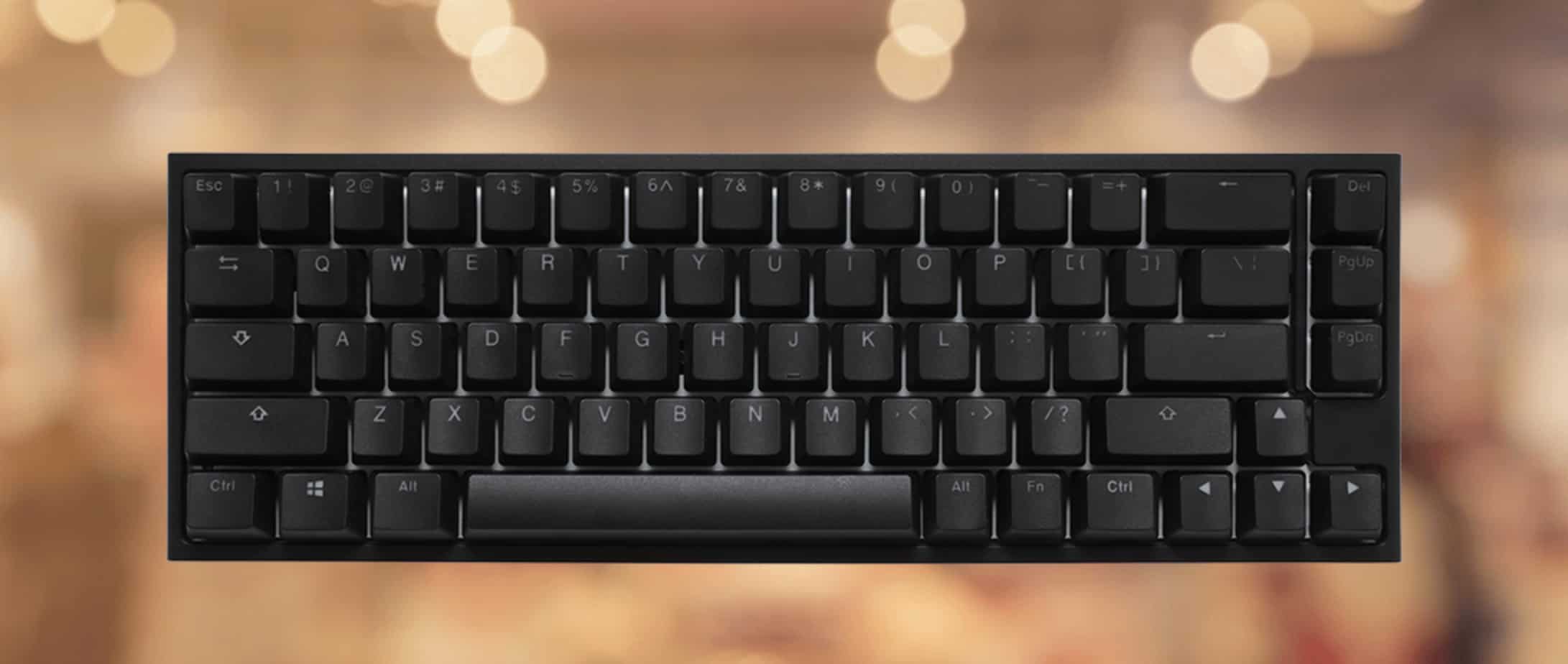 Ducky ONE 2 SF is a great mechanical switch gaming keyboard. For the price, the Ducky One 2 Mini SF is considered a premium keyboard, but it's definitely worth the price.  
You're getting a more compact gaming keyboard at 65% the size of a full layout keyboard that saves desk space. You still get dedicated arrow keys though and it is packed with features like full per-key RGB back lighting and programmable macros. The build quality is also top notch with practically no keyboard flex, Cherry MX mechanical switches and double-shot PBT keycaps.
Ducky One 2 SF
Over the past few years, the folks over at Ducky have really been making a name for themselves. Ducky is a well-known gaming brand and various professional gamers and streamers have a Ducky gaming keyboard on their desk these days. Because of that, the brand has been getting more and more publicity and mainstream exposure. 
The One 2 SF is smaller than a full size keyboard. If you need a number pad I completely get that, and that's why you get full size gaming keyboards. But if like me you love your more compact TKL style gaming keyboards then read further to see why I feel you should really consider the Ducky One 2 SF.
The Ducky One 2 SF makes a great first impression and the number of extras you get with this keyboard is impressive. There's a detachable USB-C cable and manual which is expected but then you also get a branded Ducky keycap puller, a normal black enter keycap, a very cool Year of the Pig spacebar, and six extra keycaps to customize your One 2 SF keyboard even more. 
The standard OEM profile for their keycaps means you can easily switch them out with custom keycaps. The keycap bezel on the One 2 SF is smaller with the keycaps almost appearing to float which is a similar design to their other One 2 style keyboards. Underneath you have 2 adjustable feet that lets you angle the keyboard in three ways.

Full macro support is also featured which can all be done directly on the keyboard without needing to use the software. There are also four DIP switches that allow toggling the Windows lock feature and switching from 6KRO to NKRO.
You get full RGB with this keyboard with each key having it's own LED, and fully customisable to let you set the colors to match your preference. I like to set the primary keys in in whatever game I'm playing to a different color. Heck, you can get real creative and even make cool lighting effects for times like halloween or valentines day. The switches are also slightly see-through which help let the light shine through a bit better.
Sixty-Five-Percent size
SF stands for 65% which means it is sixty five percent the size of a full size keyboard. The Ducky One SF embodies many things I didn't even know I needed in a gaming keyboard.  For a lot of people a big stumbling block with going to a 60% size gaming keyboard was the lack of dedicated arrow keys.

The Ducky One 2 SF tackles that by going slightly bigger at 65% to still provide for full size arrow keys but still have a more compact size that really gives you that extra space on your gaming desk without feeling like you're missing any keys.  
The Ducky One 2 SF is very much the same layout as the smaller Ducky One 2 mini but they added a page up/down, delete and dedicated arrows keys - #winning!
The ergonomics on the Ducky One 2 SF is also an important part of providing a typing and gaming experience where the keys are closer together so you don't need to move your fingers much to reach adjacent keys. The compact size also means your mouse can be placed a lot closer and more lined up with your shoulder width.
Build Quality
The Ducky One 2's overall build quality is top-notch. With different quality Cherry MX mechanical switches to choose from you can't go wrong. The case is made out of firm plastic, which feels long-lasting. The board does have a wee bit of flex in it, but really shouldn't make a difference for regular use.

The PBT double-shot keycaps mean they will last and not fade, and the longer keycaps get Cherry MX switch stabilizers too. The only negative maybe is the generic-ish cable it has. But on the plus side, the USB cable is detachable which I really like and it's detachable so you can easily replace it.


Is the Ducky One 2 mini worth it?
As far as I am concerned this is the keyboard to beat in the 60% space and overall. The sixty five percent form factor is still compact for sure, but the additional 5% set of individual arrow keys on the right side gives me all the functionality of a TKL board, but at a much smaller footprint. And dare i say it, for me, this might make it a little more practical than the Ducky One 2 mini we reviewed. And you can't go wrong in terms of the quality that Ducky provide in their gaming keyboards. That with the features of NGRO to prevent ghosting, programmable macros and full RGB backlighting along with extra keycaps and mechanical switches make this a premium gaming keyboard.
Other keyboards like the Drop Alt, Poker and the Anne Pro are good alternatives but I would still put the Ducky at the top of the list.