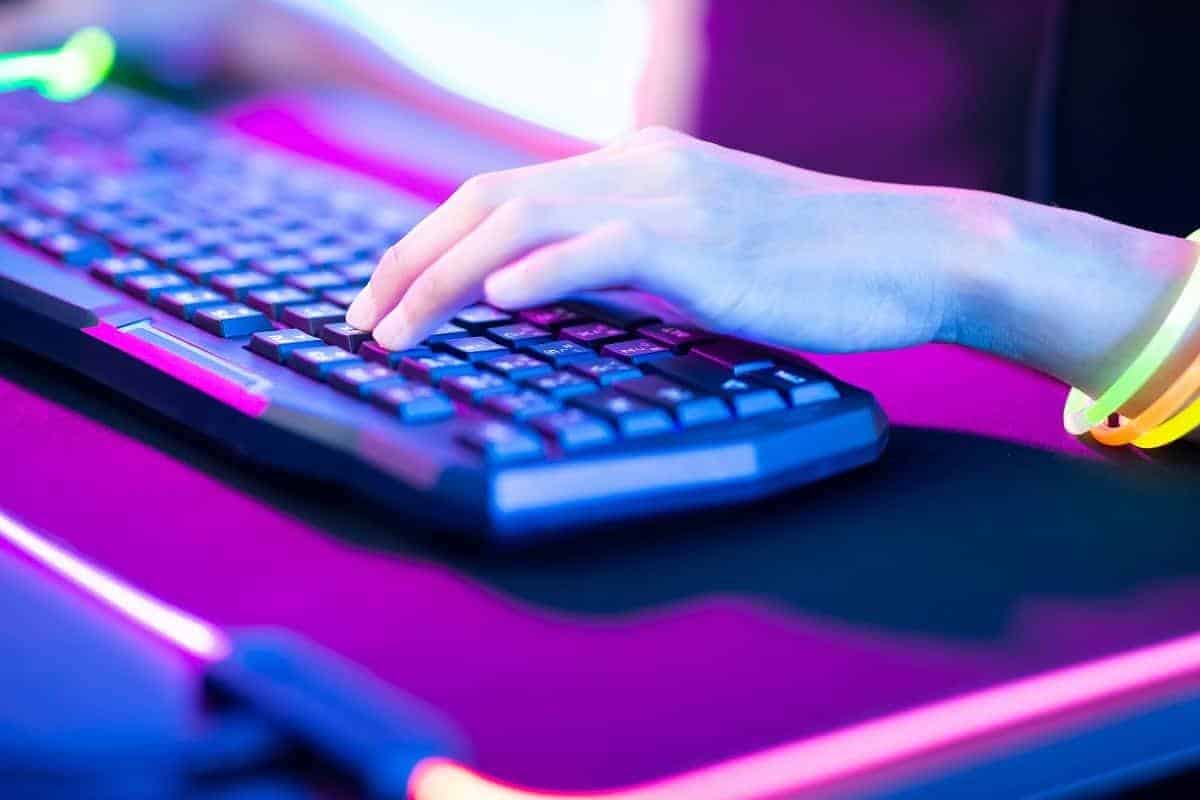 There are a couple of reasons why investing in a mechanical keyboard is a great choice. First of all, you will be able to write or input gaming commands much faster without the risk of ghosting. This is common for low-end keyboards. Additionally, the responsiveness present with mechanical keyboards will also improve your accuracy, reducing the chance of making spelling or grammar errors.
This is also incredibly important if you are a professional gamer and any command input might make or break your session. In most cases, these are portable and even come with Wireless Bluetooth technology that is perfect for writers/gamers on the go. The backlighting system also has a positive impact on your overall gaming setup. Bearing these points in mind, investing in a proper keyboard is something you can greatly benefit from.
Logitect make some of the best gaming keyboards out there. We found was the Logitech G910 Orion Spark is definitely one of the top gaming keyboards, and used by many pro gamers. A mechanical keyboard manufactured by a reputable and trusted brand is just what any professional gamer needs!
Logitech G910 Orion Spark Gaming Keyboard 
If you are looking for an incredibly fast and efficient mechanical keyboard, then this product is the right choice for you. Apart from coming with a great warranty policy and a reliable customer service team, there are a few other points that make this product worth its price. One of the best things about this keyboard is its versatility. You can connect it to both Windows and Mac OS computers using the 1.8m USB cable.
Not only that, but the ARX App Mobile display supports Android versions that are 3.2 and above. What makes a mechanical keyboard so popular is the overall design and featured keys. This product comes with nine G keys that will allow you to customize gaming profiles and be accurate with more complex commands.
We will discuss this further later on. Additionally, investing in a Logitech G910 Orion Spark will go a long way when it comes to the appearance of your gaming setup. Overall, this reasonably-priced mechanical keyboard is something that no true enthusiast should miss out on!
Who is This Gaming Keyboard for?
It is safe to say that this mechanical keyboard is not exclusive for only a certain group of people. Professional gamers across the globe love it and use it on an everyday basis for heavy-gaming sessions. However, it can benefit freelance writers, as well.
Also, whether you are a kid or an adult, the overall design of this keyboard is made to be ergonomic and fitting. Last but not least, while not wireless, this product is quite portable, making it good for people that are always on the go!
What's Included?
There are a couple of accessories included other than the Logitech keyboard itself. First of all, you will be getting a detailed user's documentation that will help you fill in a request in terms of built-in defects. Additionally, it features a user's guide that will instruct you on how to use and get the most out of this product. Finally, you will be getting a detachable wrist pad that is essential for people who sit and write for hours at a time.
Overview of Features
There's not much we can say against this product. So before discussing all the advantages, we want to say upfront that our only major concern is the keycap quality. While the membrane of all the keys is reliable, the caps seem to be a little cheap. But according to Logitec the keys are made to withstand a grueling 70 million keystrokes. You can also get replacement G910 key caps from Amazon in the event that the coating comes off eventually over time or if the key cap stems break. Still, communicating about the issue with their customer service might help. As for the pros of this keyboard, they more than make up for this.
First, the Romer mechanical switches make this Logitech keyboard the fastest and most accurate when it comes to mid-range gaming products. Not only that, but you are looking at an RGB backlighting system that offers over 16 million colors to customize your key color illuminations to your hearts content. 
Also, the Romer G keys are something that separates this mechanical keyboard from others. These keys are silent and super responsive but still with a tactile feel. Trust me you'll notice the difference. Apart from that the mechanical keys provide anti-ghosting, these are essential for creating and inputting more complex gaming commands. Along with these come the few media keys that will allow you to change volume or brightness levels without leaving the game.
In the end, the ARX app also contributes to overall reliability. It works by connecting an Android phone and accessing the in-game data through the mobile display. Overall, this a mechanical keyboard of extreme reliability that is ideal for any professional gamer that is on a tight budget!
RBG Key Backlighting
With 16 million colors at your disposal,  you can also customize your keyboard gaming profile according to your needs.  I find the UI very easy to use. Assigning a color to each key is very straight-forward, as is customizing keystrokes or macros.
Some users have gotten really creative with one even reporting set their RGB illumination of their keys to look like the American flag - that's cool while not playing a serious game but personally I use it to illuminate just the gaming keys configured for the game I'm playing and turn the rest of the keys off for easier finger-to-key targeting while playing.
Orion Spark Romer-G Switches
This is the first keyboard to feature Romer-G switches, which were engineered for Logitec by Omron from the ground up. They are arguably as good or in some instances better than Cherry MX switches. The Romer-G has an actuation distance of 1.5 mm which 0.5 mm less than the Cherry MX switches. So these new Romer-G mechanical switches deliver up to 25% faster actuation, making them more responsive. In games where milliseconds count this can making a surprising difference in the heat of battle.
They're like Cherry MX Brown switches if you put an O-ring on it. They still have a nice tactile bump and a shorter travel distance than say a blue Cherry switch. No distinctive click sound but still the mechanical feedback you like from a red.
And for a mechanical keyboard switch it's also silent, simliar to rubber dome keyboards. It's also far more quieter than Cherry MX Brown switches and probably similar to the Cherry MX silent Red.
How to Set Up Logitech G910 Orion Spark Gaming Keyboard

While this depends on whether you are a professional gamer or a writer, the basics of using a mechanical keyboard are quite simple. For getting the most out of the featured G and media keys, you should take a look at the user's guide that comes with this product.
To install it, plug in the keyboard to a Mac OS or a Windows computer and ensure that you have reliable internet connectivity. Download the software from the Logitech website, and you should be good to go. For using the ARX mobile display, you should connect an Android 3.2 or above to enjoy the control panel.
Alternative
Razer BlackWidow Mechanical Keyboard
If for whatever reason you are not satisfied with what Logitech has to offer, then Razer BlackWidow Mechanical Keyboard is a great alternative. While on the somewhat pricier side, this mechanical keyboard is highlighted by 50G of actuation force and RGB backlighting. It also features tactile performance, as well as heavy-duty construction that is ideal for professional gamers!
Conclusion
In our modest opinion, there is no doubt that investing in the Logitech G910 Orion Spark is a decision you will not regret. Yes, there might be a few design flaws. However, for the given price and considering its fast and accurate performance, it does not get much better than this!