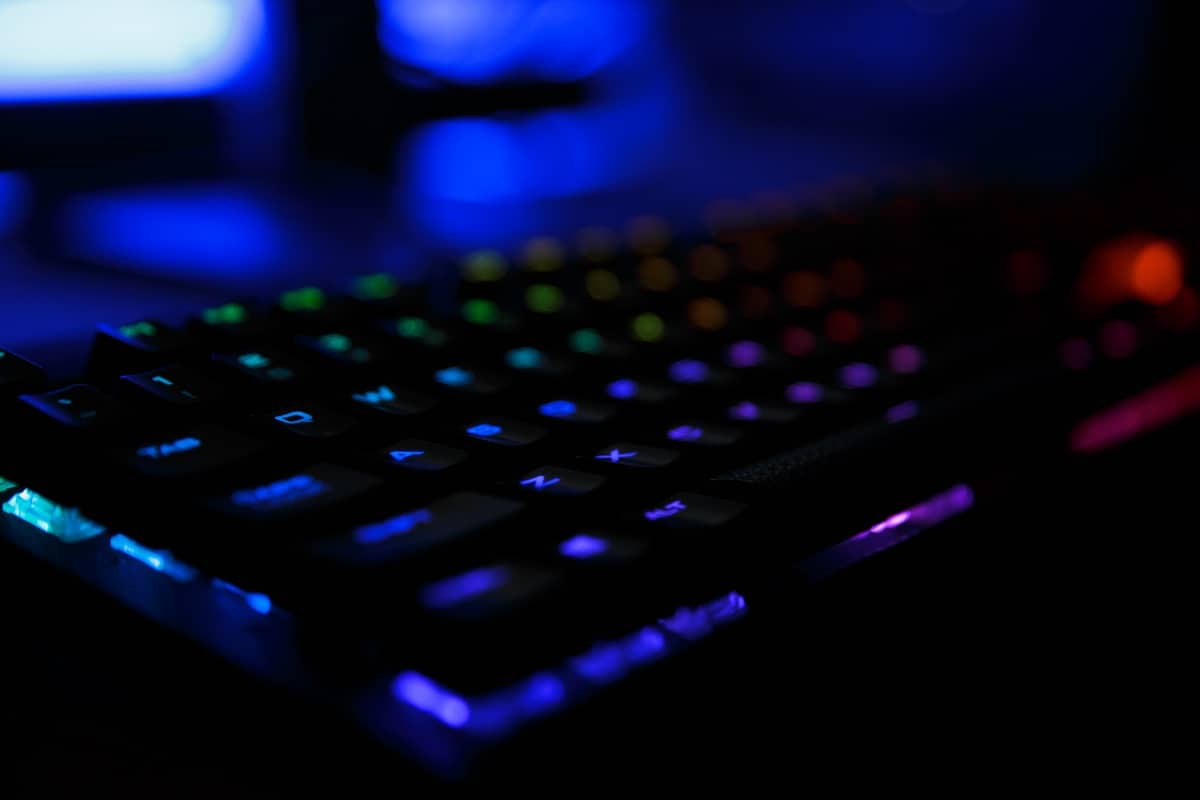 Gamers are always on the look-out for what is the ultimate best budget gaming keyboard. Many people think, what is the big deal when they choose their keyboard? All keyboards are just the same, right? If you think this, then you can't be more wrong. Most of us are not aware that for every gamer and fanatic out there, choosing the right keyboard that will suit their gaming style is not that simple and takes into account a lot of considerations.
If you are a gamer, you may already have an idea of what will suit you best. But at times it is quite daunting to find the perfect fit, especially when you are running on a certain budget. But not to worry; here we provide you a list of the best gaming keyboard under $100. Check out every product on the list, and find one that best suits your needs and your budget.
Comparison Chart
Havit Keyboard Rainbow
Redragon S101 PC Gaming Keyboard
Corsair K55 RGB Gaming Keyboard
NPET K10 Gaming Keyboard
DIERYA Mechanical Gaming Keyboard
Best Gaming Keyboard Under $100 Reviews
Havit Keyboard Rainbow Gaming Keyboard Mouse Combo
HAVIT brands do not have the brand popularity of others such as Corsair or Alienware, but this Chinese manufacturer sure does keep up diligently when it comes to producing computer peripherals through the years. Most gaming keyboards they have released so far have great reviews and relatively equipped with all of the gaming essentials that you will ever need.
Review
The Havit Gaming Keyboard comes with a mission of giving an easy gaming experience for users. This unit aims to give you complete control over how you play. It has a wide list of different keys that are specially designed to upgrade your gaming needs.
Equipped with a sleek and modern design, this combo has a mouse that has 7 colorful cycled breathing lights and its keyboard has 19 Anti-ghosting keys and 5 multimedia keys. However, unlike the other gaming keyboard combination, it has no other added accessories like a headset, mouse pad or extra cables.
Gaming fanatics will enjoy its customizable LED light effects that come in blue, red, cyan, purple, pink, green and yellow. It can be adjusted accordingly from medium to high and even breathing mode. It is compatible with any computer operating systems so there's no need for you to worry. What's good about this is that it is also fully compatible with MAC OS which is sometimes difficult to find with other traditional gaming keyboards.
Redragon S101 Gaming Keyboard and Mouse Combo
Redragon is considered one of the veterans when it comes to manufacturing computer peripherals. Producing exceptional products since 1996, they strive to keep on making computer products that consumers will not only be satisfied with but love as well.
Review
The Redragon S101 Gaming Keyboard and Mouse Combo is another affordable gaming keyboard combination. Gamers will be excited to learn that this combo comes with everything needed to start your gaming in an instant.
The gaming device has backlighting which is equally the same as other gaming keyboard combos. However, you can only choose to turn on or off the LED lights, and there are no other special effects. The mouse is designed with a 4000 FPS and 15G ACC for ultimate control and exciting gaming experience. It has 6 buttons; 5 are programmable depending on your game preference. The good thing about this mouse is that is it made with Teflon feet contoured with comfortable body for total control as you play.
The gaming keyboard has 4 backlight colors with 5 different breathing speeds and is splash-proof and sturdy. There are laser-engraved keys with fiber cables and it is compatible with most operating systems such as Windows XP until Windows 10 and some others with MAC OSX.
Corsair K55 RGB Gaming Keyboard
If you are looking for the best gaming peripheral products, you are looking at the correct brand. Corsair is a brand that is not to be trifled with when it comes to producing quality gaming products. They are the brand you can trust for they have been in the business for more than 20 years. Corsair is widely popular all over the world as they continue to deliver customers with the best PC experience. Hence, no matter what or who is their competition, they make sure that they deliver the best product as much as possible.
Review
The Corsair K55 Gaming Keyboard is an exceptional product. Because of its impressive features and affordability, it has been named as Amazon's Choice product with outstanding customer reviews.
This gaming keyboard comes with 6 programmable keys that allow you to assign your preferred keystroke. It has a dedicated volume and multimedia control. Gamers like this feature because it does not affect anything at all while you are playing. It has various lighting modes that allow you to play even if you are in a dark or low-lit environment. These lighting modes also have the option of using a single backlight or something with illuminating effects.
Furthermore, the gaming keyboard allows you to turn on or off the Windows key while you are in gaming mode. It comes with a detachable wrist rest so that you can position your hands comfortably while playing. The keys are soft to touch and quiet. You can also have the option of purchasing it with a mouse or mouse pad.
NPET K10 Gaming Keyboard USB Wired Floating Keyboard
The professional gaming world will never be the same without the products of NPET. With its slogan "passion for gaming", NPET is a manufacturer that continues to create gaming products that will suit gamers of all types. Whether you are an experienced gamer or a newbie, there is a product suitable for you with NPET.
Review
The NPET K10 Gaming USB Wired Floating Keyboard is a product especially made for gaming. The floating keyboard is made with high-quality materials and is water-resistant, protecting it from spilled water, coffee or any other liquid.
It is ergonomically designed to make your wrist comfortable while you are playing. The keys are made with smooth buttons so that you will not experience having finger fatigue. It is durable, made with a metal base that can't be deformed easily, and serves as a support to keep your keyboard firm while you are playing.
The gaming keyboard consists of different lighting modes – 12 backlit status, 13 multi-media keys, and 26 anti-ghosting keys. They are easy to use and are simply a "plug and play" type of keyboard that does not need any driver at all. It is compatible with almost any operating system including MAC OS and can be used for both gaming and also typing.
DIERYA Mechanical Gaming Keyboard
The DIERYA brand is one of the many sellers of various consumer products. They are committed to making sure that they provide high-quality products at affordable prices. Among the products that they manufacture and sell are electronics, USB products, luggage, and other merchandise related to everyday needs.
Review
The DIERYA Mechanical Gaming Keyboard has a dual-mode connection – wired mode and Bluetooth mode. The wireless mode can support at least 3 Bluetooth devices at the same time. It works perfectly well with different operating systems and can be used with other iPad and Android devices.
It has 7 keyboard colors and RGB effects such as ripple mode, wave mode, reactive mode or aurora mode to help you enjoy while playing. The keyboard is rechargeable with built-in lithium batteries, hence there is no need for you to change the battery.
The compact size allows you to use it anywhere – at home, office, and school or even while traveling. It is lightweight and very convenient to carry. The ergonomically designed keypad is comfortable to use and helps to reduce fatigue while using the keyboard. No need to worry if you are sitting in your bed or the sofa because the wireless capability can reach up to 10 meters.
FINAL VERDICT
To some professional gamers, the perfect gaming keyboard is not just about having an accurate play but also looking cool while they play. As provided in the list, most of the products have RGB backlighting for more drama and aesthetic gameplay.
With that said, the best gaming keyboard goes to the Redragon S101 keyboard. Even if it is considered as a membrane keyboard, the response is fast and the performance is not far from expensive brands which many gamers will still enjoy.
This keyboard gaming combo is a perfect choice, especially for newbie gamers. Some manufacturers include free accessories such as a mouse pad and gaming headphones. It is affordable but efficient and can be used by anyone. In addition to that, this can also be used as a traditional keyboard when you are done playing.
Coming next is the Havit Rainbow Backlit Wired Gaming Keyboard. Just like the Redragon S101, its price is also competitive and can also be used by anyone, from professional gamers to first-time users. Having different breathing LED lights adds more appeal while you are playing. The durable design allows for more playing time which means that no matter how long you play, the keyboard will last a long time.
Finally, if you prefer just a gaming keyboard without an additional mouse, then the Corsair K55 RGB Gaming Keyboard is also the best choice. Corsair, being one of the most trusted computer peripherals in the gaming industry, will not disappoint you with its features and functionality. What makes it more competitive is that you don't need any software just to use it; it has functional buttons and volume controls. The added wrist rest is certainly a plus on any gamers' preference.
The best gaming keyboard does not have to be expensive in order for you to enjoy. It just needs to provide you with a competitive edge over your competitors. At the end of the day, it all comes down to what features best suit you and how much you are willing to spend.