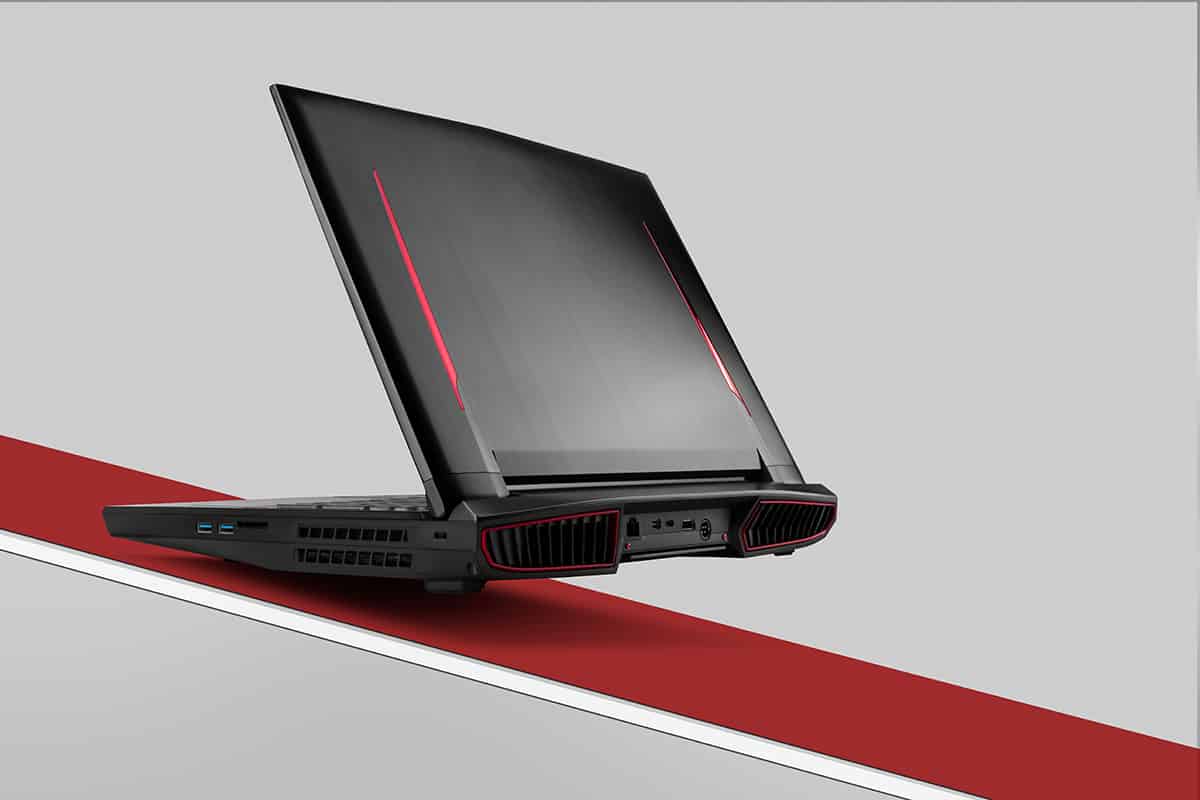 Best Portable Gaming Monitors - Complete Reviews With Comparison
Having a good gaming monitor can make or break your overall gaming experience, regardless of whether you're gaming with a dedicated gaming laptop or a full PC. For gamers using laptops, portable monitors can elevate the experience to something more enjoyable.
There are literally hundreds of portable gaming laptops on the market right now, which makes choosing just one quite challenging. You don't have to fret any longer, though, because we've created a list of some of the best portable gaming monitors available on the market out there. So let's take a look at what they have to offer.
Comparison Chart
ASUS ROG Strix 17.3″ 1080P Portable Gaming Monitor 
UPERFECT 4K Computer Monitor
GAEMS M155 Full HD 1080P Portable Gaming Monitor 
4k Portable Monitor, Gaming Monitor 
4K Portable Monitor – AZMIOR 15.6 Inch 
Portable Gaming Monitor Reviews
ASUS ROG Strix 17.3" 1080P Portable Gaming Monitor
Starting off strong, we have this 17.3" monitor from ASUS, a brand known for its high-quality computer and gaming equipment. Their ROG Strix portable monitor is no different and boasts a variety of features that all gamers will appreciate, with a sleek and stylish design to boot.
Review
The 17.3" panel on the ASUS ROG Strix features IPS technology engineering to offer you superior image quality that features vibrant, outstanding colors with a 100% sRGB color gamut and an excellent 1,000:1 ratio of contrast. The ROG Strix's slim profile of just 0.4", in combination with its mere 2.3-pound weight, makes it highly portable and easy to carry around and set up anywhere you take it.
With its top-class refresh rates of up to 240Hz, you will be able to experience supremely fluid gaming visuals, which will ultimately give you the upper hand in your intense matches where every second and every frame counts. As the rapid 3ms response time that the Strix provides will eliminate motion blur and smearing, you will be able to react instantly to what you're seeing on screen.
The great thing about this monitor is that it features support for adaptive sync technology, which enables tear-free, fluid gameplay at the best performance levels possible. With its Low Framerate Compensation technology, high refresh rates, and low latency, the ROG Strix provides gamers with a non-stop, no-compromise gaming experience.
The high-capacity battery of 7800mAh offers up to 3½ hours of use at 240Hz, and it also supports quick-charge, which lets you use the battery for up to two hours with just one hour of time spent charging. You can display content from just about any device, from phones to laptops, cameras, and any device that accepts micro-HDMI or USB-C connections.
Unfortunately, a number of customers who bought the ROG Strix reported that it developed at least one dead pixel after a few hours of use. While this is only a minor inconvenience that can be remedied, it's still worth mentioning as a downside.
UPERFECT 4K 15.6" Portable Gaming Monitor
As the name suggests, this portable gaming monitor from UPERFECT supports 4K resolution, allowing you to game with crystal-clear quality, exceptionally high framerates, and even better visuals. If you're looking for a truly beautiful gaming experience, then this may be the monitor for you.
Review
With its 4ms response time and 60Hz refresh rate, you aren't going to miss a single frame of action in your favorite games. Your immersive, all-out battles will become that much more exciting thanks to the FreeSync, HDR, and other game modes that this portable monitor supports, allowing you to custom-create your perfect gaming experience.
The two 2W speakers found on this monitor provide you with clear audio quality, but if you would prefer to wear your own headphones, the 3.5mm headphone jack allows you to do just that. That also means that you can play your favorite games in public spaces without disturbing others. The configuration of this IPS imported screen is resistant to corrosion, sturdy, cut-resistant, and crack-proof, making it a highly durable option.
The IPS panel ensures that the monitor provides you with nothing but outstanding performance when it comes to the smoothness of your picture, the response time, and your eye protection. It provides a 178-degree angle of viewing that can be adjusted to suit your needs. This monitor can meet your needs when it comes to gaming, conferences, home theater, homeschooling classes, and even advertising displays.
The specially configured USB interface is used as an OTG function that allows you to connect a keyboard and mouse to the monitor. You can use an OTG converter to connect, and the monitor can also be used as a mobile charging station for your phone thanks to the USB 3.1 connection protocol.
The one gripe we have about this monitor has to do with the leather cover that it comes with. While having a leather cover is nice, converting it to a stand can be tricky, and the instruction manual isn't much help. It also has a hard time supporting the monitor, which can be frustrating.
GAEMS M155 Full HD 1080P Portable Gaming Monitor
If you are on the hunt for a sturdy, portable gaming monitor that you can take with you and use anywhere, then the M155 from GAEMS may just be the solution. It features a robust casing that will keep it protected from any wear and tear you may put it through, and its crystal-clear quality provides you with a beautiful gaming experience.
Review
With the GAEMS M155 Full HD portable gaming monitor, you will be able to enjoy gaming that is virtually free of lagging thanks to the 60Hz refresh rate. This is a great bonus for anyone who enjoys playing intense FPS and shooting games, where a single frame can spell the difference between life and death, victory and defeat.
Using tiny legs that extend from the backside of the monitor, the M155 does not make you deal with a cumbersome mount that takes minutes to set up, and unlike many other portable monitors, you don't have to run nearly as many cable connections. While this monitor might not be for every gamer out there, it can be great for those who are willing to take advantage of its portability.
While durability is an important aspect of portable monitors, there's only so much you can expect, and you certainly would not want to see the M155 fall to the floor. However, it delivers on portability in other ways. It weighs just shy of 2 pounds, making it much lighter than almost any desktop monitor out there.
The monitor panel is small enough to slide inside your laptop bag, and once deployed, the extendable feet that have an anti-slip design do a decent job of keeping things secure while simultaneously allowing a nearly all-vertical 12-degree viewing angle. The chassis' backside is slightly concave, which allows you to get a good grip on the screen when you are moving it around.
The one major downside to the M155 is that it recreates images with 6-bit color, or with about 262,000 colors. The resulting image is slightly inferior to that of typical broadcast television, meaning your games might not be too colorful.
IVV 13.3" 4K Portable Gaming Monitor
Here, we have another monitor that displays your games, videos, and images in 4K quality, making this monitor from IVV a great choice for gamers looking for extremely clear, realistic images. The great thing about this monitor is that it comes with two speakers, as well as a portrait mode.
Review
The IVV portable gaming monitor makes use of a 3840 x 2160 IPS screen to provide you with extremely high-quality images and vibrant colors. There is an HDR gaming mode available that displays every single detail and makes both the brightest and darkest parts of your game worlds visible enough to promote efficient playing. There will be no more squinting in dark rooms just to see or shielding your eyes from glaring bloom areas.
This IVV monitor is only 0.16" wide and weighs a measly 1.3 pounds, meaning you will be able to slip it into your laptop bag or other carry case and take it around with you wherever you go without it weighing you down. This makes it great for on-the-go gaming, traveling, home or office entertainment, or even online business conferences.
The monitor comes equipped with two USB Type-C ports, as well as a single HDMI port, which makes it easy to connect it to various gaming consoles, such as the Xbox One, PS4, and Nintendo Switch. It is also compatible with other devices, like your smartphone, laptop, or even PC, allowing you to play games, watch videos, view images, and much more.
It comes with a stand cover that is made from a durable PU leather exterior and a soft interior lining. Not only does this help keep the monitor safe, but it can also be folded into various positions to create a stand that is capable of offering several different viewing angles. This helps make it highly versatile.
One unfortunate problem that this monitor has is its size. It is the smallest portable monitor on this list, so if you're looking for a larger-than-life gaming experience, you might want to try one of the other, larger products featured here.
AZMIOR 15.6" 4K Portable Gaming Monitor
To end this list, we have this formidable portable gaming monitor from AZMIOR, which easily slides into your briefcase to become the ideal travel companion for laptops. It allows you to maximize efficiency and simplicity, as well as game on the go with extremely high image quality.
Review
This USB Type-C compatible monitor is capable of satisfying your demands in both the realms of working and gaming and is compatible with almost all laptops, Macs, smartphones, PCs, and other gaming consoles, like the Xbox Series X or PS5. It hardly tips the scales, thanks to its 1.8-pound weight. With its extremely slim 0.2" profile, it can easily fit into just about any travel bag.
The narrow bezel design leaves 92% of the screen available for recreating crystal-clear, 4K images with beautiful, vibrant colors. The high-resolution, UHD, HDR screen offers you a wide viewing horizon and incredible visual clarity, making your ultra-realistic games like The Witcher 3 or Divinity: Original Sin 2 more beautiful than ever.
The monitor comes equipped with two full-feature USB-C ports and mini-HD ports, both of which support signal and power transmission without the need for a switch. You only need one HD or USB cable to achieve the high-definition transmission of video signals that this monitor can provide, providing you with an incredibly vivid viewing experience.
The two 2W speakers found on this monitor provide you with a clear, full-quality sound that will keep you immersed in your favorite games for hours. You are also able to connect your own speakers or a pair of headphones using the 3.5mm audio output.
Unfortunately, some customers reported that their images would 'hitch' every few seconds, which might sound like a minor inconvenience, but it can be extremely frustrating when gaming, especially when playing intense FPS games. This wasn't the case with all customers, but it's something to be wary of.
Wrapping Up
Portable gaming monitors are a fantastic solution for laptop gamers who are looking for high-quality images and larger monitor sizes for their gaming setup. We hope that we were able to help you find your perfect one. Our favorite option is the GAEMS M155 Full HD 1080P Portable Gaming Monitor thanks to its lag-free experience. Additionally, it has small support legs and the light build and concave back makes it easy to move around.