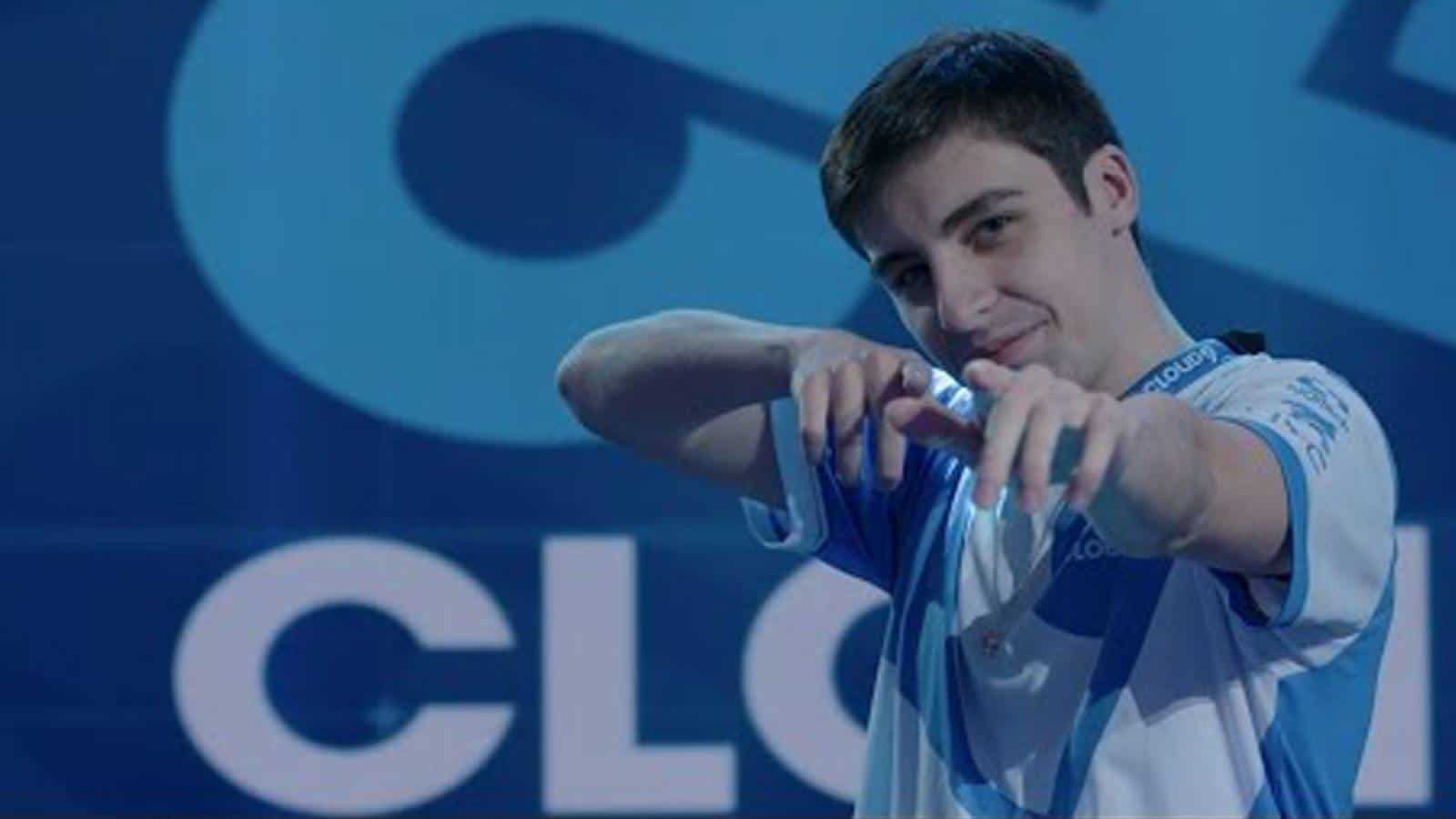 Shroud, a.k.a. Michael Grzesiek, is a top streamer on Mixer, so of course he's got one of the best gaming setup around.  And as a previous pro-gamer in eSports circuit playing in professional league games and tournaments he's a well respected CS:GO professional player.
To improve as a gamer talent and practise is a key ingredient, but that you'll need to do yourself. But the right gaming gear can definitely help you get a competitive edge, so of course Shrouds gaming setup is worth looking at for inspiration.
 Since 2018 Shroud's gaming gear is sponsored by Hyperx so some of his setup includes HyperX equipment. You can follow this link to see what gaming gear HyperX offers on Amazon.
Below we fully unpack Shroud's PC build, Stream settings, video settings, mouse settings, monitor settings. We also show you the Shroud's game settings from the various games he plays like PUBG, CS:GO, Apex Legends and Overwatch.
Shroud's PC Build
Shroud uses the Intel i7 8700k computer build, which comes with 6 cores and 12 threads, clocking up to 4.7ghz per core. That's plenty of processing power for your CPU, which is ideal for seamless play on highly-intensive games like Fortnite or Apex Legends.
| | |
| --- | --- |
| | |
| | |
| | |
| | |
| | |
| Capture Card (for Streaming) | |
| | |
Here's some of the parts Shroud used in his previous PC Builds:
What mouse does Shroud use?
Shroud uses the Logitech G Pro Wireless mouse. Before that during his pro-gaming years he used the Logitech G303 (now discontinued) which he clearly dominated with considering all the tournaments he placed well in when with Cloud9.
Wireless mice have advanced a lot and the response time of the Logitech G Pro is now pretty much on par with a wired mouse. The G Pro wireless mouse also features Logitech's most precise sensor till now.
Logitec G Pro Wireless mouse
Sleek looks and with a fast 1ms wireless report rate, it's built for pro-gamers. Don't let the Logitec G Pro understated design fool you, this mouse is all muscle underneath and with 16 000 DPI accuracy you're getting accuracy every time.
The Logitech G Pro Wireless Gaming Mouse is a top pick with streamers and pro players. It's sleek simple design accompanies most gaming setups nicely.

The Logitech G Pro Wireless Gaming Mouse is devised for use in professional e-sports tournaments and pro-gaming setups.

Many pro-gamers will opt for wired gaming mice for connection speed but the Logitec G Pro is a professional grade mouse offering exceptionally quick response rates and almost instantaneous 1 millisecond report rate.

The mouse is also a super-lightweight, making it fast and easy to move while gaming and resulting in less overall strain on your wrist. With an ergonomic design and 50 million clicks it's built to last.

On top of that the Logitech G Pro has up to 16,000 DPI accuracy and responsiveness, which is ten times more power efficient that previous generation wireless devices.
What keyboard does Shroud use?
Shroud uses the HyperX Alloy RGB Elite gaming keyboard while gaming during his streams.It's a good mechanical gaming keyboard and we can recommend getting it with Cherry MX switches.
Keyboards geared towards gaming are generally faster and you can usually get more compact 60% size gaming keyboards and Tenkyeless (TKL) keyboard models that take up less space for your gaming desk setup. I'd go for the MX Red switches with the HyperX Alloy Elite keyboard personally, which I find has a more responsive actuation speed without the tactile click, since it's a linear switch.
A mechanical keyboard is an absolute must for serious gamers. Their mechanical switches are the most responsive and the most robust. The Alloy Elite range has integrated macro profiles and boasts a durable steel frame. Cherry MX switches are also used, which are a top favorite for gamers. The keys are known for their comfort, durability, and aesthetic look.
If you tend to suffer from wrist aches or pains while gaming then you'll be happy that the Hyper Alloy Elite comes with a soft comfortable wrist wrest included. You can also detach it easily if you don't want to use one.
Shroud stream setup
Many popular streamers are using the top DSLR or Ultra HD webcams, but Shroud bucks this trend. The steaming gear Shroud uses is a fairly simple but popular  Logitech HD Pro Webcam C920  along with the Sony Alpha A6000 when trying to cover multiple angles at the same time.
As for his streaming mic choice, Shroud has opted for the very popular Shure SM7B Vocal Dynamic Microphone that picks up the all the tones of his deep voice perfectly while streaming (and quite a few F-Bombs to boot).
Streaming gear used by Shroud
Logitec HD Pro 920 Webcam
Great video quality for webcam streaming at 1080p and 15 megapixel. stereo microphones perform well, and it's a good-looking piece of kit.
Sony Alpha a6000
Great compact mirrored DSLR camera which is a great option for streaming, not just stunning photos.
Shure SM7B Cardioid Dynamic Microphone
SM7B  is a great mic and does a good job of covering sound issues in poor recording environments. It makes this an excellent video streaming mic for live sound broadcasting and recording.
Shroud PUBG settings
The PUBG setup and settings Shroud uses is of particular interest to other gamers. After many years as one of the world's top CS:GO pro players, his skills have carried over into his success with PUBG.  No doubt a lot of Shrouds PUBG settings for mouse, sensitivity, graphics and video are influenced by his settings in CS:GO and other FPS games he plays.
SHROUD PUBG GRAPHICS SETTINGS
Resolution: 1920 X 1080
FpsCameraFov: 102
Brightness: 74
Anti-Aliasing: HIGH
Post-Processing: VERY LOW
Shadows: VERY LOW
Textures: HIGH
Effects: VERY LOW
Foliage: VERY LOW
View Distance: VERY LOW
Colorblind Type: TRITANOPIA
Crosshair Color: CYAN
SHROUD PUBG NVIDIA CONTROL PANEL SETTINGS
Shroud plays PUBG without ReShade, but he does use the NVIDIA Control Panel to change the game's look. He also doesn't use G-SYNC because of the bad input lag.
Digital vibrance: 66%
Hue: 0°
SHROUD PUBG MOUSE SENSITIVITY SETTINGS
Invert Mouse: NO
General Sensitivity: 56
VehicleDriver Sensitivity: 55
Targeting Sensitivity: 55
Scoping Sensitivity: 50
Scope2X Sensitivity: 50
Scope4X Sensitivity: 50
Scope8X Sensitivity: 47
Scope15X Sensitivity: 47

Shroud uses a mouse DPI setting of 450 and a Polling Rate of 500 Hz. Shroud's Windows Mouse Sensitivity is 6/11 (counting 0, it is the notch in the middle)
You can also watch the Shroud Youtube video below for tips where Shroud talks about his mouse and aiming.
Shroud Apex Legends settings
Shroud is a legend at Apex Legends too and has transitioned over from CS:GO into other Battle Arena and FPS games with ease. If you're wondering what Apex settings Shroud uses? We have the full list of his Apex Legend mouse, video and keybinds settings below.
Shroud Apex mouse and sensitivity settings
These are the Apex mouse settings Shroud uses with his Logitec G Pro wireless ghost mouse.
DPI=450
Mouse Sensitivity=2.9
ADS Multiplier=1.0
Hz=1000
Mouse Acceleration=Off
Mouse Invert=Off
Shroud Apex Legends Keybinds
These are Shroud's Apex Legends keybinds used with his  Logitech G Pro X MK keyboard
Sprint=L-Shift
Ultimate Ability=Z
Crouch (Toggle)=C
Jump=Mousewheel Down
Tactical Ability=Q
Crouch (Hold)=L-Ctrl
Interact / Pickup=F
Inventory=Tab
Fire Mode=B
Melee=Mouse 4
Reload=R
Aim (Hold)=Right Click
Use Selected Health Item=5
Use Syringe=H
Use Med Kit=4
Use Shield Cell=3
Use Shield Battery=Mouse 5
Use Phoenix Kit=X
Equip Grenade=G
Ping=Mousewheel
Push To Talk (Hold)=Caps Lock
Shroud Apex Legends Video Settings
Aspect Ratio
16:9 (native)

Resolution
1920×1080 (native)

Texture Streaming Budget
None

Texture Filtering
Bilinear

Ambient Occlusion Quality
Disabled

Spot Shadow Detail
Disabled

Volumetric Lightning
Disabled

Dynamic Spot Shadows
Disabled
Screenshots of Shroud's Apex video settings
Shroud monitor settings
If you're a serious gamer you'll want to consider a 240Hz monitor or better serious gamers – and Shroud being such a successful Mixer streamer, that's exactly the kind of monitor he has
Shroud's monitor is the BenQ ZOWIE eSports Gaming Monitor that delivers sleek visuals while he takes on all those stream-snipers that tend to want to either meet or shoot their hero mid game stream.
 Here's are the monitor settings Shroud uses with his BenQ Esports monitor:

Refresh Rate: 240hz
Brightness: 100
Contrast: 50
Sharpness: 7
Black eQualizer: 10
Reset Color: NO
AMA: Premium
Instant Mode: ON
Video - Shroud's BenQ monitor setup
Who is Shroud? - Bio and Career

Shroud (previously mEclipse), and real name Michael Grzesiek, was born on June 2, 1994. He  is a Polish-Candian from Mississauga in Canada.
Grzesiek began his CS:GO career playing with a few eSports ESEA teams. He was quickly head-hunted as a reserve by CompLexity Gaming and signed with Cloud9 in August 2014 when they were acquired by Cloud9. Some noticeable achievements his first-place team title at the 2016 ESL Pro League Season 4  and his 2nd Place with Cloud9 in the 2017 ESL One Cologne 2017. 
Video - The Story of Shroud
Shroud's Career Earnings as Pro-gamer
| | | | | |
| --- | --- | --- | --- | --- |
| | | | | |
| | | | Esports Championship Series Season 3 – Finals | |
| | | | Americas Minor Championship – Kraków 2017 | |
| | | | ESL Pro League Season 4 – Finals | |
| | | | DreamHack Open Bucharest 2016 | |
| | | | | |
| | | | Esports Championship Series Season 1 – Finals | |
| | | | | |
| | | | ESL ESEA Pro League Season 1 – Finals | |
| | | | ESL ESEA Pro League Season 1 – North America | |
August 16, 2017, Shroud published that he'd be leaving the Cloud9 team. And the former pro gamer became a full-time streamer in late 2017, not losing any of the skills that made him successful in his top-level gaming career.
After he officially retired from pro-gaming in 2018, Shroud picked up Battle Royale games like PlayerUnknown's Battlegrounds (PUBG), Apex Legends, Escape from Tarkov, and Call of Duty: Warzone. He transitioned his FPS skills to the battle royale genre and soon became a top player in just about any game he focused on playing.
He's also known to play other games like Minecraft, Battalion 1944, World of Warcraft Classic and Escape from Tarkov.
Though he was already a popular personality among CS:GO fans during his prime, he won a wider audience on his way to becoming one of the top streamers on Twitch. But Towards the end of 2019, he switched over to Microsoft's Mixer gaming streaming platform, along with many of his fans that switched with him.
Shroud leaves Twitch for Mixer


It's official. Just like Ninja (Tyler Blevins), Shroud also left the Twitch streaming platform for Microsoft's platform, Mixer. Back in August 2019, when Tyler "Ninja" Blevins announced his departure from the Amazon-owned platform, Shroud hinted he would stick around and use the reduced competition to his advantage on Twitch. 
Of course not long after, on 24 October 2019,  Shroud announced he was leaving for Mixer himself, most likely lured by a lucrative partnership deal. Hey Money talks, there's no denying that so we can't begrudge the guy. He did leave about 7 million Twitch followers behind at the time though. But no doubt many followed him over to Mixer. 
For Microsoft's part it was quite a smart move. They added a top FPS gamer and streaming personality onto their platform, which allows them to continue growing the reach of their newer game streaming platform - a strategy that seems to be working well for them.
Shrouds New Girlfriend - Bnans
In Jan 2019 Shroud broke up with his longtime girlfriend Jessica Rago. Only a few months later he found a new girlfriend who is also a Twitch streamer. Her name is Hannah Kennedy and her gamer nickname is Bnans. Below is a photo of her and her gaming setup and streaming room.
Bnans' favorite games are PUBG, Destiny and Tom Clancy's Rainbow Six: Siege. Bnans both an avid gamer, streamer, and a talented graphic designer and digital marketer. 
Bnans is also a Twitch streamer, she's got over 278,865 follower as of this writing.
Conclusion
Shrouds gaming setup is surprisingly affordable (well compared to what he could pay for) for most of the items in his PC build and streaming setup. Shrouds history as a pro gaming player in CS:GO has made him a master at almost any game he sets his mind to.
The settings Shroud uses in games like Overwatch, PUBG, Apex Legends and CS:GO are fairly common for pro players and streamers and definitely worth trying out in your game play.