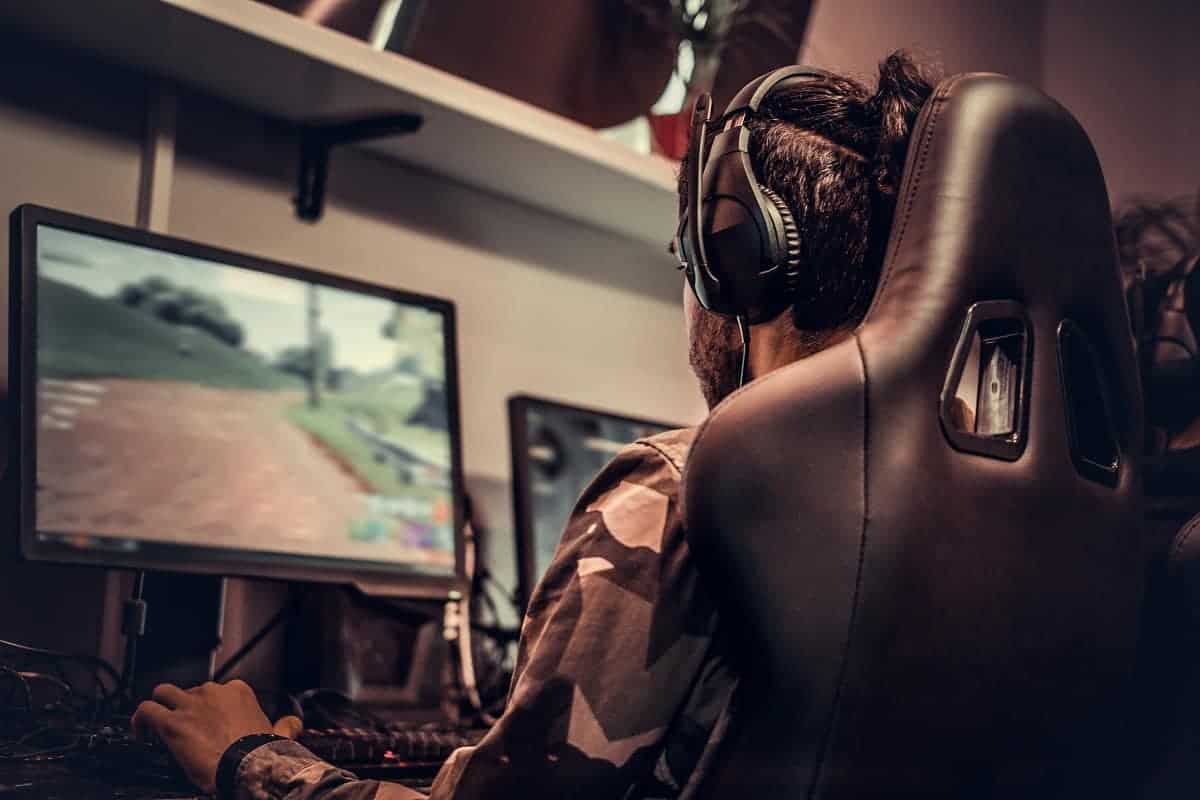 A great monitor is key to any good gaming setup. Without one, you aren't able to experience the full immersion or graphical quality of the games that you play, which will leave you feeling like you're missing something and, ultimately, become dissatisfied.
There are hundreds of monitors out there designed specifically for gamers, and with so many to choose from, from so many different brands, finding the right one can seem impossible. That's why we're going to review some of the best gaming monitors out there and give you all the information about them that you need. Read on for more.
Comparison Chart
| | | | | |
| --- | --- | --- | --- | --- |
| | | Best 4K Flat Gaming Monitor | | |
| | | Best 144Hz Gaming Monitor | | |
| | | Best 27-inch Gaming Monitor | | |
| | | Best 240Hz gaming Monitor | | |
| | | Best 4k Curved Gaming Monitor | | |
| | | Best Ultrawide Gaming Monitor | | |
| | | Best Budget Gaming Monitor | | |
Best Gaming Monitors Reviews
Asus ROG Swift PG279Q 27" (Best 4K Flat Gaming Monitor)
Starting off strong, we have the ROG Swift from Asus, a brand that many gamers are familiar with. Not only does this monitor offer excellent performance for your gaming needs, but it is also very aesthetically pleasing and will look good in any gaming setup. It has been used by plenty of professional esports players, so you know that it does the job well.
Product Highlights
The ROG Swift gaming monitor from Asus has a 165Hz refresh rate that completely negates motion blur and lag, giving you the advantage in racers, first-person shooters, and real-time strategy games. This extremely fast refresh rate allows you to play at the maximum graphical settings and also lets you instantly react to everything that happens on-screen.
This monitor comes with a 2560 x 1440 WQHD panel that provides you with 4x the resolution of 720p and 109 pixels for every inch. This means that you can experience greater detail in your games and as much as 77% more screen space than your standard, full HD display.
The ROG Swift incorporates G-SYNC display technology from NVIDIA to deliver some of the quickest, most breathtaking gaming experiences possible. G-SYNC is able to synchronize the refresh rate of your monitor to the GeForce GTX graphics card that powers your games, which completely eliminates screen tearing and reduces input lag and display stutter.
What We Like About Asus ROG Swift PG279Q
The Asus ROG Swift has plenty of connectivity options for WQHD, including HDMI ports and DisplayPort 1.2. It also has two USB 3.0 ports that allow you to quickly charge your mobile devices while you are gaming, and you can even use the monitor as an alternative high-speed input port.
The monitor comes with the GamePlus hotkey, which is exclusive to ASUS, which provides some enhancements that allow you to get more out of your games. There is a crosshair overlay that provides you with four different crosshair options, as well as an on-screen timer.
What We Don't Like About Asus ROG Swift PG279Q
Several customers have reported that the default color settings for the various display modes can be quite dull, with the blue being extremely low, even when the Blue Light Filter is off. You'll have to go into the monitor's setup menu to calibrate.
Read our in-depth review of Asus ROG Swift PG279Q gaming monitor here.
Razer Raptor 27" (Best 144Hz Gaming Monitor)
Razer is a brand that many gamers will be familiar with. They are most well-known for their extremely powerful gaming laptops, flashy displays, and colorful mechanical keyboards. This gaming monitor is one of the coolest out there and is sure to make you feel like a pro gamer, even if you're just playing Slime Rancher.
Product Highlights
The Razer Raptor is used by many professional esport players around the world and was designed to perform with incredible clarity and speed so that you can make split-second decisions and reactions. This display provides some fantastic visuals, with colors that are deep and vibrant and images that are so lifelike, you'll feel like you're actually there.
The Raptor is able to display 144 frames each second, which delivers a viewing experience that is as smooth as butter. It supports HDR content, thanks to the extremely wide, factory-calibrated 95& DCI-P3 color gamut. With more colors than the average sRGB, the images that this monitor produces are more brilliant and colorful.
Thanks to the dual-rail design, the Raptor can glide seamlessly to the height that you want so that you can make your gaming experience that much more comfortable. You can easily access the various ports, thanks to the hinge that can tilt up to 90 degrees.
What We Like About Razer Raptor
The Razer Synapse software allows you to integrate with the existing lighting in your gaming desk setup . Thanks to the integrated RGB Razer Chroma base, you can synchronize the display with the rest of the lighting in your environment so that everything aligns. With the 2.3mm bezel design, the edge-to-edge display with the Raptor provides you with total immersion in your favorite film or video game.
One of the greatest benefits that this monitor provides involves managing your cables. The built-in cable management system, as well as the custom green cables to match the theme, ensures that your desktop can remain free of clutter and clean at all times.
What We Don't Like About Razer Raptor
If you want to be able to control the base lighting via Razer Synapse, you will have to use USB-C for video. This means that you can have 144fps with the speeds of USB 2.0, or 60fps and the speeds of USB 3.0. You can't have the best of both.
LG 27GL850-B 27 Inch (Best 27 inch Gaming Monitor)
This is one of the more affordable gaming monitors on this list, but that doesn't mean that it's not just as good as the rest of them. LG is known for making high-quality electronics, and its Ultragear gaming monitor lives up to this expectation. This is a great entry-level monitor for anyone that's looking to build their first gaming setup.
Product Highlights
The Nano IPS display of this LG monitor covers 98% of the DCI-P3 color space, which is the standard in the professional film industry. This display provides brilliant image quality and reproduction, bringing your virtual world to life from any vantage point.
The advanced display technology in the LG Ultragear gaming monitor synchronizes your refresh rate to the graphics card inside of your GeForce GTX and RTX-powered PCs. This mitigates stutter and reduces screen tearing, as well as input lag so that you never miss a single frame of action as you emerge victorious with lag-free refresh rates.
Thanks to the VESA display HDR400 support featured in this monitor, you can experience realistic visual immersion with colors that are accurate and a broader contrast ratio. You can experience the sensation of being in the middle of the action no matter the Battlefield you are fighting on.
The bezels on this monitor are extremely thin so you can immerse yourself in your favorite games without being distracted by unsightly borders. You can also tilt, pivot, and adjust the height of this monitor.
What We Like About LG 27GL850-B Gaming Monitor
This monitor provides the perfect combination of a curved screen and a 21:9 ratio. You can use the UltraGear QHD to your advantage to receive incredibly realistic pictures and incredible clarity.
LG's Sphere Lighting 2.0 technology is able to exceed the limits of indirect lighting to create an immersive gaming environment. With the Video Sync and Sound Sync modes, you can become immersed in your games and feel like you're really on the field.
What We Don't Like About LG 27GL850-B Gaming Monitor

In comparison to other IPS monitors, the LG UltraGear provides poor contrast. Additionally, with some 1080p content, you might experience compression artifacts.
Alienware AW2518Hf (Best 240Hz Gaming Monitor)
This is one of Alienware's latest models and features the iconic design that Alienware fans have come to love as well as some new features to elevate your gaming experience. This is a great monitor, not only for those who are just starting out with gaming but also for those who are looking to round out their arsenal.
Product Highlights
The AMD free sync technology found in this monitor synchronizes your monitor with your GPU to display full frames only when your monitor can. This helps reduce graphical distortions like artifacts and tearing so that you can experience native refresh rates of up to 240Hz.
This Alienware monitor was designed with premium materials in a design that is both thin and easy to adjust. If you've used an Alienware monitor before, you'll find that this one stays true to their iconic design. The sleek black and silver chrome finish at the back of this monitor makes it a perfect addition to any gaming ecosystem.
You are also able to find the ideal viewing position thanks to the swivel, tilt, height, and pivot adjustable features, allowing you to settle in for your longest gaming sessions. You can remain focused for as long as you want with the new gaming-centric menu and simple dashboard.
What We Like About Alienware AW2518Hf
This Alienware monitor has stand legs that are made from bull single diecast metal to make them more stable and durable. It also has a concealed cable management solution so that you can keep your gaming station organized and free of clutter.
It comes with specific gaming on-screen designs (OSDs) so that you can keep your user experience focused on gaming. There are six preset modes, three of which can be customized, which are found on the monitor's OSD.
What We Don't Like About Alienware AW2518Hf
While this may be more of a pet peeve, the adhesive found at the bottom of the monitor can become visible. This makes it look like there is an accumulation of dust beneath the Alienware signature logo.
Read our detailed review of Alienware AW2518Hf gaming monitor here.
ASUS ROG Strix XG43VQ (Best 4k Curved Gaming Monitor)
Here we have another monitor from Asus, which also happens to be the second-largest monitor on this list. With 43 inches of display, you'll have the upper hand in any game you play. This is a fantastic choice for those who are dedicated to gaming and want the most immersive gaming experience they can get their hands on.
Product Highlights
This 43-inch ROG Strix gaming monitor, with its 1800R curvature, provides you with an incredibly immersive gaming experience and the same viewing range as two 24-inch monitors. In order to deliver the best HDR experience possible, this monitor was rigorously tested to make sure that it passed peak luminance of 450 cd/m2.
You receive a 120hz refresh rate when you use this monitor for gaming. This ensures that even your most fast-paced games can be played at the maximum graphical settings while still remaining free of lag and being completely smooth. The Rog Strix comes with FreeSync 2 HDR technology that provides you with visuals that are silky smooth, with better contrast, brightness, and lower latency.
Thanks to its convenient hotkeys, the Asus ROG Strix allows you to display different video sources quickly and easily, side-by-side. You are also able to adjust the layout manually for the best fit on the screen.
This monitor features something called shadow boost technology, which makes dark areas of your game clearer without overexposing the brighter areas. This improves the overall look and makes it easier to spot enemies that are hiding in the dark.
What We Like About ASUS ROG Strix XG43VQ
With ASUS GamePlus technology, you have the option of enabling a crosshair overlay. This overlay provides you with four different options for your crosshair, allowing you to choose the one that suits your game the best.
GamePlus also lets you enable an on-screen timer that you can position to the left of the display to keep track of the time that has elapsed during your game. Finally, there is also an FPS counter that allows you to view your current FPS.
What We Don't Like About ASUS ROG Strix XG43VQ
While this is an HDR display monitor, it is on the lower end of the clinical definition of HDR. You will notice some challenges when you try to achieve your desired brightness because the monitor just doesn't have the range.
Looking for a curved gaming monitor, but ASUS ROG Strix XG43VQ is not your choice? Read our selection of the best 4k curved gaming monitors. 
Acer Predator X35 (Best Ultrawide Gaming Monitor)
Acer markets this monitor as being able to provide you with hyper immersion, and it's easy to see why. While it may not be as large as the previous monitor on this list, it comes with several high-tech features that provide you with an incredibly immersive gaming experience.
Product Highlights
The Predator X35 aims to redefine the word 'epic'. With its incredibly fast 200 Hz refresh rate, a lifelike htr, and a design that is bustling with futuristic elements, the Acer Predator X35 brings you a totally new immersive experience.
You'll be put in the driver seat of gaming excellence as you enjoy a battlefield vantage point like no other. With the NVIDIA G-SYNC Ultimate integrated into this monitor, you can experience gaming that is smooth and free of tearing. All of these features are contained within a ZeroFrame design that makes the look of this monitor almost seamless.
The nano-size, which produces specific lights based on their size, provides an increased purity of color to your games that no other monitor can. With the Acer RGB Light Sense interface, you are able to choose from 9 effects and various bold colors to customize your visual experience.
Predator game mode comes with eight preset display modes designed to optimize the visuals on your screen for different types of content.
What We Like About Acer Predator X35
One of the best features of this monitor is that it provides complete mitigation of ghosting, thanks to its 2ms G to G. This means that the annoyances of visual artifacts or motion blur will pretty much be nonexistent.
And, because of the lifelike picture quality and contrast requires intense brightness levels, this monitor is able to deliver a peak of up to 1000 nits. You might have a hard time separating the game you play from actual reality, which is a good thing.
What We Don't Like About Acer Predator X35
Some customers have reported that, when turning the screen on, it will sometimes stay black. This is because the monitor will sometimes randomly set all of the RGB settings to 0, and you'll have to change the RGB setting using the monitor joystick found at the back of the screen.
ViewSonic XG2402 (Best Budget Gaming Monitor)
And last but certainly not least, we have the ViewSonic XG2402 gaming monitor. It is an extremely affordable gaming monitor and is perfect for those who are just starting out building their gaming setup or for those who are looking for a cheap second monitor.
Product Highlights
This is a full HD monitor that comes with all of the features and speed that major gaming enthusiasts expect and appreciate. It features a fantastic 144 Hz refresh rate as well as VESA adaptive-sync technology. The ability that this monitor has to vary the refresh rate practically eliminates stuttering and screen tearing for gameplay that is fluid even during the most fast-paced action scenes.
This refresh rate delivers incredible graphics and greater visual fluidity regardless of how quickly the action is unfolding in the game. This means you can say goodbye to annoying motion blur and traces and experience the smoothest visuals possible.
With its 1 millisecond response time, ViewSonic XG2402 provides you with images that are smooth and free of blurring, streaking, and ghosting.
The Game Mode hotkey will open up pre-calibrated settings that provide you with the best blend of technology and color for any specific gaming scenario. There is a 'ColorX' option that provides you with the optimal response time, refresh rate, and color that is perfect for first-person shooters.
What We Like About ViewSonic XG2402
The low input lag on this monitor decreases the delay from all inputs, which means you can react in real-time against any challenger or competitor. It also features 22-level black stabilization, which brightens dark scenes and provides more visibility in-game.
What We Don't Like About ViewSonic XG2402
This is another 'pet peeve' kind of con, but it's worth mentioning anyway. The buttons on the front of the monitor tend to rock it up and down when you press them, which can become annoying. If you press them gently enough, you should be able to avoid this.
BUYER'S GUIDE
Here are the main things you need to consider before making a decision about which gaming monitor is the best for you.
Resolution & Screen Size
Resolution is measured by multiplying the width of the monitor by its height and refers to the number of pixels on the monitor. This means that a monitor with a 1920 x 1080 resolution will contain 2,73,600 pixels on-screen.
Higher pixel counts mean better image details and qualities and also allows for more content to fit on the screen. When it comes to the size of your monitor, you should consider how far away you will be sitting from it, as a larger screen won't necessarily be beneficial if you are not using a higher resolution or if you have limited space at your desk.
Response Time
Response time is measured in milliseconds, or ms, and represents the time it takes for one pixel to change from black to white or between various shades of grey. Monitors with lower response times will produce less blur when you move your cursor because the changes made on-screen can be processed faster. 1ms is the best option for ultra-responsive performance.
Max Refresh Rate
The refresh rate of a monitor is measured in Hertz, or Hz, and is a measurement of how many times a monitor can refresh the image on-screen every second. If you want to run a game at 75FPS, you will need a monitor with a refresh rate of at least 75Hz.
There is no benefit to having an extremely high refresh rate, like 240Hz, if your PC cannot handle it. Ensure that your PC is able to run the games you want to play at higher frame rates when choosing a monitor.
Connectivity
A gaming monitor will usually come with both HDMI1.4/2.0 and DisplayPort 1.4 to connect to your computer. The DisplayPort will provide you with higher refresh rates and higher resolutions than an HDMI port can, while both are able to provide audio. Most modern graphics cards will feature both of these ports.
Price vs Value
Like any other product, you will want to compare the prices of different monitors before buying one. Do you need all of the flashy features that a $1,000 monitor could provide, or will your PC benefit more from a $300 monitor?
You should only purchase a monitor that does what you need it to do and one that will work well with your PC. Sure, having an expensive monitor can be great, but if your PC won't be able to handle it, then you'll just be wasting your money.
FINAL VERDICT
That concludes our list of some of the best gaming monitors out there. We hope that you found this review useful and that you've learned more about gaming monitors in general. Happy gaming!