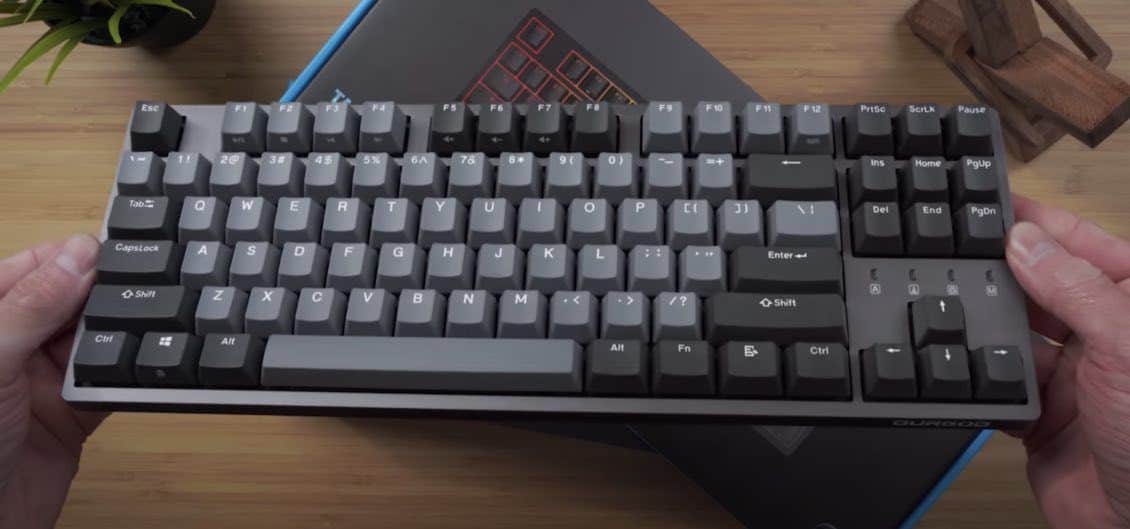 Quick Overview
The Taurus K320 TKL from Durgod is really solidly built with very little keyboard flex and doubleshot PBT keycaps. It's also available with different Cherry MX mechanical switches to choose from. You can also select from various case housing style, keycap colours and between white backlighting and full RGB on the Nebula version. The tenkeyless layout is very practical with standard sized arrow keys, giving you extra space for mouse movement while gaming. Other features include customizable macros, flip-up feet and Cherry MX mechanical switches.
Overall a great TKL gaming keyboard at a price much lower than expected compared to other keyboards of the same build quality and features.
Durgod Taurus K320 TKL Gaming Keyboard 
The Durgod Taurus K320 is a 87-key tenkeyless (TKL) keyboard as opposed to the Taurus K310, which is a full-size keyboard. This means that the K320's smaller form factor is predominantly targeted towards gamers to give them more mouse space for their gaming desk configuration.
I really like the TKL size layout myself since you don't really need dedicated number pad keys, but you still get dedicated arrows keys of standard size which I definitely like. Typically on 60% or 65% layout keyboards there's such a little space that they really have to comprise on sizes of keys and where to fit them in such a smaller compact, but as a TKL keyboard the K320 doesn't suffer from that at all.
Note that the Taurus K320 comes with a variety of colour designs you can pick from. They all comes with white back lighting but the Nebula version includes full per-key RBG colour backlighting.
4 colour design-styles to choose from


NEBULA (RGB BACKLIT)
SPACE GREY
WHITE
BLACK
To be honest, I actually developed a little bit of a crush while reviewing the Taurus K320.  Sure, it's got all the usual things I look for in a more premium type gaming keyboard but I enjoyed it mostly for the clean functional design, doubleshot PBT keycaps, dampened switches and 2-step height adjustable rubber feet for the best angle. 
It's full of the usual gaming features like true RGB backlighting (Nebula model), customizable macros, full programmability, Windows key lock, NKRO and Cherry MX linear switches. The K320 Nebula RGB model is particularly aimed at gamers with it's true per-key RGB backlighting.
Specifications
87 keys
Material: Plastic
Layout: ANSI - US International
Keycaps: PBT doubleshot
Full N‐key rollover ;Anti‐ghosting technology
Supports DURDOD Zeus Engine software
Cable length: 1.6 m (5.2 ft)
Interface: USB (plug and play)
Dimensions: 14.8 x 5.2 x 0.9 in (37.5 x 13.2 x 2.4 cm)
Weight: 1.98 lbs (0.9 kg)


What's Included in the box?
Besides the keyboard itself and instruction manual, you get a few extra's included in the box. There's a dust cover included which is quite handy. You also get two usb cables, a Type-C to Type-C and a Type-C to Type-A USB cable. And then lastly a keycap puller that let's you replace the standard Cherry MX switch kepcaps.
Durgod K320 Mechanical Keyboard
Instruction manual
Dust cover
Type-C to type-C USB cable (3.3 ft ; 1m)
Type-C to type-A USB cable (5.9 ft. ; 1.6m)
Keycap puller
Overview of Features
The keyboard is compact, minimalistic in design with white LEDs on top of the cherry switches to light up the keycaps. The White or RGB LEDs, depending on the version, shines really well through the Doubleshot PBT keycaps.
Thanks to full N-key rollover and anti-ghosting technology, you won't have to worry about keypresses going 'missing' when rapidly pressing the keys. You get the standard and dependable OEM profile with keycaps that have the usual slanted rows and slightly concave surfaces on the top.  
Build quality
The Durgod K320 is built better than most keyboards at this price range. The body is made of plastic but the base is made of steel and has almost no flex at all. Consequently the board has a solid weighty feel to it when lifting it.  
Ofcourse the replaceable Doubleshot PBT keycaps are made to last aswell and won't fade easily., unlike ABS keycaps used on some other keyboards. It's also a great touch to have the USB-C connection strengthened by small notches on both sides of the connector port when you plug the USB cable in.
K320 Cherry MX mechanical switches

The Durgo Taurus K320 TKL is a mechanical switch keyboard. Mechanical switches are generally preferred by gamers because they usually give you feedback when pressing the keys which means you don't need to push the key down all the way to the bottom to know it's registered the command. This makes it faster for gamers where split second timing can be the difference in winning or losing.
The K320 comes with quite a wide variety of quality Cherry MX mechanical switches to choose from. For example a Red switch is linear with no bump feedback and a lower actuation point making them more responsive, whereas Blue switches are tactile and clicky and a higher actuation point giving them physical feedback but a little slower triggering on keypress. 
Cherry MX brown on the other hand is a balanced blend of the two and often preferred by gamers looking for something in the middle of the two (physical keypress feedback with some speed). On the other extreme you have the Cherry MX Speed silver switches that are very responsive at only a 1.2mm actuation point and no tactile feedback. This means even the lightest touch will trigger the key command, and more and more gamers are going for this switch to try get an edge, especially in FPS games like fornite, Apex legends, PUBG and CSGO etc.
Each MX switch has features that make it good but you'll need to weigh up its characteristics to match your preference.
Comparison - Cherry MX switches offered with Taurus K320 TKL
| | | | | |
| --- | --- | --- | --- | --- |
| | | Cell | | |
| | | | | |
| | | Cell | | |
| | | Cell | | |
| | | Cell | | |
| | | Cell | | |
| | | Cell | | |
| | | Cell | | |
| | | | | |
Height adjustable
It includes flipout kickstand underneath with rubber ends to stop the keyboard from sliding around, and can be adjusted to two different heights using the half step.
This means you can get the keyboard at the height and angle that's most comfortable for you and best suits your playing style. Cable neatness is also catered for with the built-in cable routing grooves underneath keeping your gaming desk area tidy.
Software customization
The Durgod as with most of it's keyboard uses the Durgod Zeus Engine to let you to customize any keys. This means you can change the back lighting colours, change key positions, program macros etc.
With the Durgod software you can:
Remap any keys
Record key combination
Setup Macros
Customise the Multimedia Key
Launch Application
Disable any key
Video Review - Durgod Taurus K320 TKL gaming keyboard
Alternative
Glorious Modular Mechanical Gaming Keyboard
The Glorious GMMK modular TKL keyboard is a good alternative option with many similar features but also includes hot swappable switches - very useful and cheaper if you want to try a different type of mechanical switch design. It also has similar features to the Durgod K320 TKL including full n-key rollover (NKRO), doubleshot ABS keycaps, macros and programmable RBG backlit keys. The Glorius modular TKL keyboard is equipped with Gaeteron mechanical switches that are similar to the balanced Cherry MX brown switches.
Conclusion
Overall the Durgood Taurus K320  is a  great quality TKL keyboard at a very decent price point for what you get. I really like the various Cherry MX switch options, back lighting and body-design colors you can choose from too, so you can really pick one that  for your taste and gaming style preferences. Throw in all the usual suspects like n-rollover support, programmable macro keys, back lighting and media keys and you've got a great all round gaming performer with the features to support it.
So for me, this is makes the K320 one of our top TKL gaming keyboard picks and a definite buy for those looking for a sturdy gaming keyboard that performs well and is a bit more compact! All at a fairly good price comparative to more premium gaming keyboards out there.