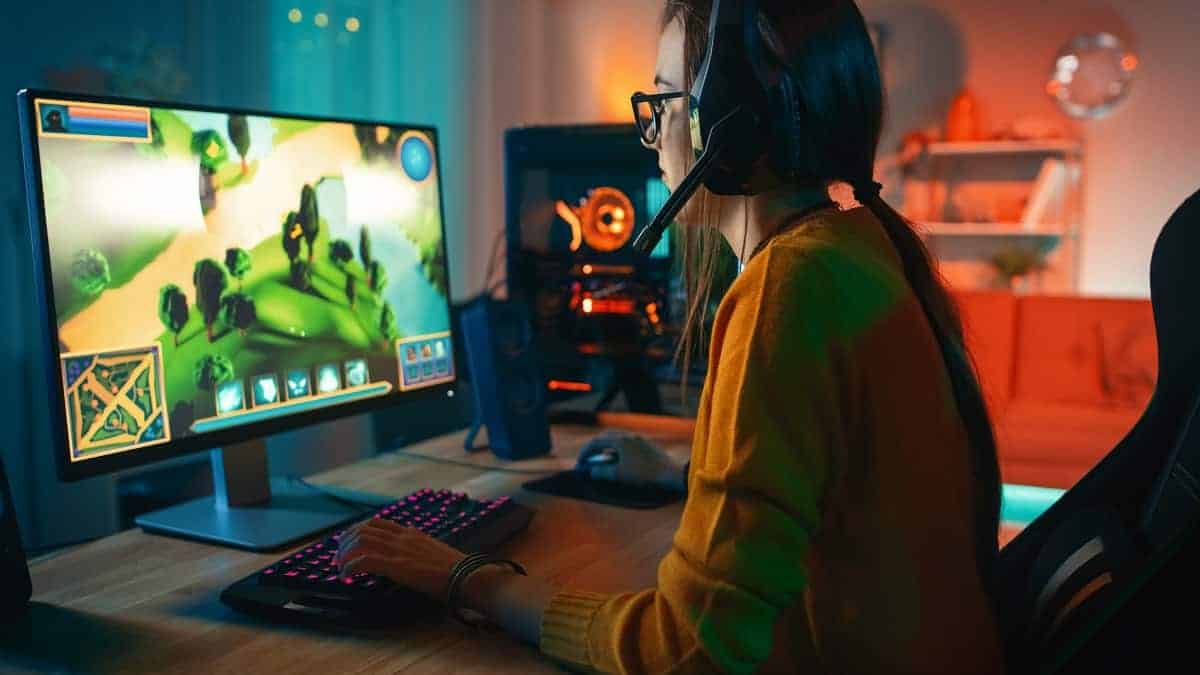 Quick Overview
One of the most essential items to any sort of setup, gaming or otherwise, is a good monitor. It can really make or break your gaming or content-creating experience and is able to completely transform the way you view things on-screen, depending on the monitor's quality and size.
Unfortunately, with so many different monitors out there, finding a good one can be difficult, and when you factor in all of the other components and features offered by many monitors, things get even tricker. But, if you're looking for a great gaming monitor, then you've come to the right place.
We'll be breaking down the Asus ROG Strix XG43VQ in this article. Read on for the full review of this monitor to see if it is right for your needs and budget.
Asus ROG Strix XG43VQ Gaming Monitor
Super ultra-wide gaming monitors are a rather niche category of monitors and are generally best used for playing racing games, single-player titles, and flight simulators, if you're into that sort of thing. There are plenty of monitors out there that can provide gaming with black bars and, theoretically, could display any in-game resolution you desire while still providing enough screen space to do other tasks.
The Asus ROG Strix XG43VQ is a super ultra-wide gaming monitor that has been anticipated by gamers around the world for quite some time now. In the past, Asus has brought out plenty of fantastic gaming monitors, but not many people purchase their super ultra-wides.
This model ticks a lot of boxes for a lot of gamers, at least on paper anyway. So let's see what it has on offer.
Who is This Monitor for?
Of course, this is a gaming monitor and would thus be best used by people who enjoy gaming, either on a dedicated gaming console or a high-end PC. It provides an exceptional angle of viewing and lets you scope out the entire battlefield, racecourse, or skies.
However, just because this is a gaming monitor does not mean it cannot be used by non-gamers. It would be an excellent option for those who are in the field of content-creation and who rely on a high-definition image to provide their viewers or watchers with HD content.
It's great for creating and editing videos, editing photos, and creating all other kinds of content, as well as for gaming. Needless to say, this is quite a versatile monitor, capable of performing a variety of functions to satisfy many different needs.
What's Included?
When you get your Asus ROG Strix XG43VQ in the mail, we wouldn't blame you if you mistook it for a refrigerator or bike while still in the box - this is quite a hefty monitor. It comes packaged fantastically, and we'd be surprised if yours arrived with even a single scratch or crack.
The monitor boasts the same toothless design that we have come to appreciate from a number of other monitors that Asus produces, and it can be assembled all on your own, even though the panel feels like a large surfboard. The stand is separated into two different parts, and the panel slots onto it without hassle, thanks to the overlapping design that absorbs some of the weight.
The Asus ROG Strix XG43VQ also ships with all of the panels you need to conceal your untidy ports, as well as the connection between the stand and the monitor. You'll also find a box of accessories that contains a USB cable, a power plug, a DisplayPort cable, and an HDMI cable.
Overview of Features
A gaming monitor that is as high-quality as this one has a number of premium features and design points that would be criminal for us not to highlight, particularly when you consider how affordable the Asus ROG Strix XG43VQ is. Asus ROG Strix monitors are generally quite pleasing on the eye, and this one looks like something you'd see in a sci-fi movie.
Asus has built up an expectation of exceptional build quality, and even their low-end monitors are built to last you a while. The Asus ROG Strix XG43VQ excels in the build-quality department, and every part of this monitor feels well-built and sturdy. The casing that envelops the panel is made of a robust plastic that does not give at all.
The base of the stand is made mostly from metal and has a nice heft to it, which offers full support of the panel, and fantastic distribution of weight. Despite being remarkably wide, the stand won't take up as much space on your desk as you'd think.
While the thin bezels are to be expected at this point, they add a lot to the Asus ROG Strix XG43VQ in terms of overall appearance and aesthetics. And, when it comes to connectivity, this monitor has all of the standard ports that you need to connect all of your devices and peripherals.
Asus' OSD is always user friendly, and it's no different on this monitor. The only difference on the Asus ROG Strix XG43VQ is that it has been simplified, and now everything can be done using a single button, which feels very large, and makes it easy to flick through all of the different menus.
Visually, the stand on this monitor is one of the better ones on the market and is one of the best out there. There are plenty of accommodating adjustment features that allow you to position the Asus ROG Strix XG43VQ in a number of ways to optimize your gaming experience however you see fit.
How to Get The Most Out of Asus ROG Strix XG43VQ Gaming Monitor

Setting up the Asus ROG Strix XG43VQ should take you about 15 minutes at most, from box to desk. The stand attaches nicely and easily to the monitor itself and has a secure feeling that will give you that sense of safety you want from your monitor.
You can begin using it right away without adjusting any of the settings, but you're probably going to want to make a few changes to the aspect ratio to ensure that your games are being viewed properly. If you don't, you may get picked off by an opponent who was just out of view when they could've been in plain sight, ready for you to thwart them.
We highly recommend viewing this video below to see a full unboxing of the monitor, as well as a great way to set it up.
Alternatives
If the Asus ROG Strix XG43VQ doesn't tickle your fancy, then there are a couple of alternatives that just might. We have given a brief overview of them below.
Sceptre 35 Inch Curved UltraWide
The first is this 33inch monitor from Sceptre, which is also an ultra-wide monitor, though not quite as large as the Asus. It comes equipped with AMD FreeSync, which allows you to enjoy seamless, on the spot movement and smooth video so that you can be on the top of your fast-paced action games.
It comes with anti-flicker technology, providing you with a picture that is far crisper by preventing the periodic flickering of the backlight that can ruin the gaming experience for most people. It has an exceptionally fast response time so that you can make split-second decisions and take action in the blink of an eye, giving you a tactical advantage in every game you play.
The best part? The display can be tilted both backward and forward, which lets you find the sweet spot that bridges the gap between comfort and clarity. This is a great monitor with many adjustment features and is perfect for gamers.
LG 34GP83A-B 34 Inch Curved Monitor
Slightly smaller than the Sceptre, this monitor from LG is perfect for gamers that are not looking for a massive, clunky monitor but still want the added benefit of curvature. It includes some of the latest specifications, hardware, and ergonomic design features to provide you with a sleek and sensory gaming experience.
Like the Sceptre, it comes equipped with AMD FreeSync Premium, letting you experience fluid movement without any stuttering or drops in your frame rates. Additionally, Dynamic Action Sync gives you the closest thing to real-time gaming out there, allowing you to respond to every moment in your games with minimized input delay.
Finally, the Black Stabilizer enhances the darkest areas of your game to make them more visible. Many games have shadows and dim areas that are just too dark to play - Black Stabilizer remedies this and makes the darker areas not lighter but more visible, enhancing your overall gaming experience.
Wrapping Up
If you enjoy immersive games that swallow you in, then the Asus ROG Strix XG43VQ will be the perfect complement to your gaming setup. And, with all of its adjustability features and options, you'll be able to get the exact gaming and sensory experience that you're after.