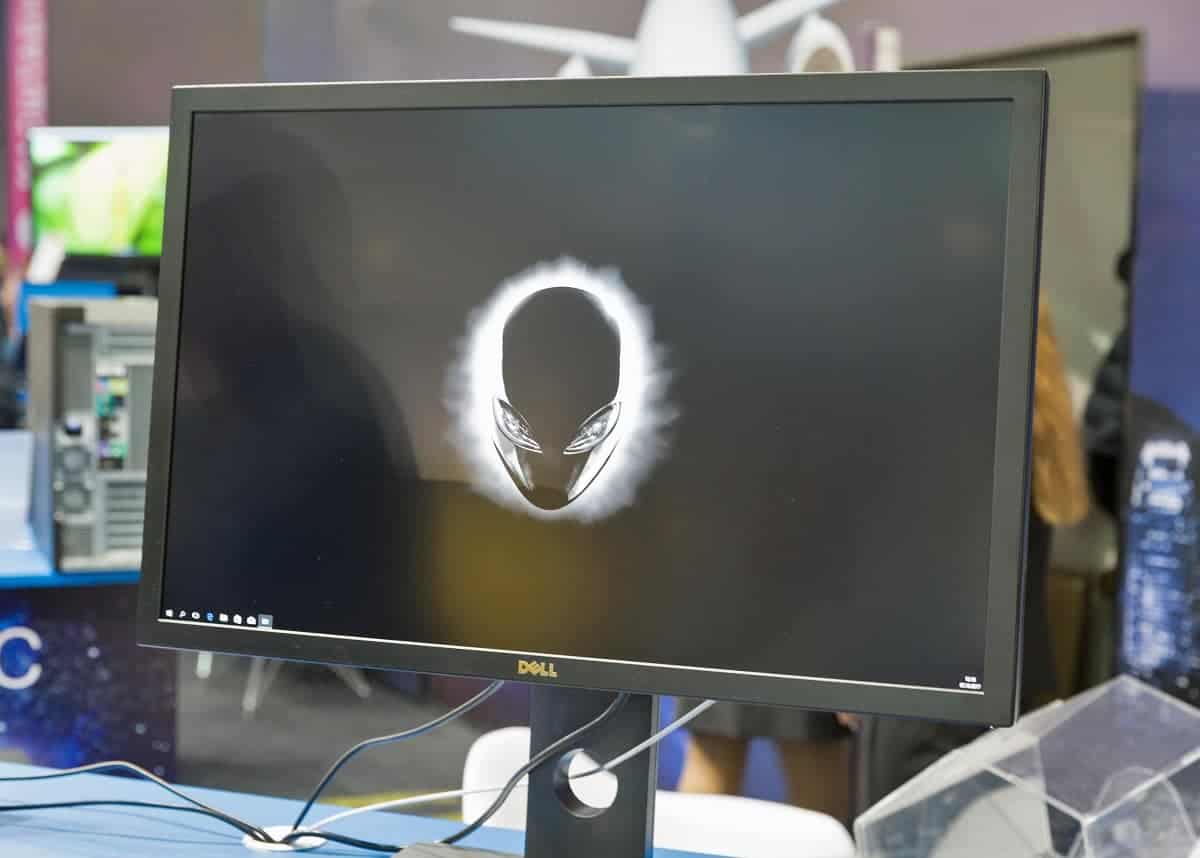 The single most important item for professional gamers, other than a graphics card, is a gaming monitor. Knowing this, leading brands such as Acer, Asus, Dell, and Razer are doing their best to offer great value at reasonable prices.
As we are individuals highly interested in tech innovations and high-quality products, it was quite interesting to look for great monitors that are worth the money. The few factors that we took into consideration are response time, refresh rate, resolution, and overall connectivity.
The result of our research is a list of the best Dell gaming monitors, including both budget-friendly and high-end ones. Let's get started!
Comparison Chart
| | | | | |
| --- | --- | --- | --- | --- |
| Alienware AW2521HF Monitor | | Best 1080p FHD Dell Monitor | | |
| Alienware AW2720HF Monitor | | Best 2k 240hz Dell Monitor | | |
| Alienware AW2721D Monitor | | Best Overall Dell Monitor | | |
| | | | | |
| Alienware AW5520QF Monitor | | Best Extra Large OLED Dell Monitor - 55inch | | |
| Alienware AW3420DW Monitor | | Best Ultrawide Dell Monitor | | |
DELL Gaming Monitors Reviews
Alienware AW2521HF Monitor
We started off by searching for a product that offers stable performance and doesn't come at an incredibly high price. This Alienware monitor is set at 25 inches in diameter and highlighted by FHD 1080p resolution, which should satisfy most gaming needs. While it is not QLED, the LED technology still goes a long way when it comes to making your experience more vivid.
Review
Upon first inspection, we were impressed by the attractive design - coming in the form of dark grey, it is quite easy to fit into different gaming setups. We found that it is highlighted by an explicit cooling system. It features fans at the bottom, rear, and sides to support optimal ventilation and eliminate any possibility of overheating (even during high-res gameplays).
It is the IPS technology that plays an essential part in supporting fast and immersive performance. Allowing a refresh rate of up to 240Hz, we found that this monitor can easily stand up to par with pricier models. Not only that but if you are like us, annoyed by ghosting that is present in most cheap monitors, then this Alienware 25 can truly go a long way.
Highlighted by a response time of 1 ms, we were quite impressed with its ability to present high-quality clear images even while playing games that require the latest graphics cards. Most importantly, this isn't just if you are looking from the front angle but rather from any side, as the IPS technology allows you to enjoy perfect image quality from any point of view. Talking about the gaming experience we had, another important is the sRGB color coverage.
We didn't worry one bit about missing out on something like the color system that this product offers as it covers more than 99% of the existing arsenal. When it comes to optimal visual performance, the fact that we were able to effectively synchronize this monitor with the latest graphics cards made it much more reliable and relevant. As for the connectivity, AMD FreeSync Premium and NVIDIA G-SYNC allow versatile options.
When it comes to what we are concerned about, there are two specific details. Firstly, although the stand is quite sturdy and something that you can trust, it is a bit too heavy and protruding. Additionally, this monitor doesn't have built-in speakers, which is a shame considering the picture quality that it presents.
Overall, while there are a couple of improvements that we would like to see, the Alienware 25 AW2521HF is certainly worth its price and something that we had a lot of fun with.
Alienware AW2720HF Monitor
In the past couple of years, there has been a variety of new monitors released. One of the most interesting was Alienware AW2720HF, which is the main reason we decided to try it out. The Lunar Light design and an aspect ratio of 21:9 were the points that got us most excited, along with the superb resolution that the manufacturer advertised. Here is what we found out.
Review
A bit larger than the aforementioned product, this monitor is set at 27 inches in diameter, which is ideal for gaming. The resolution is FHD 1920x1080p and supports 4K resolution, allowing us to engage in playing high spec games such as GTA V, Red Dead Redemption 2, the latest Call of Duty, and Battlefield titles.
When we compare it to monitors released a couple of years ago, this model is quite impressive. The 240Hz refresh rate that it offers goes a long way to prevent ghosting and allows you to enjoy your favorite game without any lags and blurs. The common average refresh rate is set at 120Hz, which means that these specifications are much above that and not for a huge price difference.
While we aren't professional gamers, we do see how this could help those excel in their performance. It is widely known that proper equipment is at least 50% of success, so a monitor such as this should be considered. The most important point in allowing optimal experience is the ability to sync the graphics card with the monitor, and that can be done through the AMD Radeon FreeSync.
Another important detail is the 1 ms response time that allowed us to enjoy gaming with clear and high-quality images.
We were quite impressed with the Lunar Light design not only because it is quite attractive but also for the sound buttons and joystick controls that are set throughout the monitor. This will allow even those less experienced with gaming monitors to get the most out of this product.
Our main concern is that the sRGB color coverage of this product is simply lacking. In our opinion, the monitor is too bright, and that can be quite distracting. Still, the price for this model is quite reasonable, and for that reason, we consider that the Alienware 27 inch is worth trying out.
Alienware AW2721D Monitor
Moving on with our list of the best Dell gaming monitors, we wanted to try out models that are set on the pricier side. While this Alienware product isn't for those on a tight budget, it is advertised to offer superb performance for professional gamers, which is the main reason why we decided to try it out. Highlighted by a screen size of 27 inches (in diameter) and 1440p QHD resolution, it offered huge potential in terms of fast and reliable performance.
Review
The first thing that we were interested in when it arrived was whether it is able to stand up to the high price with its anti-ghosting performance. Fortunately, offering a refresh rate of 240Hz, there wasn't a lot that we needed to worry about. Frankly, our gaming experience with this monitor was quite spectacular as we didn't experience more than a few lags.
Unlike most other monitors that you will get tired from just looking at, this model is highlighted by flicker-free technology. This goes a long way when it comes to providing necessary eye comfort and reducing strain. We personally enjoyed this feature, and we do suppose that professional gamers will benefit even more from it (hours of continuous sessions).
In terms of the image quality, it was able to stand up to more affordable models. Firstly, it was the QHD 1440p resolution supported by innovative VESA DisplayHDR 600 that is responsible for an optimal visual experience. The fact that it removes any dead pixels goes a long way when it comes to having loads of high-quality fun. This is also accompanied by fast-color IPS technology that ensures optimal coverage and allows you more control over the brightness levels.
There is also a set of built-in audio speakers that may not be as good as stereo ones but still provided us with clear and precise sound. As for the design, the 4-sided construction is quite important in terms of allowing you to have the same visual experience from different points of view. Still, the fact that there is a fan in the monitor is certainly not something that we were most impressed by as it messes up the picture from time to time.
Overall, you are looking at a pricey yet very powerful gaming monitor that covered most of our needs.
Dell  S2417DG Monitor
Getting back to more affordable monitors but still allowing great performance, we present you the Dell Gaming Monitor S2417DG. It is highlighted by an aspect ratio of 16:9 and set at 24 inches in diameter, which we considered fine looking at the price. The resolution is QHD 2560X1440p, something that can certainly satisfy the requirements of the newest video games.
Review
To be honest, the point that we were most excited about is the aforementioned resolution. It is because QHD is widely acclaimed as much more reliable and detailed than regular HD. This monitor proved that to be true as we tested multiple games on different monitors and found this one to offer not only great quality but also visual depth. This is supported by a contrast ratio of 1000:1, which does contribute to a more realistic gaming experience.
While we were testing it, we noticed the preset modes allowed us explicit freedom in our experience. Among these are the RPS and FPS tailored according to the presumed needs of a professional gamer. The best thing about it is that you can easily adjust the contrast and brightness, and ensure that this monitor meets your preference. The response time of this monitor is 1 ms while the refresh rate is 165Hz, both contributing to the reliable and fast performance.
Dell is one of the leading names in this sphere; hence we weren't surprised with the quality of construction as well as the support that they provide. Thus, in case anything goes wrong with your monitor, as long as it is related to a manufacturer defect, you can replace it in a time frame of 3 years. Additionally, this monitor can be connected with all operating systems, including macOS, Windows, and Linux, which makes it suitable for versatile use whether you are a professional gamer or someone who simply enjoys high-quality visuals.
Highlighted by a flicker-free technology, we didn't have issues with eye strain or discomfort, which is quite common for cheaper gaming monitors. The concern that we have is related to color coverage. Although it is advertised to sRGB gamut of 16.7 million colors, that isn't the case. We did notice that when it comes to ultra bright or ultra dark colors, this monitor does have a tough time.
The monitor height is easily adjustable from 14.33 inches to 19.44 inches. Finally, we were quite satisfied with the ability of this monitor to present clear and high-quality images. Although there is room for improvement, for the given price it is a great choice!
Alienware AW5520QF Monitor
With video games posting higher requirements in terms of GPU and resolution, it doesn't come as a surprise that leading brands are coming out with outstanding monitors. Such as this Alienware product that is standing at 55 inches and is highlighted by an impressive 3840x2160p. These were the main reasons why we were ready to break our budget and put it into practice.
Review
The main reason why OLED technology is so good is the individual pixel lighting as well as the ability to control the contrast. Not only is this monitor advertised to offer superb visuals, but we found that it stands up to its reputation supporting 4K resolution. Frankly, we have never had an opportunity to engage in such a vivid gaming experience like this one.
When it comes to its anti-ghosting performance, we didn't have a lot to worry about as there are a couple of features to support it. The first is the 120Hz refresh rate, which is quite reasonable given the fact that this monitor provides a much higher resolution than the models mentioned above. Additionally, AMD and NVIDIA G Sync both go a long way when it comes to connecting this monitor to a graphics card and thus reducing potential image tearing.
It is also highlighted by low latency that works with the response time of 1 ms to offer explicit performance. What we were most impressed by is that although standing at 55 inches, we didn't have to worry whether it will withstand continuous use. Frankly, the stand is quite sturdy, and most importantly, you can adjust the position of the monitor to get the best visual experience from different angles.
We enjoyed the audio quality that the Alienware 55" provided, and that isn't common for gaming monitors in general. It is safe to say that apart from the incredibly high price we don't have anything against this product. Thus, if you are a professional gamer and working with a flexible budget, a monitor of this type will definitely do the trick.
Alienware AW3420DW Monitor
At the end of our review, we have decided to present a curved gaming monitor that stands at a reasonable price and offers much better performance than your usual 34-inch monitors. With a resolution of 3440x1440p and a reliable LED display technology, there wasn't a lot that we were concerned about.
Review
Given the fact that this monitor is advertised to be the perfect solution for professional gamers that want an immersive experience, we were quite excited to test that. Apparently, it is the 1900R curvature supported by an aspect ratio of 21:9 that is responsible for such vivid visuals. We had the same conclusion no matter the perspective that we looked from.
Along with the resolution of 3440x1440p and refresh rate of 120Hz, it puts fast and reliable performance in the box. It was great to see that there weren't any dead pixels or blurs. Still, we would make improvements to the color range that isn't as vivid or wide (DCI-P3)
As the most important point of any gaming monitor is that it allows anti-ghosting gaming, we were quite satisfied with the Alienware 34". The response time of 1 ms can't get much better, and it ensured that we had a clear and tear-free visual experience. The NVIDIA G Sync also plays an important role in this field because it virtually connects the graphics card with the monitor for top-notch performance.
Thus, apart from the sRGB that is lacking when you compare this monitor to others in the same price range, we were quite happy with what we got for the given price.
Related: Best Curved Gaming Monitors
FINAL VERDICT
At the end of the day, we can confidently say that all of the aforementioned products are worth their prices. When it comes to a model that can suit the needs of any professional, the Alienware AW2721D is a choice that you can't go wrong with. Spectacular visuals, an anti-ghosting experience, and high-quality audio are all points highlighting this product.
On the other hand, it is quite pricey, which can be an issue for most people interested. As a substitute, we would suggest the Alienware AW2720HF Monitor that does stand at a much more affordable price and is able to offer performance in accordance with the latest industry standards.