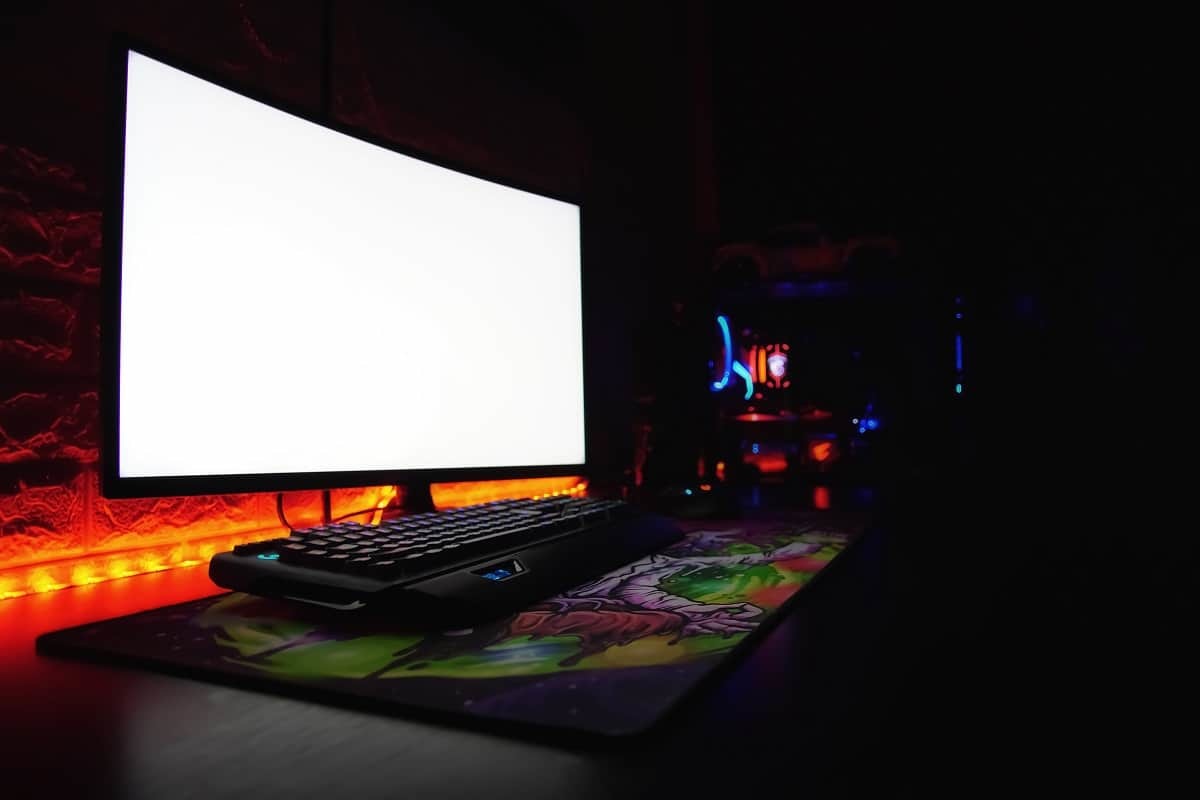 Quick Overview
As someone who enjoys playing games, you probably know the importance of a high-quality monitor. It plays an important part when it comes to presenting you with the best resolution and an immersive gaming experience.
Knowing this, many leading names including Razer, Samsung, Sony, LG, Asus, and Acer are doing their best to offer powerful monitors for a fair price. We did some market research and found the Acer Predator X35 to be one of the most impressive models out there.
While the price tag is quite high, the innovative features and spectacular resolution seem to justify it. Throughout this article, we will do our best to cover its main features, what comes with the package, and its pros and cons. So without further ado, let's get right into the reviews.
Acer Predator X35 Gaming Monitor
Acer is one of the most recognized brands when it comes to gaming equipment, including computers, keyboards, and monitors. This model is 35 inches wide and rocks an 1800R curved display, which is considered to be the best solution for professional gamers who want to have a crisp and clear viewing experience from whatever angle they are looking. Among the many spectacular features, the NVIDIA G-SYNC and the zero-frame display play an essential role in ensuring that you enjoy a tear-free performance.
As we have mentioned above, the Predator X35 is pricey, but considering the structure, contrast, brightness, and resolution of the images and video, it is a worthy choice. Most importantly, although it is quite big and weighs around 24 pounds, it can be easily mounted to a wall for added convenience. With this in mind, we will move on to what comes in this offer. We will also discuss the highlighted features of this superb monitor.
Who is This Monitor for?
This monitor is perfect for professional gamers thanks to its resolution, ultra-wide display, and spectacular refresh rate (200Hz). Also, if you are someone who is in the eSports business, investing in a product of this quality can pay off in numerous ways.
On the other hand, it isn't exclusive for people who are gamers, as the Predator X35 is also an ideal choice for those who enjoy spending time at home watching classic movies and popular TV shows. Lastly, it can also be used as an office monitor, especially if you are someone who deals with graphic designing and programming.
What's Included?
Given the high price tag that this product comes at, you would expect it to come with fancy accessories. Apart from the monitor, the first thing that you are getting is an instruction guide that is incredibly detailed when it comes to explaining the different installation and mounting options, as well as the many functions of the Predator X35.
Along with that, there are a couple of integrated ports, including one display port v1 4.1, an HDMI 2.0 port, an Audio-Out port, and four USB 3.0 ports. You will get the necessary cables, as well. Additionally, there is a desk stand and a bracket in case you want to mount the monitor on a wall, allowing for customized setup and functionality.
Overview of Features
The first thing that we want to discuss is the innovative design that this model is highlighted by. You are looking at a 35-inch QHD ultra-wide monitor that features LED display technology and 3440x1440p resolution. As we have mentioned above, it offers the NVIDIA G-SYNC option, which goes a long way when it comes to preventing lags and ensuring that the transmitted video/image is tear-free. Not to mention, the zero-frame display also plays a part when it comes to anti-ghosting and having an immersive gaming experience.
Talking about the structure, it is an 1800R curved display that features a 21:9 aspect ratio. This is considered to be ideal for supporting high-resolution, optimal performance. It offers superb contrast and brightness that you will be able to adjust depending on your personal needs. Keep in mind that the display is VESA-certified and HDR 1000, which further contributes to the quality of the image you will be looking at.
You are probably wondering whether the performance it offers can compete with the priciest monitors on the market. Absolutely! The response time is 2ms, which is very impressive given the 3440x1440p and zero-frame display that it provides. Additionally, the refresh rate is superb, standing at 200Hz, which is the most that any gaming monitor offers. The NVIDIA G-SYNC can be activated by connecting the monitor through the built-in display port.
As for how vivid this monitor is, you are sure to be satisfied with the DCI-P3 90% color gamut, as well as a 10-bit Quantum Dot technology that is responsible for millions of colors that are being displayed by this monitor. Not to mention, there are more than 512 dimming settings, as well as an RGB light-sense mode in case you want to create a more attractive environment.
It is ideal for gamers because it has at least eight different gaming modes that you can choose from. Also, a visual experience wouldn't be anything on its own, for which reason Acer included two, powerful, 4-watt speakers.
Most importantly, you will have full-on freedom when it comes to adjusting the position of this monitor to your liking. Yes, you can easily mount it to a wall by following the detailed instructions or have it set on the featured mount, which can rotate left/right and allows for up/down repositioning. Given how impressive it is from both a structural and a performance standpoint, our main issue is the high price. It is quite a shame that those on a tighter budget won't be able to afford it. Also, there is a bit of fan noise, but for most people, it shouldn't represent a problem (all G-SYNC monitors produce some noise).
Still, for anyone who is looking to make a long-term investment and get spectacular graphics, the Acer Predator X35 is the right choice!
How to Get the Most out of Acer Predator X35 Gaming Monitor

While this monitor is made according to the latest industry standards, as can be seen in the impressive design and high refresh rate/response time, it is quite simple to use. The first thing that you will want to do is decide whether it will be standing on your desk or mounted to a wall.
Once you have done that, connect all the relevant cables through the built-in ports to activate the NVIDIA G-SYNC feature, which is essential for anti-ghosting and ensuring lag-free performance.
We were quite impressed with the control that you will have over the contrast/brightness, as well as the eight featured gaming modes that you can choose from depending on the title that you are playing. Lastly, you can adjust the RGB light and adapt it according to the looks of your gaming setup.
Alternative
If the above model is not quite what you are looking for, then take a look at the alternative offered below.
Acer Predator X34 Gaming Monitor
There is no doubt that the gaming equipment manufactured by Acer is of the utmost quality. For this reason, if the Predator X35 is a bit too expensive for you, the X34 stands as a fantastic alternative. First and foremost, it is highlighted by a similar design given the 1900R curvature display and the impressive 3440x1440p resolution.
It doesn't feature the audio port that is present on the aforementioned product, but apart from that, the connectivity and compatibility are almost the same. It offers NVIDIA G-SYNC and a refresh rate of 100Hz, which is crucial when it comes to anti-ghosting. When it comes to the brightness and contrast, this monitor is highlighted by a 6-axis color, as well as a 100% sRGB gamut for ensuring that what you are getting is an immersive visual experience.
What we were most happy to see is the Blue Light Filter, ComfyView, and Acer Eye-Protect Flicker Less, all features that should provide relief and allow you to sit by your computer for hours without dealing with heavy eye strain. Still, we have to say that the response time of 4ms could be better, but for the price that this product comes at, it serves its purpose.
Wrap Up
We did our best to do justice to the Acer Predator X35 by discussing its highlighted features, as well as advantages and disadvantages that you may be subjected to. At the end of the day, it all comes down to how flexible your budget is, as well as whether such high performance is something you need.
We can say with confidence that for any professional gamer or graphic designer, a monitor such as this one will revolutionize their visual experience and allow them to step their game up! But if you find that it is not quite what you are looking for, the alternative we offer above may be more in line with what you need.