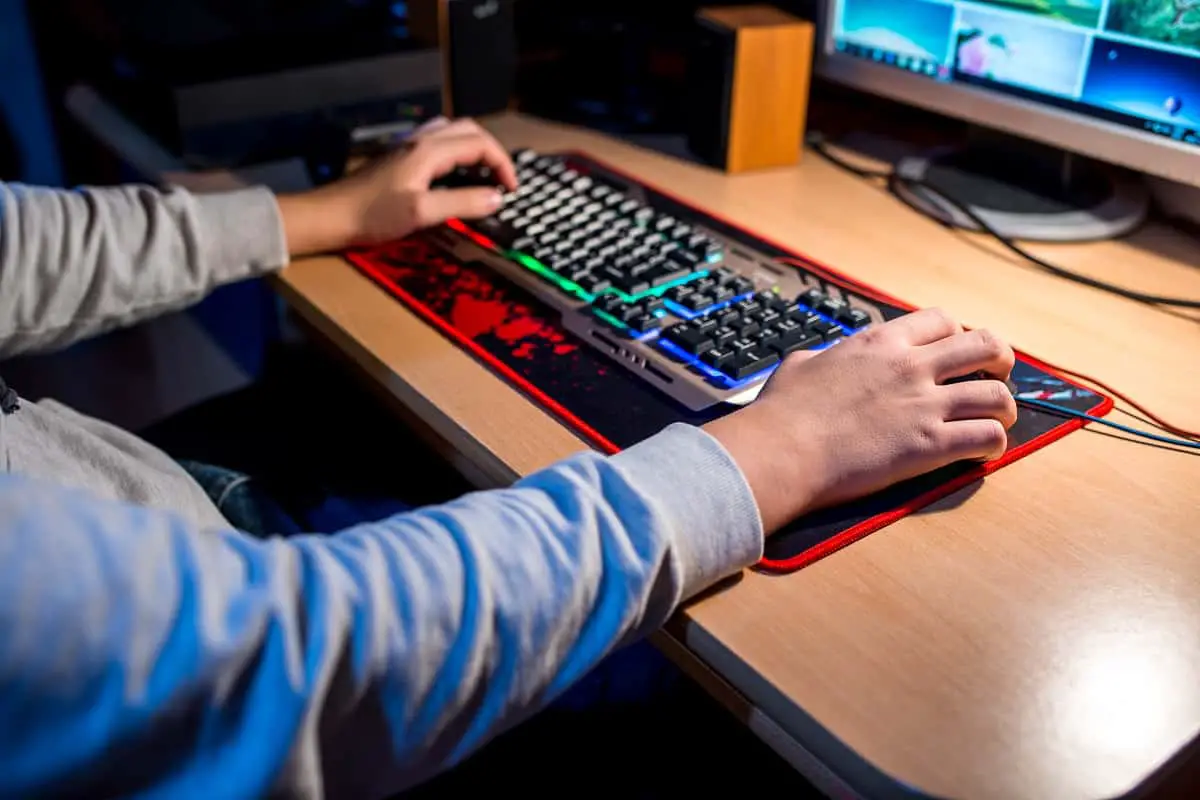 I still have my trusty Logitech G910 Orion keyboard, and it works just as well today as when I first bought it. And if you're looking for the best gaming product, then Logitech is definitely a brand to consider. After all, Logitech is one of the most popular and trusted brands in computer, mobile and gaming tech - this includes some great gaming keyboards.
Our Top Choices!
Want to skip all the reading? Then these are the ones we recommend buying.
The best Logitech gaming keyboard is the wireless Logitech G915 LIGHTSPEED. This model comes in both a TenKeyLess (TKL) and full size layout offering linear, tactile and clicky mechanical switches. On the other hand if you prefer a wired gaming keyboard then the Logitech G513 backlit mechanical keyboard is your best option.
To make your job easier, I've put together a list of my top pick Logitec mechanical keyboards below.
Comparison Chart
Logitech G915 Wireless Tenkeyless (TKL)

Mechanical
(Low profile Tactile, Linear or Clicky)

Logitech G Pro wireless TKL

Logitech G910 mechanical keyboard

Mechanical
(Cherry MX Red)

Logitech G413 backlit mechanical keyboard

Logitec G513 backlit mechanical keyboard

Mechanical
(Romer G Linear)
Best Logitech Gaming Keyboard Reviews
Logitec G915 Lightspeed TKL
[Best Premium Wireless]
This is one of Logitech's best sellers. A wireless keyboard in the more compact TKL form factor targeted squarely at gamers that want a premium experience.
Review 
I like the TKL size which drops the numlock keys and a few others, giving you more mousing space while gaming and making it easier to take with you on the go. The wireless connectivity also didn't disappoint and we couldn't tell the difference in response time between having the cable plugged in versus using it wirelessly while gaming. Battery usage was also really good and we got around 12-15 hours on only 50% battery charge with full brightness and RGB lighting on, so you're looking at getting of 24 hours or more of constant gaming on a full battery. The RGB lighting is also really nice and you can program the lighting on each and every key differently if you wish. You can also pick from clicky, tactile (bump) or linear (no bump) mechanical switches.
The G915 rocks! Being a low-profile and super fast wireless gaming keyboard that's nice and compact - It's ticks a lot of boxes.  However, if you're not too worried about getting an older wireless TKL Logitech model, then the  Logitec G Pro mentioned further down is also a good option.
Logitech G Pro Mechanical Gaming Keyboard
[Best Mid-Range Wireless]
If you want to save space in your computer gaming area, then this is the best Logitech gaming keyboard for you. This is the very first Logitech keyboard to be called "Pro" and it's a clear message that this is a good choice for professional gamers. Logitech has since launch the newer wireless G915 Lightspeed TKL keyboard but the benefit of the similar Logitec G Pro keyboard is that it's now available at a lower price.
Review
If you look at the design off-hand, you will notice it is missing a number pad. While for some the number pad is useful, especially for typists, clerks or other normal day-to-day jobs, many professional gamers are beginning to recognize that number pads are not necessary when gaming.
Since the number pad is insignificant when playing a game, the size of the Logitech G Pro provides more space for their mouse to move around, contributing to a more efficient gaming experience. With a small size of 14.2 x 6.0 x 1.4 inches, the sleek and attractive design is something that you may want to try out. It comes with a detachable and braided micro-USB cable that is convenient when bringing the keyboard elsewhere.
When it comes to gaming performance, it does not fall short, despite its size. The keyboard uses a Romer-G type switch which is fairly quiet and stable. It is responsive and comfortable to use. But because this is categorized as a gaming keyboard, it is built to withstand rapid typing or hard finger depressions. The keyboard is made with a steel backplate to add more stability and durability, especially when you are in a game.
The G Pro comes with customizable RGB lighting to help you keep track of your scores or stats plus you can program the F keys so they can serve as macro keys during gameplay.
Logitech G910 Orion Spark RGB Mechanical Gaming Keyboard
[Best Mid-Range Wired]
If this model does not impress you that much, then perhaps nothing can. The Logitech G910 Orion Spark boasts an innovative design, amazing features, and functions that will make it a logical choice for any gamer to purchase.
You can also read our  in-depth review of the Logitec G910 Orion Spark for more detail.
Review
The thing that becomes noticeable with the Logitech G910 Orion Spark is its enormous size which measures 19.9 x 8.3 inches compared to other competitors. Aside from the size, the keys with the letters are rather huge and have distinct indentations on its side. These indentations provide a good hold on your fingers when you are typing. It also comes with a broad wrist rest for comfort while typing or using the keyboard.
The Orion Spark also has 9 macro keys with 3 profile buttons, a gaming mode button plus a record button. Added to that, there is a backlighting button, plus macro controls for more efficient handling. Also, when it comes to lighting, you can choose to have it pulsating different rainbow colors or just a regular steady blue light, depending on your preference.
The ARX Control App is another added benefit that lets you instantly access in-game data to your tablet or smartphone without interrupting your game. This software is included in the product and is simple to use and very efficient. What's also amazing about the G910 is that it works perfectly well in almost all game genres.
Logitech G610 Orion Red Backlit Mechanical Gaming Keyboard
[Best Budget Cherry MX]
If you are looking for more keyboard gaming options, then Logitech delivers yet again with this G610 Orion model. It's a migrated design of the G810 spectrum model which to some gamers is more cost-efficient but still boosts the maximum performance that they need in their every game.
Review
The Logitech G610 is made to last long. It is made with thick, high-grade plastic materials that can handle any hard beating. It comes with durable Cherry MX Red Mechanical Key Switches for rapid-fire initiation.
This Cherry MX Red Switch features linear travel with a 45g initiation force which is quite impressive. The featured linear travel makes it more silent while the 106 anti-ghosting key protects the user from missing key signals. It has easy-access controls from play, mute, pause, volume adjustment or skipping songs, all of which can be found at the front of the keyboard. It is compatible with Windows 8.1, Windows 8, Windows 7 and Windows 10.
What is amazing with this gaming keyboard is that despite its simplicity it still performs with superb and flawless function whether you use it for gaming or solely for typing.
Logitech G413 Backlit Mechanical Gaming Keyboard
[Cheapest - But Decent]
If you are looking for the mid-range type of Logitech models, then this is the answer to your needs. The Logitech G413 backlit gaming keyboard has competitive features and a reliable design with functional key switches. It comes in 2 specific designs which are the Silver (base is silver with white lighting) and Carbon (base is black with red lighting).
Review
The Logitech G413 is considered to be one of the most appealing mid-range gaming keyboards available in the market. It has an aluminum finish with a borderless design, meaning keys stick out of its body. It is a fairly large, full-size keyboard with 17.5 x 1.4 inches in measurement.
Like most models of Logitech, this G413 has Romer-G switches under its keycaps. Romer-G switches are somehow silent and tactile that can resemble the feel of the Cherry MX Brown. They are fast, comfortable enough and silent when you use them. The USB pass-through is useful enough because you can organize your cables into a groove.
When it comes to lighting, it is clean and precise with a red color through its keycap which provides the right amount of light and is not distracting, especially when playing during the night. However, it is not a full-on RGB lighting so there is only limited set-up.
Logitech G513 RGB Backlit Mechanical Gaming Keyboard
[Best High-End Wired]
If high-end is what you want, then high-end is what you get. The Logitech G513 is one of its high-end offerings for gamers who are looking for the best in high-performance gaming features. It is equipped with Logitech's high quality mechanical key switches to give its competition a run for its money.
Review
The Logitech G513 model is a full-sized gaming keyboard that displays sophistication and impeccable design. It has a metal plate combined with a plastic underbody for strength and durability. The keys look like they are floating and come with a bright RGB LED that shines with every keycap.
When it comes to performance, the G513 has 3 switches that gamers can choose from – the usual tactile Romer G switch, linear Romer G and the GX Blue switches. It also has its usual Logitech software to allow you to adjust the illumination of your RGB, reprogram your keypad buttons, and create different profiles for your games. How amazing are these!
What is new to this model is the fact that it has a USB pass-through which is useful when adding a mouse, other thumb drives, or wireless adapters. Additionally, there is a wrist rest for comfort while you are typing, so your hands don't tire easily.
FINAL VERDICT
Gaming keyboards are very different from normal keyboards that many people use every day. They are designed differently to make sure that they perform at their optimum during gaming. The best gaming keyboard must feature not only aesthetics but durability, speed, and accuracy. They are important in order for you to always be on top of your game, especially if you are a professional gamer.
Logitech really has a lot of gaming keyboard models to choose from. It's no wonder that you will have a hard time choosing what best suits your gaming needs. However, the best Logitech gaming keyboard title goes to the impressive Wireless G915 Lightspeed, with the Logitech G910 Orion Spark a close second because of its user-friendliness, comfort, and impressive design. While it may be a bit hard on the budget, it definitely compensates for this with its performance and durability. It is a reliable and perfect companion when it comes to every gamer's gaming needs.
The added ARX Control App is something that you can look forward to as its benefit lets you instantly access in-game data to your tablet or smartphone without interrupting your game. This software is included in the product and is simple to use and highly efficient.
Next on the list is the Logitech G413. If you find that you are short with your budget then this is the next best thing in mind. What's good about this is that even if it is a bit cheaper, it still performs well just like the other Logitech gaming keyboards. It is still fully equipped with the bare essentials needed by every gamer.
You may not have extra keys or fascinating backlighting but it gets the job done when it comes to gaming. It is reliable, inexpensive and can withstand long hours of battle just like a tank.
Finally, for high-end performance and extra added features, the Logitech G513 RGB Backlit Mechanical Gaming Keyboard will be the right choice. If you have the budget for it, then why not get it. This model really passes the mark with flying colors when it comes to high-end quality.
The typing and gaming experience is managed with finesse and impeccable quality. While it may not make you a champion right away when it comes to gaming, the fact that you will be comfortable and enjoy the game will help you develop into becoming one.
What's more, this gaming keyboard provides an added benefit of having first-hand involvement in your games – it's just like you are really there when you play.
Overall, Logitech should be really proud of their products. Aside from providing various models to choose from, they also make it possible for gamers and other consumers to choose the best fit for their needs. With excellent products that they continually create such as these gaming keyboards, it's no wonder that they are always considered to be the best in the industry.