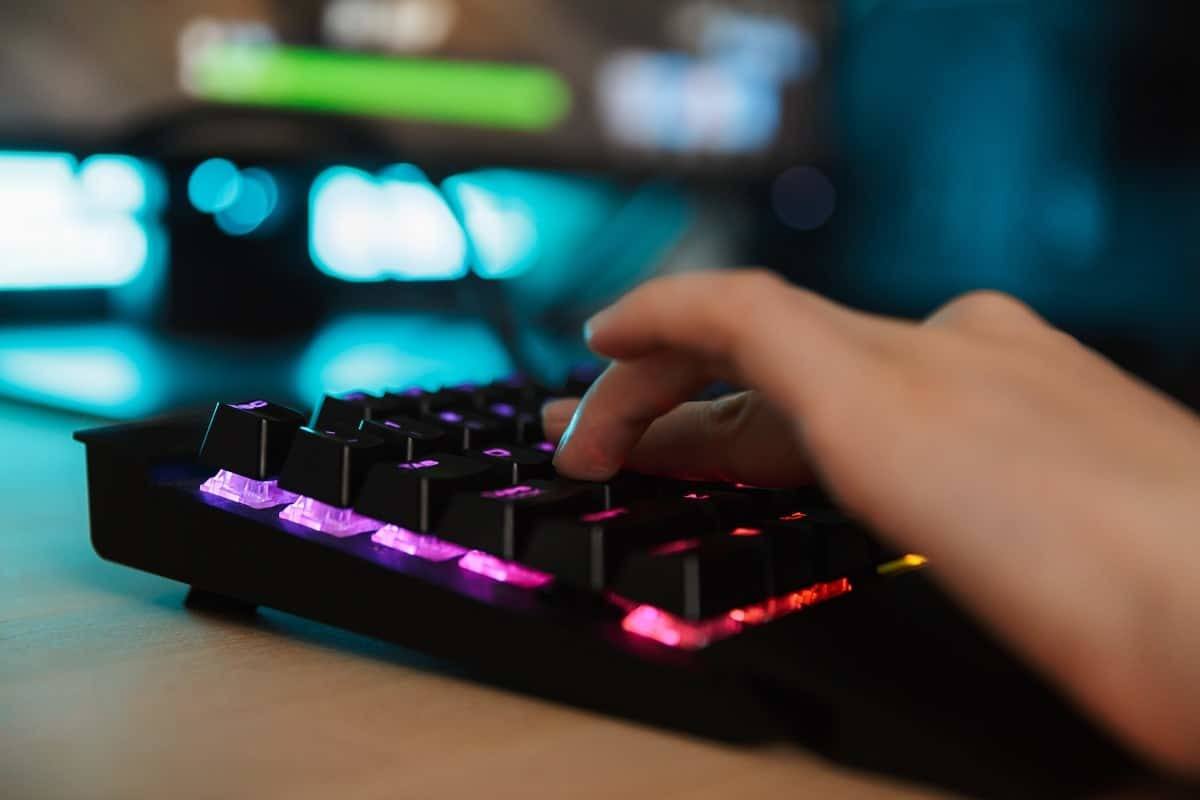 When looking for a perfect gaming keyboard, it's important to pay attention to some essential aspects. In addition to the overall design and layout of a gaming keyboard, you also need to enquire about its hardware and software.
You must look for a gaming keyboard that offers all the essential features, which are capable of enhancing your gaming experience. We will provide you with our Razer Cynosa Pro Keyboard review to help you find a keyboard that meets all your needs.
Razer Cynosa Chroma Pro Gaming Keyboard
The Razer Cynosa Chroma is a perfect option when you are looking for an affordable yet highly responsive gaming keyboard. It offers all the features that are considered essential for almost every gamer.
The keys are soft cushioned and individually programmable, which renders this keyboard a perfect choice for any hardcore gamer. The backlit keys are powered by Razer Chroma, which is the latest software used by Razer in its gaming keyboards.
Furthermore, its spill-resistant construction keeps the hardware safe from drink spills. Some other salient features of the gaming keyboard include the ability to assign macros and rebind buttons. You can also save profile configurations online and take advantage of advanced capabilities by configuring the hardware with the latest company-ware or software.
Who is This Gaming Keyboard for?
When you are looking for an affordable gaming keyboard with the latest features, there is no better option than the Razer Chroma. Hence, this particular gaming keyboard is an ideal choice if you want to improve your gaming skills and win most of the games.
Furthermore, some hardcore gamers prefer membrane keyboards to mechanical ones. Therefore, this particular keyboard by Razer is a viable option for such users. It has all the features that are going to assist gamers in customizing the keyboard in line with individual preferences.
What's Included?
There is nothing much to talk about with the items that arrive with the package, as you will receive the Razer Cynosa Chroma gaming keyboard and nothing else. So there is no need to be excited when receiving the package.
Overview of Features
The Razer Cynosa Chroma gaming keyboard is the no.1 selling product launched by Razer. It is a perfectly designed membrane gaming keyboard, which offers an all-around gaming performance. You can execute a total of 10 commands simultaneously while using its built-in anti-ghosting and key rollover features.
Furthermore, you can also enjoy the best personalization experience. With Razer Chroma, the extent of gaming immersion is at another level. You can enjoy your game in an effortless manner and with full integration.
If the keyboard stays idle for some time, it will automatically switch to sleep mode. To wake it up, you just need to press any key and start playing your favorite game. It shows universal compatibility with almost every Windows and Mac operating system.
This keyboard shows full compatibility with almost every popular game title. The synchronizing of the software with its hardware is simply flawless. In addition, its spill-resistant layout and design feature makes it highly secure against the issue of accidental spills.
It offers fully programmable macro support, as the keyboard comes with Razer Hypershift. It allows the user to utilize all keys as well as different key-press combinations. By doing so, you can easily re-map the keys to execute some of the most complex commands.
Not only this, but you will also be amazed to feel the response of this keyboard. The tactile feedback is simply outstanding. Furthermore, the enhanced durability of this keyboard is definitely a huge plus.
The feel is impressive, too, as the keys are soft to touch and provide instant response. This feature prevents your fingers from becoming tired when playing for hours. This particular gaming keyboard is relatively more robust than its competitors.
When it comes to durability, you can rely on the top-notch materials used for the construction of this particular keyboard. It can work perfectly well, even after 80 million clicks. Furthermore, it comes with a 2-year warranty.
How to Use ​Razer Cynosa Chroma Pro Gaming Keyboard

Check out this quick video on how to use this keyboard: 
Alternative
Although the product mentioned above offers almost every unique and best possible feature, you hold the right to have an alternative to consider. To assist you in this regard, let's take a look at the gaming keyboard reviewed below.
NPET G11 Gaming Keyboard
This particular gaming keyboard is a suitable option if you need a specific gaming keyboard that offers all the necessary features without any additional cost. The keyboard utilizes the latest technology, which gives you the best possible gaming experience.
The keys are durable enough to withstand constant use. In addition, while utilizing its RGB function, it is possible to access 5 zone customization. Furthermore, you can also take advantage of its 14 multi-media and 19 non-conflict keys. All of these keys are water-resistant, offering it the required protection against spillovers.
The NPET G11 gaming keyboard also offers multi-key anti-ghosting features and media controls. It allows you to beat your opponent with a highly responsive keyboard. It provides controllability and customization features, which are necessary for playing your favorite game without any compromising situation.
The fantastic looking LED lights create a perfect atmosphere for a hardcore gamer. You can choose among a variety of different LED lighting modes. It is also easy to switch between these modes. These lights make the keys highly visible, which rules out the chances of the wrong press.
Conclusion
Overall, the Razer Cynosa Chroma gaming keyboard is a perfect choice when you require an affordable yet performance-oriented device. This fantastic keyboard is available at a reasonable and affordable price, which adds more value to this product.
It is capable of working with almost any kind of gaming. Furthermore, the keys are amazingly soft and less noisy. Hence, it would serve as the best gaming keyboard for a hardcore gamer. In fact, it should check all the boxes on your requirement list.
With this type of professional gaming keyboard, enjoying the best gaming experience isn't that difficult. All its keys are made of top-quality materials and are UV coated. Moreover, ABS design keeps the keys in perfect shape even after extensive use.