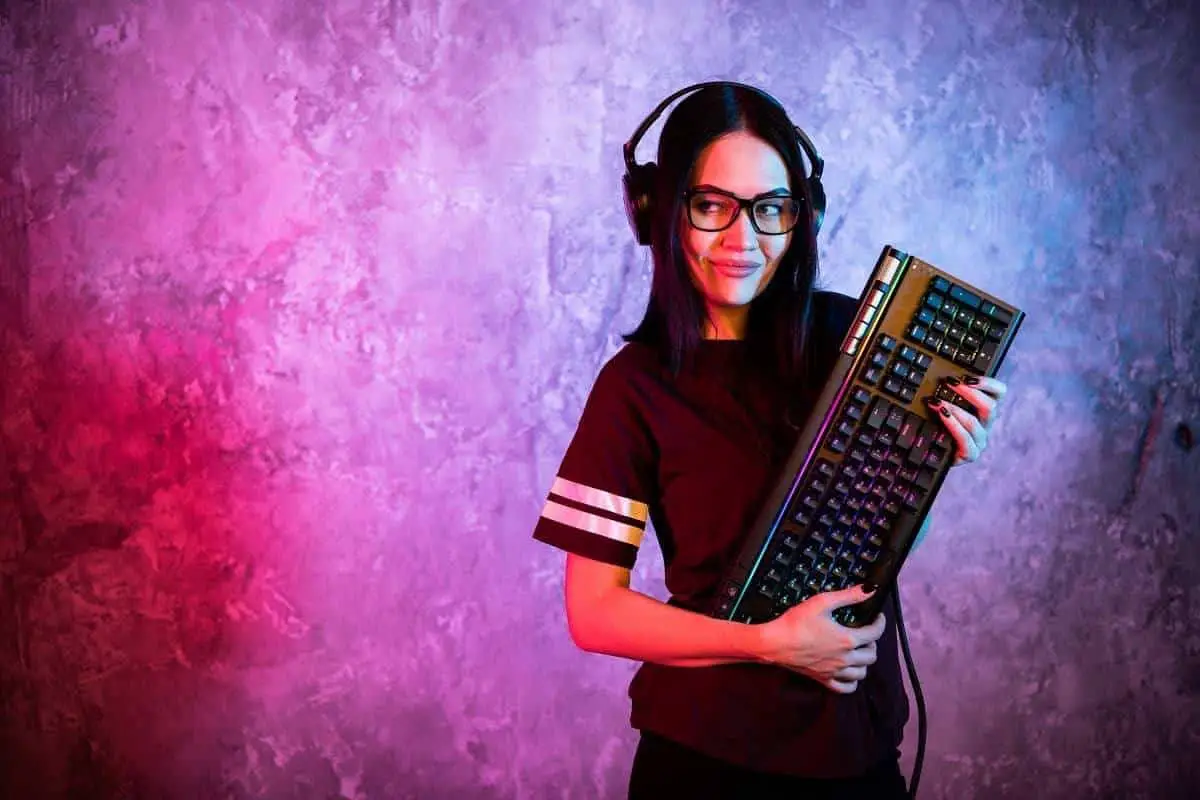 Redragon's intent to bring comfort and quality to every gamer's life is reflected in their products. Not only is it popular and widespread, but the ergonomic ease of use provided by their gaming peripherals, combined with the sturdy quality that they invest in their products, has made Redragon one of the most sought after companions for every PC gamer who is eager to have that extra edge that good equipment provides. The K552 is perhaps their most affordable model yet, but is it up to the gaming keyboard standards that we expect from Redragon? We will find out in our Redragon K552 review.
Redragon K552 Mechanical Gaming Keyboard
Backlit by red LED lights, the K552 Kumara is a mechanical gaming keyboard that is performance-driven. It hosts Redragon's full-featured Pro technology in a compact, space-saving build that is presented at an affordable price.
With the intent to save consumers money, Redragon created a versatile keyboard that is functional for office work and after-hour gaming and will last for years. It also supports their famous standard of ergonomic comfort. The K552 Kumara mechanical gaming keyboard promises to deliver the best performance and comfort that you can expect from Redragon.
Who is This Gaming Keyboard for?
Ideally, the K552 is marketed for the broadest selection of consumers. Presented at an affordable price, the K552 is an ideal keyboard for gaming enthusiasts who also employ their keyboards for regular typing or office work. Due to a shortening of its key range, the K552 may not appeal to certain consumers who need a full range of keys, especially hardcore gamers who use the number pad section to optimize their efficiency.
Due to its reduction in size, the K552 mechanical keyboard would be perfect for anyone looking to utilize the full space of a small office cubicle or desk. If you are a hardcore gamer in search of the most affordable option for upgrading the tired, worn, outdated keyboard you have been competing on, then the advantage given by the full house technology supported by the K552 would be your perfect fit.
The only drawback found in the K552 is the limitation of its keys. Although not as high tech or advanced as better, more expensive alternatives, the K552 will provide you with the Redragon quality and comfort you can rely on to enhance your typing or gaming experience.
What is Included?
The K552 Kumara does not come with any extras in the box, but, as you can expect from Redragon, it allows for practical and easy exchange of the keycaps. The keycaps are easily removed for repair or the installation of better, premium keycaps that are available for purchase.
Overview of Features
The Redragon K552 Kumara features a red LED lighting system that lights up the keyboard from behind to illuminate the keys in a dark room and can be programmed for decorative purposes. Alternatively, if the lighting is a distraction, it can be switched off. Built to last as the tough machine you want it to be, Redragon designed the base of K552 to be sturdy and enduring, making it from aircraft-grade aluminum.
The keys are plate-mounted and made from double-shot, injection-molded, high-grade plastic. The keys also use high-end switches with ultra-last mechanical springs made to allow for better typing and enhanced gaming. It features a total of 87 keys, including 13 multimedia keys, as well as the ability to lock the 'Windows' key so you don't accidentally press it when gaming.
The keyboard is a standard qwerty layout that has been placed appropriately to provide the ergonomic comfort associated with Redragon. It is also marked to be more practical for game-specific controls. It connects using the best in USB technology, which promises to deliver the kind of input speed that gamers want from a gaming keyboard. However, it will also easily perform to the standards needed in any office or work environment. The USB end of the cable is gold coated to prevent rusting and provide that demand for speed.
How to Use Redragon K552 Mechanical Gaming Keyboard

Like all the gaming peripherals of the modern era, the K552 features a basic plug and play setup. Simply plug the device into any available USB socket of your computer or laptop and allow the device to run the prompted installation setup that follows the successful detection of the keyboard. It should be a quick process, and it will not take up too much of your precious gaming time to complete.
Once completed, you would not need to run the installation again on that same device, and it is free to plug and play at your leisure. If you do encounter any complications in software or want to report damaged hardware of your Redragon keyboard, visit their website for free technical support.
Alternative
If the K552 Kumara's missing features do not appeal to your taste or needs, and you can maybe afford something a little steeper in price, there are several choices that you can keep an eye out for. For a slightly higher price, you can try the next model in the K552 series that has all of its excluded features, plus a few extra bonuses. You can also feel free to try the Eagle Tec KG010, which is more of the same concept and in a similar price range as the K552. It would also be a better alternative if you want to exchange the red lights for blue lights.
Conclusion
Considering that the Redragon K552 Kumara features high-quality technology in a compact, comfortable package that will last through all the torment it is put through (at a price that easily agrees with a budget-driven gamer), it is considered a sweet buy that feels almost like an unfair investment.
Any gamer looking to enhance his/her experience online or at home should feel free to purchase the Redragon K552 Kumara today. At its budget-friendly price, it would be the best bargain you might come across in your search for the best mechanical gaming keyboard at the lowest price. We hope our Redragon K552 review has helped make your buying experience easier.