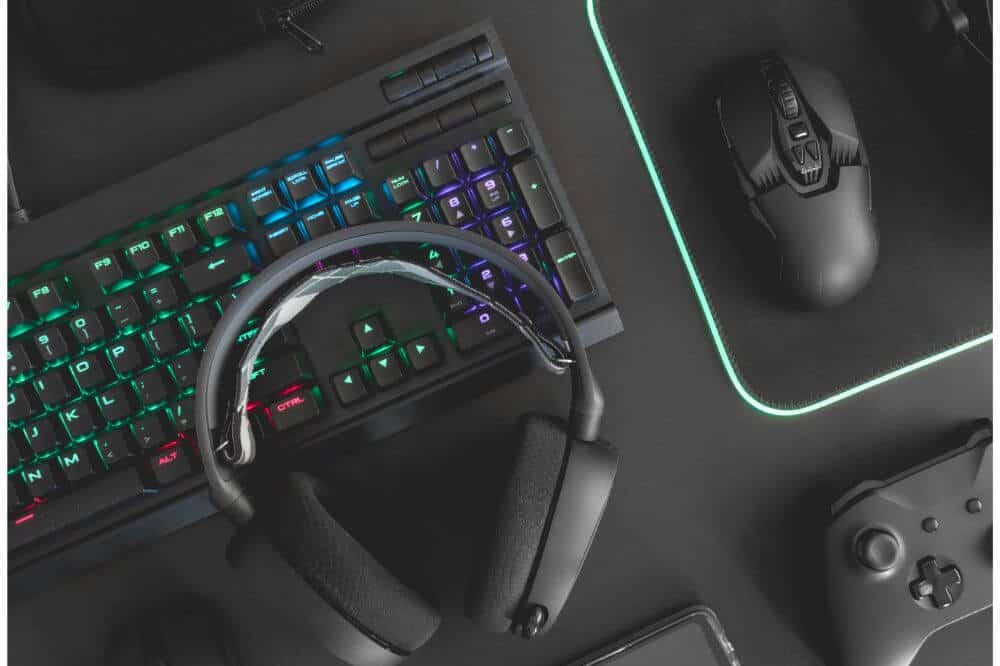 Logitech G613 Lightspeed Wireless Mechanical Gaming Keyboard
The Logitech G613 keyboard is truly a great gaming accessory with its wireless technology. This is the latest generation of wireless keyboards from Logitech.
The company boasts about its super-fast 1 ms report rate. You can also say that this keyboard is durable, and its sleek design is quite amazing. With this latest Logitech keyboard, you can truly say that your experience with gaming has become limitless.
Who is this product for?
This latest Logitech keyboard is perfect for many gaming fanatics out there. You can now play with ease with this savvy keyboard. On top of that, it can also be a great keyboard for any regular typing job. You can slave away with this keyboard without crouching all the time in front of your gaming monitor.
What's included?
Upon purchase of the Logitech G613 keyboard you will receive the following:
G613 Lightspeed wireless mechanical gaming keyboard
A smartphone stand
A receiver extender cable
Lightspeed wireless NANO receiver
2 AA batteries
Overview of features
The Logitech G613 Wireless keyboard has a lot of great features. It is a full-sized keyboard and weighs around 1410 grams. Actually, this is one of the most comfortable wireless keyboards out there. 
The layout is a 104-ANSI and also comes with a wrist rest, which is a bonus; however, it is not removable. The underside of this keyboard is made of plastic and has swiveling extenders. There is also easy access for its receiver and batteries. There are also oversized rubber strips on the underside to keep the keyboard in place. 
Let's talk about another added feature of this wireless keyboard. It boasts Romer-G switches, which is mentioned to be a collaboration between Logitech and Omron. With the latest Logitech Gaming Software, these programmable G-keys come with customized macros and in-app commands. 
It is said that this latest wireless keyboard has a shorter travel distance between keys compared to regular keyboards. The sound profile is nothing out of the ordinary. The pad's printing is quite decent and does not wear off too easily.
With this wireless keyboard, you can control a personal computer and a smartphone, or, you can use two personal computers at once with just this keyboard.
How to use
The Logitech G613 Wireless keyboard is quite easy to use. There are no real intricacies when using this latest Logitech keyboard. Of course, there's no need to set up intricate wirings. You will only attach an extender cable for a USB-powered receiver. There is also a stand for tablets or mobile phones. The stand is used for any paired handset for Bluetooth pairing purposes.
Just use either the wireless or Bluetooth feature to connect with your PC or smartphone, and you are good to go. Now, you can start playing without further setup actions. 
Pros
Perfect for gaming enthusiasts and a great workhorse for regular typing. It comes in a great solid ergonomic design and in an elegant black color
Work meters away from the actual PC and still experience great connectivity. Its wireless connectivity is ultra-fast. This is one great feature that many users would truly appreciate. You can either opt for either Bluetooth connection or the Logitech Lightspeed connectivity
Sturdier and quite comfortable for everyday use
Long battery life. You can enjoy 18 months of gaming with just using ordinary two (2) AA batteries
Cons
Does does not come with a backlighting feature. As we all know, many gamers prefer such an option to come in with their keyboard
Alternatives
Corsair K63 Wireless Keyboard
The Corsair K63 Wireless is another wireless keyboard that is far lighter, comes in a smaller size, and has a longer battery life compared to the latest Logitech G613 Keyboard.
Added to that is its backlighting feature which is nonexistent with the Logitech keyboard. However, the latter is far more advantageous compared to the Corsair K63 keyboard.  It is more comfortable, sturdier, and has a great solid design.
Conclusion
And now the verdict: The Logitech G613 Lightspeed Wireless Mechanical Gaming Keyboard is a perfect accompaniment for a more exciting gaming experience. Every penny spent on this wonderful gaming beast is worth it. Check it out and play to your heart's content.