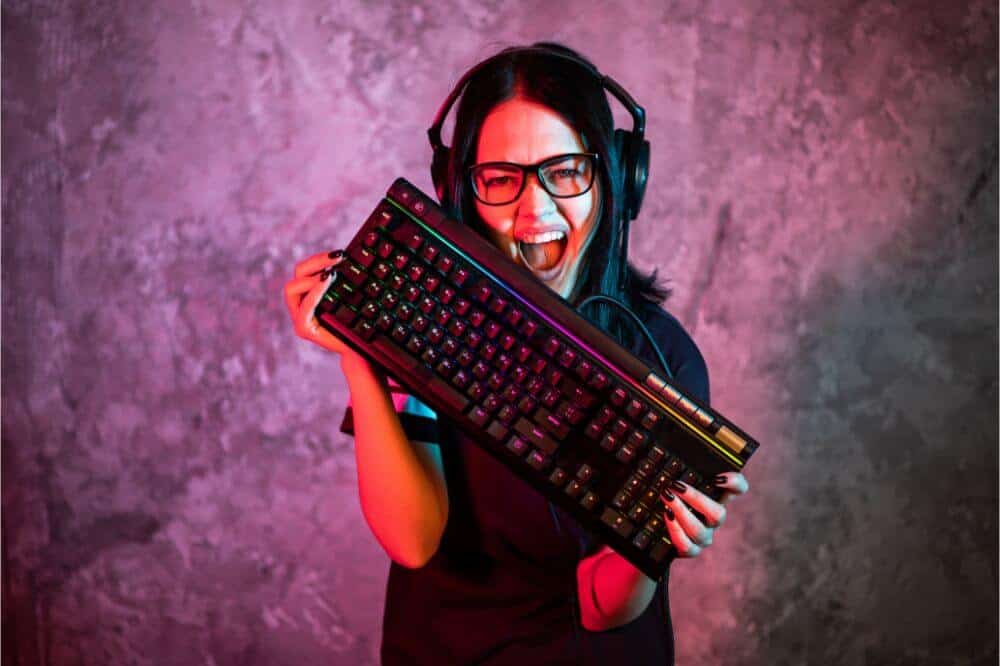 When you are looking for the perfect gaming keyboard, you have so many choices. The first feature you need to decide on is wired or wireless.
Once you have this figured out, the hard part begins. You probably are wondering what wireless gaming keyboard the best for you is, right? What better place to start than with one of the most popular gaming keyboards on the market.
In this review, we will be checking out the Jelly Comb Ultra Slim Wireless Keyboard & Mouse combo. We will breakdown everything in the hopes that we can help you decide whether it is the right fit for your gaming needs. So, let's get into it, shall we?
Jelly Comb Wireless Keyboard
This ultra-slim minimalistic keyboard and mouse combo is a well-crafted example of a great, efficient gaming keyboard. It uses some great features to ensure quality performance. It is a perfect option for both beginners and pros.
Who is this product for?
This gaming keyboard is minimalistic, so is best suited for an average gamer. This keyboard and mouse combo is not for the hardcore gamer.
If you are someone who sits down every now and then and gets into your favorite game, this is the keyboard for you. With its minimalistic design and lack of some of the more advanced features like backlighting and versatility of customization, if you are someone who is heavily into gaming, you may want to look at other options.
But whether you are a beginner or more experienced, you will find that this keyboard is a great option and can also be used as your travel or backup keyboard.
What's included?
This package includes the following items:
Keyboard (wireless)
Mouse (wireless)
USB receiver
USB charging cable
Looking for a wireless gaming keyboard?
Click Below!
Overview of features
Adding to its sleek, modern design, this wireless keyboard from Jelly Comb is a compact designed peripheral that has some great features. The keyboard comes with the following features.
Designed to be compatible with multiple Windows OS versions
No need for additional software
USB receiver for your keyboard and computer for better and more reliable wireless connection
Constructed to be lightweight and easy to transport
DPI switch that is adjustable built-in (3-levels: 800, 1200, & 1600)
Mouse w/optical laser that improves response and precision for smooth tracking included
Easy to recharge via USB cable
How to get the Most Out of Your Wireless keyboard
The best way to get the most out of your wireless keyboard or any gaming peripheral, in general, is to understand the pros and cons of each. Check out this video for a better look at those:
Pros
Nice and sleek design
Overall build is great
Comes with a keyboard cover
Reduce noise levels
Great response
Mouse's tracking
Cons
Size of keyboard is a bit small
Alternative
UtechSmart Mercury Keyboard
This entry on our list does double duty as both a wired and wireless mechanical gaming keyboard. The UtechSmart Mercury is a great choice for that serious gamer on a budget.
If the Jelly Comb keyboard's lack of backlighting options or numerical keypad is an issue, this keyboard form UtechSmart is a great alternative; it is a quick plug-and-play keyboard that is capable of being wireless or wired. It offers heightened switches and durability that shines bright above many of its competitors.
It does have a few issues like the less than ergonomic sharp edges and a user manual that seems to be less than well-written. But if you are looking for something that doesn't have the bigger drawbacks of our main keyboard, then the Mercury for UtechSmart fits that bill.
Conclusion 
Even though this keyboard may not have all the frills of other models, its minimalistic design does have its pluses. Your fingers will be able to move rapidly with a distinct precision because of its overall size and keyboard layout; the keyboard responsiveness is also amazing.
It is also set to be protected with the silicone keyboard cover that it comes with. No dust, spills or wear will affect this keyboard's future. The optical mouse that this combo comes with is also a great addition. It offers smooth tracking for improved game precision.
The few drawbacks that this keyboard mouse package has are few and far between. There is no numerical keypad, and it is not compatible with all operating systems. In the end, if you are looking for a nice performing, easy-to-use, starter keyboard for gaming or you are just not an avid gamer, this keyboard may be perfect for you.