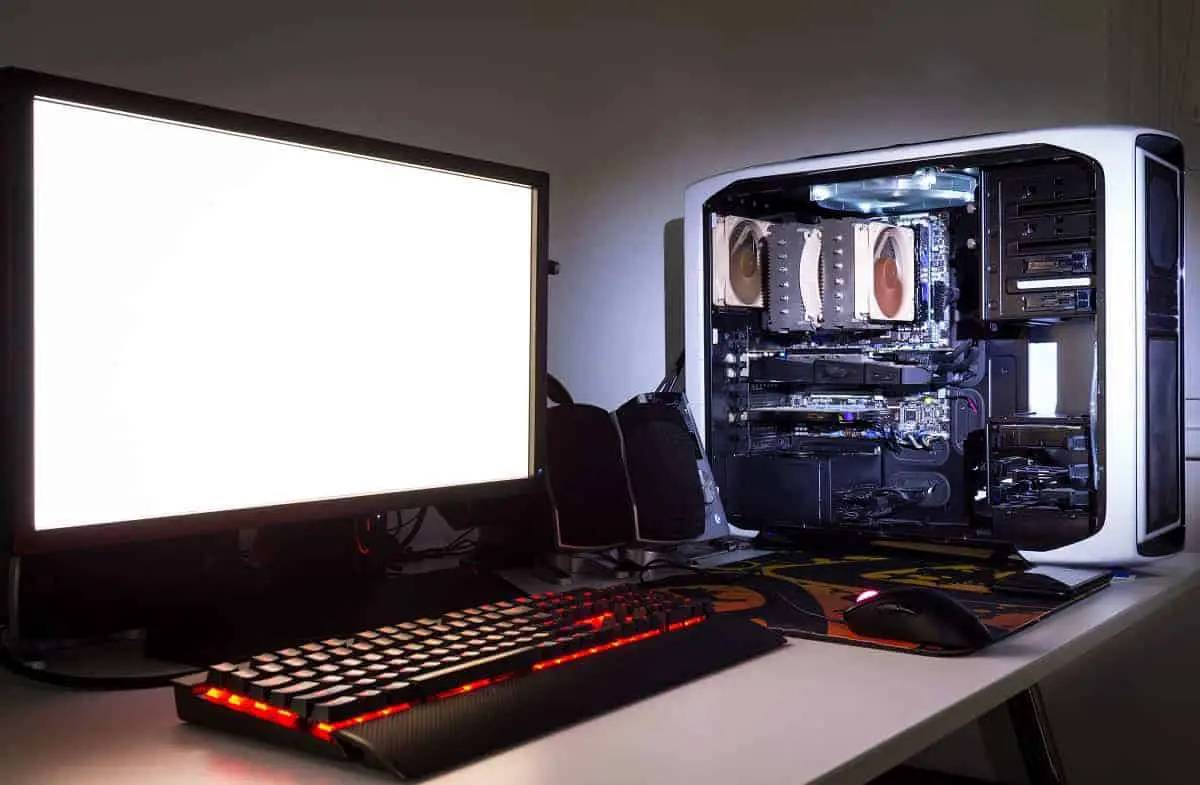 Many things go into a good gaming setup, but none of them mean anything without a good monitor. When you set out to find a monitor or replace your current one, you will inevitably have a few ideas of what you want. You might want more viewing area or better color capabilities, but there is so much more to consider.
In order to find the right monitor for your gaming needs, you will want to consider a few key specifications and features. There are tons of options out there, and by understanding the key features, you will be able to find the one for you. The first thing most look at is the brand, and even here, you will be inundated with choices.
One of the best, though, is BenQ. BenQ is a company that has been around for over 30 years. This company strives to deliver high-quality electronics to the world that are innovative and cutting edge. Brand and a few key features are what we used to choose the best BenQ monitors for gaming that we will look at below.
Here is a quick look at the other features we used to whittle your choices down to the models below:
Ports – Most gamers use their monitors for multiple systems. This means having multiple ports is crucial and allows the gamer a lot of room to play.
Response Time – This feature is measured in ms (milliseconds). When looking at this metric, you want the lowest number possible because this will lessen the chance of ghosting. For instance, most of the monitors fall somewhere between 1-4 ms. which means little to no ghosting for images.
Resolution – This is important in any screen purchase. Depending on the type of content you look to put on the monitor, you might want to look for 4K capability. At the very least, look for an FHD 1080p. This means that you will have more image information and a crisper picture.
Technology – Lastly, you want to look at the technology the monitor comes with. Features like G-Sync or FreeSynch are always nice to have. Plus, many monitors come with eye relief technologies like flicker-free or blue light.
So with that in mind, let's jump into the reviews of each of the best BenQ monitor for gaming options.
Comparison Chart
| | | | |
| --- | --- | --- | --- |
| | | | |
| | | | |
| | | | |
| | | | |
| | | | |
| | | | |
| | | | |
Best BenQ Monitors for Gaming Reviews
BenQ ZOWIE XL2740
The first BenQ monitor on the list is a 27-inch high-resolution gaming monitor. The XL2740 comes with technology that is included to optimize gaming and features that create enhanced image capability.
Review
Display Size – 27"
Resolution – FHD 1080p
Display Type – LCD
Aspect Ratio – 16:9
Refresh Rate – 240 Hz
Response Time – 1ms
Brightness – 320 cd/m2
Power Supply – 90-264 AC
Power Consumption – 65W
Visual Contrast – 1000:1
Multiple connectivity options
S-Switch Controller included
Black eQualizer & Color vibrance
Custom game modes
Monitor shield
The Zowie XL2740 is a mid-sized monitor measuring 27" that is perfect for a compact set up. The high-quality full HD resolution and a fast response time may be the features that make this the perfect option for the gamers out there. The response time is just one of the many gamer-focused features that this monitor is made with.
On top of that, the model is crafted with multiple connectivity options and a color capability that can be customized to deliver enhanced visuals during gaming. These color systems include the BenQ patented Black eQualizer and color vibrance systems. Plus, the unit is fitted with G-sync technology to help eliminate the chance of screen tearing.
However, the tech specs are not the only thing that is gamer-friendly when it comes to this monitor. In fact, the design is well suited for long gaming sessions. The customizability of the monitor heightens its ergonomics. On top of that, it is built with a monitor shield to help keep your eyes focused on what is in front of you.
Now even with all that, the monitor does have a few flaws that we feel should be addressed. Though the color enhancement technology is top-notch, the color capability of the screen is not consistent. In fact, the color reproduction toward the edge is not as good when angled as other monitors. Also, some may feel that for what they get, the price tag is a little much.
The next BenQ monitor that we like is the Zowie RL2406S. This monitor is a 24-inch 1080p gaming monitor that is fitted with features and systems that give it a competitive edge.
Review
Display Size – 24"
Resolution – FHD 1080p
Display Type – LED
Aspect Ratio – 16:9
Refresh Rate – 75 Hz
Response Time – 1ms
Power Consumption – 45W
Color Vibrance
Black eQualizer
Gaming preset modes
Flicker-Free technology
Bezel frame
Dual HDMI ports
Lag-Free technology
When you are building out your setup, you may be dealing with limited space, and so this 24-inch monitor could be the answer to your problems. Resolution matters whether you are strafing the field with your buddies or trying to find the treasure in that dungeon. This model gives you FHD 1080p resolution and a good refresh rate too. Like many BenQ models, the monitor seems to be crafted for gamers and their requirements.
Customization is key, especially if you are a gamer who plays multiple games. So the fact that this monitor comes with preset modes, as well as the ability to utilize those and save them for later, is a nice feature. Along with those presets gaming modes, there is tech included to help with eye relief. Features like flicker-free and lag-free systems help you be able to stare at the screen longer without eye fatigue being an issue.
When it comes to the image quality, if you like to play darker games, you have access to technology that gives those dark colors in your game more detail. The system also has a good response tie, which helps decrease blur and ghosting. Plus, the monitor is easy to set when it comes to hardware.
That being said, there are still some things we feel could be improved. The first thing that we think deserves a little attention is the consistency of colors when it comes to angles. With a lack of an IPS panel, the colors do not stay true when angled, which could be frustrating for some gamers. Sound is important in games, and if you are relying on the built-in speakers of this model, you shouldn't.
BenQ ZOWIE XL2546K
If you are looking for a more compact monitor, then this next BenQ is a good option for you. This 24.5-inch monitor comes with an ergonomic design and a gaming feature-rich design, which is why we chose it for this list.
Review
Display Size – 24.5"
Resolution – FHD 1080p
Display Type – LED
Refresh Rate – 240 Hz
Aspect Ratio – 16:9
PPI – 90
Contrast Ratio – 1000:1
Max. Brightness – 320 cd/m2
Power Consumption – 40W
Programmable/shareable video profiles
Quick access interface
S-Switch controller included
DyAc+ technology
Black eQualizer
Color vibrance
This is another compact monitor that could be good for those looking to build a multiple monitor setup. The refresh rate is fantastic and makes for nice image quality that, coupled with a full HD resolution, creates a perfect addition to any gaming system. One of the first things we noticed was the number of ports available. This gives the gamer options to build out their setup with additional peripherals to maximize their experience.
Another element we really like is the ability to program video profiles. This capability is heightened by the ability to share those profiles with friends. The unit also comes with BenQ's S-Switch controller, which makes getting to settings so much easier. When it comes to easy, the monitor also comes with a blinder, and it is quite simple to install.
The technology included in the design of this monitor is quite extensive as well. From the standard color systems that almost all BenQ monitors come with, this model also uses DyAc+ technology. All in all, when you look at the features and systems you get with this monitor, it is easy to see why we chose it.
Now that isn't to say that the monitor is perfect. The XL2546K definitely has a few drawbacks that might cause some to pause when considering making this their gaming monitor. The one thing that affects the gaming experience the most is the contrast ratio. When looking at that metric, when it comes to this monitor, you will soon see some monitors offer a better one. Other than that, the multiple ports are nice but difficult to reach.
BenQ EX3501R
Curved monitors give the gamer more visual clarity and relieve stress on the eye. This is why we wanted to include the EX3501R Ultra-wide screen curved monitor. For those gamers that are looking for a good monitor for long grind sessions, then this is a great option.
Review
Display Size – 35"
Resolution – QHD Ultra-Wide 1440p
Display Type – LCD
Curvature – 1800R
Aspect Ratio – 21:9
Power Consumption – 65.7W
Max Brightness – 300
Refresh Rate – 100 Hz
Response Time – 4ms
PPI – 103
Contrast Ratio (DCR) – 20,000,000:1
HDR10
AMD FreeSync technology
Ultra-slim bezel
Looking for a different style of monitor? Maybe what you need is a curved model. The curvature of the screen gives you better peripheral visibility when playing and helps reduce distractions. When looking at the design of this large display curved monitor, you will see that it has a lot of style, including an ultra-slim bezel edge.
But the aesthetics won't matter in the monitor can't back it up when it comes to specs and features. If this monitor didn't meet our criteria, it would not be on the list. It has an Ultra-Wide HD resolution that is capable of handling HDR content (in other words, a signal of 3840x2160). This makes it perfect for those new games that are coming out with better graphics. Plus, the way the monitor handles color is spectacular as well.
The color and grayscale are elevated through the use of high-quality components and technology. This includes the use of AMD FreeSynch technology. Plus, the monitor is fitted with a USB-C with a DP Alt-mode. This allows the gamer to increase the bandwidth capability of the monitor as well as hook it up easily to other monitors.
When looking at all that, you might be asking yourself, are there no drawbacks? There are a few that we would be remiss without mentioning. Both of them are design features that seem to have been missed. When it comes to ergonomics, the monitor lacks a little.
You are able to adjust it up and down, but there was no swivel motion included in the design. On top of that, there are no built-in speakers, which means you will have to spend the extra money and invest in some.
BenQ ZOWIE XL2411P
Our next monitor is the Zowie XL2411P. This monitor offers a high response rate and many other features that optimize gameplay as well as versatility.
Review
Display Size – 24"
Resolution – FHD 1080p
Display Type – LCD
Refresh Rate – 144 Hz
Response Time – 1ms
Aspect Ratio – 16:9
Max. Brightness – 350
Contrast Ratio – 1000:1
Power Consumption – 45W
Black eQualizer
Color Vibrance
Flicker-free technology
Customizable game modes
Sometimes simple designs are the best, giving just what you need without any extra frills. Though the Zowie XL2411P is a simpler design than many of the others we have looked at, it still comes with the high-quality components and vital technologies you need to elevate your gaming experience. It is a compact model with an FHD 1080p resolution. The monitor comes with a pretty great brightness capacity as well as reduces reflection.
When it comes to the technologies used in its construction, it is the standard offerings from BenQ. But it also has flicker-free technology for extra protection against eye fatigue as well as a system to limit motion blur. It is also fitted with the customizable game modes that those familiar with BenQ have come to expect.
The monitor is simply designed as we said, but it does have its wins in this department as well. Of these, the biggest in our mind is the inclusion of a DVI port. This allows for you to be able to hook up older hardware to the monitor. Basically, it gives it backward compatibility that many other models don't come with. That is why we think it is a great investment, especially for the price tag.
There are some areas that we take fault with. The first is in regards to the color capability. Basically, the unit is pretty good in this area, that is, until you look at the darker colors. Many feel that there is a lack of uniformity, which might detract from the area's detail. Other than that, some feel that the image tends to get a little too blurry when the monitor is fixed at an angle.
BenQ EX3203R
The next monitor comes with multiple connectivity options and built-in speakers for more engaging gameplay. The EX3203R is a curved monitor that is fitted with high-end technology that elevates the gaming experience.
Review
Display Size – 31.5"
Resolution – 1440p
Display Type – LCD
Curvature – 1800R
Refresh Rate – 144 Hz
Contrast Ratio – 3000:1
Response Time – 4ms
PPI – 93
HDR 400 VESA certified
AMD FreeSync 2 technology
Ultra-slim bezel
Brightness Intelligence+ sensor
Flicker-free technology
This mid-sized monitor from BenQ is a sleek-looking option that is fitted with plenty of features that will be perfect for any kind of gamer, whether you are a casual player or a professional. With a higher resolution than many of the other options on our list, this model is better for those that would like to use this monitor for more than just gaming (i.e., live streaming and screen capturing).
Starting with the technology, the gamer will have access to AMD FreeSynch 2 graphics technology. This will elevate the processing power and lead to less buffering or lag. Along with that, the EX3203R also comes with flicker-free technology and the benefits of the Brightness Intelligence+ sensor. All of which will make this a high-performance tool in your gaming setup.
Then you have the design. The monitor is curved, which elevates the gamer's focus and visibility. That isn't the only good thing about the physical design, though. The monitor has an ultra-slim bezel, which allows for more screen area. This gives the gamer more viewing area and allows for no loss when it comes to visibility. Plus, the monitor is Ultra high-def, and that is always nice.
Though the design is really nice, there is one thing that detracts from it: the mounting options. The unit will require you to purchase a VESA transfer kit if you want to mount it flat. But that is not the only flaw. The other issue we have is that for such a well-designed monitor, the response time is not as quick as other models from the BenQ catalog.
Are you looking for a gaming monitor that delivers quality visuals and performance? Then our final monitor may just be your best option as it delivers all of that while allowing you to take in 4K content.
Review
Display Size – 31.5"
Resolution – 4K UHD 2160p
Display Type – LED
Aspect Ratio – 16:9
Refresh Rate – 60Hz
Response Time- 4ms
Max. Brightness – 300
Contrast Ratio – 3000:1
PPI – 140
Power Consumption – 76W
HDR support
Brightness Intelligence+ technology
Blue light tech
Flicker-free
HDR10
AMD FreeSynch tech
10-bit color
The resolution of graphics is getting better and better, which means your monitor has to keep up with it. Of all the monitors we have looked at, this is the only one that is truly 4K compatible. This means that this monitor is a great option if you are dealing with higher definition content or games. Having this capability also allows for the gamer to have better visual quality for multi-window content absorption.
The system's inclusion in the design helps this monitor get a leg up over its competition. The color capacity is excellent with great grey and dark color conformity. In order to give the monitor even more color enhancements, it is fitted with B.I.+ technology. All of this helps contribute to its wide color range capabilities and the ability to handle 10-bit color profiles. On top of that, it is also programmed with an sRGB profile preset.
The monitor is designed with standard BenQ technology for eye relief like flicker-free and blue light technology. Along with this, the monitor uses AMD FreeSynch tech so that the processing power of graphics is elevated. When you look at all of that together, there was no way this list could not have this model included on it.
It seems that the designers of this monitor concentrated on the technology and capabilities and not so much on the ergonomics. There are limited angles of viewing capability and those that exist are not very wide. Other than that, the stand can only be adjusted up and down, which limits the comfort of long sessions.
BenQ Monitors FAQs
There is a lot to take in when looking for a monitor, and we are sure there are more than a few questions floating around in your mind right now. We have gathered together some of the most commonly asked questions and answered them below. We are hopeful that we will answer at least one of those questions for you.
How to Calibrate BenQ Monitor
When you buy a BenQ monitor, you automatically have their software available to you. This software is Palette Master Element, and it is what you will use to calibrate your monitor. The first step is to plug your monitor in and turn it on.
Let it sit for a few minutes while you gather your color calibrator and your cords. Then you will want to connect your monitor to the tower and the calibrator. Then go in and disable your energy and screensavers.
Once that is all set up, you will want to launch the Palette Master Element software. The first screen will give you the option to enter in your monitor type, the calibration hardware, and choose what type of calibration (we suggest advanced).
Then you will be taken to a screen where you choose a workflow. For the choice, we highly suggest profiling. Then follow the path the software navigates you through, making sure you read it thoroughly and choose the profiles that are best for your needs. Once you walk through the process, you can then close out, and you should have a calibrated monitor.
If you need more in-depth information, you should check out this video.
What is AMA BenQ?
Most BenQ monitors will come with an AMA setting. This setting is a way to control the response time of the unit when it comes to the gray to gray color. Using this setting will allow you to get an even crisper and more vivid image. The acronym stands for Advanced Motion Acceleration. Typically you get to this setting through the OSD menu under the picture tab.
What is the Instant Mode on a BenQ Monitor?
The instant mode can be found in the same area as the AMA setting. This mode reduces the input lag. Having this setting on will ensure that there is little to no disconnect between your controller and the monitor, which could cause some serious in-game situations.
Is BenQ a Good Brand of Monitors?
This question is super subjective. However, monitors from BenQ have good reputations, especially when it comes to gaming. They are high-quality monitors with few problems and offer gamers a budget-friendly option to other more pricey models on the market.
Where are BenQ Monitors Made?
The company is a technology manufacturer based out of Taiwan. The units themselves are designed in factories in Taiwan, China, Malaysia, and Mexico.
Final Thoughts
BenQ crafts tons of different types of electronics, but their monitors are some of the best amongst them and truly on the market. Though the company hasn't quite gained acclaim yet, we are sure they will. After all, who doesn't want quality and affordability in one package?
The models we looked at above are just some of the company's models in their catalog, but they are definitely some of the best BenQ monitors for gaming by far. We hope that all the information and our in-depth reviews above have helped you with your monitor hunt.