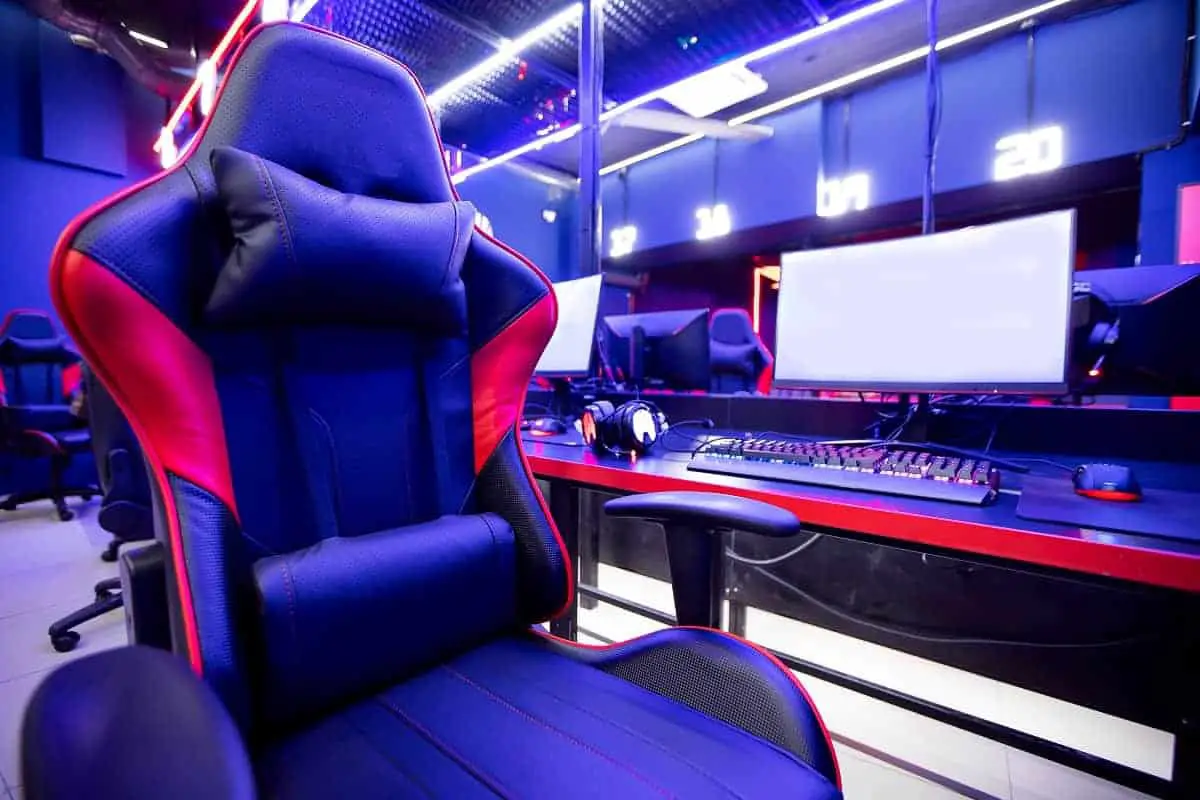 While it may not be the single most important piece of gaming equipment, a proper chair does go a long way. The more comfortable and flexible it is, the easier you will get through hours of continuous gaming.
There are many different types on the market, but in this article, we'll be reviewing the best gaming chairs for big guys. Some of the main things that Tall and big gamers need to look for in a gaming chair are:
Higher chair backrest for better neck support
Higher weight capacity
A wider and deeper chair seat
Stronger chair base

More and sturdier padding

Adjustable lumbar and head pillow

4D arm rests

What are you waiting for? Let's get to it!
Comparison Chart
RESPAWN 400 Big and Tall Gaming Chair
FANTASYLAB Big and Tall 440lb Gaming Chair
AutoFull Gaming Chair
BestOffice Big and Tall 400lb Gaming Chair 
Blue Whale Super Big and Tall Gaming Chair
Best Gaming Chairs for Big Guys Reviews
RESPAWN 400 Big and Tall Gaming Chair
Manufactured by a trusted brand (RESPAWN) and coming in a few different colors, including gray, green, blue, and red, this chair is just perfect for big guys.
Review
First and foremost, let's discuss the design of this sturdy yet attractive chair. The frame material is made out of alloy steel, which is probably the best solution for ensuring great stability. The chair itself is made out of textile and bonded leather, working together to provide optimal comfort.
When it comes to the dimensions, it is set at 28.5 x 31.75 x 50.25 inches, with a set depth of 24.25 inches. It also weighs just 27 pounds. Furthermore, the weight capacity of this chair is 400 pounds, which is quite impressive and is one of the reasons why you should take it into consideration.
There is no doubt that this big and tall chair allows space and comfort for all sizes. The main issue that we have with it is that, although the manufacturer advertises 130-degree recline, it doesn't work as well as with smaller chairs. However, a good thing is that you won't have much trouble controlling the angle using the infinite lock. Also, we found the tilt lever positioned at the seat base to be quite an innovative solution.
Talking about comfort, you will find 4D armrests that go a long way if you are in for countless hours of gaming. However, we do think that it would be much better if this chair included an arm pillow.
As mentioned above, this RESPAWN product is heavy-duty and should withstand tough conditions. The fact that you can adjust the height, depth, and width makes it a great choice for anyone who has trouble with lumbar pain. We did find the headrest to be quite comfortable, which is also among the key features when it comes to a gaming chair.
Talking about the overall design, we consider it to be a great addition to a racing-style gaming setup. Most importantly, this chair is quite easy to put together, as someone with average experience shouldn't need more than 10 minutes.
Overall, RESPAWN did a great job providing optimal comfort and flexibility with this chair for big and tall guys. While there is room for improvement, especially when it comes to the reclining aspect, it is a superb choice for the price point that it stands at.
FANTASYLAB Big and Tall 440lb Gaming Chair
Two major traits that any gaming chair should feature are comfort and adjustability. It is safe to say that this FANTASYLAB chair provides that and much more, making it one of the top gaming chairs for big guys!
Review
The body-hugging design is the main highlight of this gaming chair. We were quite happy with the fact that, although it is quite large and offers a weight capacity of 440 pounds, this chair still provides great comfort. Thus, you will be able to sit and enjoy your favorite game for hours without experiencing sore muscles and lumbar pain.
Talking about dimensions, the chair is set at just around 48-50 inches in height, 27 inches in width (24.8 inches in back width), and 27 inches in depth. These numbers are optimal for big and tall guys. Most importantly, this chair features a 360-degree swivel, which goes a long way when it comes to height adjusting. Also, unlike the previous product, this one actually offers a superb recline/rock system.
What this means is that you will be able to set the chair back at 155 degrees in order to enjoy optimal positioning and comfort. Additionally, the armrests are well-made and feature up/down, as well as left/right, vertical, and forward/backward movement. The 4-dimensional design is according to the latest industry standards.
Not only that, but you can forget about neck and lumbar strain given the phenomenal ergonomic backrest that this chair features. That, as well as a comfortable seat that is made out of memory foam, is the key to perfect posture and support.
This FANTASYLAB product features a heavy-duty metal base and frame, as well as superb caster rolling wheels that offer good stability. The backrest, seat, and arm pillows are made out of leather and high-quality fabric. What is great about this product is that it is completely risk-free. There is a money-back guarantee (30-days), as well as a 1-year warranty on all parts.
To be honest, there is not a single design detail that we would change when it comes to this chair. The only disadvantage is that it stands at a higher price point, but rest assured that what you are looking at is a long-term investment towards your physical health!
AutoFull Gaming Chair
If you are interested in finding a budget-friendly, racing-style chair that offers proper support for big and tall guys, this AutoFull product is something to consider.
Review
First and foremost, let's talk about the design and overall structure. The chair itself is incredibly attractive and comes in four different versions - black, blue, red, and red/black. Much like the aforementioned two products, this one is highlighted by a fancy racing-style design that will look great in almost any gaming setup.
The dimensions are set to 20.9 inches in length, 20.9 inches in width, and 47.6-50.8 inches in height. The chair itself is easily adjustable, and you shouldn't have any issues finding the most comfortable position for you. When it comes to the sitting base, it is set at 16.1 inches in length and 20.9 inches in width, which seems to be just right for a big guys' gaming chair.
The most important feature of this product has to be the ergonomic backrest and 5-inch memory foam seat cushion. These two work together to ensure optimal comfort. Additionally, there is an adjustable lumbar and head pillow - both of which are great if you are prone to lumbar and neck pain.
As mentioned above, this AutoFull chair is highlighted by a multi-functional design, as you can lock the angle between 90 and 155 degrees. Not only that, but the caster wheels can be rotated 360 degrees, further contributing to optimal positioning. The only things that we would improve when it comes to the design are the 2D armrests, which lack a comfortable pillow, and the footrest, as it feels quite weak.
When it comes to structure, this chair is heavy-duty and features a metal frame as well as carbon fiber and leather. Frankly, you won't have to worry about wear and tear, given that it is quite resistant to any kind of damage. Additionally, there is a 5-year guarantee on all parts.
Overall, you are looking at a well-made gaming chair that offers great support and stability for big and tall guys!
BestOffice Big and Tall 400lb Gaming Chair
Moving on with our list of the best gaming chairs for big guys, we have a superb offer for anyone on a tight budget. Manufactured by a well-known name that has been in the industry for a couple of years, this office chair is made according to the latest industry standards and offers optimal comfort and adjustability.
Review
We decided to review this BestOffice product for a couple of reasons. First, it has a spectacular appearance that is highlighted by its racing-style design as well as PU leather upholstery. This is a great solution, considering that the leather material is durable, comfortable, and contributes to the unique aesthetics. Frankly, this chair is made to address the needs not only of professional gamers but also big and tall people who spend countless hours working in their office.
The assembly process is incredibly simple, and you will get a detailed step-by-step guide that will instruct you on how to put all the commercial-grade components together. The process shouldn't take more than 20 minutes even if you are working alone.
The seat dimensions are adjustable, as you can set the height to be anywhere between 20.7-23.8 inches, while the width is set at 22 inches and the depth at 20.5 inches. You will like the fact that this chair is highlighted by a high back, as well as cushioned head and neck support. This is essential, especially when it comes to preventing tension, strain, and lumbar/neck pain.
Yes, the locking mechanism may not be ideal, but you still can adjust it between 90-135 degrees. The main issue that we have with it is the fact that the seat tilts down a bit. Thus, you may feel like you are leaning forward just slightly.
However, it is a fact that this BestOffice gaming chair offers superb comfort given the price point that it stands at. It has a weight capacity of 400 pounds and is quite stable, being highlighted by 360-degree swivel caster wheels and an integrated metal frame.
This is a product that we would definitely recommend if you are just starting out and want an affordable yet comfortable gaming chair!
Blue Whale Super Big and Tall Gaming Chair
Last but not least on our review list is a product that will revolutionize the way you think about gaming chairs. This one offers spectacular comfort and is simply something that you need to experience!
Review
There are a couple of key features that distinguish this chair as one of the best on the market. Firstly, you are looking at an oversized lumbar pillow and a memory foam headset. These two items provide superb comfort and ensure that you can sit in this chair for hours without getting up to stretch your muscles or experiencing any kind of strain. While almost all manufacturers advertise lumbar massage, in most cases, this feature doesn't live up to the expectations. Fortunately, Blue Whale did a great job.
Furthermore, apart from the attractive looks, this gaming chair is quite stable and made to last. Highlighted by a heavy-duty metal base, as well as premium leather, it will be years before you notice serious signs of wearing out. The main issue that we have with the design is that it lacks arm pillows. However, the armrests are adjustable, which is a good thing.
Probably the most innovative feature is that this gaming chair has a sedentary reminder that will keep track of how long you have been sitting. The seat base is set at 20.9 inches in width and 19.69 inches in depth, while the backrest is at 33.46 inches in height. Most importantly, you can easily adjust the recline angle according to your liking (anywhere between 90 and 175 degrees).
Honestly, there is not much we can say against the Blue Whale gaming chair. What we would like to see upgraded are the armrests and footrest, which feel a bit cheap. Apart from that, it is a great product at a fair price point!
FINAL VERDICT
It's safe to say that all of these gaming chairs are great choices and the decision is all yours. Our personal favorite is the FANTASYLAB because of it's optimal comfort and adjustability that it offers. Still, it is at a higher price point, which is why you can consider the AutoFull gaming chair as the second-best if price is a factor. It is highlighted by great lumbar support and stability.