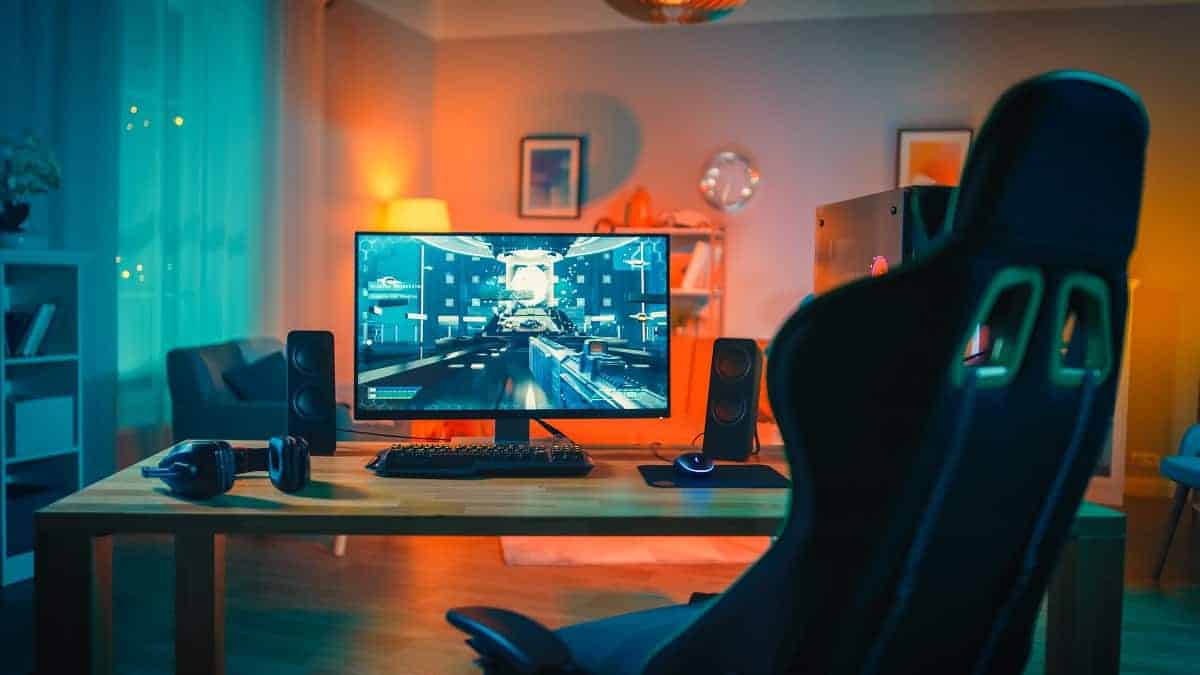 A good gaming chair can make or break the gaming experience. If you're just using a plain old office chair (or worse a dining room chair) while gaming at your PC or console for hours on end, you're sure to be a bit uncomfortable and causing strain on your body which will probably cause  complications down the line. Gaming chairs are designed specifically for use by gamers so that they can remain as comfortable as possible during their long gaming sessions.
I remember when I was in my very early twenties and just using an old chair we had lying around the house to sit on while gaming. While it felt comfortable for the first 30 minutes, I was definitely uncomfortable if I played longer than that. Over time I started to get back pain, and couldn't really figure out why. That was until a friend of mine pointed out the rather worn out chair I was using while gaming one day.
After that I was on a mission to research the best options but I really didn't want to spend too much, after all I was a broke university student at the time.  I ended up getting something similar to the Devoko that we review further down. It was a fairly plain but decent gaming chair without any the bells and whistles. But the best part was that it was ten times more comfortable than that worn out dining room chair I was using - and the price was really good for a broke student. After a couple months my back pain also improved, so overall I was pretty happy!
So because I know what you're after, I've gone through all the different types of gaming chairs on the cheaper side of the spectrum, and listed the ones that performed best and had the highest customer ratings with the least issues. We've got a mix of the best racer, floor and recliner style budget gaming chairs for you to choose from that should fit your wallet.
Comparison Chart - Best Budget Gaming Chairs
| | | | |
| --- | --- | --- | --- |
| | | | |
| | | | |
| | | Best Budget Office Gaming Chair | |
| | | Best Budget Floor Gaming Chair | |
| XRocker Dash floor Rocker | | Best Budget Floor Rocker Gaming Chair | |
| | | Best Budget Faux Leather Gaming Chair | |
| | | Best Budget Recliner Gaming Chair | |
Best Budget Gaming Chair Reviews
JUMMICO Gaming Chair

[Best gaming chair under 100]
As the name suggests, this is an ergonomically designed gaming chair, meaning that it was made specifically to be as comfortable as possible. At the same time, it also helps you maintain good posture and seating position so that you don't run into any pains. It's an excellent budget choice for gaming, studying, and working.
Product Highlights
There's a reason that this ergonomic gaming chair is one of Jummico's best sellers. It is constructed in the style of a racing seat, as are most gaming chairs, so it has plenty of back support and comfortably padded armrests.
The ergonomic high back is curved to match the natural curvature of any spine. This ensures that your back is receiving all the support it needs to prevent back pains and discomfort. The headrest is also superbly soft and padded, so you can lean back and rest your head comfortably.
The bottom cushion is padded as well. Our bottoms are usually the first parts of our bodies that begin to ache when we sit for extended periods, especially when sitting on an uncomfortable surface, like an office or desk chair. With this Jummico gaming chair, that problem is pretty much entirely erased, and you'll have to sit for a very long time before you begin to feel any kind of discomfort.
This chair is made using premium PU leather that is easy to clean and does not scratch easily. It also features a rocking function that adds to the comfort factor during both working and gaming, to provide a comprehensive and consistent sense of comfort.
The Good
The main benefit of the Jummico Ergonomic gaming chair is its racing seat design. Racecar drivers need to be as comfortable as possible when they're driving so that they can maintain their concentration on the road and not have to worry about adjusting their position to get more comfortable.
The same principle applies to gaming chairs. Gamers want to be as comfortable as possible so that they don't lose focus on their game, which could spell the difference between a win and a loss.
The curved backrest is also a huge bonus since you'll get all the support you need to remain comfortable when sitting for long periods. The fact that the headrest is padded is also a plus, as there are not many gaming chairs that have padded headrests, and those that do rarely cost as little as this one does.
The Bad
The only real downside to this gaming chair from Jummico is that it doesn't have a footrest. This isn't earth-shattering though - footrests on gaming chairs can be seen as more of a luxury than a necessity. They only add another layer of convenience rather than essential comfort.
Devoko Ergonomic Gaming Chair


[Best Budget Racing-Style Gaming Chair]
If you're looking for an extremely adjustable gaming chair, then look no further than this ergonomic, racing style gaming chair from Devoko. It is packed with all of the features that one would expect from a high-end gaming chair, but at a much more affordable price, which is why we've included it on this list.
Product Highlights
The backrest on the Devoko ergonomic gaming chair can be adjusted to a variety of different positions, up to 180 degrees. This means you can move from an upright sitting position to laying pretty much supine, and everywhere in between.
The high back, like the previous chair on this list, is curved, to provide you with the necessary back support to ensure that you do not experience any discomfort or pain. It provides ample support in every position that you adjust it to, from upright to supine.
This gaming chair comes with a lumbar cushion to provide even more comfort. It can be attached to the upper portion of the backrest to provide extra targeted support for your head. Both the cushion and the chair itself are made from premium PU leather that can be cleaned easily and that is not very easily damaged.
The PU mute wheels at the bottom of the Devoko gaming chair rotate at 360 degrees to provide superior maneuverability, while the height-adjustable gas spring pneumatic system allows you to adjust the height of this chair as you see fit. The base is sturdy and heavy-duty and features smooth-rolling casters that let you move around freely.
The Good
As you can probably tell, there is plenty to like about the Devoko gaming chair. For starters, it is designed ergonomically, so you can rest assured knowing that it will provide you with all the comfort and support your need to avoid aches and pains.
Like the Jummico gaming chair, its Devoko counterpart is designed in the style of a racing seat. This ensures that you won't get uncomfortable after sitting for long periods, meaning you won't lose focus on your game, which could negatively impact your performance.
The Bad
If you are 6'4" or taller, then you might find that the stock armrests are too low for your arms to rest on them comfortably. They are easily replaced, though, and doing so is relatively inexpensive, so you shouldn't have trouble solving this problem.
Polar Aurora Racing Chair


[Best Budget Office Gaming Chair]
This is the perfect chair for those who want to use it for both gaming and office work. It has all of the features that you'd want to make a gaming session enjoyable, while also being suitable for your office, making it super versatile.
Product Highlights
The Polar Aurora gaming and office chair might not be the most flashy chair out there, but it gets the job done. It can be rotated 360 degrees while sitting, and the hooded nylon casters roll and swivel smoothly without causing any abrasions to your carpet or floor, and are also totally silent. This comes in handy for gamers living with other folks in their homes.
The height of the seat can be adjusted as well, from as low as 18" to as high as 22". Being able to choose from such a wide adjustment range is part of what makes this chair suitable for both gaming and office work.
The Polar Aurora chair is made with high-quality PU leather and breathable mesh, as well as high-density foam that covers the back and sitting area. The headrest and armrests are padded to ensure that you remain comfortable for longer, whether you're working or gaming.
Aesthetically, this chair has quite a simple design, which can actually be more appealing than the flashy designs found on most gaming chairs today. It also means that it won't stand out in an office if you plan to use this chair for your everyday work.
The Good
Perhaps the most enticing feature that this chair from Polar Aurora offers is its height adjustability. Being able to choose from any height between 18" and 22" is a huge bonus, since we've all got different gaming and office setups, and we all prefer to operate from different heights.
The armrests' unique shape is also quite beneficial as they allow for a greater range of positions to rest your arms, rather than the standard flat position found on most gaming and office chairs.
The Bad
The backrest on this chair is not very high, so watch out tall folks. The headrest is also not very well padded, and there's no detachable cushion, which has been included in both of the chairs prior to this one.
BIRDROCK Adjustable Memory Foam Floor Chair

[Best Budget Floor Gaming Chair]
If you're someone who values novelty and uniqueness, it doesn't get much more unique than this gaming chair from Birdrock Home of all places. As the name suggests, it is made using memory foam, so you already know that this is going to be one comfortable gaming chair.
Product Highlights
The fully adjustable, 14-position memory foam floor chair from Birdrock Home is perfect for making the floor of your home or apartment more functional and comfortable. The first thing you'll notice about this gaming chair is that it does not have any legs or wheels - rather, it is meant to be plopped on the floor.
This makes it particularly useful for console gamers, as the controller doesn't need to rest on a desk. The memory foam molds to the contours of your body, making it the perfect fit after just one sitting. It can also be adjusted into 14 different positions, allowing you to sit upright or lay down on the floor.
Unless you have a height-adjustable desktop, and unless you don't mind using your mouse and keyboard on the floor, then you probably won't want to use this chair if you are a PC gamer. Console gamers will have no problem with this chair since they do not need to rest their controllers on any surface other than their laps.
This is also an incredibly easy chair to store. You can lay it completely flat to store it underneath your couch or bed. If you choose to buy multiple, you can stack them on top of one another to make them easier to put away.
The Good
This could easily be the most comfortable chair on this list, but comfort is more of a subjective term, so we won't label it as such. The memory foam makes it incredibly soft, and it molds to the shape of your body after one sitting, ensuring that it's comfortable every sitting after.
The wide range of adjustment options is also very useful, especially if you're playing on a handheld console like the Nintendo Switch since you'll be able to lay flat and play. You don't need to use it exclusively for gaming either - it's great for reading, board games, and similar activities.
The Bad
Unfortunately, PC gamers won't find much use from this chair, since it's made to be placed on the floor. It also does not have any armrests, which can lead to some unwanted discomfort when sitting for long periods.
X Rocker Dash Wireless Floor Rocker Gaming Chair

[Best Budget Floor Rocker Gaming Chair]
Another gaming chair that is designed to be placed on the floor, the 5130001 from X Rocker is quite high-tech and actually comes with built-in speakers. Super cool, right? It is designed in the style of a racing seat, but not in the same way that the previous chairs are.
Product Highlights
The first and most obvious highlight of the X Rocker 5130001 gaming chair is the fact that it comes with built-in speakers. These speakers enhance the gaming experience overall and make it more immersive by surrounding you with the sounds from the game you are playing.
It features two forward-facing speakers and a powerful subwoofer that is found on the back of the chair. These three speakers work together to create an excellent sound and low rumble, which intensifies the gaming experience as a whole.
The 5130001 comes with a control panel that includes separate bass and volume controls, and input and output jacks that allow you to connect to your audio source. This allows other X Rocker gaming chairs to join in when playing multiplayer games, making the gaming experience that much more immersive.
It is compatible with most gaming systems and devices, as well as smart devices, TVs, Blu-rays, and MP3 players. The back can fold down completely, which allows for super easy storage and lets you transport this gaming chair quite easily.
The Good
It would be criminal not to talk more about the built-in speakers that make this gaming chair so unique. With two front-facing speakers and one subwoofer behind the backrest, you'll be fully immersed and transported in your game. It'll honestly make you feel like you're really there.
The control panel allows you to connect with other 5130001 chairs so that all chairs play the same audio, amplifying the sound further. Like we said above, it's also compatible with pretty much any sound system or gaming device you may have in your home, meaning this chair is great for both PC and console gamers.
The Bad
Like the previous gaming chair on this list, the X Rocker 5130001 is made to be placed directly on the floor. There are no legs or wheels, meaning it can't be moved around while you're sitting on it - at least, not very easily. It also means that PC gamers might want to look for another chair unless they don't mind sitting on the floor with their mouse and keyboard.
Homall Gaming Chair


[Best Budget Faux Leather Gaming Chair]
From a style point of view, the S-Racer lives up to it's promise. It is sleek and stylish and gives you everything you could want from a gaming chair.
Product Highlights
The heavy-duty gas lift cylinders found on the Homall S-Racer allow for a superior adjustment quality that is quick and effective. They are made from reliable, Class IV Pneumatics, so you know that they are high-quality.
The chair itself is made using premium faux leather that is both breathable and, as you may have already guessed, easy to clean. It also includes supportive and soft molded foam that is capable of matching the contours and shape of your back and lower body to make your seat as comfortable as possible.
The armrests are very comfortable and protrude straight up from underneath the chair. The base is made using heavy-duty metal, making it very sturdy and stable, and can hold a load capacity of up to 260 pounds.
The S-Racer is designed both ergonomically and orthopedically. This means that it will remain comfortable for extended periods, even if you have some pre-existing back condition that makes sitting uncomfortable.
The Good
It may sound strange, but the best part of the S-Racer is how 'plain' it is. There are no crazy advanced features, no built-in speakers, or anything like that. It's just an average gaming chair that gets the job done well.
It is available in black, gray, orange, and purple, which is a color variety that we rarely see with gaming chairs. The PU leather is also waterproof, and the five-star base makes it superbly stable and secure.
The headrest pillow and lumbar cushion are completely detachable, and the lumbar cushion can be placed anywhere on the backrest to provide a more targeted sense of comfort. Not only is this a gaming chair, but it can be used in the office as well.
The Bad
There is not a lot of padding on this chair. So it's quite firm and can grow uncomfortable after a longer gaming session of a few hours. The head pillow also needs to be 'broken in' a little, so might be a little uncomfortable for the first few sessions.
Devoko Gaming Recliner Chair


[Best Budget Recliner Gaming Chair]
We bet you've never seen a gaming chair that looks quite like this before. This gaming recliner chair from Devoko is the epitome of comfort and is probably the most comfortable chair that the company has ever created.
Product Highlights
In essence, this gaming chair from Devoko is just a recliner chair, and could easily be added to your lounge suite. However, it was designed to be used specifically by gamers, and, in comparison to regular gaming chairs, it is much larger and softer.
It consists of a high-strength frame made from steel and PU leather, with a comfortable ergonomic design and soft lumbar support and headrest. It is freely adjustable and is ideal for gaming, working, or leisure, with a back that can be adjusted from 90 degrees to 180 degrees.
It comes pre-constructed and requires you to spend just three minutes or less installing it in your home. It has a load capacity of up to 300 pounds and is quite wide, making it that much more comfortable and convenient for any kind of gamer.
The Good
This recliner gaming chair from Devoko is in direct competition with the memory foam chair from Birdrock Home that we mentioned earlier on this list in terms of comfort. It is quite large and very well padded, making it comfortable even for extremely long gaming sessions.
The backrest is very wide, which leaves a lot of room to recline, and it is also well-padded. It is also pretty high, so tall folks should find it just as comfortable as everyone else.
The Bad
When in a fully reclined position, the back pillow can dig into your back a little, which obviously leads to some significant discomfort after a while. This is also quite a big gaming chair - certainly the largest on this list - so you should only consider purchasing it if you know you'll be able to fit it into your home.
Buying Guide
There are several things that you should be on the lookout for when on the market for a gaming chair. Below are some of the most important features that make or break a good gaming chair.
Ergonomics
We cannot stress this one enough. Comfort needs to be your top priority when you shop for a gaming chair - the more comfortable, the better. Maximizing your comfort while gaming is essential, since you'll be spending hours sitting in the same position, and doing so uncomfortably can lead to some complications later in life.
Setup Compatibility
We've listed chairs that are compatible with different gaming setups. Some work better with PC setups, while others work better for console gamers. Be sure to get a gaming chair that suits your setup.
Material
Your gaming chair should last you a long time. If it is not built to last, then it won't be suited for regular use, which is kind of the whole point of gaming chairs. Be sure to check if a gaming chair was made using high-quality materials.
Armrests
Gaming chairs without armrests can cause more stress to your shoulders, which leads to neck pain. You might also start experiencing pain in your wrists. The best way to avoid these things is to look for a gaming chair with padded armrests, preferably ones that are adjustable.
FAQs
Can gaming chairs improve your gameplay?
Yes! Gaming chairs can improve your gameplay, but the way in which they do varies from chair to chair. Gaming chairs with built-in speakers can improve your awareness, while well-padded gaming chairs offer more relaxation while gaming, which improves your overall focus.
How much does a gaming chair cost?
There is no definitive answer to this question. All of the gaming chairs on this list will cost around $100 or less, but there are more expensive ones out there. The price of the gaming chair will largely depend on the brand and the different features that it provides.
Am I too tall for a gaming chair?
Probably not. Gaming chairs come in a variety of different back heights and types, so there is bound to be one that suits your height. The Devoko Reclining Gaming Chair is great for taller gamers.
Why should I buy a gaming chair?
Gaming chairs provide plenty of benefits while gaming. For starters, they are generally designed to be super comfortable, which is vital for long gaming sessions. They also usually have curved backs to provide extra support for the spine.
Wrapping Up
With so many different gaming chairs flooding the market, choosing the right one can seem almost impossible. Hopefully, we've made your decision a little easier. Happy gaming!