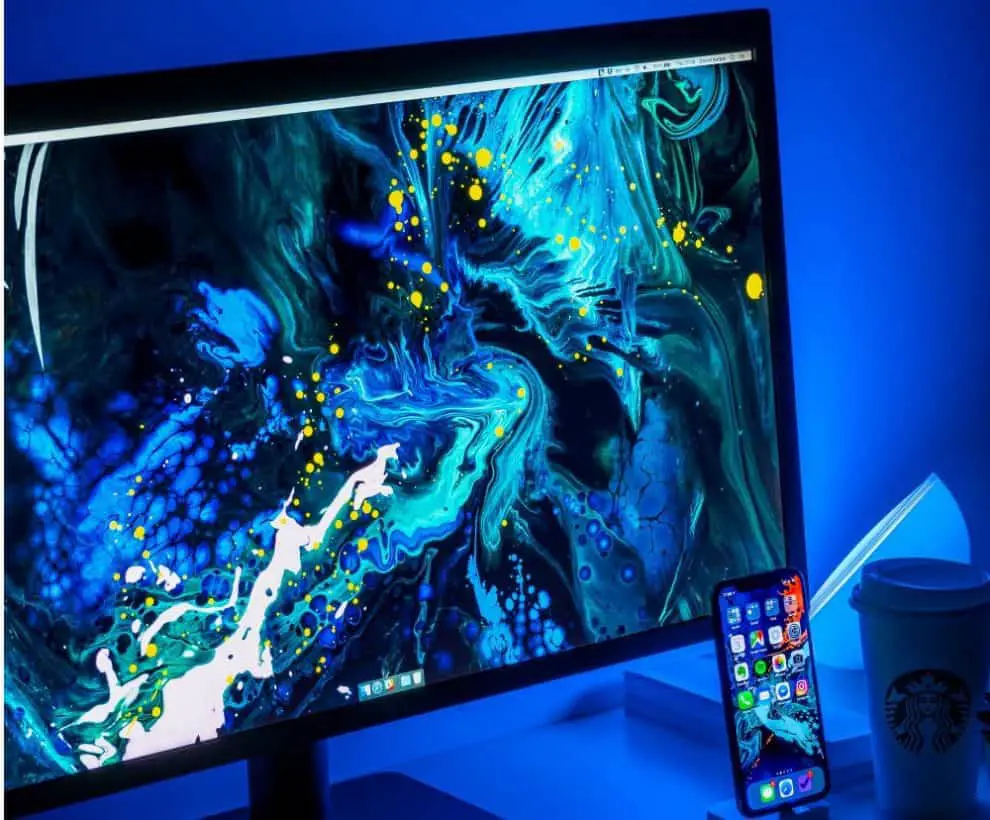 Best Gaming Monitors under $500 - Complete Reviews With Comparison
As you probably already know, having a good gaming monitor is key to having enjoyable gaming experiences. Your monitor is what your games will be displayed on, and if you're constantly gaming on one that you're not satisfied with, you're never going to have fun.
While you may have been fooled into thinking that a good gaming monitor will break your bank, there are more affordable options out there. In this article, we'll be taking a look at the features, pros, and cons of some of the best gaming monitors under $500. Let's get right to it.
Comparison Chart
LG 34GL750-B 34 Inch 21: 9 Ultragear Curved Wfhd 
Acer Nitro XZ342CK Pbmiiphx 34″ 1500R Curved WQHD 
AOC C32G1 32″ Curved Frameless Gaming Monitor
LG 32GN650-B 32" Ultragear QHD 
Sceptre 35 Inch Curved UltraWide 21: 9 LED 
Gaming Monitors Under $500 Reviews
LG 34GL750-B 34" UltraGear Curved Gaming Monitor
The LG 34GL750 can provide both a fluid performance and immersive quality of images in high-speed video games thanks to the IPS panel and ultra-wide resolution. It's a great budget option for gamers looking to elevate their gaming experience from mediocre to mesmerizing.
Review
This curved gaming monitor from LG combines an immersive ultra-wide viewing experience with fast response time speeds and fast refresh rates, and it also offers plenty of handy features, such as 1ms Motion Blur Reduction, AMD FreeSync, and High Dynamic Range. It is IPS panel-based with 99% sRGB gamut, true 8-bit color depth, a static 1,000:1 contrast ratio, a 300-nit peak brightness, and 178°-wide viewing angles.
While the monitor certainly features HDR technology, the software is only software-emulated, which means that the display itself does not boast any special abilities that would improve the quality of the HDR image. It is just able to accept and recreate the HDR signal. In essence, you might as well disregard the HDR feature on this model, because while certain HDR content will look a bit better, you'll mostly be getting colors that appear washed out.
HDR aside, the monitor does provide you with an image quality that is immersive thanks to its consistent, accurate, and vibrant colors provided by the IPS panel. The aspect ratio of 21:9 betters your viewing experience further, as you're provided with a wilder FOV in games, as well as additional horizontal screen space that can be used in other ways.
The LG 34GL750's input lag is only about 4ms at 144Hz, meaning that the delay is unnoticeable, while the 5ms response time is more than enough to eliminate just about all trailing of quick-moving objects in high-speed video games. You can choose from four options for response time overdrive, namely Off, Normal, Fast, and Faster. We recommend sticking to Fast, as Faster will cause pixel overshoot.
One major downside to this monitor is that you are not able to use FreeSync and HDR functionalities simultaneously, and you will have to choose one over the other at any given time.
Acer Nitro XZ342CK 1500R Curved Gaming Monitor
This Acer Nitro model is another excellent ultra-wide gaming monitor with a low response time, high refresh rate, and FreeSync technology support. It comes with many important features that will improve your gaming experiences and increase your overall working productivity.
Review
The Acer Nitro XZ342CK is a 34", ultra-wide monitor based on the VA panel. It covers 98% of the sRGB color gamut and supports true 8-bit color depth, meaning that its image quality is first-class and incredibly vibrant. The pictures are vivid, while the colors stand out and bring your games, videos, and movies to life.
The color accuracy out of the box is something to note, as well - you won't need to tweak them any further if you don't want to, and you can use the monitor as it comes in its box. The VA panels, like the one in this monitor, are popular for their fantastic contrast ratios, and the Acer Nitro has a whopping 3,000:1 contrast ratio.
This means that images have more depth to them, dark spots appear darker, and light spots appear lighter, making for an overall immersive gaming experience. The curved screen design only adds to the immersion and makes you feel as though your game world is enveloping you and taking you in. The Nitro has an impressive 400-nit brightness level, and you'll be able to see your images clearly even in a well-lit room.
Like the previous monitor on this list, this one has a 178-degree viewing angle, and you won't have any problems with washed-out colors when viewing your images from multiple angles, as you would with TN panel monitors. The Nitro boasts an optimal pixel density of 109PPI, resulting in images and text that look extremely crisp, while also being easy on the eyes and avoiding blurriness.
The only major gripe we have with this monitor - one that is rather common for this kind of display - is some visible screen flickering that happens with heavy FPS drops. It's not a black screen flicker but more of a quick variation in brightness. It's a minor issue that you probably won't run into often, but it is worth mentioning.
AOC C32G1 32" Curved Frameless Gaming Monitor
People don't usually think of AOC when they think of gaming monitors, but they should. There are many companies out there that make high-quality, affordable gaming products, and AOC is one of them - their C32G1 monitor is one of their best.
Review
We are not exaggerating when we say that the C32G1 is extremely good-looking. The minimalist stand and thin bezels complement each other nicely, and the dark grey color gives it a sleek, mature, elegant appearance that will fit into any sort of gaming setup, no matter how extravagant or minimalist.
The buttons are barely visible and are situated at the underside of the display. The great thing is that there is nothing that will distract you from the slim bezels other than the light indicators, which cannot be avoided. The stand is quite sturdy and does its job well, keeping the monitor very stable. It has a small hole in the middle that offers some minimal cable management.
The 1,800R curvature may be slightly confusing for those who are not familiar with the technology, but the concept is not difficult to grasp. The R stands for radius, meaning that the gross curvature of the monitor is 1,800mm, which is, in fact, the maximum limit for curved displays. In essence, it is the top curvature for a display, which is meant to provide an ideal gaming experience.
The downside is that you aren't going to get the best viewing experience when sitting further away from the C32G1, but this will probably not be a problem since it is a PC monitor, and you probably won't be sitting very far away anyway. While most displays use IPS (In-Plane Switching), the AOC uses VA (Vertical Alignment), which is far better for black uniformity and better contrast, but the tradeoff is a smaller optimal viewing angle.
The C32G1's biggest flaw is its low display resolution. At 31.5" and Full HD resolution, you are going to notice when using an operating system. For instance, you'll see individual pixels when looking closely at text on Windows 10.
LG 32GN650-B UltraGear 32" QHD Gaming Monitor
This is the monitor you buy when you want to be the envy of your gaming friends. With its fantastic features and futuristic style, you'll be transported and immersed in your favorite games. The high contrast and vibrant colors are a nice bonus, as well.
Review
Complete your battle station with the premium LG UltraGear gaming monitor, which delivers the latest specs, hardware, and ergonomic design elements coupled with a sleek design to provide you with a truly sensory experience. LG has always been known for making incredibly beautiful, high-tech displays, and despite the 32GN650-B being an affordable option, it is still no exception.
Its 165Hz refresh rate offers you fluid gaming motion that creates an incredibly smooth gaming experience so that you never miss a single frame of action, which gamers know can be the difference between winning and losing a match. The 1ms MBR allows you to see fast obstacles, action, and opponents in near real-time for a clear advantage, allowing you to make split-second reactions and decisions in the heat of battle.
The great thing about the 32GN650-B is its true color display, which recreates images in fantastically clear and vivid colors that pull you right into the action and immerse you completely. It does this thanks to its 95% sRGB gamut, which can display bright lights and dark shadows that are all equally visible.
With the monitor's AMD FreeSync Premium technology, you will be able to experience fluid, seamless movement in high resolution while playing fast-paced games, virtually eliminating screen stuttering and tearing for smooth gameplay.
The Dynamic Action Sync technology displays action as it happens, providing you with the closest thing to real-time gaming out there, all for an affordable price. You can respond to opponents and actions with minimized input lag and fantastic performance.
A problem we have with this monitor is its pixel density. If you have a small desk and are forced to sit quite close to your monitor, you're going to be able to see the individual pixels, which isn't going to look great. However, this problem can be remedied by sitting a little further back.
Sceptre C355W 35" Curved Ultra-Wide LED Gaming Monitor
You're not going to find a curved, 35" monitor as budget-friendly as this Sceptre model. While it might not feature HDR functionality or any fancy refresh rate, it's still a very competent monitor for gaming, media, and working.
Review
The Sceptre takes advantage of the latest technologies when it comes to its design of this monitor. Aside from its 1,500R curve, it features similar specifications to standard gaming monitors while also increasing the panel refresh rate to an impressive 100Hz. This makes it something of an industry-first while offering a frame rate that's higher than its predecessor.
When it comes to looks, the C355W has a cool visual design, which most gamers have come to expect from their gaming monitors. While this monitor was designed to be used for gaming, it lacks the aggressive, bold, angular stylings that can be found in its competitors. We don't think this is a con but rather an interesting design choice.
At the back of this monitor's chassis, you're going to see one HDMI 2.0 port, two HDMI 1.4 ports, and one DisplayPort. We would have preferred to see at least one USB port to boast the extra power of being capable of powering your other gadgets, like your smartphone, but the single 3.3mm audio input lets you connect a gaming headset or pair of headphones directly to the monitor rather than snaking the cable around your PC.
The monitor also features its own set of speakers. When it comes to performance, the C355W does well as a general-use monitor and is perfect for both gaming and office use. It delivers crisp images with its 3440 x 1440 resolution panels, and its 4ms response time means there's almost no input lag at all.
The issue we have with this monitor is the length of its power cord, which is just long enough to reach most power strips and outlets. Be sure to position it close to an outlet, or you may run into some frustration.
Wrapping Up
At the end of the day, it's entirely up to you to choose the gaming monitor that you feel is right for your setup. We're only here to help make that decision a little easier, and we hope we were able to accomplish that goal. Our top recommendation is the Sceptre Gaming Monitor as it is so versatile, comes with speakers, and has just about no input lag. If you aren't bothered by the short power cable, this is the monitor for you.