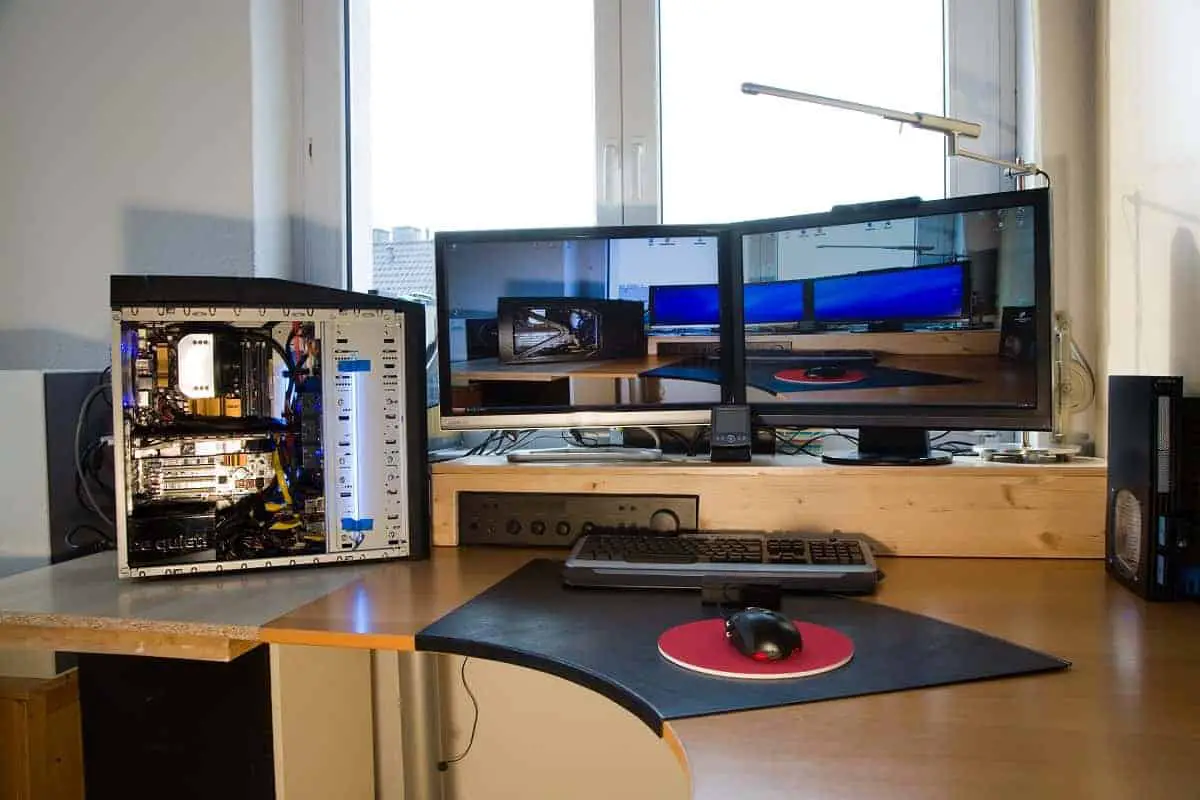 Whether you are a professional or just someone who enjoys playing games in their free time, investing in the right equipment is a must. We are not only talking about a powerful computer, keyboard, mouse, and headset, but also a functional desk.
What you should be aiming for is a gaming desk that offers a large working surface but still doesn't take up too much room. In order to help you, we have prepared a list of the best L shaped gaming desks that we consider to be ideal examples of functionality, aesthetics, and reliability.
Let's get right to it!
Comparison Chart
Mr IRONSTONE L-Shaped Desk
GreenForest L-Shaped Corner Desk
Walker Edison L Shaped Glass Desk
Coleshome L Shaped Desk
DESIGNA 60 Inch Computer Desk
Best L Shaped Gaming Desk Reviews
Mr IRONSTONE L-Shaped Desk
The L-shaped desk is probably your best bet when it comes to saving space and getting an adequate working surface. As one of the leading names in the industry, Mr. IRONSTONE did a great job with the design, ensuring that it can work in two ways. It can function both as a gaming desk and a workstation.
Review
First and foremost, we want to address the benefits of the L-shaped design. You will be saving a lot of space, given the fact that this desk can be easily tucked into almost any corner of the room. Thankfully, while you are maximizing the available space, you will not be missing out on the working surface. This desk comes with a large monitor shelf on which you can put your essential equipment.
Mr IRONSTONE did a phenomenal job constructing this desk, as the brand uses P2 MDF board and a metal frame. It is supported by a 1.57" x 0.7" bar that should ensure additional support and stability to this L-shaped desk. Also, heavy-duty powder plays an important role when it comes to holding extra weight.
The dimensions of this product are ideal for anyone who is space-conscious but doesn't want to miss out on a large working surface. You are looking at 18.2" in diameter, as well as 50.8" in length on both sides of the desk. Also, the height is just above 29", which makes it suitable for most people.
As we have mentioned above, you should be able to put this desk under heavy use and be confident that it will endure. An important feature is the anti-scratch and waterproof protection. Even if there is some liquid spillage or any other kind of surface damage, you won't have to worry about it being permanent.
We are happy to say that assembling the desk is not anything hard and should require just the basic tools. Of course, you will also need to follow the featured detailed instructions. However, you should invest extra time when it comes to putting the feet on, considering that the screws don't seem to fit ideally.
Apart from that, there is not much that we can say against this product. It is affordable and durable, and most importantly, it is highlighted by a space-conscious design.
GreenForest L-Shaped Corner Desk
When it comes to the best L-shaped gaming desks, GreenForest does a good job offering this 3-piece product. It is made out of eco-friendly material and comes in a couple of different variations. It should suit the needs of a professional gamer, as well as someone who is looking to invest in a convenient desk for their spare time spent gaming.
Review
First and foremost, we want to address that the design of this product is simply amazing. It comes in four colors, including Black, Dark Walnut, Brown, and Bright Walnut. That being said, this desk will look perfect in both an office and a gaming environment.
The main material used for the surface is P2 particle board, which is eco-friendly and made to withstand heavy use. Thus, you shouldn't worry about scratches or any kind of water damage, as P2 ensures adequate protection. Also, it adds to the classy appearance that you would look for in a workstation.
Probably the most important feature of this product is that it consists of three pieces, which helps make it space-friendly. You will be able to switch from one side of the desk to another, optimizing the functionality, as well as the space in your room. Another cool feature is that you can switch the long and short sides according to your habits.
Apart from looking classy, the architectural and edgy design also ensures that this desk stays stable and secure. Unlike most of its competitors, you won't have to worry about any potential wobbling.
Additionally, the adjustable foot cups will allow you to adapt the desk height according to your needs. The overall dimensions are set at 58.1" x 44.3" x 29.13", with the working surface depth set at 19.1".
Much like the aforementioned product, this desk doesn't require any fancy tools or a lot of experience when it comes to setting it up. As long as you go by the instructions and make sure that all screws are in the right place, you should be able to get it done within 30 minutes.
However, while the manufacturer advertises that you can rotate the legs 360 degrees, it seems that anything above 180 degrees is going to be quite challenging. Although we like the fact that the board material is eco-friendly, the wood doesn't seem to be prone to chipping. This is a concern, especially in terms of the overall aesthetics.
Still, looking at all the features that this L-shaped desk includes, as well as the overall functionality, we can say that it is a worthy solution for any office or gaming setup.
Walker Edison L Shaped Glass Desk
Moving on with our list, Walker Edison offers a simple yet convenient corner piece. This affordable command center is highlighted by great aesthetics and optional dimensions when talking about a desk that can accommodate two or more monitors.
Review
The first thing that we want to talk about is the adequate dimensions of this L-shaped desk. It is set at 51" in length, 29" in height, and 20" in width, which allows just enough of a working surface for someone in an office, as well as for a professional gamer.
Along with the fact that there is room for at least two monitors, this convenient desk also features a convenient CPU stand. Furthermore, it has a keyboard tray that you can attach to any of the two given sides.
The idea of this desk is that you use the longer side of the desk for placing your computer and other accessory equipment. The other side is for putting away supplies and decor.
Much like with the aforementioned two models, it is quite easy to assemble. Most importantly, you can modify the two pieces according to your needs. Not only that, but once that is put up, you will find that this desk offers a lot of leg space. This is extremely important when it comes to overall comfort.
Made from black glass, the whole piece is incredibly attractive and sturdy, so you shouldn't worry about issues such as chipping or scratching.
While there is no room for any major concern, we would like it much better if there was a cable management accessory. Additionally, the featured keyboard tray is quite tiny, and chances are that there will be no space for your mouse to be put next to it.
Still, no one can deny that this Walker Edison desk is sturdy, attractive, and able to provide enough working space!
Coleshome L-Shaped Desk
When it comes to combining great aesthetics and functionality, you can certainly trust Coleshome. This popular brand has been manufacturing convenient desks for years. Now, it offers a modern, sleek, and spacious corner piece that can be both a gaming desk and a workstation.
Review
Coming in two different colors (Black and White), this computer desk offers a large shelf that can accommodate at least two monitors. Much like with the Walker Edison desk, this one features two sides (shorter and longer) that you can easily modify according to your working habits.
We always emphasize how important it is that an L-shaped desk is sleek and space-conscious, while also offering enough of a working surface. This piece is able to provide just that, with the dimensions measuring 60" x 20" x 45".
The desk itself is highlighted by adjustable level studs that prevent wobbling and ensure optimal stability. As for the height, this desk is set at 29" tall and offers a lot of leg and storage space.
When it comes to the construction, this piece is made out of MDF that is scratch-resistant and incredibly easy to clean. Also, there is a supporting bar that measures 1.57" x 0.7" that is highlighted by heavy-duty powder, providing even more stability.
The desk itself weighs around 55 pounds, while it can hold more than 22 pounds of weight in monitors and other computer equipment.
The main issue that we have with this desk is that it doesn't seem to offer enough depth. Also, it would be a lot better if there were holes for an extra shelf.
Still, this corner piece offers enough working surface. Plus, it is quite easy to assemble, even for someone with no experience. This is why we see it as one of the best options on the market!
DESIGNA 60 Inch L Shaped Desk
For a multifunctional workstation that can be set both in an office or in a gamer's room, this DESIGNA model is one that you have to consider. Offering a lot of room both on top and underneath, you will find that this desk will allow you to save space while still enjoying great functionality!
Review
Starting with the dimensions, this corner piece is set to 62" in length, 44" in width, and 30" in height. These seem to be just the right proportions. You will be getting a large working surface to accommodate up to 3 monitors and accessory equipment.
That is not all, as there is also an area of 30" beneath the shelf that is perfect for leg rest or to be used as storage space. This desk seems to fit just perfectly into any corner, allowing you to maximize the available room while keeping everything neat and clean.
The two management trays are of great use, especially if there are a lot of cables that would usually clutter the monitor shelf. Another accessory feature is a sleek pad that allows great precision and can fit both a keyboard and your gaming/office mouse.
Elegant and highlighted by a wooden design, this desk is quite sturdy and able to withstand heavy use. The main material is P2 particle board, which ensures scratch resistance and offers waterproof protection.
Not to mention, the legs are made out of metal and designed to fight off corrosion. In order to ensure optimal stability, you can adjust the pads and make sure that there is no wobbling on an uneven surface.
The only concern that we have related to this product is that you can't switch the sides according to your habits. Other than that, it is a spacious and functional corner piece that will save you space while offering a large enough working surface!
FINAL VERDICT
At the end of the day, the decision is yours and should be made taking into consideration your needs, as well as the space that you are working with. Our personal favorite is the DESIGNA 60-inch desk. It is able to provide just the right balance between a convenient monitor shelf and a much-needed storage area.
Overall, it is a great value product that is great both for those working in an office, as well as professional gamers looking to maximize their space!