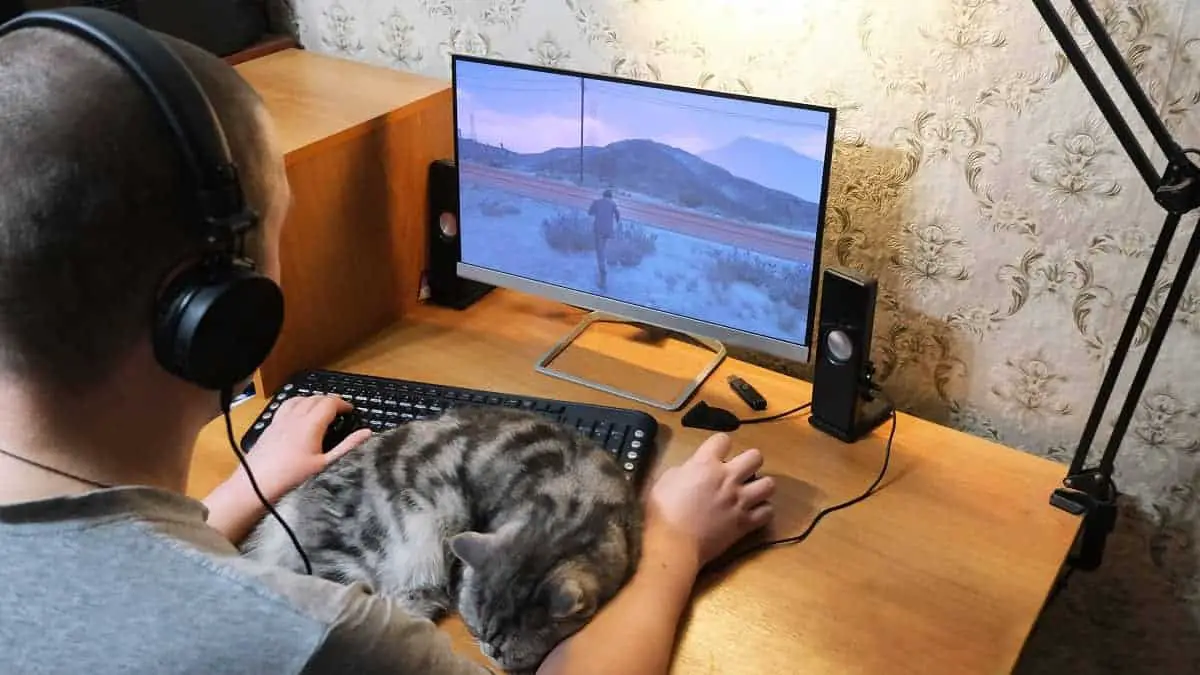 With the rise of gaming as a mainstream hobby, various groups and companies have formed over the years to capitalize on this new, popular platform. Every few years, the next generation of games is announced, often with the arrival of the new consoles and video games.
As an industry that is constantly busy and so enthralling in its culture, it's no wonder that entire companies have spawned with the sole focus of catering towards gamers. We now have various forms of gaming paraphernalia to complete our rig, from stands, headsets, and displays, to gaming chairs and desks.
One common problem when searching for a good gaming desk is to find one that can still fit all the extras that come with gaming like speakers, headsets, cups, phones, books and anything else you might need to store close to your gaming or office setup. In this article, you'll find five of the best gaming desks on the market that also includes extra storage.
Comparison Chart
Monarch Specialties Computer Desk
Atlantic Gaming Original Gaming-Desk Pro
Yoleo Tower Computer Desk
Sedeta 47″ Gaming Desk
Big Shark Computer Desk
Best Gaming Desk With Storage Reviews
Monarch Specialties Computer Desk
While not an actual gaming desk in any capacity, this excellent L-shaped desk fits neatly into the corner of your room and will adequately serve the same purpose. There are a variety of properties that go into deciding what makes a desk a suitable gaming desk, and this one checks out despite missing many of the features you would typically expect. Thus, it isn't necessarily the best on this list, but it is a good starting point for someone who wants a multipurpose desk that isn't just for gaming.
Review
As far as features go, this is a very neatly constructed L-shaped office desk. This means you get quite a bit of desk space without taking up a massive portion of room space. The leg frames are a very unusual and attractive U-shape that supports the desk's three ends, keeping it stable and sturdy without taking away from your legroom.
On either end of the 'L', you will find large drawers - two general storage drawers on one end with another, larger drawer that is perfect for files on the other end. The table's dimensions are a sizable 71 inches by 71 inches, with a 30-inch height that is not adjustable.
As far as features that we thought were missing or lackluster, the table itself isn't a desk made with gaming in mind, which definitely impacts its overall performance as a gaming desk. Firstly, one feature we feel all gaming desks should implement is an adjustable height to allow gamers to stand while playing.
The instructions for assembly are also very confusing and difficult to understand, with some instructions being vague and some information seemingly being omitted. Otherwise, as a gaming desk, it will serve well enough for someone who simply wants a good amount of desk space and to play games comfortably.
Atlantic Gaming Original Gaming-Desk Pro
This is a neat little gaming desk designed to give gamers as many quality-of-life features as possible. It has a sturdy, great build, and it comes with various attachments that allow you to keep all your hardware and paraphernalia together in easily accessible compartments. Let us dive into the review and point out what makes this gaming desk an excellent addition to any gamer's setup.
Review
A sleek, charcoal black finish coats this very professionally made gaming desk. The main draw and feature of this desk is most certainly the sheer amount of storage options available to you. Starting with the essentials, you have ample desk space to keep your display, keyboard, mouse, PC case, or even a laptop if you prefer that kind of setup.
The desk's dimensions are as follows: 24.58 inches by 51.80 inches for the desk space, with the height coming up to 35.80 inches. Additionally, you get various painted wire holders off the desk, such as a 6-inch by 5-inch speaker basket, stands for headsets, controllers, and even a cup holder.
There is also an under-basket that you can use for additional storage and built-in cable management to keep your cables from getting tangled and confused. To complete the full suite is an integrated monitor stand and phone/tablet charging station.
With seemingly everything you need in a gaming table, there are very few gripes to be had. The assembly is very straightforward, and if you don't like the look of, or have no need for, the wire attachments, you can leave them off, as they are entirely optional.
Unfortunately, the desk's height isn't precisely adjustable, so you can't transition from sitting to standing very comfortably when using this desk. The overall build is also not very stable or robust, with the desk being easily damaged if not looked after.
You can find a video showcasing and reviewing the complete desk below.
Yoleo Tower Computer Desk
This is another computer desk that was not necessarily made with gaming in mind but can still work well enough. This desk is quite compact compared to others on this list, but it makes up for it with its key feature - the tower stand. However, let us review and see if their intuitive design is enough to make this table an excellent table for gaming, or if it's best to get an actual, dedicated gaming desk.
Review
This desk has a very stylish and neat black design that looks like a standard office desk design. The dimensions for the desk itself are approximately 47 inches by 24 inches for the desktop, giving you ample desk space to store all your hardware, such as your keyboard, mouse, monitor, and any other office or gaming supplies.
The main feature is the tower stand, which is attached to either the left or right side of the desk. This stand features four shelves for a great amount of storage. The space between each shelf is as follows: 14.2 inches from the top, 13.4 inches from the top shelf to the second shelf, and 12.6 inches from the second shelf to the bottom shelf. The table itself also acts as a shelf on this tower.
All this added space makes it great for a gamer looking for a nice area to store their consoles, tower, headset, controllers, and other paraphernalia and hardware. You also get plenty of space for those of you who have plenty of collectible figures and the like.
Again, this is another desk that suffers from not having an adjustable height, which is a feature all modern gaming desks should have for the added health and comfort of gamers who play for hours on end and need to stand to stretch their legs. The desk's design is quite sturdy but suffers from being on the smaller side compared to other desks on this list. If you fancy a desk with ample desk space, consider another desk on this list.
Sedeta 47" Gaming Desk
Here is another gaming desk that is created with ease of assembly and gamers in mind. This is an excellent desk for the minimalist gamer who wants their desk integrated into their setup. It has quite a few features, which we enjoy and have come to expect from gaming desks, but it also seems to lack a few that we think should be a staple in gaming desk designs nowadays. Let's take a more in-depth look and review the Sedeta 47" Gaming Desk.
Review
When it comes to overall design and structure, the Sedeta 47" Gaming Desk has a structurally sound design, with three sets of crossbars keeping it stable. The desk size is approximately 47.2 inches by 23.6 inches for the desk space. However, this is slightly inaccurate because of the built-in monitor stand, which adds additional space for storing your hardware and paraphernalia on the desk.
There is a more substantial option with a desk size of 55 inches by 23 inches. The desk also comes with a handy cup holder on the one side and a headset hook on the other side. Below the display stand is an outlet that allows for three 3-prong plugs and two USBs to be connected for charging and powering items, such as your cell phone, tablet, PC, console, or laptop.
For even more storage, there is a foot shelf at the base of the desk, which you can use to store your computer tower, speakers, or other bits of hardware that may fit.
If there were any complaints, it would be a lack of adjustable height yet again. It's a real shame, as this desk has it all, from additional sockets for power cables and USB ports, to offhand storage for drinks and your headset, as well as a base shelf for speakers and the like. Another gripe we found is that the desk is made of rather poor-quality material, being quite flimsy and flexible.
For a video review of this gaming desk that also shows the assembly, see video below.
Big Shark Computer Desk
This is a wonderful writing desk that can double as a computer desk, and by extension, a gaming desk. When it comes to fanciful features, this desk is quite simple, but not exactly lacking. It has some neat features that make it an excellent all-around desk, but does it hold up to other gaming desks and reach the standards that we have come to expect from a gaming chair? Let's find out.
Review
The design of the desk is very attractive, with a large surface area and stable, aesthetically pleasing U-shaped legs. The size of the surface of the desk is very nice, approximately 40 inches by 28 inches, which is plenty of desk space for a gaming rig to sit comfortably and then some.
The height is a bit short, at only 24 inches, which may be quite the problem for taller gamers. The desk also features a shelf underneath, which appears to be quite sturdy and can be used to store a variety of things, such as consoles, speakers, controllers, and other paraphernalia and hardware you may need.
There isn't much more to say about this desk, which is quite a shame. As a general use desk, it is quite nice to have around, but as a gaming desk, you may find it lacking. The height can be quite a problem, as it is quite short and not adjustable.
The overall finish and design are quite simple, so there isn't anything to say in favor of the desk, nor is there much to complain about. As a gaming desk, there are far better options out there, but it is still a good option for those on a tighter budget.
FINAL VERDICT
A few of these desks are actually very good as far as gaming desks go, namely, the Atlantic Gaming Desk Pro and the Sedeta Gaming Desk 47. This is mostly because these are the desks on this list that are actually made to be gaming desks. The Monarch Specialties Computer Desk and Yoleo Tower Computer Desk are viable replacements.
They have some features that can be used to a similar effect as the features of the proper gaming desk. Finally, the Big Shark Computer Desk is not recommended, as its elements are really not suited towards use as a gaming desk, but rather for general use.