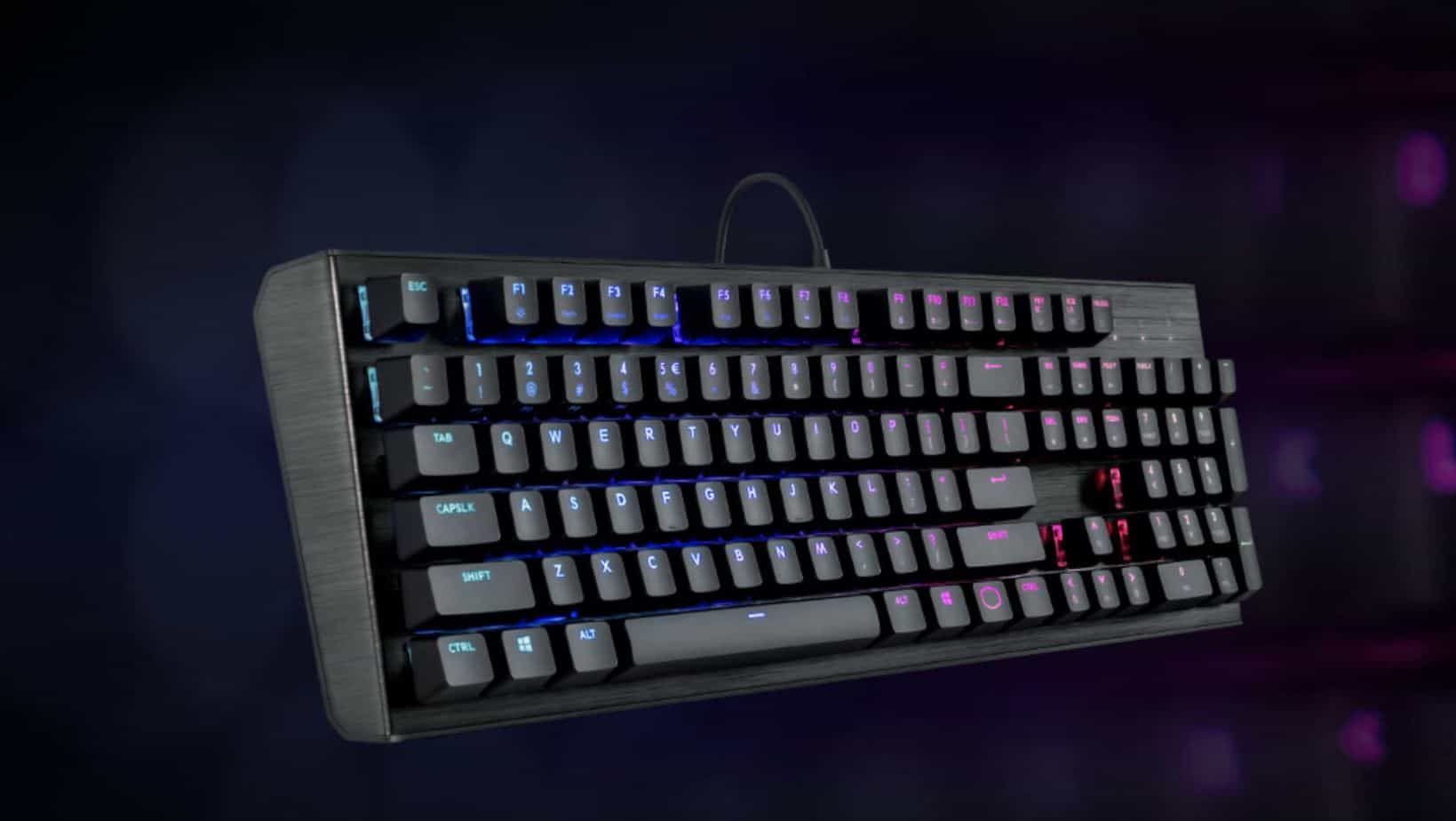 For gamers wanting a feature-packed, high-performance mechanical keyboard for less than $100, this is it. It's sturdy but lightweight, and it's compact enough to be an easy carry to tournaments. 
It's a wired keyboard and doesn't come with a wrist rest included, but we aren't complaining seeing as the price is really competitive.
Coolermaster CK552 mechanical gaming keyboard
Cooler Master's done a pretty great job designing an entry-level keyboard that still looks high-end. I'm incredibly impressed with the CK552's aesthetic, which easily competes with keyboards twice its price. It's simple but stylish, featuring an exposed brushed metal backplate and a minimalist rectangular shape with the left and right edges sloped slightly outward. 
Whether flipped open or kept closed, the feet have a rubber surface that, along with two rubber pads in the front corners of the bottom of the keyboard kept it planted on my desk. 
Features
The board has per-key RGB per-key back-lighting
On-the-fly controls to change your lighting or macro keys
Black brushed aluminum curved top plate. 
Red mechanical switches (Gateron)
What's in the box
In the box, besides the keyboard itself, the CK552 includes a wire key cap puller which is much useful since they keycaps can be replaced with any standard OEM stem compatible keycaps. Other than that there's just the user guide.
Linear Mechanical switches
The Cooler Master CK552 uses linear red Gateron mechanical switches. Gateron Reds are a linear switch that actuate at 2.2mm with 45 grams force and bottom out 4 mm, very comparable to Cherry MX.  Linear actuation basically just means they don't have a bump or hard click sound when you press a key. 
But as far as cheaper alternatives to Cherry MX, the Gateron switches are fairly good. The CK552 I've been using is built around Gateron Reds, a Cherry MX Red clone. Gateron Reds feature the same linear action, the same 45 gram force requirement, and are generally smoother-feeling than Cherry MX Reds though you'd probably have a hard time noticing in a standard typing environment. They're well-regarded by mechanical keyboard enthusiasts though, and if you're going to deviate from Cherry then Gateron is an excellent call. Read this article where we unpack Gateron vs Cherry in more detail.
RGB backlit
The full per-key RGB backlighting looks great and worked as expected without any hitches. If you don't want to customise the RGB using the Cooler Master software, you'll still get plenty using the onboard RGB lighting options. I almost felt like the basic spectrum wave was enough to stick with that I don't have to install anything else onto my system. 
Built-in RBG backlighting modes:
Static
Rainbow Wave
Crosshair
Reactive Fade
Stars
Rain
Color Cycle
Breathing
Ripple
Reactive Punch
Reactive Tornado
Circle Spectrum
Fireball
Water Ripple
Heartbeat
Snowing
TRY the different RGB modes yourself - click on the purple button below
No Media Keys
There aren't any dedicated media keys. That one's less surprising at this price point, but worth noting for anyone who's grown accustomed to them. Media keys are double-mapped to the Home block instead, with volume controls on Page Up and Page Down. It's not my favorite placement, though I was able to use them one-handed at least.
No Wrist-rest included
Cooler Master's got a pretty sweet entry-level board on its hands though. Sure, $10 or $20 more can get you the Cougar Attack X3 RGB, which has a more traditional placement for its media keys, a pack-in wrist rest, and Cherry MX switches. But the wrist rest is the only feature I truly missed while giving the CK552 a spin, and that's easily remedied with any number of third-party options (or Cooler Master's, if you can stand the smell). Not to mention the fact that the CK552 is a lot prettier than the Attack X3's faux-industrial look. 
Onboard Memory

Once you are within the configuration panel, thankfully there is plenty to do in here such as configuring RGB which has a large degree of customization, macro recording , key mapping which shows all available, disabled and currently reassigned keys which I felt was a nice touch and finally a tab that shows you can have up to 4 profiles that you can create yourself or import a compatible profile. These are stored within the application though since there is no onboard memory.
On-the-fly Controls
You don't have to use the Cooler master software. You can pretty much do all the customisation on the keyboard itself using keys that double up via the Function key. The FN key itself dons the Cooler Master logo outline rather than the typical FN on the key cap. That said, on-the-fly controls are great if you need to customize the keyboard during gaming tournaments where software isn't allowed.
For instance, by pressing the dedicated FN key along with any key between F1 and F8, you can cycle through eight set colors, create your own custom color, cycle through lighting effects, and more. These function keys sport icons defining their on-the-fly function, such as F2 increases the LEDs' red hue and so on.
Customization Software
You can download the software from Cooler Master's site to customize the CK552 keyboard. It is well-designed and easy to use and separated into four sections. Inside you can do all the usual tweaks, from per-key backlighting to general effects, macro recording, key remapping, and profile management.
The LED section lets you select and tweak the lighting effects. 
The Macro section is where you can record macros, and the process is straightforward and easily lets you add delays between key presses. 
The Key Map section lets you remap individual keys, 
Profile section lets you save up to four different keyboard configurations. The keyboard has 512KB of onboard memory so you can take your profiles with you too. 
If you do decide to go the software route, Cooler Master's utility is pretty simple and intuitive. And at 64MB, it's also one of the most lightweight programs I've seen for peripheral management. 
You can assign these colors and lighting effects to four profiles stored on the keyboard. Other settings you can save include macro assignments: F11 is used for recording, F12 to delete, and more. 
Alternative
Cougar Attack X3 RGB
The Cooler Master CK552 is a fairly attractive entry-level gaming keyboard. But if you're looking for a few more features while only spending $10 to $20 more, you can pick up the Cougar Attack X3 RGB. 
The Cougar Atack X3 has a conventional positioning for its media keys, includes a wrist rest, and Cherry MX switches. The wrist rest is probably the only thing I really missed while using and reviewing the CK552, but you can easily pick up a wrist rest separately too. The CK552 is probably a bit better looking aesthetically too than the Attack X3's more industrial look (then again the 'industrial' look is trendy). 
Conclusion
When I first started messing around with the CK552, I was pretty put off by the poor macro programming and the rather average UI of the software. I like to make macros, and I like to use them in games. This keyboard isn't very good at either of those, even judged against other basic gaming keyboards. However, it's a dream to type on the Gateron Red switches that feel super smooth in their actuations and make great gaming switches. I also found myself enjoying the superb back-lighting more than I thought I would. 
The Cooler Master CK552 is a cracker of a budget gaming keyboard that strikes the right balance of features, quality and price! 
I recommend the Cooler Master CK552 for those looking for a solid keyboard and want to do moderate gaming. You get a taste of what high-end gaming keyboards offer without the higher price.
Partner Ad: If you're a keen gamer and looking for a game testing job, then you might want to try looking on Jooble